Welcome to MuslimTravelGirl DIY Umrah Blog
MuslimTravelGirl is the authority on DIY Umrah and has helped over 1.3 million Muslims worldwide understand how to organise DIY Umrah, how to manage their Umrah or tourist visas, and help them plan a trip without breaking the bank.
I started this website to share my travel experiences and how Umrah planning and travel hacking have helped the past 10 years save over £50,000 for amazing Umrah in Ramadan luxury stays in 5-star hotels near the Kabah. DIY Umrah part of it grew from my love and desire to do Umrah without paying the high fees back in 2015.
Umrah should not be an unattainable dream; it should be a spiritual uplift in a busy world!
Umrah (Islamic Pilgrimage) was one of the best trips I have ever taken. I never even dreamt of having the ability to perform an Umrah with massive savings during the last ten nights of Ramadan.
MuslimTravelGirl has hundreds of articles on Umrah. Below, you will find the most important things to start planning your own DIY Umrah Journey and save money.
Table of contents
---
How to Plan Your DIY Umrah Trip
Start seeing the planning of your Umrah trip similar to planning a holiday. After all, you still need to find the best prices, book your hotels, flights and transportation.
I know it can be overwhelming because you also have the spiritual aspect, but here are the easy steps and articles to help you plan this better.
My readers can expect fantastic savings between 25% to 40%, depending on how savvy they are with their Umrah planning and how they use the information on this website. There are many tips to help you save money easily.
"The land-only packages are expensive, and I have a family of 4. Getting things done on my own is costing me only 25% of the cost they are charging for packages." – Babar, USA
Are you wondering the best time to book Umrah & save money?
I have created an 18-page guide to help you plan an Umrah at the best time. Sharing tips and tricks in one place to save you time & of course, money.
---
Different types of Visa for Umrah
One of the most popular questions is the best types of visas for various nationalities that can go on Umrah. With Saudi Arabia opening for tourism, it is easy to get confused.
1. Umrah visas are issued to those countries that cannot apply for tourist visas. They also require Umrah packages through an agent, and the Umrah visa is applied through agents in their respective countries. For example, Pakistan or Bangladesh.
2. A tourist visa, as the name suggests, is the new visa that Saudi started in 2019 to entice more tourists to visit the country. You can apply online quickly and usually get the result in less than one hour, and you can also perform Umrah on a tourist visa. You don't need agents or Umrah packages; they are perfect for DIY Umrah.
3. Evisa Waiver is a new type of visa for citizens of the UK ( potentially other countries) who can have a single entry visa to Saudi Arabia for tourism, study, business and Umrah (part of tourism) for up to 6 months stay. It costs $40, so it is cheaper than a tourist visa.
4. Transit visa – This visa is available to many citizens and can be issued even by some on the non tourist visa list. The transit visa allows you to do Umrah as well as explore for 3 days.
---
Transportation methods during Umrah
There are several ways to get between Makkah and Medinah for Umrah or even to explore some other places.
You can also read wether you can rent a car for Umrah and the best way to do this
Are you wondering the best time to book Umrah & save money?
I have created an 18-page guide to help you plan an Umrah at the best time. Sharing tips and tricks in one place to save you time & of course, money.
---
Ramadan DIY Umrah
Umrah in Ramadan is very popular but also very expensive. I have several articles on how you can save money during Ramadan for Umrah but aslo my book and courses can help you in more detail.
---
Examples of DIY Umrah Packages
I have created these examples for DIY Umrah packages per month because one of the most popular questions I receive on MuslimTravelGirl is about costs, hotels and suggestions. This is everything you might need to book it. Follow that, place your dates, and you are ready.
---
Hotels for Umrah
Makkah and Medinah have new hotels coming every year, which is exciting and can be overwhelming for many people. I have lists and advice on what I would book.
---
Reviews
---
What to Wear & Umrah with Children
From a practical perspective, so much is covered in these articles, but I grouped them together for ease. Most women looking for the information might also need to know what I wear during my Umrah to make it easy.
---
Umrah with Loyalty Points
One of the reasons I started this blog is because of the amount of money I saved travel hacking. There are so many opportunities to actually save money using points and miles. I have saved over £50,000 on Umrah alone. Overall, it is over £100,000, which is crazy when you consider the amounts and the experiences I have had.
I also have a book and a course that teaches you these tips in detail and how you can benefit from them every year.
This is a very simplified version for a quick guide but if you want a more in-depth option with tips please check out this post.
---
My story with DIY Umrah
My first Umrah was in 2013 for under £300 per person, including flights and hotels, but excluding the visas! Which back then was about £150 per person. I remember the agent laughing at me because it took me weeks to find someone who would only issue a visa and not a package, which was the only option back then.
My second Umrah was in 2015 during the last ten nights of Ramadan in the newly opened Hyatt Makkah, and we travelled in business class on points.
The trip's total price was £2,000 for two people and saving on a standard Umrah package of £18,000 during that busy time.
In Ramadan 2022, we did Umrah again Alhumdulilah with similar savings of about £10,000 for the hotels alone.
Over the last 10 years since I started this website and my DIY Umrah journey with the tips I share here, I have saved well over £50,000 for luxury hotels in Makkah on the most expensive nights of the year during Ramadan.
My goal is to help Muslims experience an amazing Umrah by elevating their experience with tips on loyalty points, hotel savings and more.

So if your budget is for a three-star hotel, I want to ensure you get a four-star option without paying extra.
In my DIY Umrah Book, How to Plan your Umrah like a Pro, you can find the short version of these tips.
While you are on the DIY Umrah section of MuslimTravelGirl, you can find up-to-date information related to Umrah.
Now, it is much easier to perfect Umrah without packages and agents, especially for those in the West, so I am truly grateful we get to experience this.
---
Reviews of Hotels & Flights
I write mostly now about the tourist visa option since our readers are from Western countries or those with the tourist visa available.
---
My Courses
I have several options if you want to learn how to save money on your travel through my book and courses, and membership.
I love teaching people how to become confident travellers and their own travel agents, without paying high fees, especially using travel hacking.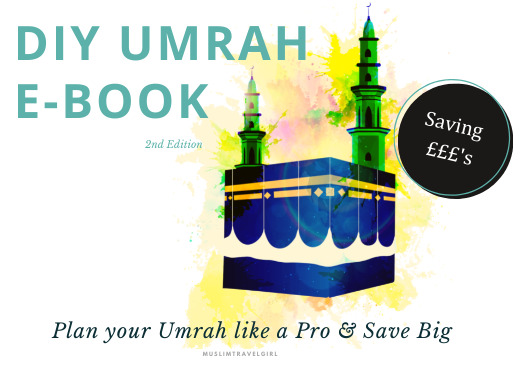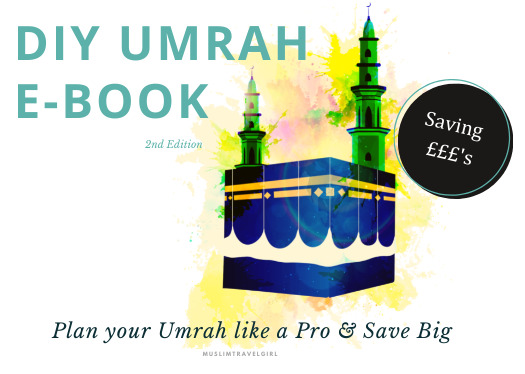 DIY Umrah E-Book
Save 70% of 5 star hotels in Makkah and Medinah during peak season. Imagine the best Umrah possible.
Learn how to save a few hundred dollars on your next trip with this easy masterclass.