Without a doubt, the new terminal at Jeddah Airport is fantastic, and a much better improvement from the old one, and the same applies to the new Saudi Airlines Alfursan Lounge at Jeddah Airport for International departures which is totally impressive.
Some parts of the airport as still a work in progress, but the Alfursan Lounge that hosts all Saudi Airlines flyers is a great new place that can be in any airport around the world.
Alfursan Lounge Jeddah Seating Areas
This new Alfursan Lounge at the King Abdulaziz International Airport (KAIA) is for international flights only. The airport has a smaller area for domestic flights with a different Alfursan lounge.
Access is given to those on Saudi Airlines business and first-class passengers and those with Alfursan status.
Our flight to the Maldives was early in the morning, so we were there at 2 am, and although the lounge was not busy, it was stocked, and the staff were polite and helpful.
Upon arrival, you enter via a bridge, and you are definitely impressed with the olive tree and piano at the entrance.
There are several areas in the lounge, and even if you have to spend a few hours there, you can relax in various areas and chairs.
Because our flight was in the morning, there was only a small selection of hot food, pasta and soup. But there were plenty of cold options, from Arabic mezze to sandwiches.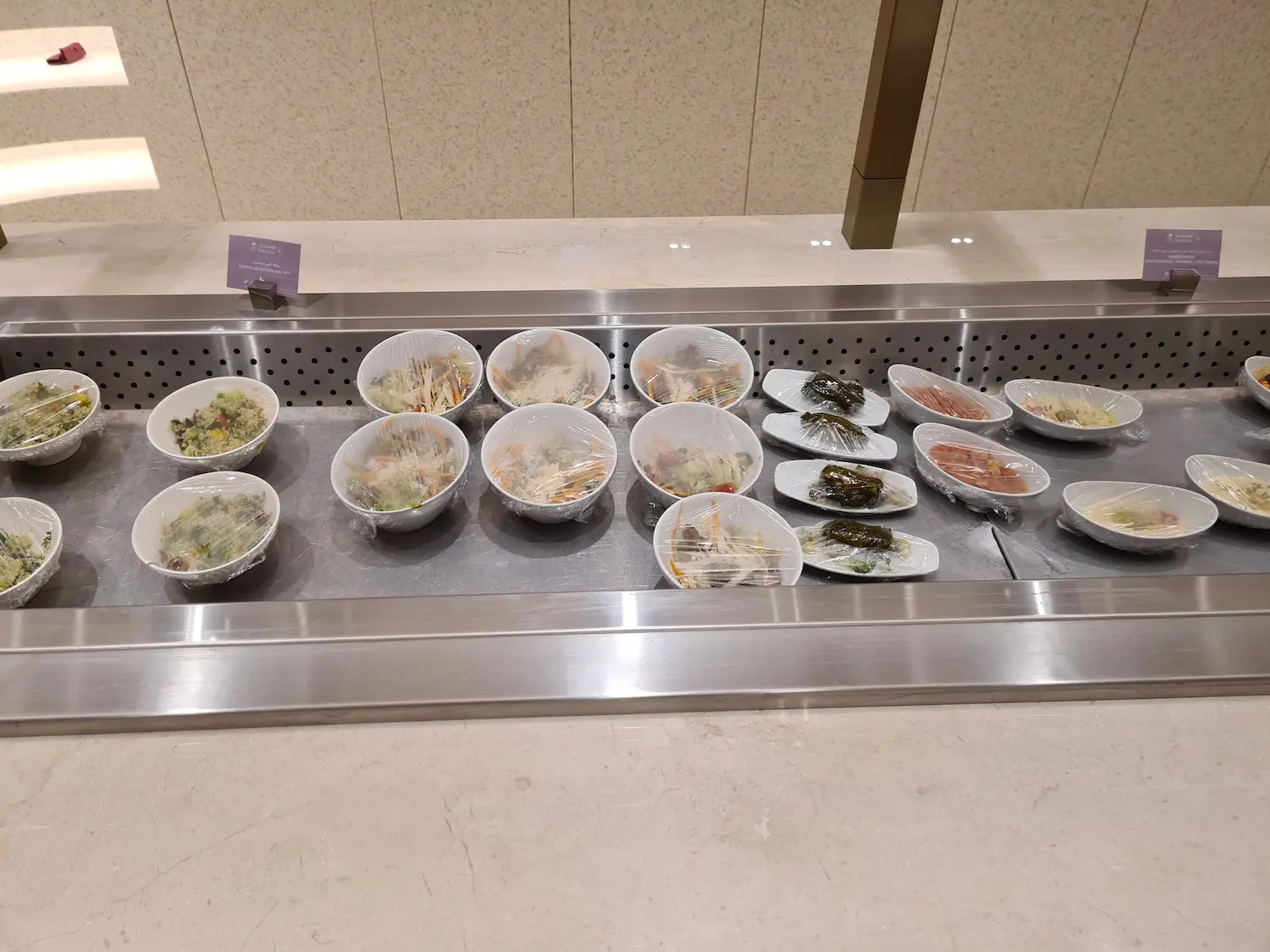 I loved the fact they actually have a barista cafe in the lounge, and you can enjoy a proper coffee and even a chocolate bar with Bateel chocolates that you can enjoy.
Needless to say, I enjoyed both!
They also have a movie theatre with about 6 recliners and a billiards room just before entering the lounge.
My daughter totally enjoyed the kid's area with the toys and the world map that she could play with.
I also liked that the kid's area was actually close to the restaurant and with a glass wall so you could see your child play.
I didn't realise how much of a difference it makes for parenting, but I wish more lounges had the same set-up as it was much more enjoyable for adults and children. They usually have the kids play area tacked away in a corner, making it not very family-friendly.
There is, of course, a prayer area and plenty of showers if you want to freshen up.
I was really impressed with the Alfursan Lounge at the new Jeddah Airport, and I am pleased to have the opportunity to explore it more.
It is definitely a contender for any other airline lounge, and I would say it rivals the Qatar Airways lounge in Doha. Not so much in space but in features.
AlFursan Lounge Access
You can only enter the AlFursan Lounge if you are travelling in business class or hold status with Saudi Airlines.
If you don't have the above you, but you do have any third-party lounge providers like PriorityPass you can visit the new Wellcome Lounge at Jeddah airport.
Here is my review of the lounge and what to expect.
More to read