This is the ultimate guide on how to get from Jeddah to Makkah and Medinah on Umrah with the best transportation options available and tips on making the best of your pilgrimage.
Over the recent years, the transportation choices and quality have increased tremendously with the train from Jeddah airport to Makkah and Medinah being great choices.
I have been lucky enough to have done Umrah every year and to travel from Jeddah to both cities as I also live part-time in the country. So when I say I do know the best ways to get around for Umrah I do!
Best Way to Get from Jeddah to Makkah
For people visiting for the first time Saudi Arabia and going for Umrah the whole process can be very confusing and hard to navigate. On MuslimTravelGirl we have done examples for Umrah packages and we have a top of tips you can use to navigate your first Umrah pilgrimage.
Now for those arriving at Jeddah airport traveling to Makkah, the best way to get from Jeddah airport to Mecca will be by taxi.
The distance from Jeddah to Makkah is approximately 80km and it takes around 1.5 hours in a taxi to arrive.
Makkah doesn't have a local airport so Jeddah is your closest airport when arriving for Umrah.
The reason why a taxi is the best option when you travel from Jeddah airport is because if you take the train from Terminal 1 you will have to take another taxi in Mekkah to your hotel since the train station is a little outside the city.
There is a FREE bus from the train station to Haram however with luggage and tired I doubt this is what you want. Just budget the taxi option as I explain below.
I know however that many people will not have this benefit and they will have to rely on other means for their journey from Jeddah to Makkah and Medinah for Umrah. So here is the best guide you will need to read when going from Jeddah to Makkah for your Umrah. If you want to know more about my best way to get to Medinah check the post at the end of the article.
Taxi from Jeddah
You can easily take a taxi from the new Jeddah International Airport Terminal 1 to Mecca. Once you exit the airport baggage claim you will see signs for taxis, these are approved taxis that will take you directly to your hotel in Makkah.
These taxis at the airport are regulated and you can expect good service. The price from Jeddah Airport to Makkah hotel is standard at around 250 SAR.
They are green colour taxis.
Uber & Careem
Careem and Uber are popular choices of transport in Makkah, Medinah and Jeddah if you decide to visit and explore some of the great places around the city.
They are similarly priced and are pretty easy to navigate. There is actually a stand outside the Jeddah and Medinah airports where it tells you to wait for your ride.
You can also use those within the cities if, for example, you want to do ziyarah or go to masjid Kubah for example in Medinah.
So if you want to go for example to Masjid Kuba you can take a ride with Careem rather than negotiating with a taxi outside your hotel. This might be a good option for women travelling solo from Makkah to Madinah for Umrah. This definitely makes it more affordable and easy for pilgrims.
Private company
There are also private companies where you can rent a driver and a car for a day or even a week if you need to. If you are a large group you might want to look into getting a van instead of taxis. These prices vary but you can find someone for as little as £100 for two days. You will have to negotiate with them and arrange prices and always make sure you have copies of correspondence and prices with you.
Another option will be to actually have a car arranged by the hotel to pick you up from the airport and drop you off directly at the hotel. This costs considerably more than actually getting a taxi yourself or even an Uber since each hotel has different prices. You can check for the transportation options with your respective hotel.
FREE Bus from Jeddah Airport to Makkah And Makkah to Jeddah airpot
There is also a free bus option from Terminal 1 you can take it as well from 10 am to 10 pm and leaves every two hours. The same from the Haram from midday to midnight.
You can find this at the entrance of the airport as well and you do need to provide passport details. I have not found a website where you can book this online but you can go on the day.
Transport for Arrival at North Terminal Jeddah
If you are using a budget airline flight like Wizz Air to arrive in Jeddah for Umrah you will arrive at the North terminal. If you arrive there the best way to get from Jeddah to Makkah is by taxi. There is no direct connection with the train.
You will need to take a taxi to the new terminal if you want to take the train to Medinah or Makkah. If you are travelling to Makkah just take a taxi and make your life easier.
The price is the same and there are taxis again outside the terminal.
The Best Ways to Get to Medinah from Jeddah and Makkah
Now, the distance between Makkah to Medinah is approximately 450km making it a journey by road that takes around 5 hours. I have done this journey and I have to say it is boring since the only thing you see is desert for miles.
The best way to travel from Jeddah airport to Medinah is by the Haramain train. This is super fast, convenient and easy. It is also cheap and very safe considering that Saudis drive like crazy.
Also, the best way to get from Makkah to Medinah and vice versa is by far with the train. Again for the same reasons as above but also because it takes only 2.5 hours to get from Makkah to Medinah instead of the 5 hours that takes on the road. Also, you can stretch your legs and enjoy a cup of coffee while you are at it.
But let's look at all the options for you from Medinah.
If you want to save yourself time and money check out my post on the best airports to arrive for Umrah.
Madinah Airport
Medinah airport is a small airport and you can easily navigate it. Getting from the airport to your hotel or the Prophet's mosques takes around 20-30 minutes depending on traffic.
Taxis again are outside and you can just hail one there or you can order Uber (which is what I have done there). There is a clearly indicated stand for Uber and Careem outside the arrivals terminal at Medinah Airport.
The highspeed Haramain Train
Over the last few years, the high-speed train has become one of the best ways for pilgrims travelling to Saudi Arabia to perform the Umrah to get between the two Holy cities.
It is the fastest way to get to your destination and it is a very comfortable journey.
It takes approximately 1.50 minutes to get from Medinah to Jeddah International Airport and 2.50 hours to get to Makkah. The train station is just outside the airport and in both cities it is a 10-minute drive to the Haram area or the Prophets mosque.
There are several trains per day almost one every hour during peak travel season.
It can reach speeds up to 300km per hour and I have a full review of what to expect on the Haramain high-speed train in this post.
My best advice is to take a one-way route from Makkah to Medinah and then an open-jaw flight as I have discussed in this article about the best airports to arrive for Umrah.
Take a Flight from Jeddah to Medinah
You can either book your flights as an open jaw or you can book yourself a flight from Jeddah Airport to Madinah. This is more time-consuming since you will have to go through immigration, collect your bag and then re-check and wait for your flight. Of course, unless you are doing a transfer through in which case it is less time.
The best way to find the cheapest flights to Medinah is by using Skyscanner as it shows you the options you have for the whole month or even the cheapest month.
This might work for some people but again it is not
SAPTCO Coach From Medinah to Makkah
This used to be very popular back in the day prior to the train but the SAPTCO coaches are still a great option. SAPTCO stands for the Saudi Public Transport Company and they make the journey from Makkah to Madinah direct or to Jeddah.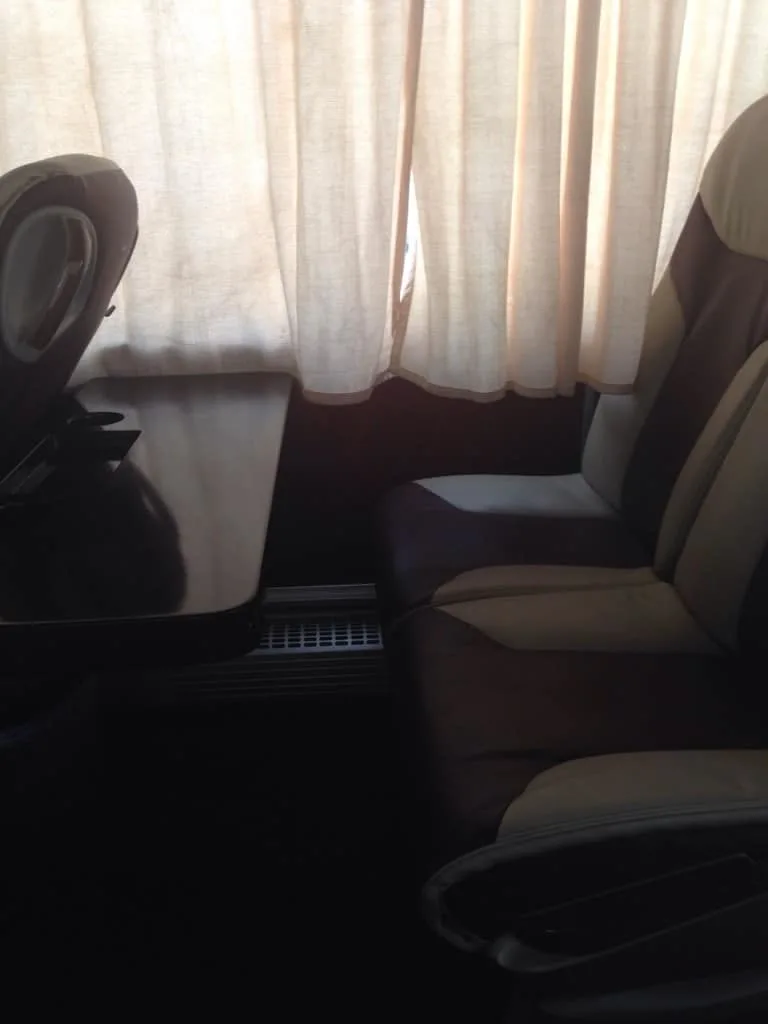 They have two options the regular coach and the VIP option which has larger reclining seats and snacks.
In Jeddah, they arrive at the Al Balad coach station in the old city and in Makkah and Medinah in the coach stations there. The VIP option has different departure points.
The bus can be a great budget option for those who are not bothered by the longer journey but want to save money or have very large suitcases which can be a problem on the train.
The bus to Makkah takes around 5 hours and they do stop at the miqat point on the trip to Makkah.
You have a nice comfortable chair and free refreshments provided on the journey. Just make sure you book the VIP service and not the regular coach if you want more comfort.
You can buy tickets for the bus online and they have several options per day.
The journey is comfortable and one one-way ticket direct from Medinah to Makkah on the SAPTCO bus costs 69 SAR. The VIP option costs 100 SAR one way.
Read: Muslim Travel Girl's Top 6 Best Hotels For Umrah in Makkah

The Best Apps for Umrah You Will Need in 2023
Locals told me to never take a taxi from Makkah to Medina as it is not safe on the motorway due to many drivers speeding. I would also recommend the same to you.
I would also suggest for you not to rent a car and drive since that choice seems to me even more dangerous. The road signs are OK however the driving style is more freestyle and especially if you come from a country that drives with rules you will find it frustrating at the least.
Taxi from makkah to Medinah
This is an option that personally I might not be very happy with in terms of safety. I know things have improved over the years but again some drivers drive like crazy and are tired.
You can definitely get a taxi from Makkah or Medinah and you can negotiate the price for the journey with the drivers directly.
A taxi from Makkah to Medinah costs around £100 / $120 one way. You can find many taxis outside the hotels in both cities.
This is a good option for a family or those with a lot of luggage as it takes you door to door.
Renting a Car on Umrah
Now with the Saudi Tourist visa, you can easily also rent a car when on Umrah. On an Umrah visa, you cannot.
There are car hire kiosks of all the major names at the airport and in Jeddah. It is pretty easy and you do require an international driver's licence.
This is a good option for those who want to explore more outside the Holy cities like Al Ula, Taif or to drive by themselves to Makkah and Medinah.
Please note however that parking in Makkah is very expensive the Jabal Omar hotels I believe charge around £50 a day, as parking is hard to come by near Haram.
When we go for Umrah from Jeddah we usually hire a driver than drive since it is much more hassle but again it is an option.
Keep in mind again that they do drive like crazy and also they don't have much regard when overtaking.
I would highly suggest you get full excess cover insurance on the car is you hire one.
Sightseeing in Medinah – Madinah Bus
Recently there has been introduced a sightseeing bus in Medinah which you can take to visit the 12 historical places of the Holy City. I really like the idea of these buses because they are an easy and convenient way to explore a city.
We used them in New York and I will happily use them next time I am in Medinah as well. You can always leave the bus, explore at your own time and then wait for the next bus to take you to the next destination. Simple!
The Sightseeing bus in Medinah runs every day all year round with a bus frequency of 30min and each ticket costs £18 per person.
You can also do a historic tour site of Medinah with a private guide for around £60, which is a great option if you want to explore around the city.
If you want you can also walk to Masjid Kubah as they have a dedicated path lane from the Prophets mosque.
We visited Masjid Kubah, Mount Uhud etc. However we did have an interesting occurrence when the driver decided to change the negotiated price in the middle of the tour. If this happens to you don't agree to a different price stick to what was originally negotiated. Our driver decided he wanted to increase the price from 150 SAR to 400 SAR! That didn't work very well for him. 😉
I prefer nowadays booking with sites like Viator since local guide offer their services there just to avoid things like this which ruin the trip for me.
You can also book private Ziyarah trips in Makkah as well this way.
The Ultimate Guide on How to Do a DIY Umrah; (Do-It-Yourself) Umrah

The Best DIY Umrah Packages 2023 Done for You

Umrah Price Comparison: Umrah Package Agents vs DIY Umrah Which is Cheaper?

New Saudi Transit Visa 2023 -Free Umrah & Accommodation

Can You Go for Umrah After Ramadan?