In 2022 I had the opportunity to fly in Saudi Airlines Business Class several times thanks to the fact I live in Saudi and the UK, and my husband's job pays for the flights. Alhumdulillah!
I always wanted to check out the Saudi business class since I have been going to Umrah for years but never managed to use points to upgrade.
We have flown several times in economy class in the last 12 years, and I have to say I can see significant improvements in their service over the years.
This review is more of an overall experience in Saudi Airlines business class; we fly a similar route Jeddah to Manchester either in business or economy with upgrades, but since I have flown a few times, I can give, I hope, a better understanding of the product and what to expect if you decide to book business class.
Saudi Airlines Check-In
One thing I love about business class travel or even having status with airlines is skipping the queue and checking at the business counter.
With a toddler in tow, this is much faster and easier, especially when the Boeing 787 is huge and they are always busy with pilgrims. The queue at Manchester airport was stretching beyond the limits. It was easily 1hr wait.
In Jeddah, check-in for business class is in the New Jeddah Airport Terminal KAIA and is much faster as plenty of desks are open. I normally don't have to wait more than 10min to check in at the counter there, whether economy or business class.
I love the new terminal in Jeddah as it is much more capable of handling the number of passengers.
Saudi Airlines Business Class Seat
We have flown on their new business class suite product on the Boeing 787-9 to Manchester from Jeddah direct, and until April 2022, these flights were suspended.
The Saudi Airlines business class seat is a good product with plenty of space and privacy.
The seats have adjustable headrests, lumbar support and massage functions, as well as a large recline angle.
There is plenty of space for your feet even when the seat is fully reclined. I opened the bed and stored my shoes, usually my test, without getting quashed.
They also feature a power outlet for charging your devices, an adjustable footrest for added comfort, and an in-flight entertainment system with options for movies, shows and children. They offer Hollywood and Bollywood options as well as Arabic shows. My daughter enjoys their colouring games and children's shows too.
One thing I noticed, especially since I always clean with antibacterial wipes, is that the seat and tray were clean. Usually, I would find cramps and dirt, but they cleaned the plane thoroughly before departure.
In most cases, the planes I travelled on were cleaner than average.
As a hijabi, I value my privacy, and when possible, I choose the window seat to be alone. Since these seats are configured as 1-2-1, you have more privacy even without a door because they are angled.
If I am alone with my daughter, I pick a window seat for her and an aisle seat for myself; this way, I can keep an eye on her. I have a full article on how I choose seats with toddlers.
The Saudi business class amenity is nothing to talk about as I find it always very basic. It is definitely something they can improve on.
Saudia Business Class Food and Beverage
Overall I enjoy the food options with Saudi Airlines, and I find that their food tastes nice. I loved the mushroom soup I had and the Arabic mezze option as well.
Of course all food on board from Saudi Arabia and from other countries is halal.
They also offer a kids' menu with pizza, chicken nuts etc., that a toddler might prefer.
Before take-off, you are offered water and juice, and since Saudia is a dry airline, meaning they don't serve alcohol, there is non on board. They also offer you a hot towel before take-off.
I would love to have the So Jennine option available on Qatar Airways, though, so if the catering manager is reading this, please add it to the menu. Thank you.
Several of the flights offered snacks after breakfast for the 6.5hr flight. I feel that, like with many things, this depends on the flight attendant and how welcoming there are.
On some flights, we had breakfast and snacks on our flight from Jeddah to Manchester, but on others, my aisle had to ask where my husband got extra nuts and snacks.
So there was inconsistency in service even on the same flight. I hadn't realised this because my husband was looking after my daughter, so I enjoyed uninterrupted shows.
But if this is your first or only flight in business, you might not know or have limited experience.
On one of my flights, I am sure they didn't serve me the correct food choice since I opted for the Arabic mezze and the shakshuka, eggs in tomato sauce.
I received scrambled eggs, raw tomato and some horrible-smelling minced meat.
I returned this and was offered another choice, but by the time I asked for it, it was not available.
It seemed this was also the case with some of the drink options I asked about. I think they only stocked a limited amount and not enough for all passengers.
The pastries they serve, however, are fresh and lovely, and they always go down well with my kid.
Overall, however, I find that the food in Saudia is pretty good in taste and options. I also flew in economy from Jeddah to Madrid, and the choice was also good. So I feel there is consistency in the quality.
Saudi Airlines Business Class Customer service
With everything luxury, it is subjective how good the staff is at making the experience special. Because you know you are getting a flatbed, but everything that makes you feel good is usually the soft touches, whether in an airline or hotel setting.
I would say overall, my flights in business and economy have had a cordial and polite staff, but there were cases where I felt the staff was slacking and also just seemed not interested in serving you.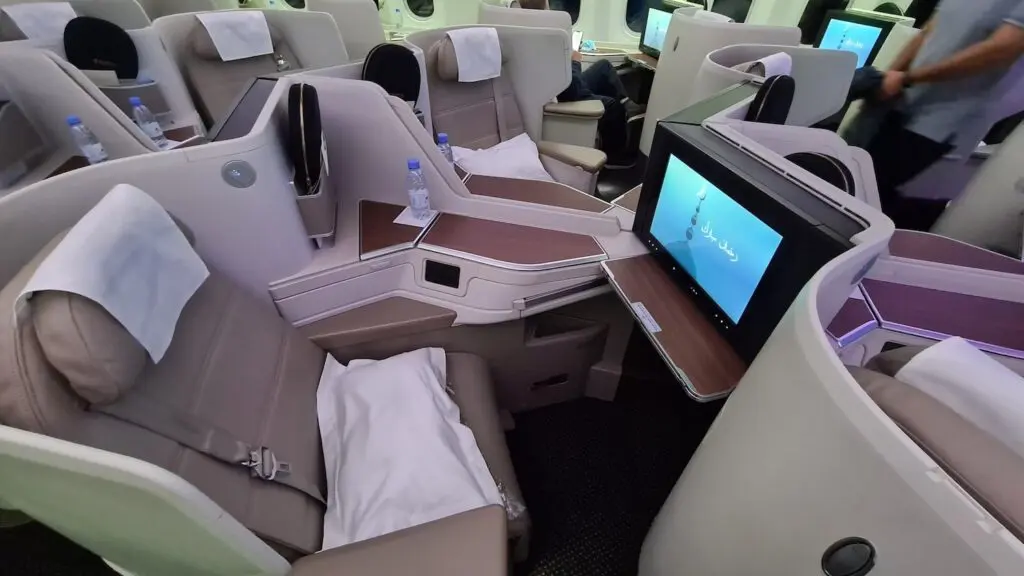 Our flight from Jeddah to Manchester during Eid 2022 was fully booked; we wanted to travel on another date, but there were no seats available. Considering it was just before the Eid holidays, it made sense.
My hostess was cordial during my flight, but it seemed my luck was short since I didn't have a very good experience when it came to customer service.
As with the limited food options, I had to request and wait for a bottle of water repeatedly. My husband and other customers received some cookies and fruit, but even though I waited, it never reached me.
I guess taking a break from my daughter meant also taking a break from good customer service on a flight I could actually enjoy the service.
I found this very weird as when we finished the flight, my husband said he enjoyed it and the customer service was good. Since he was on the other side and had a different hostess, I assumed I was unlucky.
Another thing that truly bothered me was that just before take-off, the purser came and asked my husband if my daughter would make noise during the flight as some people wanted to sleep.
I had never had this happen before, and considering that the flight was at 9 am in the morning and that my daughter was still a paying customer, I found this rude. After taking almost 20 flights with her in the past three years, this was the first time we were asked this.
For the record, she didn't make any noise, was very happy to play and watch cartoons and had no complaints.
However, on the flip side, on a flight I flew solo with my daughter, the crew was so accommodating, playing with her and spending time with them, that she didn't want to leave at the end of the flight.
They really made it easy for me to enjoy a few hours of relaxation, even when she was singing and dancing in her seat. That flight was not as busy.
I don't let one bad experience ruin my opinion or flight. For the past several years, Saudi Arabian airlines have done a good job training their crew and providing a competitive product. I think the consistency in training or approach should be reviewed, but after about five flights in 2022 alone and several planning for 2023, I can say about 80% is there.
It is a good option, especially because you can easily upgrade to business class without paying the full price tag.
The hard product is solid. It offers privacy, good legroom, and plenty of space to store your things, and it is also a new product that was also clean.
Saudi Airlines Business Class Lounge Access
The Al Fursan business class lounge in KAIA Jeddah Airport is fantastic, and I have a full review of it here. You can only enter the lounge with status or a boarding pass in business.
In Manchester, you can access the same as the priority pass lounges, and I have to say it was nothing to write about, especially since it is old and dark on the lower level.
If you don't have a status or travel in business, you can use a Priority pass for the Wellcome lounge in Jeddah.
Saudia Baggage Allowance
Depending on the ticket and whether it is flexible or not in the economy, you get 1 bag of 23kg or 2 bags of 23kg.
The Saudia business class luggage allowance is 2 bags of 32kg, irrespective of your ticket class.
You can find more info here
Saudi Arabian Airlines Other features
With the tourism in Saudi opening and with the new free transit visa introduced for those wanting to visit for a short time or on a layover, it is a good option, and I find it a nice airline to fly on.
They have some good offers depending on destinations as well from time to time, and recently also an error fare from Cairo to Seoul for £500 in business class. So it is worth keeping an eye on an offer like this.
Saudia also offers one of the easiest ways to bid for an upgrade from economy to business with good success rate.
I have an article on upgrades to business and possibilities for Saudia here.
More posts you might be intrested in

Wellcome Lounge Jeddah Airport Review

The Impressive Saudi Airlines AlFursan Lounge Jeddah Airport KAIA

Saudi Airlines Istanbul to Jeddah for Umrah

Tips for Choosing Business class seats with Toddlers