One of the most common questions I get asked on social media is what to wear when going for Umrah &Hajj. Since I have recently completed Hajj too I will share what I wore to both pilgrimages since they are basically the same.
Also, may I say that I cannot believe I have never written an article about what women can wear on Umrah and Hajj!
I have answered the questions on Instagram probably hundreds of times but didn't do so on my website.
Ihram Clothes For Women
Now, I am no scholar so if you want the particular on Ihram please check out other videos and speak with your local Imam.
However, women have it much easier when it comes to Ihram in terms of clothing since we can wear regular clothes and an abaya on top, unlike men.
I read some weird articles online when researching this post like you must not wear colour (shock me coloured!) or black and white abaya only! – Yes, no!
You enter your ihram either on the plane about 40 minutes before landing in Jeddah or on your way from Medinah.
The state of Ihram depending on where you land and how long it takes you to go to Makkah is short. The Umrah pilgrimage for example is only around 2 hours which is how long it takes you to do all the rituals. It is not that long and many women stress about it because they are not familiar.
For Hajj it is 3 days due to the nature of this life-changing experience.
You can take a bath before starting your journey and doing all your beauty treatments. Like shaving, cutting nails etc. Then just before your Miqat point, you make your intention for Umrah by saying the Labaika (I am writing a guide on the steps.)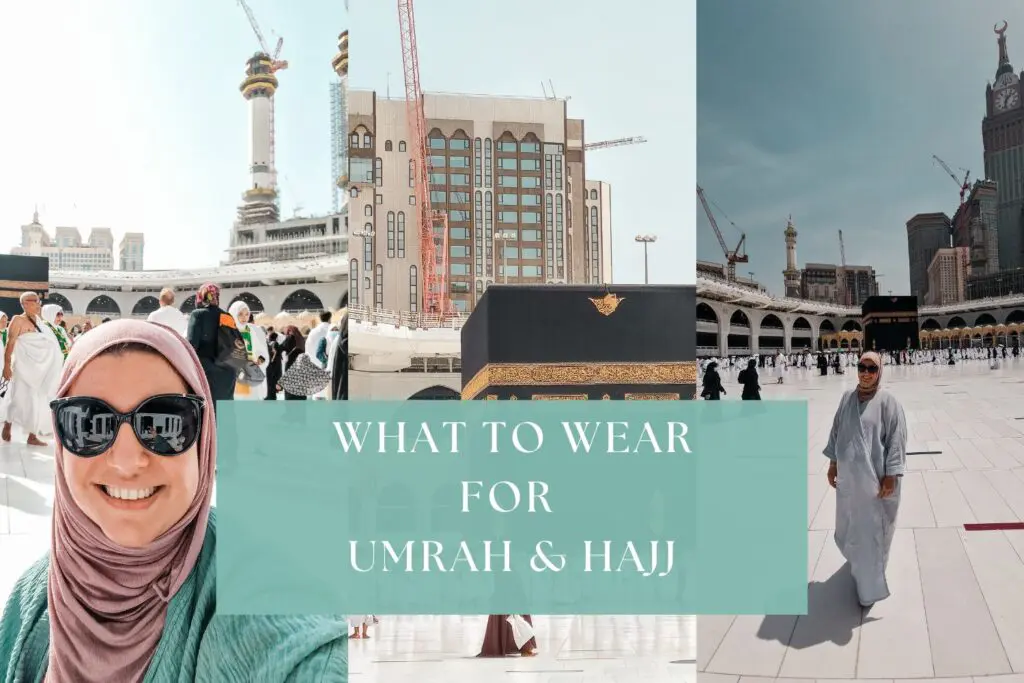 Many people who arrive from afar in Makkah prefer to rest prior to performing Umrah. You can sleep in the state of Ihram (which you do at Hajj as well).
This is also why I always say it is better to arrive in Medinah first. Just making your trip more enjoyable.
During your state of Ihram, there are certain things you cannot do, like scratching, make-up, perfumes, and having sexual intercourse.
Many women think that when you are in Makkah you are always in Ihram, this is not the case and after you finish your Umrah and cut a small piece of your hair you are out of Ihram. You can then wear perfume and your make-up if you want or your deodorant.
You really don't need to buy everything in fragrance-free options.
Clothing Guide for Women Heading for Umrah and Hajj
No matter when you go for Hajj and Umrah the weather in Saudi is hot. As someone who has lived in Saudi for some time, I always struggled with the humidity in Jeddah. Makkah and Medinah are not as bad but still especially during the summer months can be a struggle and I can tell you polyester is the worst to wear.
I always go for comfort and lightness when I choose my clothes for Umrah because I sweat a lot and I hate it. I even got sick during Hajj because It was so hot outside and then went to the mall with the AC at 15 and got a cold.
Cotton Abaya
Cotton abayas are what have saved my skin during Hajj and Umrah. They are not easy to find and a little more expensive but so worth it. I am not sure why polyester abayas are so popular, especially in hot countries but they are the worst, I have actually had my skin burned wearing them.
If you are in Jeddah I go to the Abaya Mall called Serafi Mall and I go through every single store looking for cotton abaya to stock on. I am sure you will find them in Malls in Makkah and Medinah.
They are light to wear and breathable which is very important.
Personally, when you are on Umrah you will see a lot of black abayas but you can also wear a white abaya or any other colour you want. Whatever you choose to wear it needs to be modest (not tight) and cover you properly, which I believe we are smart enough not to know.
Maxi Dresses
Another thing I love wearing during my pilgrimage or even after I am done and I do tawaf or pray in the mosque are maxi dress.
Usually, I will wear a maxi dress either sleeveless or quarter sleeve and then my abaya on top. With both being from breathable material it feels good on my skin.
I did recently an Instagram reel of what I wore in Greece which is very similar to what I wore when performing Hajj or Umrah as well.
Modanisa has great very cheap maxi dresses you can wear under your abaya. Their REFKA brand is very cheap but also made of viscose which is breathable and soft. I have every version of these tops and dresses for the gym and Umrah. Buy a size up if you need too. They are cheap and so great for hot weather.
Another version is this maxi dress that looks like abaya and it cotton as well for under £10.
I also love maxi dresses from M&S in the UK and I have had several especially their beach summer collection is cotton or viscose which I like.
I am also sure SHEIN will have plenty of dresses if you prefer to shop from there. I usually filter their clothes by cotton and viscose the two materials I prefer to wear in hot countries.
Personally most of the time I wear soft Sweaty Betty leggings under my abaya, I lived in those when I went for Hajj. I will then wear a sleeveless maxi dress and my cotton abaya and I am good to go and modest.
Leggings
Find some soft material that works for you. Before discovering Sweaty Betty which can be expensive I used to wear Primark viscose leggings again for under £10.
Umrah and Hajj clothes for women don't have to be expensive.
Athletic Modest Clothes
Okay, this is getting its own category because I absolutely love these gym trousers from Puma that are from their modest collection.
I actually bought these for my Machu Picchu trip last year but I still wore them during Hajj.
They are so light you don't feel them wearing but they also have this legging part that covers you as well since they are meant for the gym.
Definitely on the expensive side but I would recommend them as a buy especially if you go to the gym often as well.
More Umrah posts

The Ultimate Guide on How to Do a DIY Umrah; (Do-It-Yourself)
Umrah Umrah Price Comparison: Umrah Package Agents vs DIY Umrah Which is Cheaper?

The Perfect Hijab for Umrah
You do need to cover your head while doing Umrah and Hajj and when in Ihram. Even if you don't cover your head during other times. Personally, I love viscose/jersey hijabs as I feel they suit me better, they stay on my head and are breathable.
I don't like the polyester ones that come with the abaya or the Arab sheila because, for the life of me, I cannot make them stay on my head.
You can pin your hijab when you are in Ihram so this is not a problem if you prefer other materials.
Another option which is generally liked especially in Ihram to minimise hair showing is the all-in-one hijab.
This instant hijab from Modanisa is a nice option
These jersey hijabs are my favourite and I love the colours. Even during Umrah, I don't wear black hijabs as they attract the sun and I like to be in the main tawaf area.
Best Shoes for Umrah for Ladies
Another popular question is what shoes to wear for Umrah?! Again, if you follow me on social media ( must do of course!) you know that my favourite walking shoes for Umrah are actually the beach Birkenstock.
If you have been to Umrah you know that the distances whether inside the Haram or just getting around all the block exits and to your hotel can be like a mile or two. No, jokes!
You can easily average 15,000 steps per day without blinking. During hajj is even worse and on one day we did like nearly 50K.
I always travel with two pairs of shoes for Umrah especially as I usually travel with hand luggage only.
One is my beach Birkenstock flip-flops. I used to wear the regular ones for Umrah until I discovered these and my feet don't swear this much and they are also super light because I tie them in a bag around my waist so I don't have to carry them. You can also wash them during wudhu and they are still perfect. During hajj they were God and since I have no arch they provide good support to my feet.
I don't wear flip flops as they are too flimsy for my liking.
The other pair I always wear when I go to Umrah is a pair of light-material trainers. I have this exact pair in white that I accidentally found while in Chicago for $10 on sale. They came with me for Hajj and Umrah because they are so light and breathable.
Find a similar pair of these that you can wear on long distances to give your feet good support.
Usually, if I am doing tawaf during the rest of my stay in Makkah I will wear these especially if I am circulating on the top mataf floors. The distance is almost double and it takes 1,5hrs. Walking without shoes can start to hurt your feet.
Of course, you can bring any other shoes you want but personally, with these two pairs during your stay in Makkah and Medinah, you will be very comfortable.
After all, you are there to worship.
Toiletries for Umrah
As I mentioned before you don't really need to buy specific fragrance-free toiletries for Umrah. Your Ihram during Umrah will be only a few hours. If you have taken a shower before your flight and you are just performing Umrah straight away ( which is what I usually do) you don't need to buy special toiletries.
For Hajj I did end up buying fragrance-free toiletries because we were in Ihram for several days.
Moisturiser for me is a must, especially with my combination skin and making wudhu several times a day. I in general love the Vichy Minéral 89 72HR Moisture Boosting Cream and this is the fragrance-free version I use daily.
This you can wear during your Umrah or Hajj in Ihram.
Sunscreen is a must when in Saudi Arabia. Always wear sun protection because it can massively reduce spots and also skin ageing. I used Bondi Sands during Hajj also in my daily life I use the La Roche Posay Anthelios 50+. I am happy with both of them I just alternate.
Deodorant no woman wants to be sweaty and of course, it is not very pleasant. In my daily life, I use Wild deodorant and I have shared this online. I am happy with them and I have been using them for years.
I watched a video before Hajj by Sk Yasir Qadhi (very useful and recommend watching it) on using something with perfume since there is a light scent in it.
You can try them out for yourself with 50% through my referral.
What Bag to Carry During Umrah
Okay, I have a handbag obsession and I just simply love them. I know you are probably wondering what to wear when you go to Umrah. Over the years I have experimented with several handbags and general bags for Umrah and I am going to tell you which ones I like the best.
For years I used the Aria bag by Senreve (told you bag obsessed) I love this bag because it has a multi wear and functionalities. During Umrah and during my Hajj (eye roll) I wore it as a waist bag and this is where I would clip my shoes. Told you, all about multifunctionality.
Recently I discovered the Pacsafe bags which are anti-theft travel bags and I have two I bought and like. I will need to review them but these are great for Umrah and Hajj because they also lock. Yes, there is also theft in the Holy places so it is good to be mindful. I have this sling bag and I love it as again it can be worn around the waist too.
For a more affordable and light option, I bought these backpacks for Peru and used them for Umrah as well. They are well made and cheap plus if you travel only hand luggage they are small.
Usually, during your stay in Makkah and Medinah, you want a bag for your prayer matt, water, shoes and anything else you might carry like the Quran.
Cutting your Hair
I am adding this hear because once you have completed your Umrah insha'Allah you will need to cut a very small part of your hair. Don't make my mistake as once I cut too much and my hair was wonky!
You need only a few centimetres from the back of it. I usually carry with me a small pair of scissors and literally just do it once I finish Saii. Then I can relax and enjoy the rest of my time while I am in Makkah.
Overall you can wear whatever you want during Umrah as a Muslim woman. Packing for Umrah is not and doesn't have to be overwhelming. If you dress modestly in your daily life then you are set and good to know. The most important part is your Ihram for women and not to invalidate it. But if you do small things during your Ihram like scratch your face you can pay a small penalty.
I will be doing a little more on the things to pack for Hajj but in terms of what to wear when going for Umrah & Hajj, this is pretty much everything you are required to wear and be comfortable.
You don't have to go out there and spend hundreds just to prepare yourself for that amazing journey.
Would love to know what other things you wear during your Hajj and Umrah inshaAllah in the comments.
FAQ
What do you wear during Umrah?
As I mentioned above, you can wear regular clothes with an abaya on top if you are comfortable like this. Women don't have specific attire like men.
Do you need new clothes for Umrah?
You definitely don't need new clothes. As suggested above I wear the same dresses on the beach in Greece and while on Umrah and Hajj. If your clothes are clean don't have to be new. Allah doesn't care about that.
Can you do Umrah in normal clothes?
You have to be modest and fully covered with not tight clothes. So you can do Umrah in a maxi dress that is not fitted yes, but ideally not in jeans for example.
More articles to enjoy

5 Things to do before Hajj that helped me during my own Hajj
Ultimate Guide on How to Get from Jeddah to Makkah & Medinah for Umrah
The Best Apps for Umrah You Will Need in 2023
The Best Practical Tips You will Need When Travelling for Umrah or Hajj with Kids!
The Best Tips for Umrah with a baby from an experienced mum
The Saudi tourist visa 2023 – Updated
20 Safety Tips for Muslim Solo Female Travelers: The Ultimate Guide to Fearless Adventures!
The Best Tips for Umrah with Kids From Over 7 Umrah