One of the questions I receive all the time is which airport is better for Umrah?
This is not as relevant now with the new Haramain train that connects Jeddah Airport and Medinah or Makkah. It is the fastest and safest way to travel to Medinah while on Umrah.
This is especially beneficial to consider if you are having a stopover on your way to Saudi because then it might be easier for you to actually arrive in Medinah.
Few Things to Consider about Which Airport is better for Umrah
1) when you are going
2) how many people are going with you
3) the duration of your trip
4) if you are only visiting Makkah
During busy times such as Ramadan and peak holidays, it is best to arrive in Medinah. The airport is smaller and not many airlines fly into Medinah therefore it is less congested. You can be done with immigration and collect your luggage within an hour whereas in Jeddah it can be much slower.
Also if you are travelling with small children it is easier to arrive at the hotel and rest since the distance from Medinah airport to your hotel wouldn't exceed a 25 min drive. Prices for flights arriving in Medinah and leaving from Jeddah are not too expensive either and it is less hassle compared to the 10-hour return journey by coach, 4hrs by train or car.
Jeddah airport is a busier airport so queues and delays are more prevalent. I would recommend aiming not to fly into Jeddah if you can during peak travel dates like Christmas and Ramadan.
If you want to explore the option of arriving in Medinah and leaving from Jeddah then look for a "multi-city" choice when booking your flights. Sometimes these can also be cheaper as well.
If you are doing a DIY Umrah option you can manage and find flights that can arrive in Medinah and leave from Jeddah which is closer to Makkah.
The new Jeddah airport is beautiful and modern so there is plenty of space when you are leaving and they are also pretty efficient.
Where can I land in Umrah in Saudi Arabia?
If you are going on an Umrah with a tourist visa then you can land at any airport in Saudi Arabia and make your way to Umrah. There are no restrictions as they used to be for Umrah visa holders. You can go explore Riyadh or Dammam and then go for Umrah to Jeddah or Medinah.
The closest airport for Umrah is Jeddah, but as mentioned here if you have had a long journey I would recommend you start in Medinah.
Ways to Get from Makkah to Medinah
As mentioned above the Haramain train is the best option for travelling between the two cities. You can read all about it and how to book here.
Your other option is to fly to Jeddah and then a taxi or a train which I would not suggest as it is time-consuming and expensive.
Your second-best option will be the SAPTCO VIP coach from Medinah to Makkah. You can check a full guide for transportation during Umrah here. The coach stops at the meeqat point for Makkah so you can make your intention for Umrah and change into Ihram.
Another option you have and this is less known is arriving in Yanbu which is a city about 220 km from Medinah. Your Umrah visa includes flights in and out of Yanbu as well.
Yanbu has a small airport serviced by low-cost carriers such as Air Arabia, FlyDubai and some larger airlines such as Turkish and Saudi Airlines. Because there are quite a few flight options sometimes they have good prices which can make sense for those doing a DIY Umrah.
In short, the best airport for arrival in Saudi Arabia Umrah really depends on you and your circumstances. However, I would advise if you are travelling during peak times December to April and in Ramadan to avoid arriving in Jeddah, especially with children and the elderly.
Medinah eases you into the Umrah spirit and makes it easier for you to rest and then continue with your religious worship fully rested.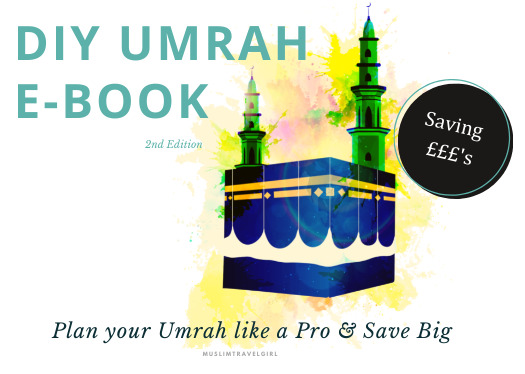 DIY Umrah E-Book
Imagine going for Umrah, standing in front of the Kabah without having to pay thousands on flights, accommodations or agents.
In my DIY Umrah E-book, I share with you how you can save thousands every time for every trip. It truly changes the way you travel.