When planning an Umrah trip, one of the common questions is which airport is better to arrive and depart from. For those going first time for Umrah, it can be daunting especially as the closest airport to Makkah is actually in Jeddah, a city 150 kilometres away.
So in some cases, the best airport for Umrah is actually Medinah which is even further away from Makkah. After so many Umrah completed over the years and even with a newborn, toddler and a child I can give you my five cents of what I consider the most comfortable experience.
Things to Consider on Best Airport for Umrah
There are many factors in planning for Umrah and it can be overwhelming, we do have full DIY Umrah guides and examples of Umrah packages for you.
When it comes to arrival airport for Umrah it is important to consider these questions before booking your flights.
when you are going
how many people are going with you
the duration of your trip
if you are only visiting Makkah
During busy times such as Ramadan and peak holidays, it is recommended to arrive in Medinah. The airport is smaller and less congested, allowing for a quicker immigration process and luggage collection.
Additionally, if you are travelling with small children, arriving in Medinah is more convenient since the distance from the airport to your hotel is less than a 25-minute drive.
If you are booking flights with a connecting airline like Emirates or Qatar for example, usually prices are not much more expensive to book your arrival in Medinah.
Also with low-cost airlines like Wizz Air flying there, you can even connect in Riyadh or Dammam and then again arrive in Medinah.
This is a much easier option for those who want to not rush their Umrah since you will need to be in ihram on your arrival in Jeddah. Where if you arrive in Medinah you do not have to stress over performing Umrah after a long flight.
If you want to explore the option of arriving in Medinah and leaving from Jeddah, look for a "multi-city" choice when booking your flights. Sometimes these can also be cheaper. In my book DIY Umrah – I explain how you can save money on your Umrah packages with hotels up to 70% less.
Overall, the decision of which airport to fly in and out of depends on various factors, such as travel dates, budget, and convenience. It is recommended to research and plan accordingly to ensure a smooth and hassle-free experience.
Related Posts:

Everything On The Saudi Electronic Visa Waiver (EVW)-How To Issue The E-visa Waiver For Saudia
Where can I land for Umrah in Saudi Arabia?
Travellers going to Umrah with a tourist visa or the visa waiver option can land at any airport in Saudi Arabia and make their way to Umrah. They used to have restrictions on where you can land but not anymore.
You can even go on holiday in Riyadh or Dammam before continuing for Umrah. Again the nearest airports that you can land are Jeddah and Medinah. Makkah does not have an airport.
There are so many beautiful places in Saudi Arabia I would strongly recommend that you explore them as well.
Related Posts:
What are the Best Airports to Arrive and Depart from When Performing Umrah?
There are two airports where you can land that make the most sense for Umrah but there are 3 terminals. Here are some of the convenient terminal options for Umrah arrival and departure:
King Abdulaziz International Airport (KAIA) in Jeddah Terminal 1:
This is the newest airport Terminal 1 opened a few years ago. It is new and beautiful and they also have several lounges, shops and even a terminal hotel. Their immigration services have improved massively and there are so many kiosks that I have never waited more than 20 minutes for an officer. The whole experience can rival an international airport anywhere in the world. Also, the Haramain train station is just outside the new terminal. So if you are taking the train to Medinah from Jeddah this is where you will embark.
King Abdulaziz International Airport North Terminal:
This used to be the old terminal where every flight would arrive. Now it is used by mostly low-cost airlines that fly there such as Jazeera, Wizz Air, Nile Air, Pegasus Airlines etc. You can find a full list here. The N stands for North Terminal. If you travel with a budget airline and you don't want to take a taxi to Makkah then you will need to take a taxi or a free shuttle to Terminal 1. It is more hassle this way. So if you land for Umrah in the North Terminal you are better off taking a taxi to Makkah and your hotel.
Prince Mohammad bin Abdulaziz Airport in Madinah
The Medinah airport is relatively new and small. Personally, I find it easy if I am transiting with an airline to book directly to Medinah. Especially if you have young kids and elderly or during peak times. It is less congested, and passengers can be done with immigration and collect their luggage much faster. Right outside you can find taxis and Uber as well.
Choosing the best airport for arrival and departure for Umrah will always depend on your circumstances and who you are travelling with. There is no right or wrong choice, it is just personal preference.
Ways to Get from Makkah to Medinah
Travelling between Makkah and Medinah is an important aspect of Umrah. The best option for travelling between the two cities is the Haramain train, which can transport passengers in around 2.5 hours, depending on the speed. The trains can travel up to speeds of 300 km/h. Train tickets need to be booked online.
We have a full article on the Haramain train with a lot of information to read.
If you prefer to travel by coach, the SAPTCO VIP coach from Medinah to Makkah is another option. The coach stops at the meeqat point for Makkah, where you can make your intention for Umrah and change into Ihram. However, travelling by coach takes longer than the train and can be more expensive.
Flying to Jeddah and then taking a taxi or a train is also an option, but it is time-consuming and expensive. Therefore, I would not recommend it. The train is the safest, fastest and most convenient option.
If you arrive in Jeddah since it is the nearest airport for Makkah, I would recommend that you get a taxi directly to your hotel instead of a train. The train stations are further from the city and you still need to take a taxi in Makkah making it time-consuming, especially in ihram. A taxi to Makkah costs around £50 one way and you can get one directly from the terminals. We also have a full guide on transport methods for Umrah.
Related Posts:
Frequently Asked Questions
How to Plan Travel for Umrah?
Planning travel for Umrah can seem a daunting task, but it is essential to ensure a smooth journey. It is recommended to plan the travel at least a few months in advance to avoid any last-minute hassle. I have put together a free online guide for the best time to go for Umrah in order to save money. We also have a step-by-step guide.
What is the Process for Obtaining an Umrah Visa Online?
Obtaining an Umrah visa online is a straightforward process. Depending on your passport you can issue, a tourist visa, umrah visa or a visa waiver for the UK and other citizens. Full list of the posts at the end of the article.
Can I Wear Ihram at Jeddah Airport?
The Ihram needs to be worn before crossing the Miqat (a boundary that marks the start of the Hajj or Umrah). If you arrive in Jeddah you will need to wear it around 45min before landing. The pilots will announce how long it is for meeqat point and then you can wear your Ihram and make intention.
Are There Any Restrictions on Which Airport Umrah Visa Holders Can Enter From?
There are no restrictions on which airport Umrah visa holders can enter from. The pilgrims can enter from any of the designated airports, which include Jeddah, Madinah, Riyadh, and Dammam. However, it is recommended to enter from Jeddah airport as it is closer to Makkah and has better connectivity. Umrah visa holders have restrictions on the times of the year they can enter for example it closes during the last 2 weeks of Ramadan.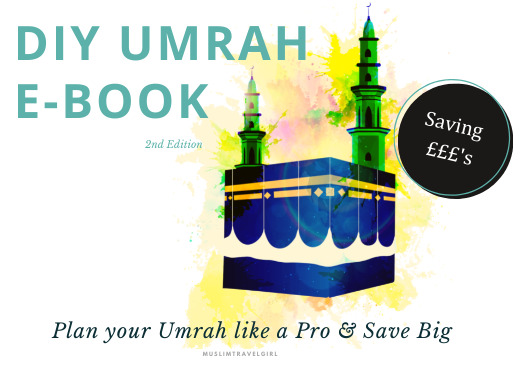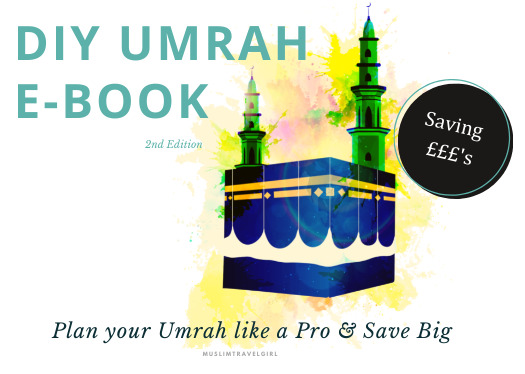 DIY Umrah E-Book
Imagine going for Umrah, standing in front of the Kabah without having to pay thousands on flights, accommodations or agents.
In my DIY Umrah E-book, I share with you how you can save thousands every time for every trip. It truly changes the way you travel.