The Saudi tourist visa has been open since the 1st of August, and in just a few weeks, I was able to use it for myself.
If you follow social media, you know we moved to Saudi Arabia and used the tourist visa to enter initially.
The process is available for everyone who is fully vaccinated and wants to visit Saudi as a tourist.
Now, because the rules are still the same, those entering with a tourist visa can also perform Umrah without a problem.
You need to do several steps, but it is not as daunting as I initially thought.
I have a full in-depth video on how this works, but I am also updating this article as I promised.
Who can enter on a Saudi tourist visa?
The rules regarding who can issue a tourist visa have not changed. You can find the details of the countries further down this article.
However, everyone who enters will need to be fully vaccinated and to have waited at least 15 days before entering the country.
You will also need to have done a PCR test 72 hrs before travelling to Saudi. The test will be checked at check-in and also once you arrive in Saudi.
You also need to enter your details on the Muqeem website, which is basically a passenger locator form with your vaccination details. You can find the site here.
If you have done your vaccination just before arrival, please note you will need to wait for the day of travel to complete it. I had this issue, and I did the form just after midnight on the day of travel.
Once we arrived at the airport and immigration, they only asked for our visas. They had checked the PCR test just before immigration and put a sticker on it. Not sure why but we were never asked for it again.
The only time we had every document checked was at the airport check-in. I printed everything, and I suggest you do the same for the whole family to make it easier.
Once at immigration, we went through the standard procedure of scanned fingerprints, photos and passport stamping. Everything was smooth and easy.
Expired Tourist visas
One question I received is what you can do if you had a tourist visa that you didn't use?
If you issued a visa, but Saudi closed their border, and you didn't use it, and it expired, you can still use it now. They have frozen the time during which the country was closed.
I was informed, however, that this is only for Saudi tourist visas that have not been used to enter the country. For example, I used my visa for six days in December 2019, and I had to issue a new visa.
My mum had a visa issued in Feb 2020, and her visa was valid to enter even though it expired in Jan 2021.
Once in the country, you will need to download the Tawakalna app. If you have a roaming phone service, you should receive messages and use your international number. If not, I would strongly recommend that you buy a local SIM card from the airport (just before you exit the baggage claim).
You will need the Tawakalna app, which is like the NHS app, to download your immune status. Everywhere you go, you will be asked for this, and you must do this first thing in the country.
Once you have the app and show it, you are free to move around the country. For my mum and me, the app updated straight away and pulled the vaccination details from the Muqeem form.
Going for Umrah with the tourist visa
If you are visiting the country for Umrah, you will also need to download the Eatmarna app that will give you access to book your Umrah and prayer slots in Makkah and also the Rawdah visit in Medinah.
The apps are pretty easy to navigate.
Makkah
Currently (at the time of updating this article), there are plenty of slots for Umrah and prayers in Makkah, though I would advise you to book Friday prayers as soon as possible.
I cannot comment on doing this outside the country, but I doubt it will work as you won't have your muqeem details.
You can book every prayer time if you want in Makkah for prayer without a problem as long as it is available.
Medinah
We visited Medinah in October 2021, and you can pray in the mosque any time you want without having to book slots. However, if you're going to see the Rawdah, you will need to book in advance.
It seemed to be more challenging as many days were not available, especially Fridays.
Also, children are still not allowed in either mosque.
Are children allowed in Masjid Al Haram when for Umrah?
Children are not allowed in the mosques, even in the courtyard in Medinah.
On the tourist, visa children can enter the country without a problem, just with their tourist visa. My daughter entered without any questions.
On an Umrah visa, which at the moment is only with a package, only those above 18years old are allowed to come to the country.
Keep in mind these are two different visas.
However, even though children ARE allowed on a tourist visa, they still cannot enter the mosques.
If you have children, one of the adults will need to stay with them while the other prays or performs Umrah.
Suggestions when coming to Saudi for Umrah
I know many of you are planning trips to Saudi using tourist visas, so here are some of my suggestions.
Start your trip with Medinah. This way, you will have the option to set up your SIM card and relax in the mosque since it doesn't require permission for prayers.
Also, you will be able to relax and not travel, be in Ihram and deal with the applications you will need.
Then I recommend you get the train to Makkah, which is the best option and much faster and comfortable.
We used the train from Medinah, and I have updated the article with photos and new pricing. You can find it here.
Once you have booked your Umrah and prayer slots, you can make your way to Makkah.
Since you are also in Saudi on tourism, I would recommend you explore another city in Saudia. Jeddah is the perfect gateway for a few days, and many people don't visit it enough when here for Umrah.
---
Please see below how to start the process of issuing the visa.
How to issue a Saudi Tourist Visa
I also have all the breakdowns for you so keep reading. Also at the end, you will find all the updates on how the visa works as this article is updated.
You can read my experience of performing Umrah on a tourist visa here (2019)
Saudi Arabia announced a few years ago their Vision 2030 which basically means to expand its tourism sector to 30million by 2030 not only for Umrah but in general.
This, of course, meant opening Saudi Arabia to tourism and showing the beauty of the land. I have to say judging by their promo video is stunning!
For Muslims, this also means exploring a country that for so long we visited but not really explore as with the Umrah visa we could only go to Jeddah, Makkah and Medinah.
The official Saudi Tourism website is here
You can watch their promo video, check out places to visit, eat, explore and also a very handy FAQ!
I like the fact that they are modernising Saudi and with this, they are relaxing the dress code for tourists. Check out the post here.
Tourism chief Ahmed al-Khateeb told Reuters in an interview in the run-up to the official announcement that abayas will not be mandatory for women tourists but modest dress is, including at public beaches.
Now, I can finally take my mum and show her Saudi Arabia.
(edit: many people have been for Umrah on this visa without issue.)
Saudi Tourist Visa – The Details
Over 49 countries can apply for a Tourist E-visa for Saudi Arabia.
The Tourist visa is valid for one year and you can spend up to 90 days. It is a Multi-entry visa which means you can go as many times as you want.
You can now issue your OWN Tourist visa for Saudi without the need for an agent!
This is a total game-changer and here is why:
You can visit not only the three cities but also any city in Saudi
You can issue it on your own via their site ( link below)
You pay only £120
You can do Umrah as well
If you are a single woman you can go alone!
The most amazing and stunning change they did is that single women who before could not do Umrah on their own now can apply for a tourist visa and actually go! Check the site here on the FAQ.
The actual link for the E-visa: Click Here
You can perform Umrah on the tourist visa according to their FAQ and by the looks of it, you don't need specific accommodation or transport. After all, you are a tourist and not specific Umrah
Visa for those not on the list
If your country is not on the list you can be able to get a visa from the Saudi consulate as you belong to visa from Category B. The process requires a few more steps and documents but it should be possible. Here is what you need:
Minimum age of applicant is 18 years old
Underage applicants require an individual above 18 years old to be the guardian
When applying, passport validity must be for at least 6 months at the time of entering Saudi Arabia
Refund in case of rejection is not possible, visa fees are non-refundable
Overstay fees: SAR 100 for each day of overstay
Religion of applicant is not relevant
Sponsor is not required for the visa application
Documents required include:

Proof of accommodation
Return ticket
Proof of employment
Bank statement

Supporting information include:

Identification
Home address
Travel itinerary

Time taken to issue an e-Visa is 1-2 business days in most cases
Visa pre-checks are conducted by all airlines before boarding flights to Saudi Arabia.
Visa for US, European, British and Schengen visa holders.
It was announced in January 2020 that those holding visas from the UK, US, Schengen can receive a Saudi Tourist visa as well. You will need to meet certain conditions like have actually been to the country that issued your visa and have a stamp on your passport, your passport should be valid for at least 6 months, they must travel on Saudi Airlines and then they can receive a visa on arrival.
Please note after many comments and questions, you cannot use your work, residence or another status in the mentioned countries above to issue a tourist visa. It basically needs to be a visa for the purpose of travel and meet the conditions.
For example A wife of a Pakistani with indefinite leave in the UK cannot issue a tourist visa, she will need an Umrah visa and her husband will also need to issue an Umrah visa himself as she needs a Mahram under to Umrah visa rules.
An Indian professional in Europe on a work permit cannot issue a tourist visa even though he has a permit to reside in the Schengen and a visa.
I know there is still an issue applying online so it might be best to raise a ticket or go for the on-arrival visa.
How the Process works
In order to make sure the process works I actually issued my own visa!
Yep, without mahram without anything!
The process is pretty straight forward if your country is on the link you can issue the visa.
Step1: Personal Details
First, you need to register on the portal and confirm your phone and email.
Step2: Persona & Passport Details
Once logged on you can start your passport application.
Each step gives you 10 minutes to complete, which is more than enough.
You can do a group or an individual application. I did the individual as I wanted to see if as a woman I can issue it on my own.
You enter your details such as passport, address etc.
You will also need to provide where you will be staying. I think as with all visas you only provide your first hotel if you are planning to visit many cities.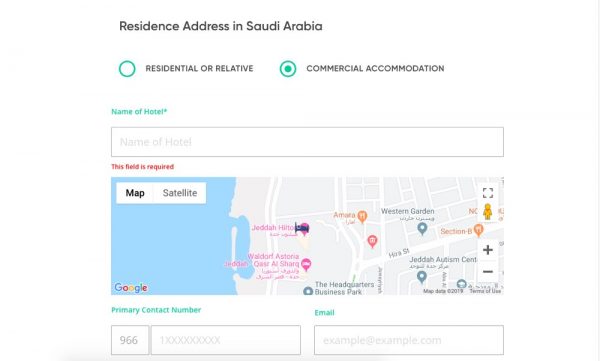 Step 3: Medical insurance
This was an interesting process as I didn't know if I had to book it myself. However, and congrats to them, they have integrated it. You just pay for the travel insurance.
Only thing I am not sure how it would work if you had to claim but it is great that they have it especially after my previous experience of a hospital abroad.
Step 4: Terms and Conditions
The terms are simple. Not to break the law, drugs and alcohol and others. If you are a genuine tourist you wouldn't have an issue with compliance.

Step 5: Review Your Application
A simple review of your application. Before you proceed.
Step 6: Pay the fees
The total fees for the visa were 426SAR which is about £93.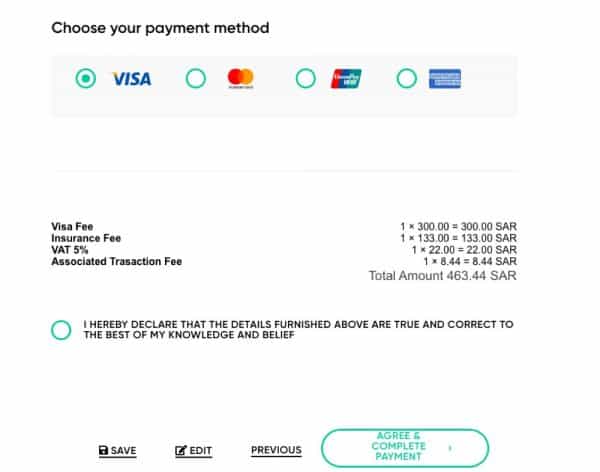 Once you have completed the steps you will see that your application is under review and wait.
I was not sure how long I had to wait, however, it wasn't long. Under the FAQ it says from 5minutes to 30minutes.
My Saudi Tourist Visa visa was issued less than 5 minutes later.
Edit: When applying for my husband and daughter, the visa was processed but later I saw I was charged double. I know some other people had this issue.
I didn't raise it at the time as my credit card said they can cancel the charge but this also might cancel my visa. I decided to wait to go for Umrah and then cancel.
However 3 weeks later and I refund was issued directly by the Tourism for Saudi, so I assume they did an audit and found they had charged people.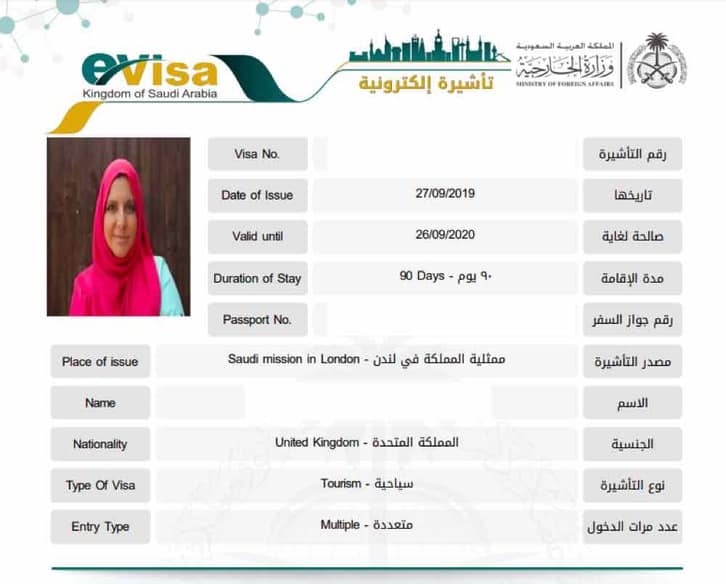 I am extremely happy about the new tourist visa because it will make visiting Saudi and actually exploring the country so much easier.
Also, it is great they have allowed people to perform Umrah on the Tourist visa as well so then Muslims don't have to hide they are doing it.
The process is easy and could be completed in less than 20 minutes.
Applying for minors brought up an interesting fact. I went to apply for my daughter and my husband, when applying for her it picked she is a minor and asked for her guardian. There is no version to have a mother as guardian so I guess this has not changed.
Update: Several people in the comments have asked about this. The support team at Saudi Tourist visa has said that mothers can add themselves as guardians without a problem. So if you are travelling as a woman with a child then you are the guardian in this case. I would also bring a birth certificate just to be on the safe side at the airport especially if you have different surnames.
Here is the application part and how it looks.
Umrah Visa VS Tourist Visa
One thing that is interesting I guess is the fact they changed the Umrah visa rules making it harder to go on a DIY Umrah. Yet they are making the tourist visa cheaper and easier to obtain and also you can go Umrah on it.
This is of course for the lucky countries that generally never had a problem getting an Umrah visa.
With this tourist visa now, however, there is no need to actually issue yourself an Umrah visa which is much more expensive.
The tourist visa costs £93 and the Umrah visa costs £230 and you need to book accommodation and transport, were with the tourist visa this is not required. You can book them independently.
I am not sure why they decided to do this, but looking at the countries there are very few actually Muslim countries who are there so they will still need an Umrah visa to enter Saudi for Umrah.
FAQs
There are a lot of questions about whether the Saudi tourist visa allows Umrah, even though the FAQ does. Here is the screenshot of the application where you mark it.
Now, I am not saying Saudi tomorrow can change their mind but for now, you can. The restriction is on the non-Muslims visiting Makkah and Medinah which is totally normal and understood.
Here is the FAQ on this from the website where it says non-Muslims are not allowed to visit. I guess the biggest draw for a Non-Muslim to go is to visit Makkah. I hope they have restrictions on this as I definitely wouldn't want tourists in the city.

With regards to how much you can spend in Saudi on the tourist visa, the below is mentioned under their FAQ:
How long can I stay in Saudi Arabia as a tourist?
The tourist visa allows you to stay for up to 3 months per entry, spending no more than 180 days/year in Saudi Arabia. If you leave the country past your visa period, you shall pay a penalty of SAR 100 per day.
Fathers name on the field
Many people have added father's name on the field, this is mostly required for those, like myself who have it on their passport. For those who completed it and they are worried this is what was sent from the visa team to people.
Update: Many people since then have travelled with no issue.
Thanks for waiting and apologize for the delay, regarding your inquiry, the father's name field is not required but if you fill it out and the visa is issued with the father's name, there is no problem with that.
But it is important that the first and last names are correct and identical to the passport.
Umrah on Tourist Visa
There have been rumours about people not being allowed on a tourist visa to do Umrah. This is false and it looks like sadly agents are spreading them as they lose money.
Many people have been for Umrah on this visa so there is no problem if you worry about ihram just visit Medinah first. But as it is allowed I don't see a problem and people have gone through Jeddah airport.
There have been hundreds of people on Umrah with tourist visa in Saudi. At the start, there were people who got refused entry although they had their visa approved online. They were in a group of 20 people and 5 didn't go through. Was it their visa or something else we don't know. Then many agents were saying people are not allowed on Umrah with a tourist visa. This is also false. People are going and it is stated on their site and this hasn't changed. Recently there haven't been any issues and we have many readers who have been on Umrah with tourist visa.
Update: I personally went for Umrah in January 2020 and I will write about it separately but we had no issue entering the country. Everyone was friendly and knew what they are doing.
Visa Rejections
There was a wave of people being rejected for a visa, unfortunately, there is not much you can do, agents say you can apply for an Umrah visa.
Hotel reservations
Many countries when issuing visas ask for hotels. You don't need to have them booked beforehand you need to just add the hotel, email and phone number. Once your visa is granted you can book them. If you are staying in both Makkah and Medinah then just do one of them.
Vaccination
The tourist visa doesn't ask for vaccination for meningitis where the Umrah visa does. Many people have emailed me asking if it is needed. Personally, I would do it just to protect myself as Makkah is a melting pot. I think it's a personal choice and of course, you don't have to do it on a tourist visa.
Umrah visa requires a vaccination by Saudi immigration, they don't check them always, but if they do you should have it. You will not know until you actually arrive so nobody can tell you the answer.
The Ultimate Guide on How to Do a DIY Umrah; (Do-It-Yourself) Umrah
Plan your 5-star Umrah with Rihaala the newest Muslim Travel Agency from £418pp
The Best Hotels to Book In Makkah for Your Next Umrah
Here is the Best Hilton Hotel In Makkah For Umrah
How to use the Train from Makkah to Medinah
DIY Umrah: How to Get from Jeddah to Makkah and Medinah for Umrah