We recently stayed in the Hilton Makkah Convention Hotel, and here is my review. During my Umrah, I decided to try all three Hilton brands which we currently have available. The prices were right and the locations were great, so I thought, "why not". Plus, it gives me more reviews for you guys.
Since writing this review on Hilton Convention Makkah, I have stayed again with my daughter when she was a baby. We still enjoyed the hotel, and it was nice, and it still maintains its good prices. However, keep in mind the hill which although small you have to push a pushchair up. I have an article on this for Umrah with kids below.
The first stop for just 24 hours was the Hilton Convention Hotel Makkah.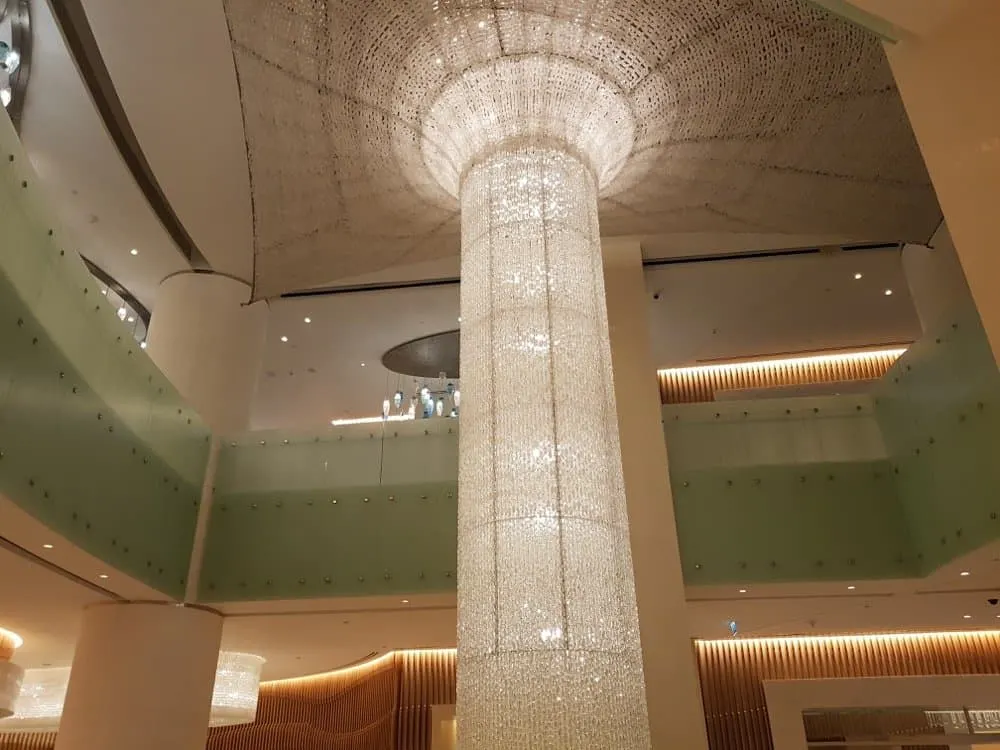 The entrance of the hotel was nice and bright and our check-in was quick.
Hassan Ali checked us in and told us we had received a nice room with two bathrooms. 🙂 Not sure why he thought this was super important to us but it was fun.
As we had just arrived and we were in Ihram all I wanted was to get to the Haram to perform Umrah and then relax and enjoy the hotel.
Suite at Hilton Convention Makkah
Our room was definitely a nice deluxe suite with a Haram view. I had booked a deluxe room, and as a Diamond member, they upgraded me to a suite with the same view. I found that most hotels did this.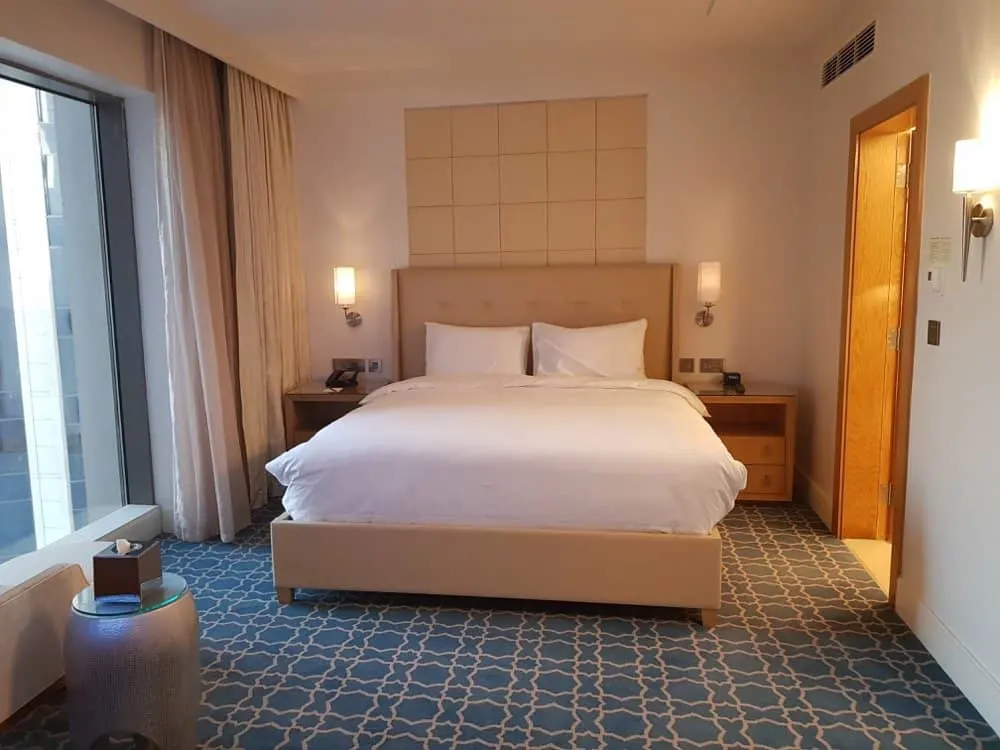 The room was definitely spacious, it had two bathrooms, living room and plenty of storage space. It had in total 2 walk-in closets plus a wardrobe at the entrance.
I know space is required especially during Hajj or with big families since the living room then turns into an extra bedroom.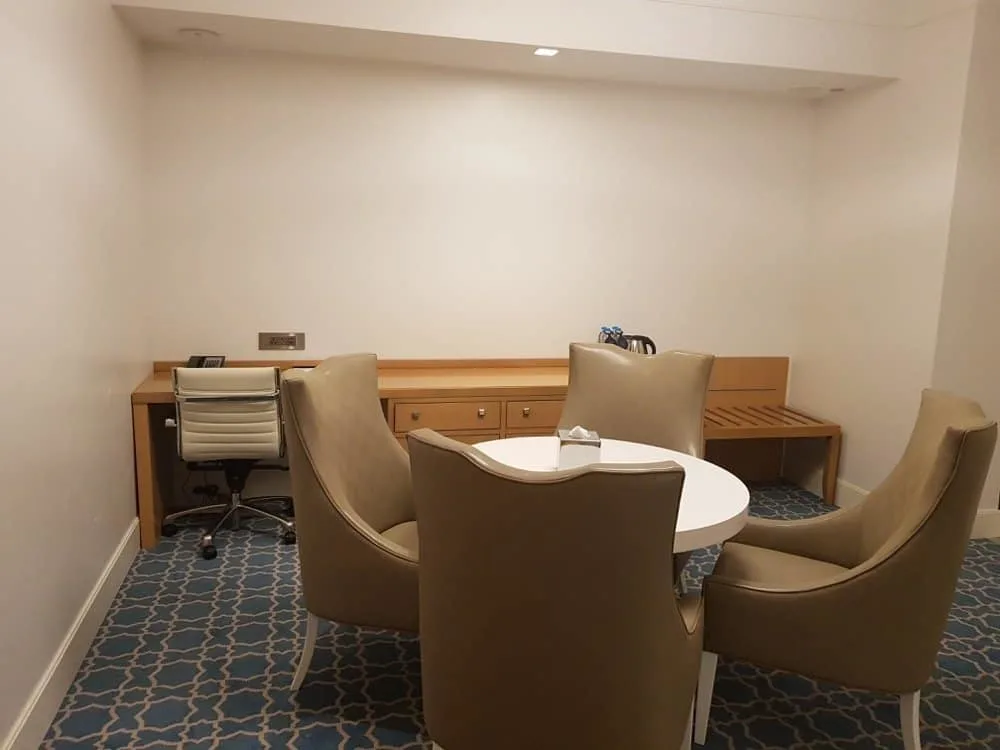 Having two bathrooms one en-suite to the bedroom and one for the living room was definitely a plus since it is much easier if you have strangers or family sleeping there and you don't want to wake them up.
The deco was good and modern just the way I like it. It is nice to see that the new hotels in Makkah are removing their decorations from the heavy dark wood type of furniture and are going for the more sleek and modern design.

The bathrooms were nice and modern but definitely small in my opinion for a suite of this size, there is no bathtub and it is rather tight. I feel they skimped on the bathrooms when designing it as they are considered "dead space".

We were on the 7th floor which is not very high but we still got a view of the Haram. Although in my account there was a preference of a higher floor and the hotel is high enough and we got the bottom end of it. Since we were there for only a night I didn't mind.
Hilton Convention Makkah Executive Lounge
As a Diamond and Gold member (if upgraded to the executive floor) you receive access to the Executive Lounge. After performing Umrah we were hoping the lounge was open or we had decided we will just order room service since we were too tired to go and search for food outside.
This is when we went to the lounge and discovered that not only they served food but it was delicious and a proper hot meal type of food. I love when lounges do this and offer great food options in their Executive lounge.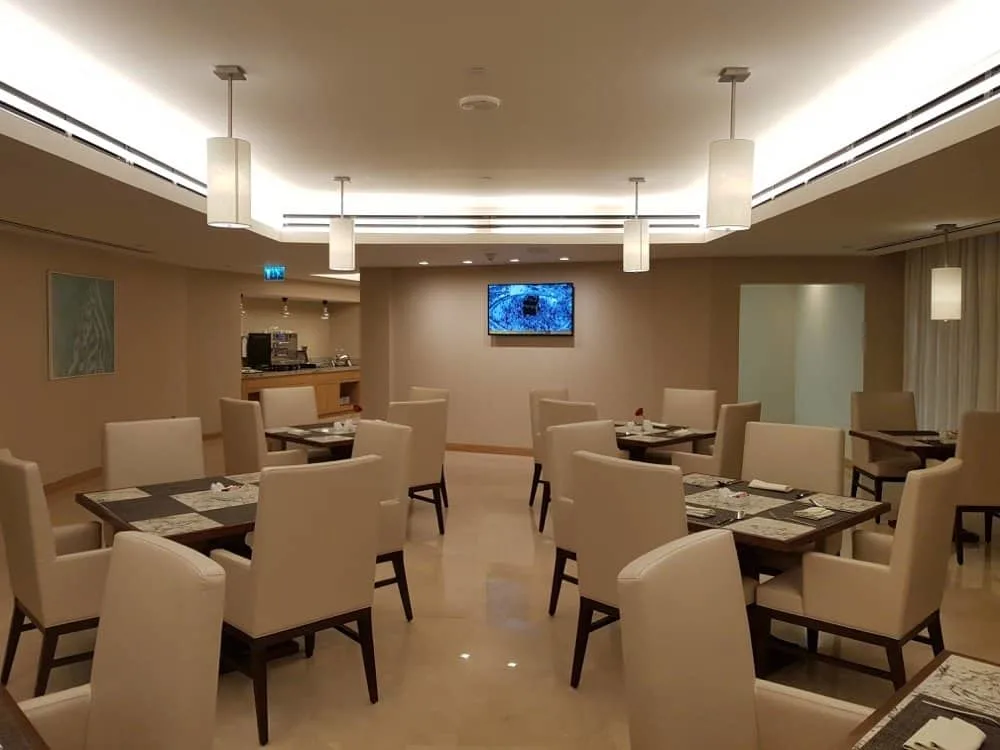 The lounge as a space was quite big and spacious and on the three occasions (breakfast, lunch and dinner) we went there it was also never too full. Staff were attentive and if you ever go make sure you ask for the Hosni cocktail which was named after the server who prepared it. It was his own invention but he is such a lovely guy and the drink is nice too. 🙂 So try it out.
The food in the lounge was excellent. They had proper English-type breakfast in the morning, afternoon tea and snacks in the evening and the dinner at night had chicken and rice options which was plentiful. I think this offering was one of the best not only in Makkah but in any other Hilton I have been.
I am seriously impressed with their lounge. If you are ever considering the hotel and you don't have status, I would highly recommend you get a room on the Executive level floor because for £20 a night extra you will be able to have all your meals covered and not have to queue at Al Baik or anywhere else for food. In my opinion, during busy times, this is a no-brainer.
Location
Before I booked the Hilton Convention Hotel Makkah, I had asked some friends about the location as I know it is not a 2-minute walk to Haram. They said there was a steep hill, but I found this to be totally a personal perspective. I didn't find the hill to be steep or too much, we walked it several times and we survived.
Yes, there is a small hill but I did video the distance from the reception to the Haram courtyard and it took us about 4-5 minutes to walk it. Which, considering the price and everything else, is not a lot.

The hotel does offer a free shuttle which can take you near the Hilton Makkah Suites it goes on the inside which is their own private road and personally I feel this takes longer than it should. However, if you have kids or elderly it might be an option.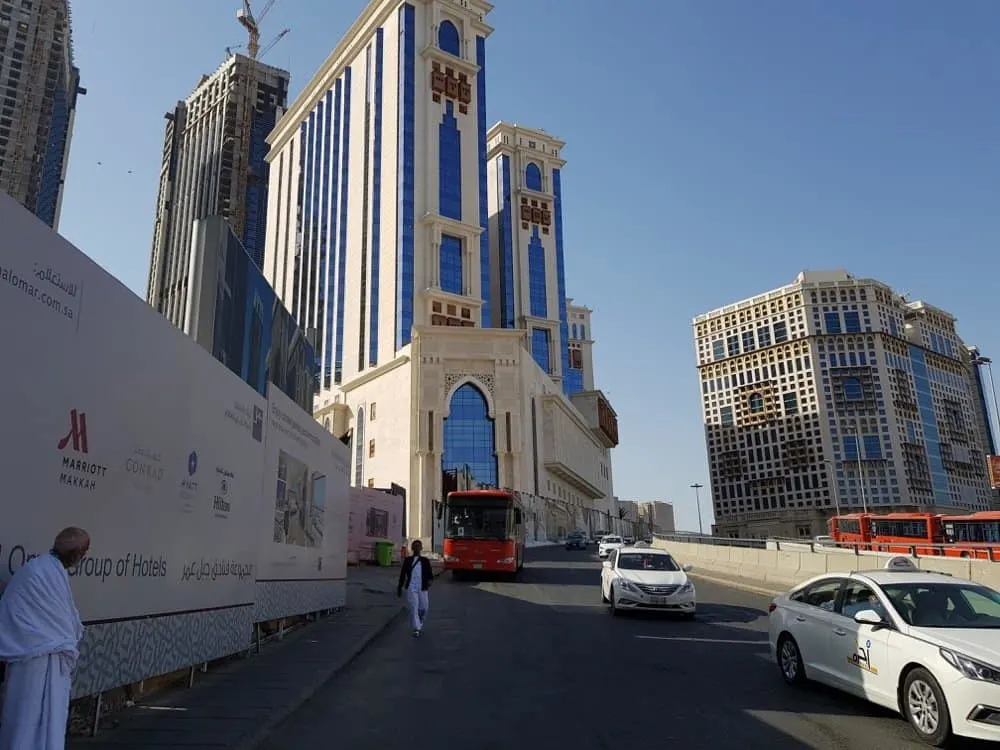 The hotel has their own entrance which is currently private so you don't walk to the street ( I thought you do) and then you enter the courtyard from the same location as the Hilton Suites.

Overall the location didn't bother me and I will say again. Even if we go with my mother-in-law, she can walk the hill we just have to be a little slower.
Also read:
It is a Big Hotel

The hotel is called a Hilton Convention Makkah and as you would expect it has plenty of space for actual conventions. I am not sure why they need such space in Makkah, but I assume weddings and business meetings still happen, so why not.
I went to explore the hotel and pray in the prayer hall which gave me an opportunity to look around. Most of the spaces were not functional yet and I was a little disappointed to discover that the female prayer room was no more than a meeting room converted into a prayer space. I would have expected that the hotel would have a big prayer room, which in all honesty they might do once they are fully functional.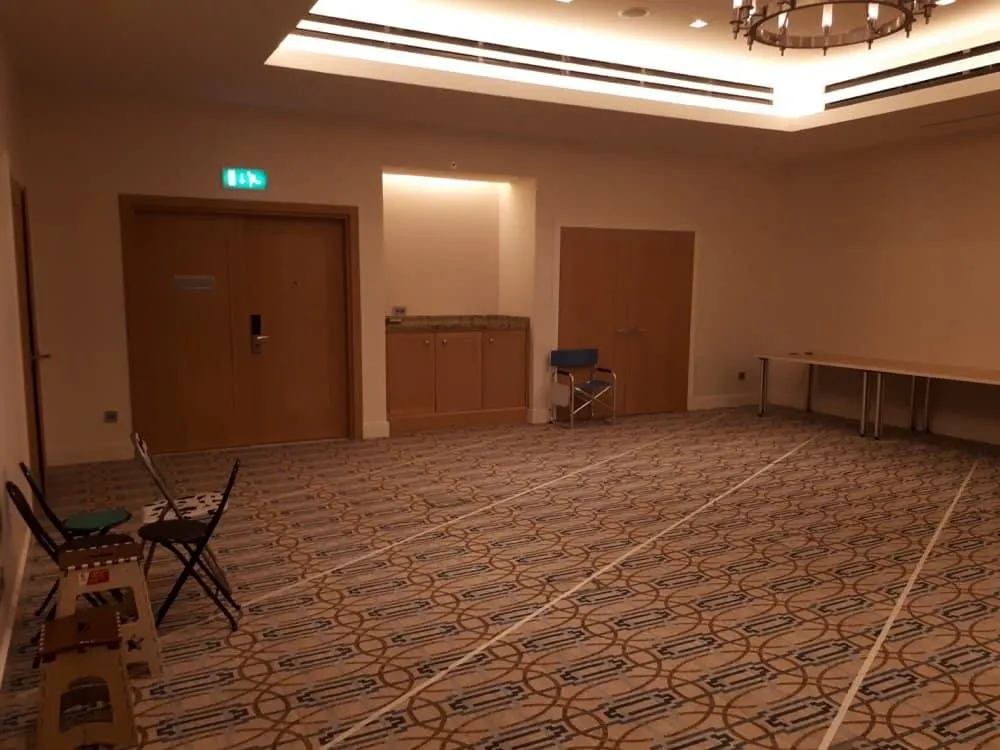 The improvements needed
I am usually not the type to complain unless something really bothers me and most of the time I keep small comments to myself or for the MuslimTravelGirl's blog. As a Diamond member, I find that all the Hotels in Makkah which are new, gave me a call to ask about my stay. After my "yes it is fine" to answer, which in reality is very vague, the lady on the phone asked me to rate it from 1-10. This totally delighted me and took me back.
So here is the score I gave her and my reasoning:
Room: 9

Executive Lounge: 10

Housekeeping: 7

Maintenance: 7

Customer Service: 1

0
My suite was lovely but the living room didn't have a window which overall might not be a big deal but for me I love light. My bedroom window is overlooked due to the design of the hotel, we were in the main building and as the hotel is designed with inward views in a way the neighbours can see me. When I want to relax and enjoy the view in my private room without hijab and the curtains pulled this is not very nice. It makes you feel exposed. I would ask to book the rooms which are at the front of the hotel if I were to stay longer and would happily pay a difference just for privacy.

Also, I have in my Diamond preference to have a high floor room, but I was given a room on the 7th. Additionally, I didn't receive a welcome amenity kit and so far my stay still hasn't been credited. Still, a few glitches to iron out.

Executive Lounge Club goes as above it is excellent, and I would highly recommend it.
Housekeeping, I have to say, was a disappointment. The room was not clean, especially the bathroom. I always have antibacterial wipes and clean but there were things not right. I also moved the bedroom nightstand to take my charger out and the dirt behind and under the bed was plenty. This leaves a little bit of a sour taste in my mouth.

Maintenance: The toilet seat was broken which should have been picked up by either maintenance or housekeeping. The wall where the desk is was totally scratched by the deep end of the chair. This is a customer's fault and I find we should be more careful not to break or ruin hotel property. However, as maintenance, these issues should be taken care of so they don't accumulate. Also, the finishing of the rooms could have been better. I feel it was rushed, which it was in order to open for Ramadan 2017. But now that they are open these can be rectified easily.
Customer service in the lounge and at check-in / check-out was great, so I have no complaints/comments there.

To their benefit, the lady I spoke to informed the maintenance and housekeeping who showed up to my room within 5 minutes of our conversation. To me, this is much more important because it shows they care and are taking feedback well, unlike their neighbours.
Overall, Yes!
I would stay in the Hilton Convention Hotel Makkah again, and I would book it when the price is right. I can see this being one of the best hotels especially because of the lounge and how well-stocked it is.
You can find this hotel for as little as £59 a night on the Hilton sale and even with lounge access, it was about £80 per night and to me, this is a bargain. I hope they keep their prices reasonable and they will always be full.
You can also check out the Tripadvisor reviews here.
This post was written in 2018 and edited in 2019 and 2023.
The Best Tips for Umrah with Kids From Over 7 Umrah

The Best Practical Tips You will Need When Travelling for Umrah or Hajj with Kids!

The Best DIY Umrah Packages Examples

Can I rent a car while on Umrah?