Depending on who you ask Umrah with kids for some can be very exciting and for others can be very daunting and scary. I guess if you are reading this article then you still have questions on how to plan and perform Umrah with kids. Here I will be sharing how to keep the kids busy during Umrah and how to actually enjoy your pilgrimage.
My daughter has done over 7 Umrah mashaAllah. She is blessed because we do live part-time in Jeddah so it is easily accessible so I am definitely talking from experience.
Her first Umrah was at 6 months and she is 4 nearly at the time of writing this article. Honestly, Umrah with children is not scary at all it just needs a little more planning but it can be an amazing experience for yourself and your little ones.
I do have a full post on the best tips for Umrah with a baby which is for newborns and infants until around 2. I feel after they get mobile they require a different approach even for Umrah.
So this post will look at how to make the perfect pilgrimage for children up to the age of 10.
Planning Umrah with Kids
There are some things I would definitely consider if you are planning an Umrah with kids like staying near the Haram if your children are younger than 8 for example. Distances in Makkah and Medinah are very big, something that seems close like Jabal Omar hotels to the Clock Tower is easily a 15-minute walk with the children and crowds.
When I plan my DIY Umrah I always go for hotels close to the mosque and then I look to arrive first in Medinah and then in Makkah making the journey much easier.
If you are coming for Umrah from the US or the UK which are relatively long flights and then arriving with children especially is much better to go for to Medinah and relax a few days. Rest and get over any jetlag you might have and then at your leisure take the Haramain Train to Makkah and do your Umrah.
You really don't want to have grumpy and tired adults and then on top of that tantrum from children.
Choosing the Right Time for Umrah with Children
I know that school holidays can be a major issue for parents with children and unfortunately prices can also be very high reducing the options within your budget. Depending on your country like in the UK you cannot take kids out of school but some are lenient when it comes to pilgrimage and religious obligations. If they are leaving 2-3 days before school closes or going for a few days less can truly save you on the budget and then splurge on other things.
I would personally avoid the Christmas holidays because usually there are not only parents with school-age children going but many people combine the bank holidays making it much more expensive and crowded.
Summer is also a great option just after they open from Hajj or before they close as it is less crowded. Yes, it will be hot but inshaAllah if you are on a tight budget then cheaper as well.
We have been for Umrah during non-peak season and peak season, although after 10 years of writing about DIY Umrah, I can say with budget options it is mostly peak season.
I have a lot of information on the best way to plan your own DIY Umrah package as well as examples of cheap Umrah packages you can do with kids which are definitely cheaper than with an agent.
Plus my book can save you thousands on hotels near the Haram.
Preparing the Children for Umrah
One of the things we did when my daughter started to understand the significance of Umrah and what a spiritual journey is was to actually buy her children books on Umrah.
There are so many options these days on educational Islamic content for children and we do have several of the Learning Roots books that she loves and we read.
Start by explaining to them through a book what your journey will look like. What do we perform Umrah and what is the process and significance of it.
We use the term House of Allah for Makkah since she understands this better. If your child is over 6 years old then you can explain in more adult terms.
You can talk to them about the rituals of Umrah and what they should expect. I would repeat this over several weeks before we start the journey.
Tips for a Smooth Journey
I have this routine with my daughter and we have tantrum-free holidays in this reel. But basically, I guide her through every step of the process and keep her informed. Imagine if you were in their shoe and you kept being dragged around at an airport or through security. It is a recipe for disaster.
The Best Carry-On for Kids
This is one of the best buys I have ever made however during Umrah it will be the most handy thing you have bought for your child.
I have bought several child luggage options to test and also to find the one for us and I can say that your Umrah experience with kids especially up to the age of 7 will be amazing with the on-seat carry-on.
I have the micro version but there are several seat carry-ons you can get. I would also look at the Chinese ones like Alibaba.
My daughter is too big for a stroller but also gets tired, so this is the perfect combination to keep the children comfortable.
It has enough space for toys, snacks and clothes as well as for them to sit. The amount of times we have been stopped and get asked about this is unbelievable.
Keeping Children Entertained On the Plane
I always keep small toys from the dollar store in my hand luggage for her. I buy several colouring options that I can throw away or give away once she is done.
We do have an iPad with her favourite toys because there is no way I can keep a child entertained for 10 hours without going insane.
I also create for her a small snack bag with her favourite food options because if they don't like the plane food and you have another 6 hours to go, you are in trouble.
Also a change of clothes for your child and if you want for yourself can be a good option. I do this on long-haul flights to feel refreshed
The Umrah Rituals with Kids How to Make it Easier
If you have taken my advice and rested in Medinah first or even in your hotel for a few hours, you should all be looking forward to starting your Umrah rituals.
Young children under the age of 7 do not need to wear ihram. However many do wear the ihram clothing on boys just because it is so cute. I always smile when I see how cute they look.
My daughter is in normal clothes because really I don't see a need to even cover her hair. She is a child.
The Umrah rituals take around 2-3 hours with kids depending on where you are doing your tawaf.
If you can get to do your tawaf in the Kabah area it takes much less time but also it can be extremely crowded or hot during the day.
There is a lot of walking involved in the Umrah and general trip to Makkah and Medinah as I mentioned above the distances can be deceptive.
You will easily do 10,000 steps + during your Sa'i and tawaf.
Normally we would have to carry my daughter around the Tawaf area on my husband's shoulders. You will see a lot of children in the same manner.
For Sa'i, we will be able to make a game of it and ask her to run along with daddy on the green light. Then slowly we will start to walk until we do speed runs.
She is getting better at walking but as a 3 yrs old she needed a lot of coaxing.
You can also get a wheelchair for them and push them as well. Many people do this and get the free wheelchair or hire on with a guy who pushes the kids. We have never done this but it is also very affordable.
If your children still use a pram you are allowed to get them pram in the Haram. You can use the pushchair on the upper Mataf areas and on the top floors of Sa'i.
We have done this while she was three years old but now that she is older and can walk we just persevere.
Leave the kids in the Hotel
I know it is very emotional to have your little ones with you but you can also leave them in the hotel and each spouse do the Umrah individually. If you don't need the kids to have an "Umrah under their belt" you can always take them for tawaf without the pressure of performing Umrah and carrying children around.
If it was very busy when we went during the day or in Ramadan last year, we decided to split and we did Umrah separately. I definitely enjoyed the alone time.
I know it is not a popular option for many but it is an option for your Umrah trip.
Tips & Things to Get to Make Your Umrah Easy
If it is your first time doing pilgrimage you might not be familiar with Makkah or Medinah and how they are structured. But you will find everything you need in both cities and there are plenty of options in terms of food. I know many go for Umrah and want to make the most of their time in the blessed place realistically with kids, especially from the ages of 3 to 10 they also need to be active and use their energy.
This is where most parents struggle and find disconnection. They want to spend all their time in the mosque the kids start to fidget and get grumpy and it is not enjoyable for anyone.
Go shopping
What I do on the first day of our trip is to go to BinDawoud which is the supermarket in Makkah and Medinah. There are several there and I stock up on food, fruits, milk, cereal, yoghurt whatever it might be especially if your kids are snackers like mine.
Also, funny enough Bin Dawoud has a lot of toys. My daughter loves the painting coin sets and i buy them for her every time. They cost around $4 but they can keep her busy for a long time.
I have also bought some great educational toys on sale there and they have Play-Doh, Legos etc. If you travel light you can get them something bigger even like a family game to enjoy in the evening before bedtime.
What to do in Masjid Al Haram with Kids
Masjid Al Haram has a lot of spaces where you can sit with children and read the Quran and play. You can bring a small backpack to the mosque so you can also have things for the kids to do.
A small kids Quran for example if a great idea and you can spend some time reading it together talking about the Kabah and the rituals. Nothing better than learning and practice.
Small snacks can be brought in as well for the kids. If your kids are young I love those toys you can bring that are water coloured. They are not messy and there is plenty of Zamzam to fill the pen and can keep them busy while you pray.
Safety for kids is very important and until recently I thought those wrist straps for kids were a bad idea. However on a recent trip to the museum where my child wandered away and got scared it was good.
For places like the Haram, tawaf and after prayer those hand safety wristbands are a good idea to keep the kids close even if they are older. Sometimes it gets so busy and it is a sea of people and you can easily lose each other.
If your children are older you can also have a meeting point somewhere if you get separated. For example the entrance to the Clock Tower.
I have created an Amazon list with things you can bring or buy there that will work great for fun in the hotel as well as in the mosque.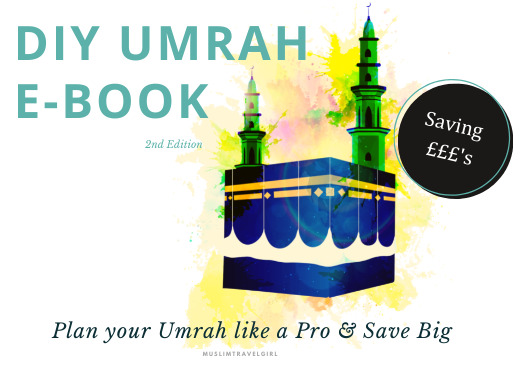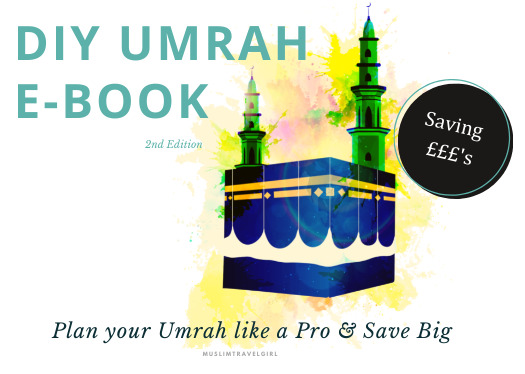 DIY Umrah E-Book
Save 70% of 5 star hotels in Makkah and Medinah during peak season. Imagine the best Umrah possible.
Hire the scooters in Masjid Al Haram
If you are with kids and you want a fun way to keep them entertained but also do tawaf at the same time. Check out the scooters on the second floor of the mosque. You can rent them for £30/$40 for as long as you need. It is a nice and safe way to do tawaf with the kids especially if they get tired too easily.
We have done this a few times and it is always a hit with her.
Pottete your life
One thing I absolutely love for toilet training and travel is the pottete. This thing has changed my life and I wish more parents bought it.
If your children are young and still need the toilet frequently it is life-saver. It is basically a portable potty that fits in your bag and can be used as a 3in1. You have a bag that you throw after and when my daughter was younger and couldn't hold it it is perfect. You can use it for the seat on the plane so they don't have to sit on dirty surfaces etc.
Toilets in Haram are a long distance and it can be busy and disgusting (sorry) so I avoid them. I would rather hold it to my hotel but for my daughter, the pottete works great.
Exploring Makkah and Madinah with Kids
There are activities you can do with kids in Makkah and Medinah that are not the mosque. Because let's be honest kids won't be sitting for a very long time and you as a parent know your child's tolerance.
You can visit the local Mall in Makkah which is outside the Haram area or even better you can go and visit the Kiswa Factory Museum. It will keep the kids entertained for a few hours.
In Medinah, they have a sightseeing tour bus and we also visited the Historic Ossia Farm next to Masjid Al Kuba. It is not a very large space and not really a farm but it has some birds, Arabic seating and date palms. It is a nice place to enjoy a couple of hours for the kids.
Staying Safe and Healthy
As a parent, I always try to minimise the risk of my child getting sick. I cannot stress enough the times people have messaged me and asked if they need health insurance with the Saudi visas. I do not travel without one so please do not make that mistake. I have been hospitalised abroad and luckily I had my travel insurance.
You never know how children will react to places or how and when they will get sick. Check out a local provider and have some peace of mind since the travel insurance coming with the tourist visa is minimal.
Having said that I don't carry first aid with me or anything else than antibacterial. There are several pharmacies in the area and I am sure you will have one next to you. Finding Tylenol or paracetamol is very easy.
Finding Medical Facilities in Makkah and Madinah
Also, not many people are familiar with this but there are 4 health centres within Masjid Al Haram where you can go and see a doctor if you need one. You can ask a guard to guide you there since even if I tell you the locations the entrances always change. Just be aware that they exist and are free and usually not busy.
There are also hospitals in Makkah and Medinah but again private insurance will take you to better ones if you need it.
Tame your Expectations
Going for Umrah is an amazing experience and I am blessed to have performed several and also to have done Umrah with my child. Umrah with your children definitely hits differently.
I would also say however not to have high expectations of how much ibada you will do especially if your kids are the ages of 3 years to 6 years where they still need a lot of attention and time.
I always break my ibadah and either pray a few prayers alone in the mosque or when we do tawaf we make a game out of it. I also let her run around in the Mosque courtyard and play in our room.
If you can afford to stay in the hotels next to the Haram and in Masjid Al Nabawi then it is easy to rest and play after prayer.
Make it an exciting process for the kids so they have fond memories of their trip.
Talk with your spouse on how you would divide looking after the kids so you both get alone time to pray and reflect.
InshaAllah you will enjoy your time as a family in the Holy places and have a good trip. It is a spiritual journey and always remember you will be tested small or big so keep a positive outlook.
FAQ
Q: Can children perform Umrah?
A: Yes, children can perform Umrah. It is a common practice for families to perform Umrah together as a family.
Q: Do you need meningitis vaccines for kids?
You do not need the meningitis vaccine if you are going on any other visa except the Umrah visa (specific ones issued by the agent). All tourist, transit and waiver visas don't need it.
Q: Do I need a special visa to perform Umrah?
A: You do need a visa but if you live in a country that can issue a tourist visa or in the United Kingdom where you can issue the cheaper Saudi Visa Waiver the process is very easy. Read the post on these.
Q: Is Umrah compulsory for Muslims?
A: No, Umrah is not compulsory like Hajj. It is a recommended act of worship for Muslims but not mandatory.
Q: Can I take a baby with me to Umrah?
A: Yes, you can take a baby with you to Umrah. It is important to take care of their needs and make necessary arrangements for their comfort. For Umrah with babies, I have a full article with all my best tips.
Q: Can I use a stroller during Umrah?
A: Yes, you can take your stroller to the masjid Al Haram or in the courtyard of Masjid Al Nabawi. You can perform Sai and Tawaf with the stroller.
More posts you might enjoy

The best tips for Umrah with babies

What to Wear When Going for Umrah & Hajj as a Woman From Experience

Ultimate Travel Packing Tips for Muslim Women and Hijabi

Best Airport for Umrah Arrival and Departure: A Comprehensive Guide

Umrah Price Comparison: Umrah Package Agents vs DIY Umrah Which is Cheaper?
Are you wondering the best time to book Umrah & save money?
I have created an 18-page guide to help you plan an Umrah at the best time. Sharing tips and tricks in one place to save you time & of course, money.