We know that Muslim couples are often looking for the perfect honeymoon destination because, most likely, this halal honeymoon is the first of many adventures you will have as a couple together. But usually, the first trip is the harder to choose because it needs to be exotic, halal, with hijab-free options, luxurious and a good mixture of relation and adventure.
That's why we've gone the extra mile to bring you the best Muslim-friendly honeymoon destinations. From the tropical paradise of Tahiti to the secluded beaches of the Maldives, we've got a range of exotic halal honeymoon destinations that are sure to make your honeymoon unforgettable.
So below are my favourite exotic destinations that offer not only halal-friendly options for honeymooners but also breathtaking views and cool activities.
1 Fiji
Fiji is an exotic halal honeymoon destination that should not be missed. The South Pacific Ocean island country is known for its crystal clear blue seas, white sandy beaches, and coral reefs. It's the perfect destination for newlyweds looking to celebrate their marriage.
Scuba diving is popular in Fiji, as its coral reefs are teeming with life. Couples can explore the depths of the sea, marvelling at its vibrant colours and curious creatures. Other activities to consider include kayaking, snorkelling, and sailing.
One of the top attractions in Fiji is Kula Eco Park in Sigatoka. This park is home to a variety of wildlife, including birds, reptiles, and mammals. You can explore the trails or take a guided tour to learn more about the wildlife. The Fiji Museum in Suva is also worth a visit, as it showcases the island nation's history.
Another must-see spot in Fiji is Sabeto Hot Springs and Mud Pool. This hot spring is said to have healing powers and is a great place for couples to relax and unwind. The mud pool is said to have therapeutic effects and is a popular spot for couples looking to enjoy quality time together.
There are many halal restaurants in Fiji, so your food options will not be limited to seafood. One of the most popular Fijian halal restaurants is the Nadi Arabian Restaurant. Located in the heart of Nadi Town, this family-run eatery serves up some of the best Middle Eastern dishes in Fiji.
If you're looking for something a little more upscale, the Suva Seafood Restaurant is another great option. Offering both halal and non-halal options, this restaurant is a seafood lover's dream.
From fresh fish to stir-fried dishes, the menu is full of delicious options. For a more traditional Fijian experience, the Suva Halal Fijian Restaurant is the place to go.
There are several mosques in Fiji if you want to pray with a congregation or meet locals. The Labasa Mosque is the largest and most popular mosque in Fiji. With its beautiful architecture and colourful stained glass, the Labasa Mosque is a sight to behold. The Namosi Mosque is located in the heart of the Namosi valley and offers stunning views of the surrounding mountains. Depending on the area, you go check local mosques near you.
Here is a list of the top 10 hotels according to TripAdvisor.
2 French Polynesia
Enjoying a halal honeymoon in French Polynesia guarantees you a tranquil and romantic getaway. The islands of Tahiti, Moorea and Bora Bora are just a few of the many stunning locations found in French Polynesia.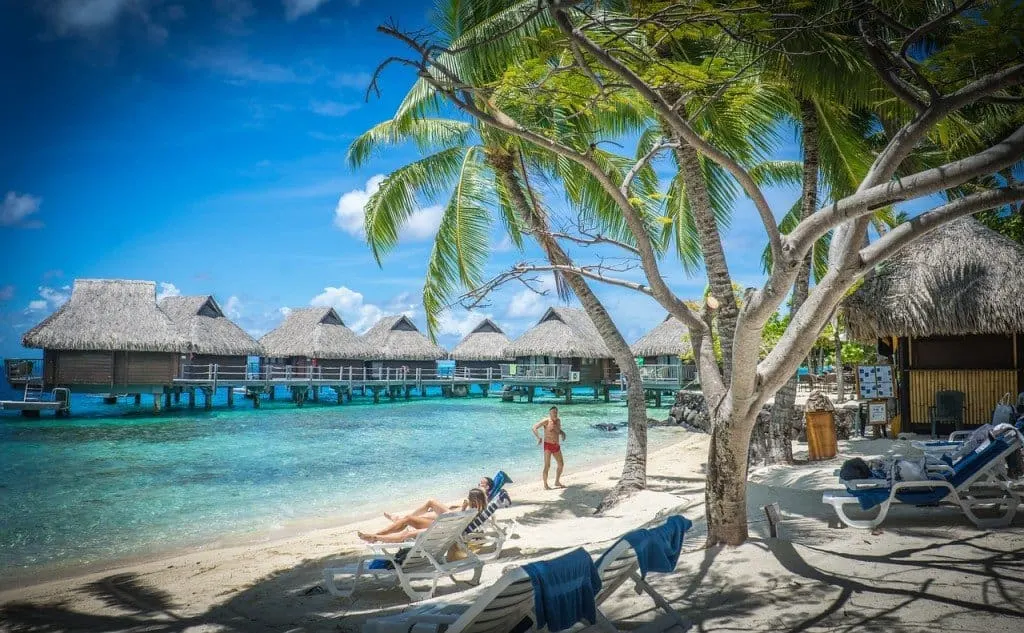 Tahiti is the largest island in French Polynesia. It's known for its dramatic landscapes, beautiful beaches, lagoons, and palm-fringed islets. Explore the island's charming towns, and go kayaking, windsurfing, and snorkelling in its crystal clear waters. Visit the Arahoho Blowhole, an impressive geyser of water that reaches heights of up to 10 meters. Spend a romantic evening in a beachside cabana, or take a romantic sunset cruise.
In Moorea, an island of pristine beauty and lush rainforests, you can explore the island's natural wonders. Take a 4×4 safari tour to the Belvedere lookout point, and enjoy a magnificent view of the island's lagoon and reefs. Visit the wild manta rays at the Lagoonarium and explore the island's ancient Polynesian sites.
Bora Bora is the ultimate destination for a romantic honeymoon. Its stunning beaches, blue lagoons, coral reefs and lush tropical terrain will provide the perfect backdrop for your romantic getaway. Relax on the beach, tour the island's lagoon, go scuba diving, snorkelling, or take a romantic cruise. Explore the island's many waterfalls, or take a romantic stroll along the beach.
Not many restaurants offer halal food in French Polynesia since the islands are far away and not many Muslims visit. That's why it's time to change it ;). Your best option will be to look for halal food close to the local mosques or just enjoy some fresh fish available in many restaurants.
Although French Polynesia is not a predominantly Muslim country, several mosques are still located throughout the islands. Such as:
1. Papeete Mosque, Papeete
2. Tahiti Mosque, Faa'a
3. Arue Mosque, Arue
4. Huahine Mosque, Fare
5. Moorea Mosque, Moorea
If you are looking for some beautiful overwater villas, then you are in the right place. Find out the best ones here.
3 Seychelles
Seychelles is a stunning archipelago of 115 islands in the Western Indian Ocean, just northeast of Madagascar. It's an ideal destination for a luxurious and romantic honeymoon, as the islands offer pristine beaches, lush jungles, and a unique blend of French, African and Asian cultures.
Best of all, Seychelles is a truly halal-friendly destination, with a number of halal-certified restaurants and hotels, as well as the availability of halal food around the islands. The main island of Mahe is home to a number of halal-certified resorts, hotels and eateries.
There's a mosque on Mahe, as well as a mosque on the island of La Digue, where you'll find some of the most exotic beaches in the world. There are also a number of luxury resorts on the other islands which cater to halal-friendly travellers. In terms of activities, Seychelles offers plenty of exciting and romantic activities for couples on their halal honeymoon.
There are gorgeous beaches where you can relax and soak up the sun, as well as thrilling water sports like scuba diving and snorkelling. On land, there are plenty of walking trails, as well as some of the best bird-watching in the world. No matter what kind of activities you're looking for, you'll find plenty of halal-friendly options in Seychelles.
With its gorgeous beaches, lush jungles and exotic culture, this exotic destination is an ideal choice for couples looking for a unique and romantic honeymoon experience.
We stayed in the Four Seasons Seychelles, and although it is pricey, they do offer halal food as well as private pool villas.
Here are the ten best hotels according to TripAdvisor.
Muslim friendly Guide to Seychelles every Muslim Traveller needs
4 Mauritius
Mauritius, located in the Indian Ocean off the coast of Africa, is one of the world's most exotic halal honeymoon destinations. The island is home to some of the world's best beaches, crystal clear waters, and lush tropical forests, making it a perfect destination for a Muslim-friendly honeymoon.
The island is full of world-class resorts, spas, and activities, making it a top honeymoon destination for many couples.
Mauritius is full of picturesque views, stunning sunsets, and a vibrant culture, making it a great place to escape for a few days. For couples looking for a halal honeymoon, Mauritius is an ideal destination. The island has several mosques and places to pray, and halal food is widely available.
Whether traditional African cuisine or Indian-style dishes, travellers can easily find halal options when visiting Mauritius. Mauritius also offers a variety of activities that are perfect for a honeymoon. Visit the Black River Gorges National Park, Le Morne Brabant, Les 7 Cascades and the Botanic Garden. You can even have your own private villas there, so it's perfect if you want a hijab-free holiday. You can take a boat ride to one of the many coral reefs or go snorkelling or scuba diving. There is also parasailing, deep-sea fishing, and windsurfing for the adventurous couple.
Halal restaurants to try in Mauritius
1. Le Capitaine Restaurant (Port Louis)
2. Chilli and Spice Indian Cuisine (Grand Baie)
3. Royal China (Quatre Bornes)
4. Al Forno (Black River)
5. The Palms Restaurant and Bar (Flic en Flac)
In addition to the numerous halal restaurants, Mauritius is also home to several mosques – the Grand Mosque of Port Louis is one of them.
Again Hilton and IHG have properties on the island, so look out for their worldwide sales when planning your honeymoon.
The top 10 hotels in Mauritius will make you want to visit right now!
5 Maldives
Maldives – the exotic halal honeymoon destination of choice! No guide will be complete without including the Maldives, which is also a Muslim country.
This Muslim country is packed with natural beauty, boasting thousands of tropical islands scattered throughout the Indian Ocean. With each island's white-sand beaches, crystal-clear waters, and lush palm trees, the Maldives offer a unique and romantic honeymoon experience.
You can literally have it all in a sense in the Maldives. The local islands are 100% halal destinations, meaning that alcohol is not served here. So you can rest assured that your honeymoon will be a halal-friendly experience. They are also cheaper than the luxury resorts, and they also have mosques for you to pray.
For those looking for luxury, there are plenty of halal food options available and many islands come with private pools, stunning overwater villas and other facilities that are completely hijab-free, so you can have an incredible halal honeymoon experience without compromise.
The Maldives have some of the most halal-friendly honeymoon destinations in the world because most of their resorts are private with secluded villas and offer halal food choices so you can stay away from partying. No wonder they are very popular among Muslim travelers.
We stayed in the Waldorf Astoria Ithafushi on points, and not only did we have one of the best experiences but pretty much a dream travel destination.
I have a full series on how I saved over $25,000 using Hilton points to book it. You can also do the same!
Find here the best hotels in the Maldives, according to TripAdvisor.
6 Zanzibar
Zanzibar, also known as Unguja, is one of the world's most exotic and romantic halal honeymoon destinations. From the breathtaking beaches and turquoise waters of the Indian Ocean to the vibrant culture, Zanzibar is the perfect place to spend your halal honeymoon.
Islam is the second largest religion in Tanzania, with Muslims making up 34% of the population which means you will always find halal food options and places to pray.
The island is also home to several historical sites, including the Old Fort, built in the 19th century to protect the slave trade. Travellers can explore the House of Wonders museum located in Stone Town, one of the oldest cities in East Africa. In addition, the Jozani Chwaka Bay National Park is also a great place to visit and learn about the local flora and fauna.
Zanzibar is perfect for couples looking to explore culture and activities like snorkelling but also enjoy some luxury in the many resorts available on the island.
One of the oldest and most iconic mosques in Zanzibar is the Old Fort Mosque. Located in the heart of Stone Town, the Old Fort Mosque was built in the 16th century and is one of the oldest surviving mosques in East Africa. The mosque has much historical and cultural significance, and it's an ideal spot to explore the rich history of Zanzibar.
The Forodhani Gardens Mosque was built in 1837 as part of the Indian community in Zanzibar, the Forodhani Gardens Mosque is a stunning structure with its intricate details, arches, and domes.
As far as halal restaurants go, Zanzibar has some amazing options. Some of the most popular halal restaurants in Zanzibar are:
1 Mambo Restaurant – Located in Stone Town, Mambo Restaurant offers delicious African-inspired dishes in a relaxed, tropical atmosphere.
2 Spice Restaurant – Spice Restaurant is a chic dining experience, serving up an array of mouth-watering Indian and Pakistani dishes.
3 Blue Ocean Restaurant – Blue Ocean Restaurant is an oceanfront restaurant offering spectacular views of the Indian Ocean and delicious seafood dishes.
7 Caribbean Islands
If you are looking for an exotic Muslim-friendly honeymoon from North America or even from Europe and you don't want to travel far, the Caribbean islands offer some great choices. Antigua and Barbuda, St Lucia and Jamaica offer fantastic options for relaxing or adventurous honeymoon destinations. You can find a great combination of history and culture as well as unique experiences.
Many resorts can accommodate halal food options and many of the islands have Muslim communities and mosques. So you will definitely find options.
St Lucia is a picturesque Caribbean paradise boasting lush green rainforests, beautiful white sand beaches and unique culture. The island is becoming increasingly popular among Muslim travelers, as there is an abundance of Muslim-friendly attractions and activities to explore. With a variety of restaurants serving halal food and several mosques on the island, there is no shortage of halal options.
Jamaica is home to stunning beaches and lush jungles that provide a spectacular backdrop for your honeymoon. Whether you want to spend your days lounging on the sand, swimming in the turquoise waters, or exploring the tropical rainforest, Jamaica has it all. Hike through the Blue Mountains to get a bird's eye view of the magnificent landscape, go rafting down the Rio Grande, or take a zip-line tour of the Jamaican countryside.
Check out our full guide on Jamaica.
Antigua is a great destination for Muslim travellers as the island has plenty of halal restaurants, prayer facilities and even a mosque. St. John's is the vibrant capital of Antigua, and it's a great place to explore. Here, you'll find a variety of halal restaurants, as well as shops, mosques and other prayer facilities. You can also explore the city's many historical sites, like the iconic St. John's Cathedral.
In conclusion, there are plenty of exotic halal honeymoon destinations to choose from, and in recent years, with the rise of Halal travel, more and more options are opening up that are not your standard luxury experience. I love the diversity and the fact that the islands I have recommended are rich in culture and unique.
They can also accommodate a variety of budgets as well. Each destination offers an array of halal food restaurants and activities, making it easy for couples to have the perfect halal honeymoon. Whether you're looking for a romantic getaway or an adventure-filled honeymoon, these destinations offer something for everyone.