According to world-class chefs, London has become the world's capital for fine dining. Many of these are nice halal restaurants with numerous options that you can enjoy.
Whether you are looking for a family meal, a romantic dinner or even a curious to taste a different cuisine, we have a list of the best halal fine dining restaurants in London you should try at least once.
With a Michelin star awarded to over 58 gourmet establishments, having a halal fine dining experience in London is easier than one had thought.
I always love experiencing something different. Although it seems you won't be getting full with the small portions eating at a Michelin star restaurant, the food quality and attention to detail are fantastic.
There are many fine dining halal options that you can enjoy in London, irrespective of your budget.
Our picks can include some mesmerizing restaurants at starred locations offering an exquisite view. At the same time, you savour up your dishes. you do, make sure you are hungry to enjoy your dishes.
Here's the list of the fancy halal restaurants in London.
A visit here is worth flaunting on social media, so make sure you are camera ready.
TING Restaurant, Shangri-La The Shard
Ting for amazing halal fine dining in London with a view.
It is situated at the 35th level of Shangri-La The Shard. The view from this restaurant is unparalleled to any other in London.
Suppose you plan a first date, anniversary date, business meeting, or special occasion. In that case, this place is the perfect pick.
You can book a light dining up to a 5-course dinner; this place has everything you can ask for. It is one of the best places to find high-quality halal food in London.
Their afternoon tea is also Halal, and with the views, it makes for a great way to spend it with loved ones.
They also offer a halal food option on their lunch menu which is cheaper if you are on a budget.
I recommend booking well in advance, especially for the weekend.
You can read our review here.
Website: Ting Shangri La
Wellington Lounge, Intercontinental Park Lane
Many of the five-star hotels in London offer halal food options for their guests and in their restaurants, so you will definitely find some to enjoy.
Wellington Lounge is known for its afternoon tea. If you are in London, you have to experience this.
They have several halal food-finding options, and the views from the restaurant and ambience are great.
Be sure to give 48 hours of advance notice for Halal dining.
Website: Intercontinental Hotel
The Promenade, The Dorchester
The Dorchester in London is familiar ground for the rich and famous and of course, we can also enjoy some of the fine cuisines there.
If you want to have a nice 5-star halal dining experience you can enjoy the most quintessentially British thing; afternoon tea. Check out our full afternoon tea list.
With 24 hours of advance notice, you can enjoy the British Halal afternoon tea in Royal style.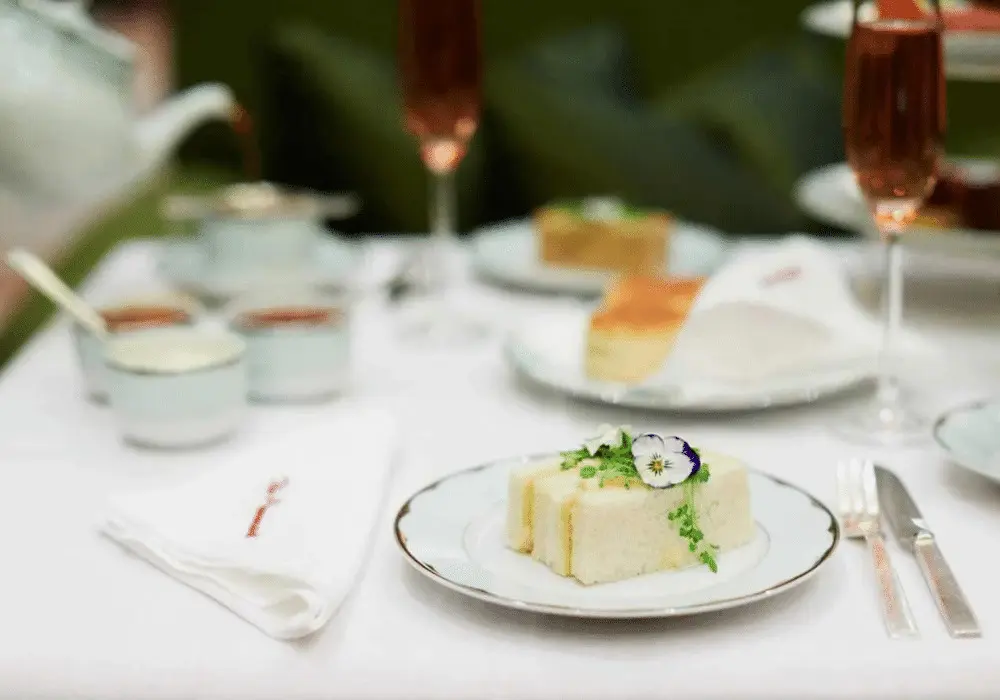 It's perfect for spending some quality time with a friend, colleague or family.
They also offer halal chicken in their restaurants so you can enjoy other halal dishes as well.
Please call in advance to make reservations.
Website: The Dorchester
The Winter Garden, The Landmark London
Winter garden is a beautiful restaurant that serves British and Mediterranean cuisine in Marylebone.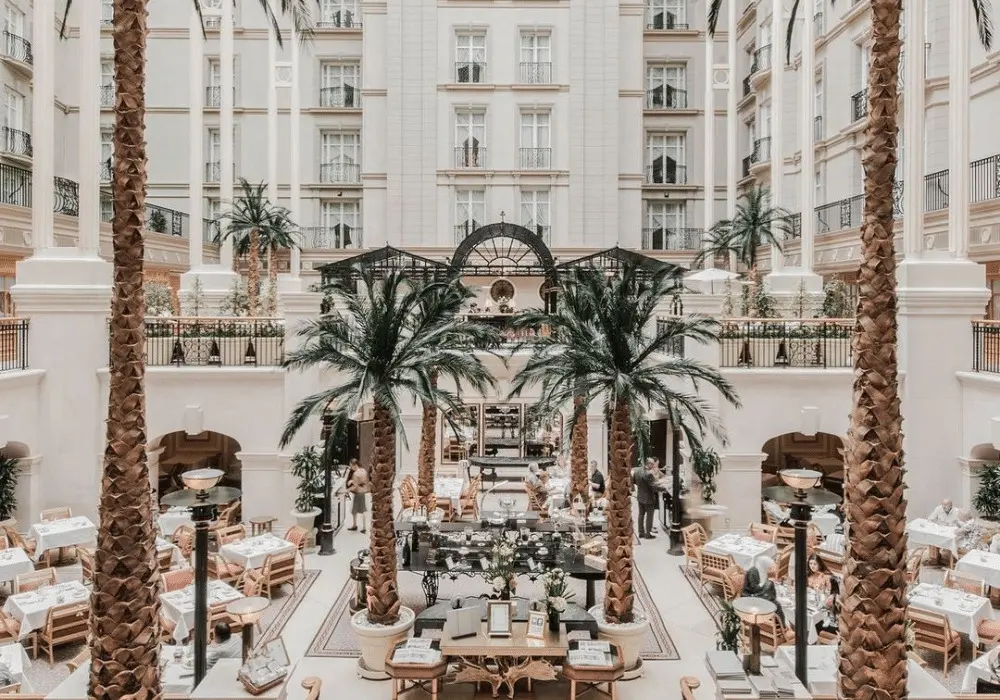 It is also among the best Michelin halal restaurants in London. With several food options, be sure to order 48 hours in advance.
Pro-tip: Do try their Roasted Rack of Halal Lamb.
Website: The Landmark London
Claridge's, Mayfair
Claridge's is a high-end restaurant in Mayfair that will excel all your expectations.
All meat served here is halal, but I recommend making 24 hours prior request to be sure. You'll love the hospitality, service, interiors and food.
I highly recommend their Tournedos of Aberdeen Angus beef and steak.
Website: Claridge's, Mayfair
Amaya, South Kensington
Amaya is a Michelin-starred Indian restaurant that offers the best halal fine dining in London, including delicacies made with lamb and chicken meat.
Portion size is also good, so you don't have to order extra.
The restaurant believes in providing an authentic taste of the halal dishes from the Indian Cuisines. You'll love the food, service, and ambience.
Pro-tip: If you book a table in advance, ask for corner tables by the glass.
Website: Amaya
Alain Ducasse, Dorchester
3 Michelin-starred Alain Ducasse serves delicious French cuisine. Alain Ducasse is your place if you are up for a modern halal fine dining experience in London while facing Hyde Park.
I highly recommend the Halal Beef fillet here. You can also book a private dining experience from Alain's website and take your loved ones out for a memorable dinner.
Pro-tip: You can book a Bespoke and intimate dining experience with Alain Ducasse.
Website: Alain Ducasse
Jamavar, Mayfair
Jamavar is an authentic Indian fine dining restaurant that serves pan-Indian dishes in London and offers halal food. The interior here is inspired by the Viceroy's house in New Delhi.
The menu is created by two Michelin-starred chefs, and the whole menu is Halal except for the game meat. So feel free to order and enjoy the wide range of flavourful Indian dishes.
Pro-tip: Try their Halal Lambs Raptor and Halal Chicken Tikka Masala Pie.
Website: Jamavar
Kai Mayfair, Mayfair
Kai is a Michelin-starred restaurant that serves Chinese cuisines blended with the western style in Mayfair.
A unique experience you can enjoy that combines tastes usually not available with halal options. So we are definitely lucky to experience this as a halal fine dining setting in Mayfair.
The beautiful interior is inspired by Chinese culture and provides the perfect ambience for any occasion.
Chicken and Lamb dishes served here are Halal. Be sure to visit this beautiful
Michelin halal restaurant in London at least once in a lifetime.
Website: Kai Mayfair
Galvin La Chapelle, Liverpool Street
Founded by Two French Chefs, also known as the Galvin Brothers, Galvin is one of the best halal Michelin star restaurant In London. You can enjoy exquisite French cuisine cooked to perfection here.

Something that cannot be said for many halal restaurants since French cuisine is not as widely available.
Chicken dishes served here are Halal. Be sure to book a week in advance and notify about the Halal food requirement.
Website: Galvin La Chapelle
The Ritz Restaurant, Mayfair
Ritz is another Michelin-starred restaurant in Mayfair, and its dining room is considered the world's most gorgeous dining room.

The history and location make it an elegant and romantic dining destination.
You can also enjoy the live entertainment on Friday and Saturday evenings for £40 per person. Halal chicken and lamb dishes are available with 48 hours prior notice.
Website: The Ritz Restaurant
Trishna, Marylebone
Trishna is an Indian Michelin-starred restaurant known for serving coastal Indian delicacies in London.
The restaurant serves several Vegetarian dishes and Halal Lamb, Chicken, and Goat dishes. You'd love the warm ambience and fantastic service here.
Website: Trishna
Tamarind, Mayfair
The Michelin-starred Indian restaurant, Tamarind has given a modern twist to traditional North Indian cuisines.
It is an elegant and contemporary restaurant and offers Halal food to Muslim diners. Be sure to book in advance and notify about Halal food requirements.
Website: Tamarind
Hide, Piccadilly
The Hide is a Michelin-starred fine dining halal restaurant in London that serves European cuisines.
Along with the unique interiors, you'll find some special dishes on the menu here.
Everything from service to food is top-notch. Be sure to pre-order Halal food 72 hours in advance.
Website: HIDE
Quilon, Westminster
With Halal Chicken and Lamb dishes on the menu, Quilon is known for South-West coastal Indian delicacies.
It is a Michelin-starred restaurant with a beautiful ambience and a private
fine dining halal in London option with a separate entrance.
Website: Quilon
Gymkhana, Mayfair
Known for its taste, Gymkhana is a halal Michelin star restaurant in London with Halal Goat, Lamb, and Chicken dishes.
It has polished and dark wooden interiors perfect for any special occasion. If you've never been here, I highly recommend it.
Website: Gymkhana
Marcus, Knightsbridge
With Michelin-starred recognition and high-end British cuisine on the menu, Marcus is designed for the best dining experience.
You'll love everything from the ambience to the food here.
You can order Halal lamb here that can be traced back to the farmer. Be sure to inform about the Halal food requirement while making a reservation.
Website: Marcus
Claude Bosi, Bibendum
Located on the first floor of the Michelin House, Claude Bosi is a Michelin-starred restaurant with French heritage.
This is definitely considered one of the best halal fine dining restaurants in London.
With extraordinary service and delicious food on the menu, you're up for an exquisite experience. You can pre-order the Halal chicken and lamb dishes while making a reservation.
Website: Claude Bosi
The Goring Dining Room, Westminster
Goring is a Michelin-starred Edwardian restaurant. You're up for an elegant and authentic British dining experience if you're visiting here.
You can order Halal Chicken and Lamb dishes here, stored and cooked separately.
Website: The Goring
La Dame de Pic, Trinity Square
La dame de Pic is a French restaurant located at 10 Trinity Square. The colourful ambience here is perfect for a family gathering or celebration.
You can book Pre-order Halal food here 72 hours in advance.
Website: La dame de Pic
The Clove Club, Shoreditch Town Hall
The restaurant has impeccable decor, including a blue door in the main hall town.
Clove club restaurant stands high amongst the top 50 World's best restaurants in London that are halal. The menu has a list of sizzling, drizzling delicacies.
The crowd in the restaurant is mostly East England locals; this halal 5-star restaurant in London offers delicious food at an affordable price.
The restaurant has an online reservation system to take bookings.
They have a non-alcoholic drink pairing option for beverages, which is best for Halal diners.
Website: The Clove Club
Dishoom Shoreditch, Hackney
Dishoom is perfect for halal fine dining in London. They not only serve halal food but also get their supplies from halal-certified suppliers.
Here you'll find the fusion of Indian and Iranian food. The atmosphere is excellent, and the portion size is just perfect. You'll not be disappointed with the taste of the food here.
Pro-tip: Their murgh malai and Spicy lamb chops are a must-try.
Website: Dishoom Shoreditch
The list of London's Fine Halal dining options is enormous, and it continues to grow.
We are lucky to have so many options as halal diners to enjoy and not feel left out of deliciously prepared food. A few years ago the list was not this long or varied and we are definitely looking forward to more variety.
Have you been to any of the restaurants mentioned above? Share your experience in the comments.