People think that going for Umrah with a baby is impossible. My daughter was six months when she did her first Umrah! Now that she is three I have to say going for Umrah with a baby is so much easier than with a toddler.
I initially wanted to go with my daughter when she was three months old. I think this might have been a little too ambitious for me considering that we had just travelled to three different countries by the time she was three months. But I am so glad we went before all the borders closed.
As a travelling mum especially now that we have been for Umrah several times with my daughter here are my tips for what worked best for us when we did Umrah with her as a baby.
These are practical tips and things that worked for us.

Planning Umrah with a baby/newborn
Don't get discouraged by people saying it is hard or impossible and you won't enjoy it.
If you want to go for Umrah when you are on maternity, stay longer and just enjoy the experience definitely go, just be prepared that it might not be the same experience as when you went child-free.
I think a little planning helps you get the best experience possible.
Read our full guide on how to plan a DIY Umrah here.
#1 Start your Umrah in Medinah
If you are travelling with a baby I would highly recommend you start your journey in Medinah.
I always suggest this, but for an umrah with a baby/newborn or a toddler, I would say Medinah is your best option as it gives you time to settle from the journey.
Depending on where you are flying from, landing in Medinah with a baby is much easier since the airport is closer to the Masjid which means you can get faster to your hotel.
You also don't have to do Umrah straight away but you can all rest and settle from the jetlag and long hours of travel.
Plus taking the train from Medinah to Makkah is much easier, faster and more comfortable when travelling with a baby for Umrah.
We did not start our journey in Medinah, and I have to say I did regret this we were so tired at the end of it that our little daughter didn't fall asleep until 2 am; which for us was a nightmare.
So please learn from my mistake. We only had 5 days for Umrah but still, I would have liked 2 days in Medinah to adjust.
#2 Choose your flights wisely with a baby
Babies do get jet lag, so If your baby is in a routine at home, I would strongly recommend you try to keep the same. This is vital if you are flying a long flight or if it is your baby's first time on a plane. They do need time to adjust as well.
Find a flight that will mirror your home schedule and routine, don't think that a night flight will help baby to sleep as in many cases they might be over-stimulated and not fall asleep.
I would recommend you stick to a day flight if possible.
For example, if your baby is generally sleeping at 6 pm, try to stick to these hours even in Makkah. I know for many, this might be hard, but I saw babies crying from being overtired in the Haram, and I felt sorry for them.
Keeping a routine for the baby is a good way of actually getting them adjusted to any trip. If you still want to take them out, you can do this in their stroller with white noise and a blackout blanket. This way, they will feel more comfort and familiarity if you do this at home.
My daughter had a meltdown during prayer because the guard told me to move further in and the only option I had was to move inside of the Haram. She was asleep, but the noise from the speakers during prayer scared her, and she had the worst meltdown(and myself) while trying to pray.
It was not the best start, as my husband was separated too and didn't know where we had gone, Alhamdulillah we managed to get back on track.
I would recommend sticking to a routine and managing your arrival and Umrah in a way that especially if the baby is under a year old, is accommodating to them.
This happened because as I mentioned above we went straight for Umrah rather than start in Medinah, so she was already tired. If we had the time to adjust we would have been fine.
Also, avoid the inside of the Haram, especially near the Safa /Marwa parts as the speakers were so loud. We did not plan for this at all.
Tips:
Pick a daytime flight to help the baby sleep and hopefully not be jet lagged
Stick to a routine that you are used to at home even in Makkah
Get a white noise machine or use your phone especially if the baby is a light sleeper (like my child)
#3 Get a hotel close to Haram
A very important aspect of your Umrah should be your Makkah hotel and the location especially. It doesn't matter how fancy it is what matters is to be in close proximity to Haram.
If you can afford hotels close to Haram, I would certainly book them. You will be tired of looking after a baby, being pushed around and walking miles on end, the last thing you want is a pram and a bus and waiting around.
For readers of MuslimTravelGirl, you know I love Hilton properties in Makkah. They are in the Jabal Omar development, which is my favourite side of Makkah.
Here is why I love them so much; They are close to Haram, they are cheaper, not crowded and they have food places, a supermarket and a mall.
You can find my best Hilton hotel in Makkah and see what I think of all of them.
You might ask why not the hotels in the Clock Tower.
The reason why I don't book hotels in the Clock Tower, although convenient for baby access is that it is too crowded. We exited by mistake from the Clock Tower Gate of the Haram, and the amount of pushing we had to do to get through was not enjoyable
For our Umrah with a baby, we booked the Hilton Convention Makkah. Now, we went during the New Year (28th Dec to 2nd of Jan 2020) the hotel and Makkah were very busy with people.
The Hilton Convention was overbooked, and we did have some minor issues. However, still, it's a great property at a reasonable price. Even during the busiest time, it was around £140 per night.
The small hill was not a problem for us. We booked it because we thought it would be easier as I like the executive lounge more there and it has better food options.
If I was going again, I would book the Conrad, Hyatt or the Hilton Suites. Simply because it is just a little easier and order more room service if I didn't want to brave the crowds.
#4 The Baby boss will make your schedule
Umrah with a baby is possible as I have mentioned about 100 times but you should know that they are the person who can make or break the experience for you.
Decide when you want to take your daughter for tawaf and prayers. Is it when she is alert or when she is asleep? Knowing her schedule will help decide how to plan your day.
It will also be much slower than you thought. Which is also OK.
You might not be able to stay in the Haram for 5 hours and pray all your prayers but as long as you have a bare minimum you are happy with then let it go. It is about experiencing this with your child as well.
My daughter during our stay slept through most breakfast times and because she was still breastfeeding and sleeping at all hours I didn't have a single breakfast in the hotel.
We decided to take her for tawaf when she was awake just to make sure she enjoyed people-watching. Also, I would pray only a couple of the prayers in Haram and the rest in the prayer room in the hotel area.
You can take the baby to the Haram and stay there between prayers, just find the best time your baby is most content. Find a quiet place to sit down in the mosque, hand them a toy and let them play around.
Honestly, an Umrah with a baby is so much easier than with a toddler. They don't move and they just play and coo.
#5 Your Pram is your best friend
While my daughter was a baby we had the Doona.

I love the Doona and truly it was the best thing in the whole world. If you have a young baby and thinking of going for Umrah get a Doona.
The Doona turn into a pram as well as a car seat. Super versatile for not only Umrah but travelling and also going up escalators when prams can't.
You also don't need to have with you a separate pram and then a car seat since this is one.
I didn't even think of taking a baby in Saudi Arabia without a car seat. People drive like crazy, please take a car seat!!
You can take your pram in the Haram via the wheelchair access ramp, which takes you to the second-floor mataf area where they allow prams and wheelchairs.
You can also take your pram in the Safa / Marwa area walk if you want.
Also, with the Doona in the Haram, it is small enough to fit on the escalators when folded and even in tight spaces as it doesn't take up much space.
You can read my best travel accessories for every trip here including the doona.
During our Umrah, we actually used the Doona during our tawaf as the baby was asleep (blessings). Then my husband carried her in the carrier for the Safa / Marwa part, which she totally enjoyed and giggled.
Of course, if you cannot afford a Doona just make sure your pram is small enough to fit around.
I loved seeing her face light up with curiosity and exploring her new surroundings. That was the best part of the trip!
#6 Take a baby carrier
I would highly recommend taking with you a carrier or a sling to put the baby in during your Umrah or Tawaf.
It is much more comfortable for yourself and the baby if you want to do tawaf near the Kabah.
If you want to "shorten" your tawaf, put her in a baby carrier. Tawaf in the Mataf area takes 1 hour while in the Kabah area it takes 30min. With a baby, this is precious time.
I would also recommend you do this while the baby is asleep so you can enjoy it more. Bring in a carrier and let the baby sleep in it while you do tawaf. They love sleeping like this!
We had the Bebear carrier, which is a cheap and fantastic option with plenty of pockets. It is ergonomic, so I know she will not have a hip dysplasia issue, which was always my fear with baby carriers.
Also if you want to go out for a quick trip to eat or to the supermarket you can use the carrier. Just makes life easier when in Makkah.
#7 Rent a Scooter in Haram
In Haram, you can also rent a scooter to perform tawaf. If you are doing an Umrah with a baby I would highly recommend renting one.
Obviously, it is not the same feeling as walking it, but we did it once, and it was a fun experience. I had the baby in the carrier, and we drove slowly around.
The entrance for renting the shooters is on the middle floor near Safa / Marwa it costs 100SAR for an unlimited time.
We performed our tawaf in the afternoon after Dhuhr while it was less crowded and after Isha around 9 pm, as it was quieter, we would go for tawaf in the Kabah area. We usually turn on the TV and the Kabah channel to see if it is busy before we venture out.
#8 Decide who is looking after the baby
Looking after a baby is tiring no matter where, if you are going for Umrah with a spouse or extended family decide who will be looking after the baby at least for a couple of the prayers.
As a mum, you still need a spiritual uplifting so you deserve a break to go and enjoy a prayer in Haram baby-free.
It can be between Asr and Magrib or whatever works for you, but I would highly recommend you get some alone time. The same applies of course to the other half.
Then when your baby is awake and alert you can take them as well and go together as a family.
#9 Practical Tips for Umrah with baby
Here are some of my tips that I found helpful and helpful will benefit you when planning your Umrah.
Go to perform Umrah when the baby is asleep, this should give you an hour or two to perform Umrah and have some peaceful time for reflection.
Change the baby before you go out so you know she will not need a change until you are back.
Feed her and plan to go out for tawaf or to sit in the mosque while it is her nap time. This will give you some peace and quiet.
If you have a hotel close to Haram, it is much easier to come back after every prayer with the baby to relax and just settle her in.
Try to keep the sleeping routine you had at home so it is easier to adjust once you are back but also so you know when you will have a moment to enjoy and make dua.
Don't overpack your bag for going out into the Haram. You will have to carry it. I never took more than the small bag for the front of the pram which had:
antibacterial wipes,
baby wipes,
pacifier,
a nappy,
a toy,
my phone,
a small prayer mat
a bag to put my shoes in.
For your flights, prepare extra food in case of flight delays. I was breastfeeding/pumping and also had extra formula just in case. This came in handy when she wouldn't feed as she was overtired and our flight was delayed several hours.
Just bring a light blanket to cover the baby, and also a white noise machine to give some protection and no distractions. Plus protection from all the viruses and people.
#10 Enjoy your Umrah and don't over plan
Don't beat yourself up, if you think that your Umrah is "wasted" because you didn't pray all prayers in the masjid. I did feel like this, but I realised it is not the same as last time because now I have a human depending on me.
Create your dua list before coming to Makkah. I always have a dua-list, with a baby brain it was so hard to manage to write one, but it helped to have it prepared and not have to think about it.
You are a mum, everything in life is slower when you look after another human, so don't panic and enjoy this new experience with your little human.
I loved my first Umrah with my daughter and although we have been to several since then the first was special.
Enjoy every moment of your trip even when tired and take lots of photos and videos to preserve the memories.
She is our miracle baby and a dua come true, so I had to take her to Allah's house.
The Ultimate Guide on How to Do a DIY Umrah; (Do-It-Yourself) Umrah
Why having a routine is important for your child
Tips for Choosing Business class seats with Toddlers
10 Ways travelling has changed since having a baby and I didn't expect it!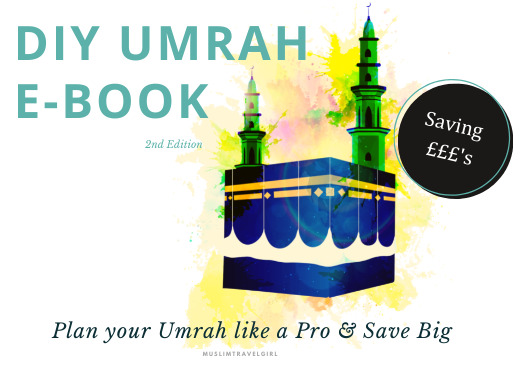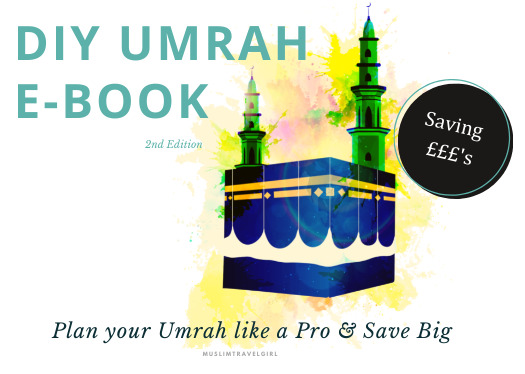 DIY Umrah E-Book
Save 70% of 5 star hotels in Makkah and Medinah during peak season. Imagine the best Umrah possible.