When I told people I wanted to go for Umrah with a baby they had a funny look, primarily because of when I wanted to go. My daughter would have been three months old. I think this might have been a little too ambitious for me considering that we had just travelled to three different countries by the time she was three months.
So we pushed back our plans on performing Umrah with a newborn to start planning for Umrah with her when she was close to six months.
If you read this site, you know I am not the heaviest packer, I used to travel three weeks only with hand-luggage, and I am very proud of this.
However, now with a baby, it is a learning curve. Anyways, back to Umrah with a baby.
This whole article is my experience and recommendations of what works or doesn't, or in many cases, what works best.
Planning Umrah with a baby/newborn
There are some things which are beneficial for you to think about before planning your Umrah.
Think about…
Your budget

Time of the year you are going (whether crowded or not)

Hotel location (essential with a baby)

Flight booking time/dates (many flights arrive early morning or late night in Jeddah)

Umrah performance time (especially if you are brave enough to do straight away)
I think a little planning helps you get the best experience possible, and I will share my experience and the mistakes I made in a moment.
Read our full guide on how to plan a DIY Umrah here.
On the flight, you can decide if you want them to have their own seat, so you are more comfortable, especially on long flights. If you are going only with your husband, it might be easier to have an extra seat since he will be wearing an ihram if you enter from Jeddah.
I would highly recommend it if you have a baby to start your journey in Medinah. I always suggest this, but for an umrah with a baby/newborn or a toddler, I would say Medinah is your best option as it gives you time to settle from the journey.
Also, the hotel duration of your Umrah will be less & way more comfortable if you take the train from Medinah to Makkah.
We did not start our journey in Medinah, and I have to say I did regret this, and we were so tired at the end of it that our little daughter didn't fall asleep until 2 am; which for us was a nightmare.
We only had a few days for Umrah, so we thought that we will take an early flight, arrive there early in the afternoon and be done with Umrah. This was not the case.
Our total Umrah door to door with flights and after performing was nearly 18hrs, and we only came from Doha via Kuwait (5 hrs flying time) with an hr flight delay.
Therefore I would highly recommend starting your journey in Medinah. The airport is smaller, closer to the city and your hotel, you don't have to perform Umrah straight away, and you don't have to be in Ihram. You will have more time to relax in the hotel, get the baby to sleep during day times to help with jet lag and then once you have rested and spent a few days in Madinah, take the train and head to Makkah.
Insha'Allah when we go next for Umrah this will be my itinerary, so we are rested, and we enjoy the process.
Jetlag and baby Umrah
As mentioned above, babies do get jet lag, so If your baby is in a routine at home, I would strongly recommend you try to keep the same. This is vital if you are flying a long flight or if it is your baby's first time on a plane. They do need time to adjust as well.
Find a flight that will mirror your home schedule and routine, don't think that a night flight will help baby to sleep as in many cases they might be over-stimulated and not fall asleep.
I would recommend you stick to a day flight if possible.
For example, if your baby is generally sleeping at 6 pm, try to stick to these hours even in Makkah. I know for many, this might be hard, but I saw babies crying from being overtired in the Haram, and I felt sorry for them.
Keeping a routine for the baby is a good way of actually getting them adjusted to any trip. If you still want to take them out, you can do this in their stroller with white noise and a blackout blanket. This way, they will feel more comfort and familiarity if you do this at home.
My daughter had a meltdown during prayer because the guard told me to move further inside and the only option I had was to move in the Haram. She was asleep, but the noise from the speakers during prayer scared her, and she had the worst meltdown(and myself) while I was trying to pray. It was not the best start, as my husband was separated too and didn't know where we had gone, Alhamdulillah we managed to get back on track.
I would recommend sticking to a routine and managing your arrival and Umrah in a way that especially if the baby is under a year old, is accommodating to them.
Also, avoid the inside of the Haram, especially near the Safa /Marwa parts as the speakers were so loud. We did not plan for this at all.
Tips:
Pick a day time flight to help baby sleep and to hopefully not be jet-lagged

Stick to a routine that you are used at home even in Makkah

Get a white noise machine or use your phone especially if the baby is a light sleeper (like my child)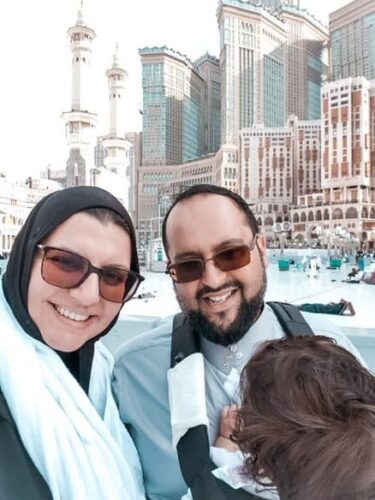 Finding a hotel in Makkah
An essential aspect of your Umrah should be your Umrah hotel and the location mainly. It doesn't matter how fancy it is what matters is to be nearby.
Due to my "expertise" before the baby, I did make a mistake and overestimated the difficulty. Now, of course, this will depend on your budget and when you are going.
If you can afford hotels close to the Haram, I would certainly book them. You will be tired looking after a baby, being pushed around and walking miles on end, the last thing you want is a pram and a bus and waiting around.
For readers of MuslimTravelGirl, you know I love Hilton properties in Makkah. They are in the Jabal Omar development, which is my favourite side of Makkah.
Here is why I love them so much; They are close to the Haram, they are cheaper, not crowded and they have food places and a mall.
You can find my best Hilton hotel in Makkah and see what I think of all of them.
For this Umrah, we booked the Hilton Convention Makkah. Now, we went during New Years (28th Dec to 2nd of Jan 2020) the hotel and Makkah was packed with people. The Hilton Convention was overbooked, and we did have some minor issues. However, still, it's a great property at a reasonable price. Even during the busiest time, it was around £140 per night.
I was contemplating on whether to book the Conrad or the Hilton Convention since they were my two available options.
The reasoning behind booking the Convention although on a hill was because we would have the baby with us so we can use the hotel's facilities more. The Hilton Convention Makkah offers great executive lounge food options, and we could enjoy breakfast, afternoon snacks and dinner without having to queue in the mall and around crowds. Making it more convenient for us.
The Conrad Makkah doesn't allow children under the age of 12, so this was a bummer.
Sadly as with every life lesson, we didn't take into consideration the "boss" who literally slept through every single breakfast, and her bedtime was during the prayer time and dinner.
Generally at home, this would have been slightly different routine, but as with adults, babies get thrown off their set times. Also, don't forget to calculate the time difference as their circadian rhythm is pretty strong.
So, in reality, I didn't calculate that she would have been tired and cranky, and I would have felt so bad waking her up in order not to miss breakfast.
Therefore we ended up walking up the hill and not really enjoying the things for which we booked the hotel.
Also, important to note that this hill, although I didn't mind it before, pushing a pram up after miles of walking, is not my idea of fun. You can, of course, take the bus or just think before booking it, especially if your child cannot walk.
On my next Umrah trip with the baby, I would book one of the closer hotels such as Conrad, Hyatt or Hilton Suites.
Another benefit with being on that side of the Haram is that the ramp for the wheelchair access is straight opposite Jabal Omar, and it takes you exactly where you should be to start your tawaf or Umrah. Very convenient.
Also, you can consider the Makkah Towers hotel (formerly Hilton and Millenium) as their location is also fantastic.
You might ask why not the hotels in the Clock Tower?
The reason why I don't book hotels in the Clock Tower, although convenient for baby access is that it is too crowded. We exited by mistake from the Clock Tower Gate of the Haram, and the amount of pushing we had to do to get through was not enjoyable. Hence my hesitation in booking it for an Umrah trip, though I will book it one day just for a photo of the view. 🙂
Of course, you can book any hotel within your budget even if it is a few minutes walk. The important thing is to be aware of the distance and how hard it will be to attend every prayer.
Personally, I would prefer to stay a few days less and book a nearer hotel for more convenience, especially if it is your first Umrah with a baby.
Performing Umrah
You can take your pram in the Haram via the wheelchair access ramp, which takes you to the second-floor mataf area where there allow prams and wheelchairs.
You cannot take your pram in the Kaba area, though I did see one guy with a pram and I really wanted to hit him. Be considerate of your fellow Muslims and their feet, avoid the Kaba area when having a pram.
You can also take your pram in the Safa / Marwa area walk if you want.
For our Umrah, I had taken our Doona with us. I love Doona because it is a car seat/stroller in one so you don't have to take a separate pram and car seat. I didn't even think of taking a baby in Saudi Arabia without a car seat. People drive like crazy, please take a car seat!!
Also, with the Doona in the Haram, it is small enough to fit on the escalators when folded and even in tight spaces as it doesn't take much space.
During our Umrah, we actually used the Doona during our tawaf as the baby was asleep (blessings). Then my husband carried her in the carrier for the Safa / Marwa part, which she totally enjoyed and giggled.
I loved seeing her face light up with curiosity and exploring her new surroundings. That was the best part of the trip!
I would highly recommend taking with you a carrier or a sling to put the baby in during your Umrah. It is much more comfortable for yourself and the baby if you want to do tawaf near the Kabah. We had the Bebear carrier, which is a cheap and fantastic option with plenty of pockets. Also, it is ergonomic, so I know she will not have a hip dysplasia issue, which was always my fear with baby carriers.
You can find my best travel accessories recommendations here, including the carrier.
In Haram, you can also rent a scooter to perform tawaf if you want. Obviously, it is not the same feeling as walking it, but we did it once, and it was a fun experience. I had the baby in the carrier, and we drove slowly around.
The entrance for renting the shooters is on the middle floor near Safa / Marwa it costs 100SAR for an unlimited time.
Here are the rules for the scooters and information
We performed our tawaf in the afternoon after Dhuhr while it was less crowded and after Isha around 9 pm, as it was quieter, we would go for tawaf in the Kabah area. We usually turn on the TV and the Kabah channel to see if it is busy before we venture out.
Tips for Umrah with a baby
Here are some of the tips that I think are helpful for other mums going with a baby on Umrah.
Go for Umrah when the baby is asleep, this should give you an hour or two to perform Umrah and have some peaceful time for reflection.

Take a baby carrier/sling with you to carry her, much more comfortable than holding her.

Change the baby before you go out so you know she will not need a change until you are back.

Feed her and plan to go out for tawaf or to sit in the mosque while it is her nap time. This will give you some peace and quiet.

If you have a hotel close to the Haram, it is much easier to come back after every prayer with the baby to relax and just settle her in.

Try to keep the sleeping routine you had at home so it is easier to adjust once you are back but also so you know when you will have a moment to enjoy and make dua.

Don't overpack your bag for going out into the Haram. You will have to carry it. I never took more than the small bag for the front of the pram which had:

antibacterial wipes,

baby wipes,

pacifier,

a nappy,

a toy,

my phone,

a small prayer mat

a bag to put my shoes in.

Discuss with your spouse and take turns at least on maybe one prayer that he looks after the baby. You can then enjoy some "me time in the Haram" this will help you feel like your Umrah is special and not be overtired.

Don't beat yourself up, if you think that your Umrah is "wasted" because you didn't pray all prayers in the masjid. I did feel like this, but I realised it is not the same as last time because now I have a human depending on me.

Create your dua-list before coming to Makkah. I always have a dua-list, but this time I hardly managed to make one. I blame the baby brain!

For your flights, prepare extra food in case of flight delays. I was breastfeeding/pumping and also had extra formula just in case. This came handy when she wouldn't feed as she was overtired and our flight was delayed several hours.

If you want to "shorten" your tawaf, I would recommend finding when it is not busy in the Kabah area so you can go there instead of the mataf. One tawaf in the Mataf area takes 1 hour while in the Kabah area it takes 30min. With a baby, this is precious time. I would also recommend you do this while the baby is asleep so you can enjoy it more. Bring in a carrier and let the baby sleep in it while you do tawaf. They love sleeping like this!

Just bring a light blanket to cover the baby while doing tawaf, give some protection and no distractions.
Of course, these tips apply not only to babies but also for Umrah with children of any age.
And most importantly…
Enjoy every moment of your trip even when tired and take lots of photos and videos to preserve the memories.
Majority of my days are a blur, but I am so happy I stuck and took her through several different flights and horrible flight delays to perform Umrah. She is our miracle baby, and a dua come true, so I had to take her to Allah's house.
If you have any more tips, please do share them below for others 🙂