The Haramain train from Makkah to Medinah and Medinah to Makkah is one of the easiest and safest ways to travel in Saudi Arabia when going for Umrah.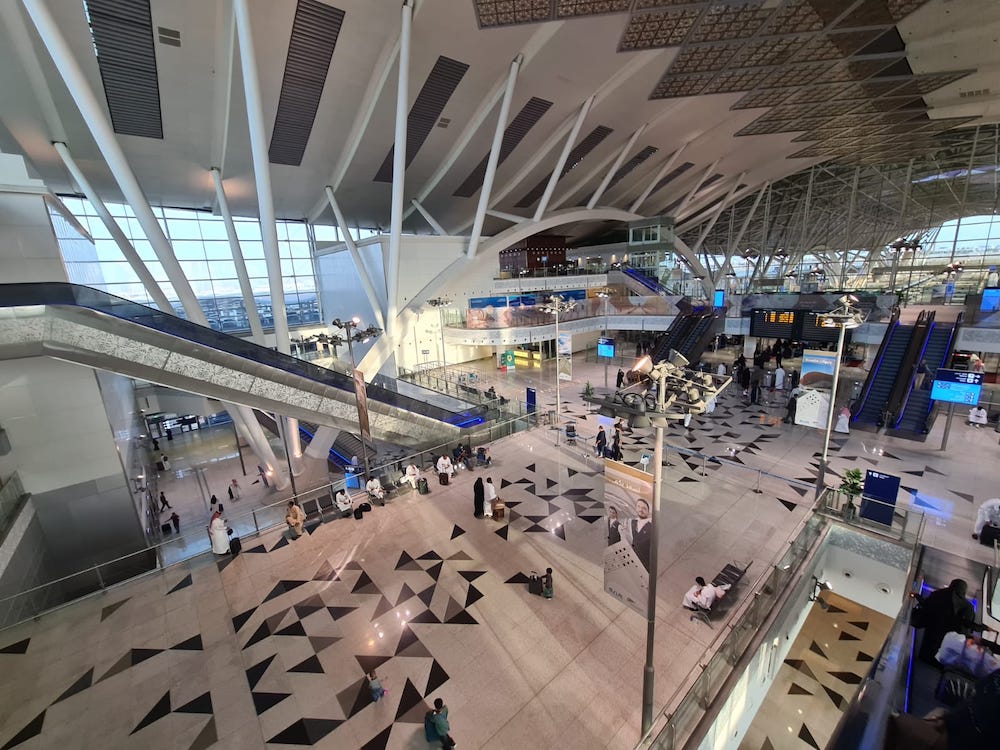 My experience using the Haramain Train from Medinah
First I have to say I am super excited because train travel is my actual favourite way to explore a country.
There are few options for you to get from Makkah to Medinah for Umrah and we cover all of them extensively here. Now that the train is added this is a much safer and faster way of reaching the Holly cities.
The train stations that operate are the Makkah, Medinah, King Abdulaziz Airport in Jeddah, and King Abdullah Economic City station. The Jeddah station is still not operational due to a fire a couple of years ago.
However, if you are planning Umrah you will be able to use the train, from the NEW airport terminal (which hosts only Saudi airline flights and a few others like Emirates) to get to Makkah and Medinah.
There are almost 30 daily routes operating with more available during
Ramadan.
I had booked a flight from Jeddah to Medinah due to the fact that it was cheaper to have this stopover in Medinah than a return ticket alone! I will be writing an article on this soon.
I also decided I wanted to check out the famous Haramain high-speed train for myself so we booked the train to return to Jeddah.
Without a doubt this is the BEST option, in my opinion, to travel to Jeddah and Medinah.
Speed, Comfort and Easy Travel
We had booked business class tickets for the whole family, which was about 240SAR per adult and then 140SAR for a child from 2 to 12 years old.
The tickets were easy to book online and I am glad to find that they have actually updated the train website and made it easy to book and change tickets.
For some reason though, every time we paid the site seemed to come to a run out of time even though the payment and tickets went through. Therefore keep this in mind if you are having the same problem.
The business class seats were very comfortable, according to my husband who came on the way to Medinah in the economy there are much better than the economy seats.
In both cases, the train was twin which meant that there are two trains connected.
When you go to the trains stations please go about 30 minutes before your train is ready to depart as you will need to show you Tawakalna app, plus your tickets and also go through security. Which is basically a scanner check of yourself.
They don't mind if you have water or anything else, but apparently, they did take my husband's perfume which was more than 100ml. Though the huge bottle of water I had was fine.
The train departed exactly on time and reached a speed of up to 300km/h.
However, even at this high speed, it was very smooth, which I am very thankful for. In the UK although I love train travel I can get sick due to the shakiness of the train, however, in this instance, I didn't feel it.
The cabin was clean, and comfortable and it felt very nice to actually travel, it also felt that time went so fast as 1hr and 40minutes later we were at Jeddah airport.
Of course, if you are travelling to Makkah you take another 50 minutes to enter the city.
Personally, I think this is the best way to travel from Medinah to Makkah or Jeddah because it is much more comfortable than a plane, car or bus.
Everything is new, works on time and it is very comfortable. I will definitely be travelling again. It was also much fast than travelling by plane from door to door.
We saved approximately 2hrs this way and it was way easier, especially with a child that could look outside, walk around and play on her seat with more space around her.
How to Book the Haramain Train from Makkah to Medinah
They have updated the calendar in some cases you can now book for up to a month in advance. This is great news and makes it easier to plan your trip. Note that below is the official link to book your train.
I do hope they will add a bigger calendar option when they start operating at full capacity and speed.
The train takes 2.30 hours from Makkah to Medinah.
The price of the ticket is not cheap by Saudi standards but by European standards, it is a good value considering the benefits of comfort, speed and safety you have.
A one-way ticket in economy costs £39 / 175 SAR per person and children pay half price.
A one-way ticket in business costs £60 / 285 SAR per person and children pay half price.
For a family of 5 this can add up and I can see the benefit of taking a taxi overspending nearly double the price of a train ticket.
Makkah to Madinah train schedule is available below, there are 4 trains per day.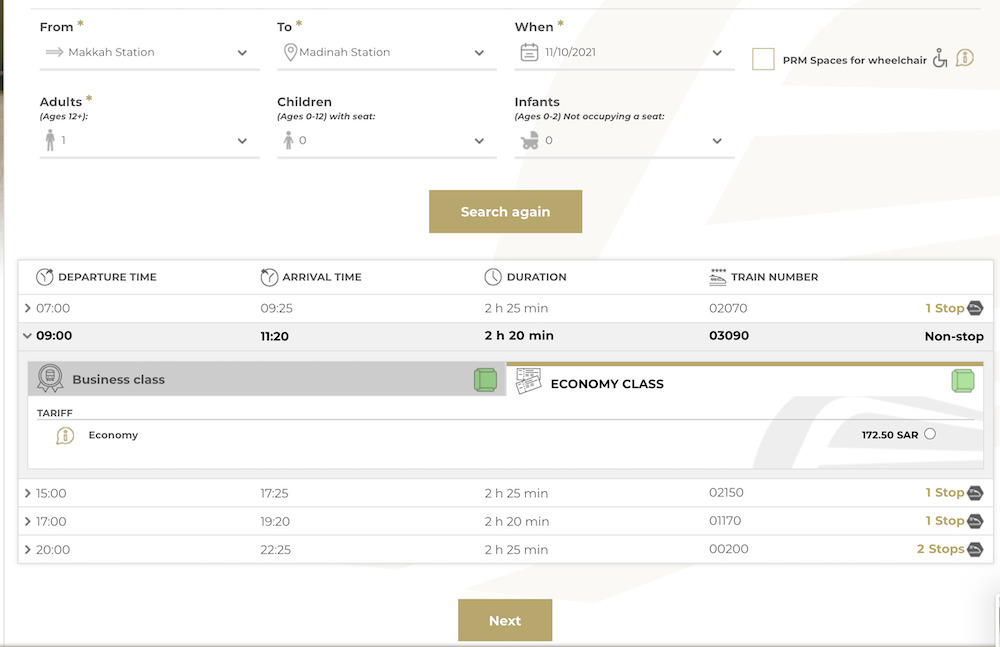 The Medinah to Makkah train schedule is below and there are also 4 trains per day.
Here are the rules of the ticket and how long in advance you have to be at the train station.
Please note that if you go during rush hour depending on the location of your hotel you might need extra time. Also if you don't have a ticket take this into account as well.
Overall you can go to the train about one hour or 30 minutes before the train departs.

Baggage on the Train
It looks like you can only have one bag per person plus one hand luggage as with most airlines.
I wouldn't get too caught up in the dimensions as long as they are OK for planes they should be OK for trains!
However, it also seems according to their T&Cs that even in business it is only 1 baggage per person
Any passenger provided with a ticket may carry with him, under his custody and responsibility, in the places designated for that purpose, one piece of hand baggage and one piece are limited to 25 Kg not exceeding 65 x 55 x 35 cm. (length-height-width).
The baggage options are OK and I know some people asked for extra pieces of luggage and this seems to also be ok. As long as you can take them on an airline you should be ok to take on the train.
There are luggage holders like in the UK trains that you can use.
Where are the stations located in Makkah and Medina?
The Makkah Haramain Highspeed train station is located about a 10-minute taxi drive from Haram.
You can find the Makkah train station details here.
The Medinah Haramain train station is located about 10 minutes from Masjid Al Nabawi as well.
You can find the google map location for the Medinah train here.
The train station is pretty easy to get to with a taxi that you can either order on Careem or some of them are always stationed outside. The train station is located close to the Medinah Gate city ( which I assume is a new city development being built). Prices are approximately 30SAR one way.
Also from Makkah trains station to Haram there is a free shuttle bus.
Haramain train use for Umrah
If you are arriving from an airline that is not Saudia or Emirates at the time of writing this article which is the new Terminal 1 KAIA then you will need to take a taxi from the old North Terminal to catch the train for Medinah or Makkah.
Personally in this case it might be easier to actually get a taxi directly to Medinah. Especially if you have family, luggage and considering the changes and taxis you have to take.
If you are planning to go to Medinah first, then I definitely recommend you take the train there rather than a flight or a taxi.
This way it will also be easier for you to actually do Umrah at a more relaxed pace and have your Ihram on for fewer hours and of course, be less tired while performing Umrah.
Note the journey is 2.30hrs and it doesn't stop at a Meeqat if you are travelling for Umrah from Medinah to Mekkah. So make sure you wear your ihram and have your intentions from before or while on the train.
Upon leaving the Medinah train station we were informed that the Meqaat would be after 10min. This is the only time it was mentioned, so you could enter the train and put your Ihram straight away.
Currently, at the time of writing, there are 5 daily trains from Medinah to Makkah.
If you want to stay in Jeddah and use the tourist visa to explore the city please note you will have to take the train to the airport and from there a taxi to the city which is about 20min away.
The Haramain high-speed train is the safest, fasted and most secure way to travel from Makkah to Medinah.
The other option will be the SAPTCO bus which is also cheap but takes about 5 hours to get to Medinah from Makkah. We have an article on this here.
In my opinion, the train from Makkah to Medinah for Umrah is a real contender and it does go with the Saudi vision for 2030 and having 30 million pilgrims per year.
It is a great way to go for Umrah and be in comfort, especially with young children.
My best advice and the fastest option I can see for this is if you do an open-jaw flight where you arrive in either Medinah or Jeddah and then fly from the other city. This way you only need a one-way ticket on the Haramain train from Makkah to Medinah or vice versa.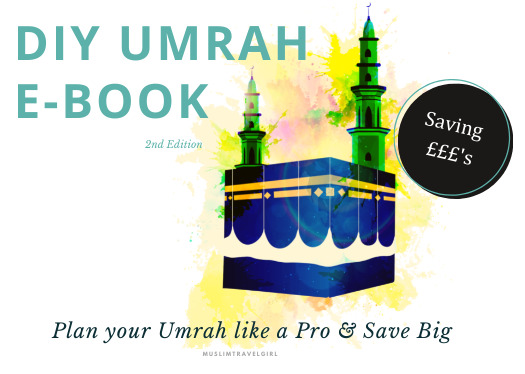 DIY Umrah E-Book
Imagine going for Umrah, standing in front of the Kabah without having to pay thousands on flights, accommodations or agents.
In my DIY Umrah E-book, I share with you how you can save thousands every time for every trip. It truly changes the way you travel.