The best hotels in Makkah to book for a good price can be challenging. Makkah is one of the most valuable real estates in the world and as such finding cheap hotels near Haram is a challenge.
Thankfully recent competition with the ease of issuing tourist visas has made it a little more affordable to actually be closer to the action without paying the old £1000 per night fees that were the norm before.
Now you can find some of the best hotels in Makkah for as little as £100 a night and even for £300 in the last 10 nights of Ramadan. Much cheaper than the old crazy prices.
With so many hotels it is time to update the list with the best hotels in Makkah.
Hyatt
I stayed at the Hyatt a few years ago and I really liked my stay. You have to cross the road for the Al-Haram courtyard but this is not an issue as you can see in the photo. During peak times they also close the road so there is no traffic when crossing.
Being next to the Kabah and in the new development, it really is a five-star property in Makkah. They do have an executive lounge which gives you breakfast and snacks so you can save on food. Hyatt also runs regular offers where you can get a discount on the property.
The prices are decent as well and if you go off-peak you can find some great options for as little as £114 per night.
Check out the TripAdvisor reviews here and to book you can do so here with hotels.com and you will get one reward night after every 10.
Conrad
Conrad hotel is located in the Jabal Omar development, it is a new property and of a very high standard. I enjoyed my stay there and they do accommodate large families with extra beds.
The Executive lounge could be better and they also don't allow children under 12 now, which for many families is not a viable option. If you are Hilton Gold or Diamond you can enter for free and they do give good upgrades as well.
Location-wise is 5 minutes from Haram with the elderly or children and you do have to cross the road ( shows in Hyatt photo). This is not an issue but if you need a wheelchair you will have to go on top of Hilton Suites which is in the same development.
During the Hilton sale, you can find rooms for about £110 per night.
Read my review of the Conrad here or book check the best prices you can do so here.
The Jabal Omar development also has a supermarket and a food court plus Five Guys and several other outlets.
Hilton Suites
Hilton Suites was one of the best hotels in Makkah in the previous years before several new hotels open. I stayed in the hotel a couple of years ago and I have to say it does show wear and tear. I expected a little better service but their breakfast and location is great.
However, the location is great as it is the first hotel in the Jabal Omar Development it is on top of the road so you can easily cross the street and it is only a 3minutes or so walk to Haram. The rooms also have a small kitchenette which is great for families that are on a budget and want to save money by cooking some meals. As the mall is underneath the hotel you can go to the supermarket to buy the essentials or the food court is only a few escalators away.
Usually, the prices for this property are higher as it offers a kitchenette facility and family rooms but you can find them off-peak for about £140 per night.
This hotel doesn't have a lounge so if you are looking for this don't book it.
You can book and check prices on the Hilton website especially during a sale.
Hilton Makkah Convention Centre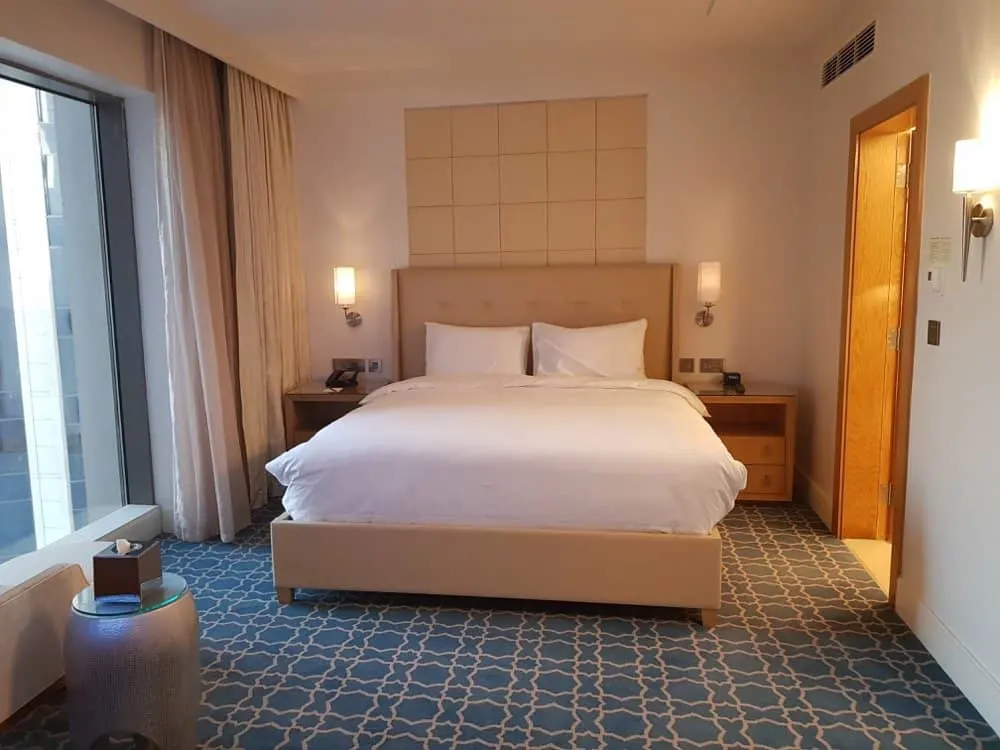 The Hilton Makkah Convention Centre for me is considered one of the best properties for value, especially for Elite Hilton members. You can read my review of the hotel here.
The hotel is a little further by walk, like 8 minutes but they also offer a shuttle to take you to the bottom of the street near Hilton Suites, this is especially useful for small kids and the elderly. The property is new and very big and does offer great views of the Haram courtyard plus their lounge is excellent and offers dinner options in the executive lounge with cooked meals, unlike Conrad.
Prices are also very good with the off-peak season starting from £80 a night. I didn't really mind the location and when I went I expected a longer walk, the only thing is it's a little steep. You can find good prices when booking a Hilton sale.
Check out the Tripadvisor reviews here, if you are booking a sale book on the Hilton website directly especially if you have Gold status. If you don't then you might want to consider Hotels.com as they give you a reward night after every 10.
Makkah Hotel
The Makkah Hotel is what used to be the Hilton and then Millenium Hotel Makkah. They have both left the property so now it is called just Makkah Hotel and Makkah Towers.
The property is one of the closest and best options for Haram but it is one of the oldest in the area so it does need a good refurbishment. It seems they did some light facelift but nothing major.
I remember when we stayed there several years ago it took us about 4 minutes to get out and into the Haram as I had timed it. The Makkah Hotel offers a lounge and the Makkah Towers have a kitchenette for families who want to cook.
Prices start from about £100 per night.
This is a great option especially the hotel for those with elderly parents and you don't need to cross a road and it is also less crowded than the Clock Tower.
You can book directly on the website or check out the TripAdvisor reviews.
Marriott Makkah
The Marriott is a new property it is located a little further up than the Hilton Convention so you can walk it down or you can tke their free shuttle. All these shuttle drop you just outside the Hilton Suites. The only issue with these properties is the steep hill but for example, you can walk it down and then get the shuttle. The hotel has good reviews and good prices from around £80 a night.
With Marriott now being one of the largest hotel chains in the world after taking over Starwood, you can earn and redeem points as well, though they increased the category without any notice!
The hotel does offer a lounge and good views of the Haram.
You can read the TripAdvisor reviews here or check prices on hotels.com
Fairmont Makkah
With the acquisition from Accor hotels, Fairmont is now a great brand to consider especially because you can earn points with your stays under the Le Club Accor hotels umbrella.
Prices are decent starting from £140 a night in some off-peak seasons and considering it is in the Clock Tower you can have some amazing views. Many of our readers have also received great upgrades in the hotel.
One reason why I am not keen on the hotels in the Clock Towers is simply due to the long wait on the elevators and the number of people that enter the shopping centre. This can be very true especially in Ramadan when people pray on the sides as well and then just sit there making it harder to manage traffic to the hotel and Mall.
However, if you are after those amazing views of the Kabah then this is the place to be.
To book the Fairmont or check any offers available here or to read the TripAdvisor reviews you can do so here.
Raffles Makkah
If money is not an object and you don't care about anything else but stunning views, good service and beautiful rooms then you should check out the Raffles Hotel in Makkah.
It doesn't come cheap with rooms starting from £400 a night but the reviews of the properties so far are great. I am planning on doing a review of this hotel to check it out myself as I am curious to see the standard of their service.
Again, the hotel is in the Clock Tower so be mindful of people traffic when entering and exiting.
To find the best price for the hotel you can check here and don't forget to read the TripAdvisor reviews as well
Swisshotel Makkah
Swisshotel Makkah also ranks in the top 10 hotels in Makkah with a good location within the Clock Tower, good quality service and breakfast as well as stunning views. Also, many readers have received great upgrades in the hotel with some family receiving a two-bedroom suite as an upgrade.
The hotel, of course, is not cheap with prices during off-peak times starting at £150 a night.
However, it does offer great views and I know many people stay there for that reason. I don't think there is anything better than looking outside your window while resting and seeing half the city of Makkah.
To check out the reviews on TripAdvisor and also the offers they have available as sometimes they are cheaper.
DoubleTree Makkah Hotel
A brand new hotel for 2019 is the Doubletree Makkah which is again located in the Jabal Omar Development. The hotel is located just behind the Marriott and Hilton Convention, you could walk it but they also offer a shuttle bus. Again you can walk it as a young person but their shuttle is convenient and quick and it doesn't take long.
The reviews are great as the property is still new but it is done to a high standard with good facilities. It is not your normal Doubletree style hotel, rather a posher version. The hotel doesn't offer an executive lounge so be mindful if you are Elite and want one.
Prices also seem higher for this hotel starting from £130 a night. You can check reviews here and book directly with the hotel.
Shaza Makkah
I like the Shaza brand as they are going for an all Halal hotel option in non-Muslim countries which is great. The hotel opened last year and it is of a very high standard. It is on the other side of the new development across the road from Marriott Makkah however it is walkable to the Haram but it is also on a hill so keep this in mind if you have the elderly with you.
The rooms are spacious, there are a good breakfast spread and a modern style. Prices are also good starting from £80. If you don't mind staying a little further and having to walk /take a shuttle and the price is right it makes a great hotel.
Check out the reviews and prices on TripAdvisor here.
The hotel is right next to the Clock Tower, it is not a new property but very convenient and good price especially for their larger rooms. Gives you easy access to the current gate open for Umrah.
The property is older but if you are on a budget and you want convenience then it is a great option.
You can book here via Hotels.com and get a free night after ten. To read the reviews on Tripadvisor check here.
I love the fact that there are many new properties opening up, this brings the standard and competition to hopefully serve the pilgrims better. Prices have gone down and in most cases, the service and room quality is up, which is fantastic.
Sadly the new properties opening will not be in the Haram courtyard as this is already build up and managed by hotels but they are good options a little further away and better value for money. I hope in the coming years they also renovate some of the properties within the courtyard area, such as Intercontinental and the Makkah Hotel.
When choosing a hotel it's important to know your budget, needs and priorities. It is very easy to just overspend on a hotel when in most cases you will not be spending too much time there.