I recently visited the Wellcome Lounge Jeddah Airport Terminal 1.
If you are looking for a comfortable airport lounge in the KAIA International Jeddah Airport, and you don't have a business class ticket, the Wellcome Lounge, accessible via third-party providers, is located in the new terminal and is a great choice. Much better than the old airport terminal lounge, which was something of the 80s and 90s.
Located on the second floor next to Domino's Pizza, the Wellcome Lounge is an excellent choice for both business and leisure travellers.
You definitely cannot miss the location since once you are in the terminal and look up, you will see the sign for the lounge.
With plenty of seating, this lounge can accommodate small and large groups, making it a great place to relax before a flight.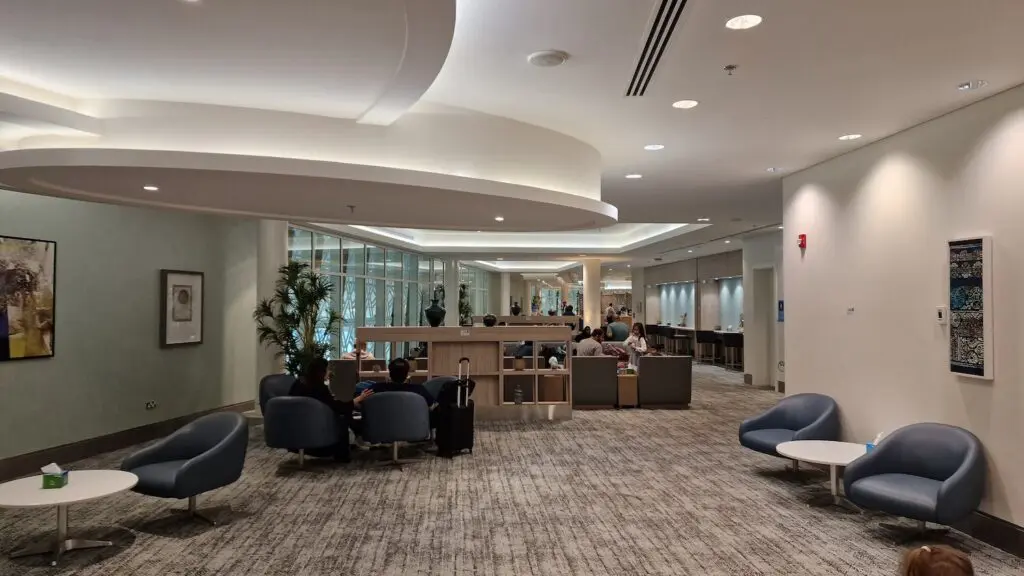 There are separate seating areas, but I felt that if it were a peak hour with many people accessing the lounge, it would become crowded, and there would be no seating.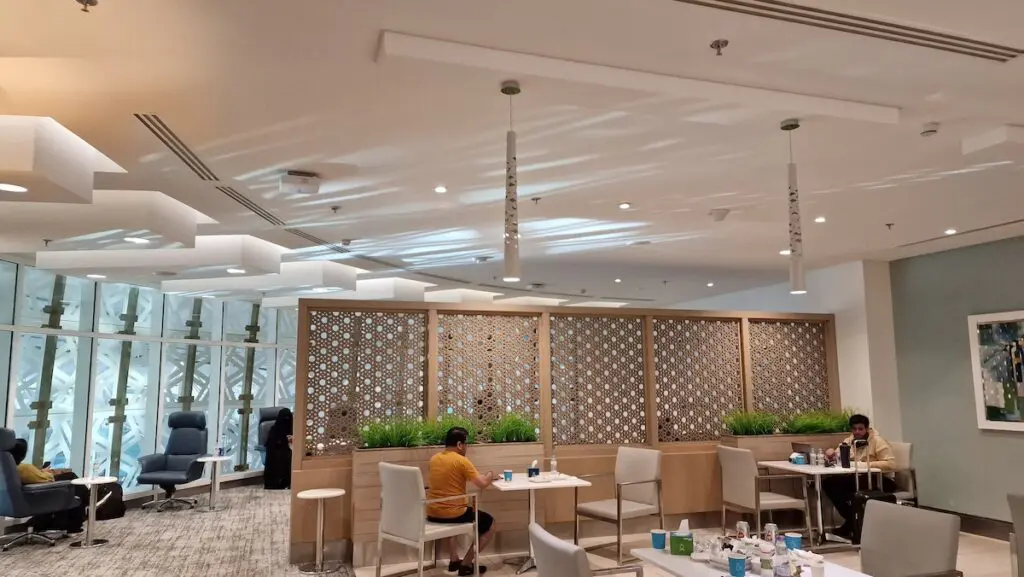 Many families had taken a whole section with their bags. If you needed to sit, you could easily ask them to move it.
Also, there is space, so I assume they would put more seating areas if this were the case.
The lounge also offers a variety of food options, including pasta, chicken, and rice which were good and also great options for children, as well as snacks and beverages.
Everything looked nice, and I was surprised by the variety since I didn't know what to expect.
I did buy pizza for my daughter because I wanted her to eat something before our long flight. But she would have happily eaten pasta or chicken and rice.
If you're looking for a comfortable and relaxing experience at the airport, the Wellcome Lounge in Jeddah is a great choice. With plenty of seating, good food options, and private showers, this lounge is sure to make your travel experience more enjoyable.
If I had a long layover, I would also consider the lounge since there is not much to do in the terminal itself. However, for anything over 4-5 hours and I would also check out the Aerohotel, which is in the terminal and a great option if you have a longer or overnight layover in Jeddah.
Who can access the Wellcome Lounge in Jeddah?
For people who don't have a business class ticket with Saudi Airlines to enjoy their new flagship Al Fursan lounge, you can access the lounge even with an economy ticket on any airline through companies like Priority Pass membership, where you can buy access to the lounge.
This is how I also used the lounge since I was flying with Fly Nas Airlines.
Read here whether airport lounges are worth the cost of paying for them.
How many people can you bring into the Wellcome lounge Jeddah Terminal 1?
This will depend on the type of credit card or Priority Pass card you have. Some cards can bring 2 guests, and others can only bring one guest, like my card. For every other guest, you will pay the fee your credit card provider charges, which is cheaper than paying at the door usually.
They also charge for children over 2 years old, so keep this in mind if you enter with children. If you have a free guest like me, they will use that guest pass.
I found these prices on the KAIA (King Abdul Aziz International Airport) website with regard to the lounge.
Wellcome Lounge Jeddah Prices
​Adults: 149.5 SAR
Children: 74.75 SAR
Sleeping Cabin (to be paid separately by the guests)
​Single Bed: 134 SAR
Double Bed: 172.50 SAR​
Check out the Priority Pass membership as you might be able to get this for free or cheaper.
I have access to the lounge due to my American Express Platinum card, which gives me unlimited access to lounges.
I personally didn't see any beds or such an option, but it might be in a separate area.
The lounge is open 24-hour 7 days a week, which is excellent since there are flights all night for Umrah travellers.