Spending Ramadan here in Doha totally feels like "Christmas". This is my first time in a Muslim country to celebrate Ramadan, not just passing but actually living. I love that all the decorations are coming up and you can really start feeling the spirit of Ramadan and of course getting all the invites to the famous Iftar dinners.
There is some serious food here for all the foodies!
Ramadan here has been awesome and one of the best things is the fact that you are so much closer to Umrah than before. The flight is only literally two hours away.
The flight to Jeddah from Doha is only 2.5hrs long which is such a change to the 7hr flight from Manchester. I feel like I want to go every weekend. Sadly, that is not possible.
I discovered all the practicalities you need and will be writing about them soon. But I also discovered that it is as expensive to go from here as it is from the UK! Who would have thought that!
Seriously! Out of curiosity, I called a few agents and they were asking for £5,000 for Umrah in Ramadan. Well, as you all know, the Umrah girl knew there had to be another way 😉
Of course, the best way is still DIY Umrah on your own in my books, so here is this month's DIY Umrah monthly update. This month the Umrah monthly post is in partnership with Tajawal, the largest online travel agency in the region.
Tajawal offers some great competitive prices in the Middle East on flights and hotels and since it's super expensive and I am a bargain hunter I decided to test them out.
I discovered that flights from Doha are more expensive and that flying out of Dubai will become my go-to trick while living here. It is cheaper especially if you want to collect miles.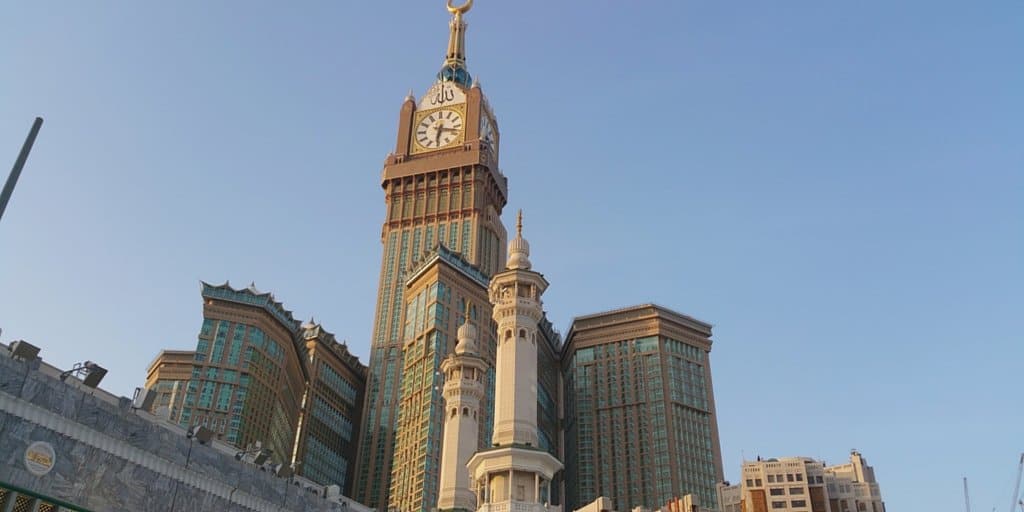 This month I will be looking at the options available for once the Umrah opens again for the majority of us after Hajj.
This should happen around November this year insha'Allah, but the dates are not known until later. So I will be looking at the middle of November. It gives you plenty of time to plan your trip and also the prices are actually more reasonable going then as well.
Flights for Umrah
Currently, flights to and from Dubai are very cheap because we know that the earlier you book the better deals you get especially on low-cost airlines. So keep in mind and monitor the prices before buying.
10th of November – 18th of November = £422 total cost for 2 people Dubai to Jeddah
If you are coming from the UK then you can combine this Umrah with a holiday in Dubai as well. The city is busy, the weather is lovely and the beaches are perfect for BBQs and family outings.
You will be surprised that prices for flights by adding an extra city might not be as bad as you thought especially in November which is not the peak travel time for Umrah.
The cost is similar with actually booking a flight from London to Jeddah on its own. And here is a trick for you to remember.
Below are the flights showed as multi-city all in one ticket. They are still a decent option in my opinion costing about £1250 for two people including a trip to Dubai.
However, if you are savvy enough you can bring this price even lower by using the following trick.
Book your flights as open-jaw tickets from London to Jeddah and Dubai to London, and then book your flight from Jeddah to Dubai. This saves you money because the flight from Jeddah to Dubai is cheaper. The flights this way cost approximately £200 less.
Hotels in Makkah
We all know that hotels in Makkah (especially near the Haram area) can be super expensive and many people can't even afford them. This is crazy for a room you simply sleep in. As I mentioned in my previous DIY Umrah post, the new hotels coming up which are a little further from the Haram area will be better value for your money.
They are brand new hotels, with all the service of a Western 4 and 5-star hotel and still in close proximity to the Haram area at a great price.
Hotels within walking distance during the beginning of the Umrah season are much cheaper and I would consider them good value in this case. So it's perfect for those with walking difficulties or going with elderly.
One of the newer hotels with great reviews and only steps from the Haram is the Hilton Suites. The location is excellent, the rooms have views of the Kabah and considering that during peak Ramadan season they cost £1,000 per night they are bargain prices at around £120 during November.
Total cost for this hotel with breakfast is £1,350 or £1,185 without breakfast. In my opinion taking breakfast in this instance is much better value.
This month my choice goes to the M Hotel Makkah by Millennium because they offer the best price and they are a 5-star brand new property. Yes, they are not as close to the Haram as some other hotels but they offer a free shuttle so this shouldn't be an issue as it's not that busy in November. Plus you really can't beat the price.
For 8 nights from 10th of November to 18th of November 
room only for 2 people costs £500 in total with breakfast plus you can cancel the reservation before your trip. This always comes handful for extra protection.
You can have breakfast included and for a little extra you can even have a half board which is a bargain.
Umrah Practicalities
The process for obtaining a visa in the Middle East is the same as in the UK and the cost is similar. Visas cost approximately £96 (450 QAR).
The vaccine, however, is free in the health centre, where in the UK we do pay approximately £30 per person for them.
For Transportation while on Umrah, I recommend reading my transportation guide as it is a comprehensive guide and it will help you get the best options for Makkah and Madinah.
Total For Umrah in November
After having a look around at the Umrah prices from places around the world I can safely say it's the best option and it is becoming more and more popular with millennials thanks to MuslimTravelGirl.com. You have more flexibility with your options, your budget and the things you do.
Here is a breakdown of the total cost of your Umrah in November either from the Middle East, UK, or around the world. Just check out the flight dates from your destination.
I have said it many times that Umrah doesn't have to be expensive. When you plan your own DIY Umrah you remove the need for agents, their fees and their commissions. You are on average saving about 40%. With booking sites like Tajawal that make it easy to find and book your flights and hotels, I see no need to be paying extra cash to someone else. There is a massive price difference and a short google search will convince you I am right.
You might as well spend the extra cash on experiences and creating memories for your family!
Competition
I am so excited to announce that  Tajawal has offered to run a competition and gift one lucky winner a travel voucher for their website worth 300AED! This is the perfect gift to accelerate your Umrah booking inshaAllah. Of course, you can use the voucher for any other trip as well, it is totally your choice. 🙂
Sadly this is open competition only for GCC residents so only submit your details if you live in the Middle East. The competition will close on Saturday 24th at 11:59pm and the winner will be announced shortly on Facebook, Instagram and notified of course via email too.
Your Chance to Win 300AED Travel Voucher from Tajawal