One of the most asked questions when it comes to Umrah is which are the best hotels for Umrah in Makkah that are close to Haram, good value for money and also easy access or walking distance.
With many more hotels coming up in Makkah it is hard to actually decide what is a good option for you and your family.
I get a lot of emails with regards to the hotel options in Makkah and which ones I think are the best. This is quite a difficult question to answer because there are so many factors to consider such as:
Price
Location
Hotel rating
Chain and type of accommodation
If you are a family of four then your needs will be different to a couple or single person.
There are 257 hotels according to TripAdvisor in Makkah. Which is really crazy considering how small Makkah is with so many hotels in the haram vicinity.
So which will be the best hotels for Umrah in Makkah?
I already have an article of the Best hotels in Makkah for Umrah here.
The above hotels are my go-to options when I go for Umrah and I have stays in most of them a couple of times.
I place my favouritism due to the location and service of the hotels.
Here are my top 5 properties in Makkah:
If money was not an object I would choose the Raffles Makkah. A five-star luxury hotel in the Clock Tower. It is within walking distance to the Haram and number one of the TripAdvisor hotel list. This, of course, doesn't come cheap and a room at Raffles can cost £300+ per night.
You can earn points with Raffles as they are part of the Accor loyalty program. Also, the hotel's location can cause small problems since it can become very busy in the entrance of the Al Abraj mall/Clock Tower so you will have to leave your room early just in case.
Hyatt Regency Makkah
I have stayed in the Hyatt Regency Makkah a couple of times. Most recently in November 2021 in one of their suites. You can read the review here.
You can read my review of this property here of their standard room.
The hotel costs on average £100 per night but it is a good on points when expensive (15,000 points) or points and cash for 7,500 points and $100 per night.
When we stayed there the first time for the last 10 nights of Ramadan we had managed to save about £15,000 on the room rate since back then they were going for almost £2,000 a night.
You can read the TripAdvisor reviews here
The hotel is close to the Haram, it has a food court as well as coffee shops and it is less busy than for example the clock tower.
Conrad Makkah hotel
Another property that I love very much is the Conrad Makkah hotel.
Over the year many friends and readers have sayed in the hotel and I love the fact they treat loyalty members great. There is free breakfast, lounge and upgrades to suites.
My review of the hotel is here.
I really like their rooms because they are modern and with good view of the Haram. They don't have a Kabah view as they are not that tall but still it is a nice one regardless.
Also as it is located in Jabal Omar it is easy to access the mall, the Al Halil food court as well as to walk for prayer.
Prices can be high during Ramadan.
You can read the reviews here on TripAdvisor and book on Hilton.com.
Hilton Convention Makkah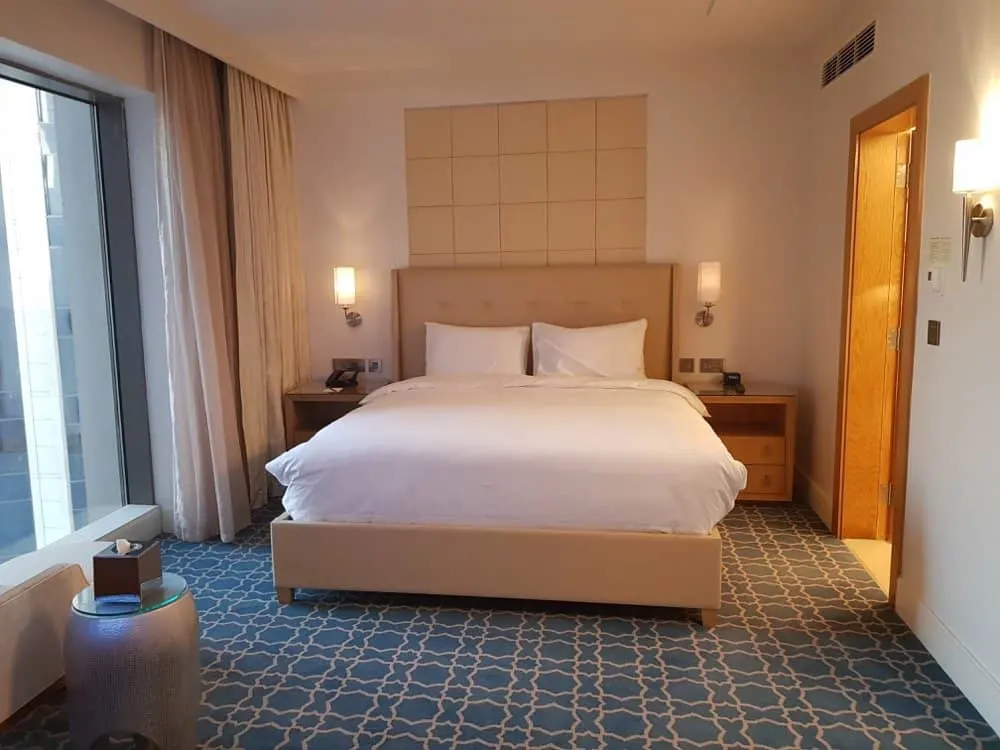 One property that will always take so far the best executive lounge in Makkah is the Hilton Convention Makkah.
Their food is one of the reason why I keep going back to this property since they have proper meals at dinner time in the lounge.
The location is good, but if you do have children or you feel you might not be able to walk up the little hill, it will be a problem for you.
I have an article with the best Hilton hotels in Makkah and also a youtube video.
The hotel review is here.
I personally like the hotel as it is cheaper than the Conrad but also have a lounge and a nice view. Their prayer room is also very large.
We stayed there when my daughter was 6 months and we didn't have an issue with walking up the hill with the pram, although you do need to be in a good shape.
You can read the Tripadvisor reviews here and book here directly on Hilton.com
Makkah Towers Makkah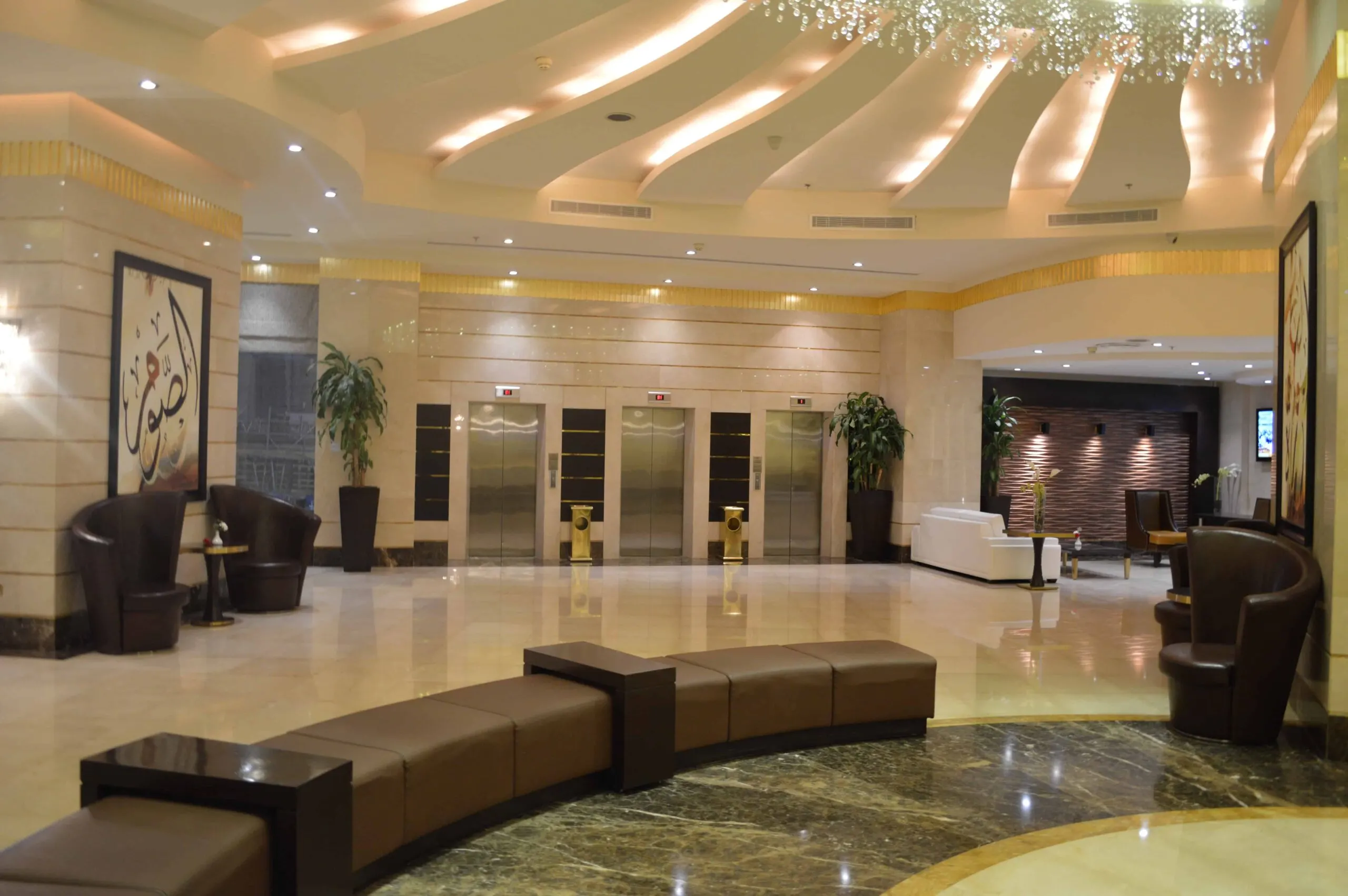 I stayed in this property when it was a Hilton, however no doubt this is one of the best access hotels in Makkah.
Makkah Towers Hotel is an older hotel and in some cases you can see the wear and tear but they do have a hotel as well as apartments for families.
I remember that it took us only about 3minutes to walk from our room to Haram which really cannot be beat.
Also currently the prices for the rooms are reasonable at around £75 per night.
There are shops, supermarket, stalls and anything else you might need since you are in the heart of Makkah.
Their prayer room is also very large and overlooks the Masjid, so if you are travelling with kids and they still cannot enter it is very convenient.
This list is my personal opinion of properties that I have stayed and loved. Many might disagree or want to include more properties, that is totally OK since this a guide from an expert. I picked these properties because they do offer great value for money, I have saved a ton of money, and a great opportunity to earn or redeem points.
Especially redeeming since Makkah can be very expensive. I always say that travelling doesn't have to cost a fortune and I want to make my money work harder for me.
Check out this article with the best money-saving tips for 2022.