With Saudia Arabia pushing for their 2030 vision for tourism, they just opened a new electronic visa waiver for UK and other country citizens. This is great progress for those wanting to perform Umrah since, in the past five years, Saudi Arabia has made more progress towards opening its border for tourists and pilgrims than in the previous generation.
Now, there are several options for those Muslims who not only want to visit Saudia for tourism but also for Umrah.
What is the Saudi eVisa waiver?
The Saudi electronic visa waiver (eVisa) is a new online system that allows citizens of certain countries to enter Saudi Arabia without obtaining a traditional visa. This electronic visa waiver promotes tourism and business travel to Saudi Arabia by making the visa application process faster and more convenient.
If you are travelling to Saudi Arabia for tourism, business, medical treatment, or study, you can apply for an Electronic Visa Waiver. An EVW permits a single entry visit of up to six months.
You need to have a confirmed booking and apply for the visa waiver from 90 days up to 48 hours prior to travel.
You will receive an email reply with your visa issued to the email you submit within 24hrs. In most cases, however, this will be within a few minutes.
The visa waiver is available to citizens from the United Kingdom.
I also believe they have opened it to citizens of the US, Schengen visa holders and permanent residents of the UK, US, and any EU country. Since it was announced in July 2023 that they have opened it for the above countries as well, however, this is not confirmed where you apply for those. It just says Ministry of Foreign Affairs. The only option there is the visa waiver. Once you make an account it also shows other countries. If you have successfully applied from other EU, US or Schengen please let me know via comment.
The Electronic Visa waiver is very similar to what the UK has for Saudi citizens but also what nationals of certain countries can apply for when travelling to the USA, which is ESTA.
If you want to find some information on the visa waiver for UK citizens check out the GOV website.
Are you wondering what the best time to book Umrah & save money is?
A year in advance? A month?
I have created an 18-page guide to help you plan an Umrah at the best time. Sharing tips and tricks in one place to save you time & of course, money.
What is the cost of the Saudi Visa Waiver?
The cost of this evisa is significantly lower than the tourist or the Umrah visa option. It costs around 40 USD, but it is for a single entry. This means that if you want to enter a second time you will need to re-issue the visa and pay again 40USD.
It might be better to issue a tourist visa for those wanting to go to Saudi Arabia multiple times within a year.
Can you perform Umrah with the new Saudi Electronic Visa Waiver?
I was waiting for the dust to settle before writing this article as I received a lot of questions about the visa waiver and whether you can perform Umrah with it.
With the initial announcement, they didn't confirm that the government would allow you to perform Umrah. However, several people have emailed me that it is possible, without a problem, to issue yourself the EVW visa and go for Umrah. Just make sure you have a copy of the visa waiver on your phone to show.
The government is allowing tourism, and under tourism, they have included performing Umrah – which you can do on a tourist visa. Hence, I assume they go under the same category. After all, the objective is to bring more tourists to Saudi Arabia, whether Muslim or non-Muslim.
How to issue the Saudi Visa Waiver EVW?
The process of issuing the electronic visa for Saudi is pretty straightforward.
The visa waiver can be obtained through the Saudi Ministry of Foreign Affairs website on this link.
Once you are there, it gives you the option for the Visa Waiver.
You will then need to complete the relevant details and upload a photo.
Keep in mind that the EVW doesn't include health insurance, and I would strongly suggest you always have good health insurance on top of any government-issued ones. You don't want to risk your health.
Once you complete and pay for the application, you will receive your confirmation via email and then the approval up to 24 hours later. As I mentioned above, in some cases this is instant or within a few minutes.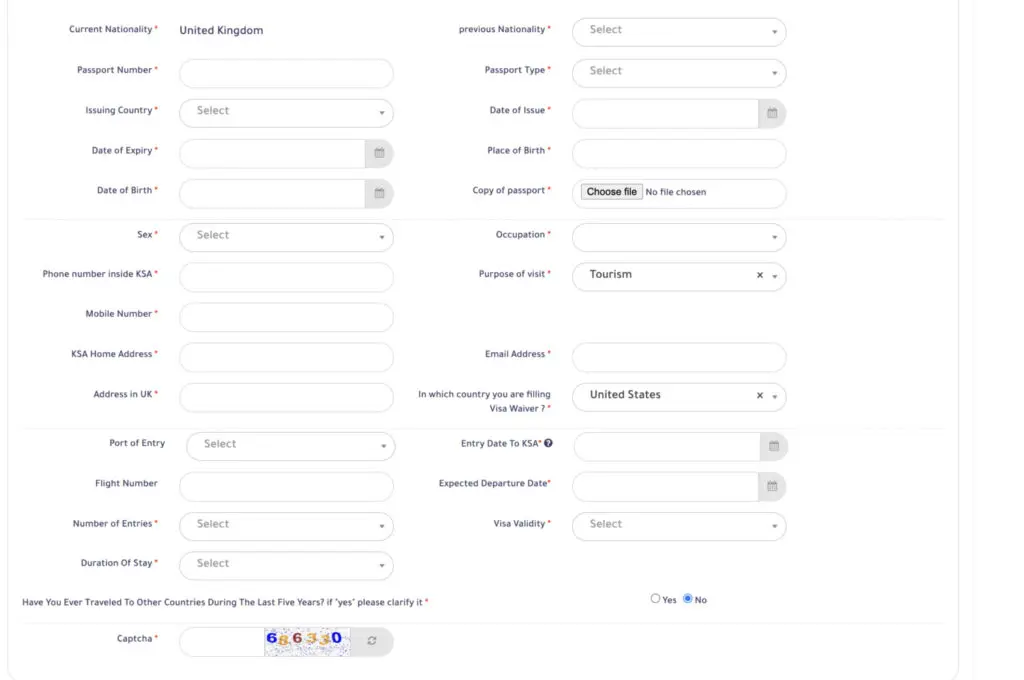 Should you apply for a Visa Waiver or a Tourist Visa when going to Umrah?
As I mentioned above, this really depends on how many times you want to enter Saudi. If you apply for a tourist visa, which costs around £110 per person you will have multiple entries, and you can stay for up to 90 days. With the Visa Waiver, you can only enter once and stay up to 6 months, and it costs £35.
Children will need their own visas, and they pay full price.
For people from the UK who want to save cost and know that they will not be going multiple times, then the new visa waiver is no brain. If they also allow US, EU and Schengen visa holders to apply for the EVW then this is also excellent news and, again, a considerable saving for families going once per year.
You can read more about the tourist visa and transit visas on the site.
Also, check out our DIY Umrah packages we have put together for you as well as our other guides.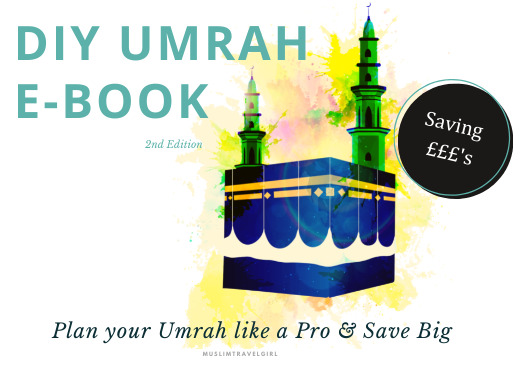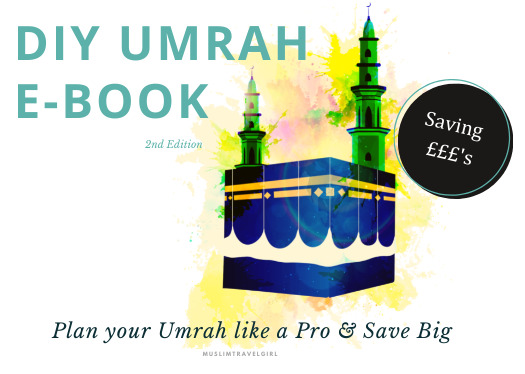 DIY Umrah E-Book
Imagine going for Umrah, standing in front of the Kabah without having to pay thousands on flights, accommodations or agents.
In my DIY Umrah E-book, I share with you how you can save thousands every time for every trip. It truly changes the way you travel.