The most frequently asked question for many people is "When is the best time to book Your own DIY Umrah".
The funny part however for many people (and I mean thousands) is that they always leave it last minute to decide and overpay by thousands of pounds.
As the authority in DIY Umrah and the person who started the movement almost five years ago, I have spoken to thousands of people and I have answered thousands of similar questions on the best times to book Umrah every year.
Usually, the question comes up closer to Ramadan because people want to know the best time to book their Umrah during Ramadan. But in general, it is almost always too late.
So let's take a look and insha'Allah to find out the best time to book your Umrah and how to plan the Ultimate Umrah it in the most effective way.
When Does Umrah Season start after Hajj?
This is a very common question and a good one. For many years Saudi used to take almost two months to open the season after Hajj.
The Umrah season closes 10-15 days into Ramadan, so if you want to go for Ramadan you have to apply in the first 10 days.
After this, the season is closed for Umrah and Saudi prepares for Hajj.
The Umrah season opens after Hajj and in recent years they have become much better when it comes to actually clearing and preparing for the new Umrah season.
Nowadays, they start around the 1st of Muharram
Please note this date is not set in stone so some years it might change and they can open a few days/weeks later or earlier.
They usually don't announce it, but rather the agents start issuing visas and packages from that date.
Why I don't recommend booking Umrah at the start of the Umrah season?
As I have mentioned above I have been writing, following and working in helping people plan their DIY Umrah on a budget for many years. This also means I keep up and monitor the Umrah visa rules and also the ways things work.
Usually, Saudi Arabia changes the Umrah visa rules at the start of the Umrah season. In the past two years, they included the 2000 SAR fee and the regulations around that.
Last year the fee was meant to include all Umrah visas even first-timers and hundreds of people paid the 2000 SAR fee. Saudi then changed their mind after complaints to include repeat visas only.
However, the people who paid the fee NEVER received their money back. ( or I haven't heard of a success story after the hundreds of emails).
The best time to go for Umrah in 2019/2020 is to book and plan your Umrah for 2-3 weeks AFTER the season has already opened.
If you plan that Umrah visa will open on 1st of Muharram, then give yourself an extra 3 weeks after.
This way you have allowed some time for the dust to settle, the dates for Umrah should have been confirmed and the season should have started with the new Umrah visa rules in place. and any potential changes.
You will potentially be better off waiting for this than wasting money on fees that might not be needed.
I always take the cautious road, even for my own Umrah planning, especially since thousands of people read this site.

When is the quieter time to go for Umrah?
Makkah and Medina are the cities that never sleep and almost always busy.
So looking for quieter times is always great especially if you are travelling with elderly or young children or of course if you have the flexibility.
Personally, I much prefer going when not busy, but in recent years it is harder to find that golden time.
"

Off-season" times for Umrah will be the beginning of the Umrah season. So from the 1st of Muharram until about the middle of December let's say (of course depending on the year and how it moves).
This is normally the time that not many people are there so it is easier to find cheaper hotels (see below) and flights. Plus tawaf is much more enjoyable when less busy.
"Peak-season" starts from December during the holidays for those travelling from the West like the US and the UK for Umrah. This is usually because they get extra days without needing annual leave.
This also means that prices in the hotels and flights from countries like the United States, UK and continental Europe will be sometimes much more expensive.
Also, another peak season will be the Easter Break and school holidays, especially in the West around February time for those travelling with children.
Basically, I would advise avoiding the times where there are major holidays and people will more incline to travel.
"Super-Peak time" is no doubt during Ramadan and especially the last 10 nights of Ramadan. This is when the majority of people want to go but sadly miss the point of booking on time.
No doubt it is the most blessed time to go but also the most expensive, especially if left late, plus it is super busy. Prices of hotels and flights are also very high especially closer to the Haram.
I love travelling in Ramadan but since I have been in the last 10 nights I try to avoid that period especially as even the service in hotels and shops decline because of the masses.
Medinah is usually a little quieter during Ramadan and it might be a good option to spend the last 10 nights there if you really want to visit in Ramadan.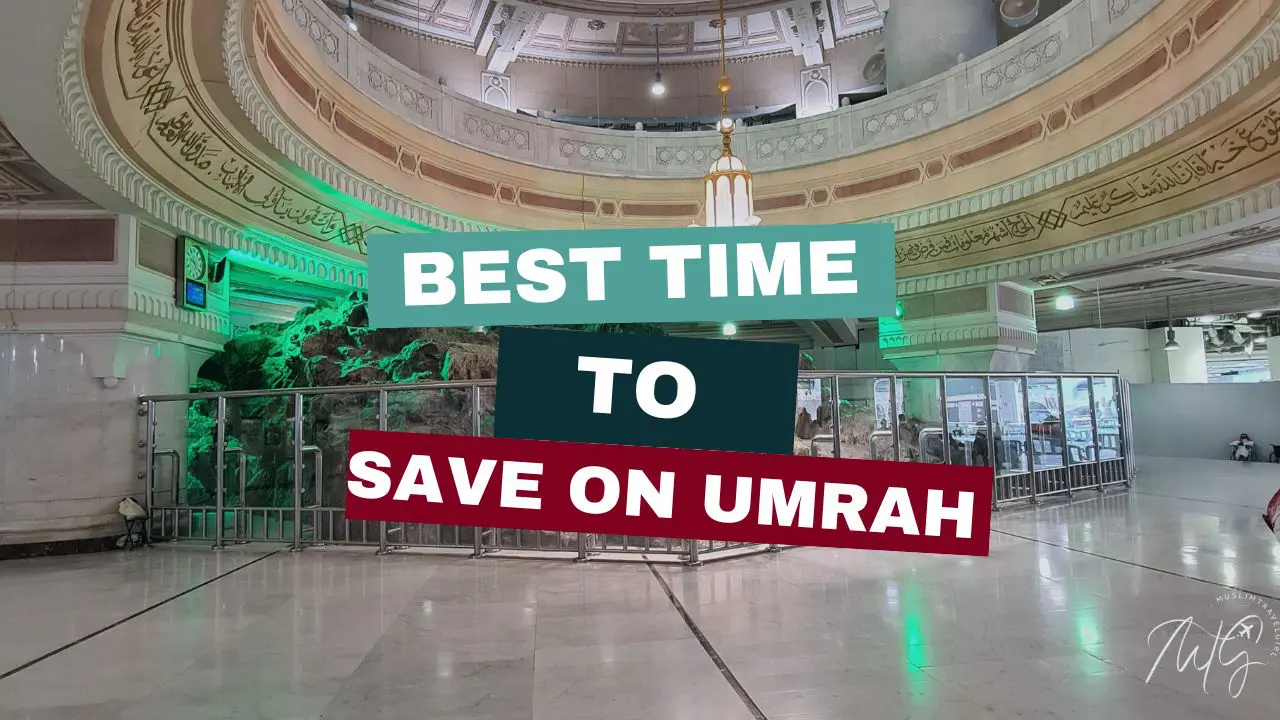 When is the best time to book your flights and hotels for your Umrah?
The next very important question about booking your Umrah is the best time to book your hotels and flights.
I do have a full Ultimate guide on how to plan your Umrah with much more detail information so make sure you check it out.
For Umrah especially now with the E-Visa Umrah, it is so much easier and more convenient.
The visa is issued in 24 – 48 hours and you must travel within 15 days of issuance.
This, of course, means that you will have to book your hotels and flights in advance to get the best prices. The best you can do is to book your flights during flight sales from the airlines directly.
Pretty much every major airline flies to Saudi Arabia and it is much better to get a deal from them.
Many times their flights are available to book with up to a year in advance.
I don't always do this as my plans are not concrete and I like flexibility but it is a very wise choice.
Another option personally, from experience, education, monitoring and talking to other travel experts over the years the best time to book flights is 6 months in advance or 3 months in advance, or for me, I have had great success two weeks prior to travel. But this is for the very adventurous and not on peak travel.
I usually avoid booking when the majority of people are searching for those destinations, like 2 months in advance or 4 weeks before as it creates a "fake" surge of interest and prices show higher.
Always make sure you monitor the prices on Google flights as shown here.
If the flight is right I always make sure I check it via Skyscanner as sometimes OTAs have better deals.
Hotels
I find that hotels much easier to book and manage and I love the fact I have the flexibility to book flexible rates that I can cancel.
Just like with flights hotels price vary depending on when you look and when you book. Albeit not as volatile as the airlines.
I don't stress much about the hotels simply because there are so many hotels to choose from in Makkah and Medinah.
However, one thing I always notice and I have been monitoring for ages is that prices 10 months in advance are cheaper so I tend to book provisional dates on flexible terms.
Yes, these can be £10 or £20 a night more expensive but it always pays off for me because during the year I will monitor them and when the hotel has a sale if it is cheaper rate I can cancel and re-book.
I have done this several times and not only for Umrah.
Hotel sales are great because rooms can go for as low as 40% during those sales and some five star new hotels in Makkah can be had for £90 a night next to Haram. My Umrah guide below shows you when to expect them.
Going off-peak time also helps since hotel prices are much lower then, the same hotel can be £80 / £90 off peak and £300 / £500 peak time and in Ramadan for £1000.
So obviously monitoring this helps and saves cash.
When it comes to booking the hotels, I book directly with the hotel chain, I am mad about loyalty points and hotel perks and it is much easier to deal with cancelling and changing online with them rather than a third party agent.
If I know my dates for sure and I can find them cheaper on a third party like Hotels.com where I get a free night after every 10 I will book it from them.
But only if I know my dates are concrete and I have booked my flights.
I also check and look for hotels in Makkah on Tripadvisor as sometimes there are good deals to be had through them.

The Best Time to Book Umrah In Ramadan
This is a big question and of course a very expensive one if you don't plan well ahead.
By now you have realised I monitor prices also every few months and I do post DIY Umrah packages for each month on the website.
The easier way to find the best prices is to keep an eye on the DIY Umrah section of MuslimTravelGirl.
Here is an example of the best time to book:
Last year I did a post on a budget Umrah in Ramadan which came to £800 per person based on two people sharing plus free child. This was for 10 nights I believe.
I had written this post in October 2018!
I knew for a fact that people will read it and say "insha'Allah" yes I will book one day (which happened.)
Come April 2019 when the majority of people are thinking of booking Umrah in Ramadan the prices had doubled or more per person for the SAME package.
The sad part was that the hotel was fully flexible in October, I had booked the same deal for myself, and it could have been cancelled, the flights could have been booked later or just taken a stop-over and still save some money.
Unfortunately, many people ended up paying extra because they didn't plan well in advance.
If you are looking to go for Umrah in Ramadan, start looking for options 6-7 months in advance. This will be the most cost effective and best way to save money.
It truly pays to plan well in advance.
If you want to learn more on hotel plan DIY Umrah and to find DIY Umrah packages then check out the posts below as they offer everything you will need.
*some links are affiliates, please see my disclosure. I always appreciate when you click and book through these (you don't pay extra) but I earn a small commission to keep this site going. I never, ever recommend sites that I don't use or are of no benefit to you. Thank you