There are so many amazing Muslim holiday destinations you can visit around the world. As the world becomes easily accessible with low-cost airlines it also becomes so much easier to reach amazing holiday options for Muslim families.
The halal travel industry is booming again according to the Global Muslim Travel Index there were over 140 million Muslim travelers exploring the world in 2023, which is an increase from the 114 million in 2019. The halal travel industry is predicted to be worth over 300billion by 2030.
Some of the most popular and halal-friendly travel destinations without a doubt are located in Asia with the winners being Malaysia and Indonesia for good reasons as we will see below.
This piece highlights some of the best halal holiday destinations that provide Muslim-friendly amenities and experiences. From unique architecture to renowned cuisine, discover the charm and warmth of Muslim nations around the globe that are sure to leave you with an unforgettable travel experience.
In this Article

Why Choose a Muslim Country as a holiday destination
What is a Muslim holiday destination?
Spotlight on the Best Muslim Countries to Visit
Important Aspects to Remember When Visiting Muslim Countries
Questions about Muslim countries and destinations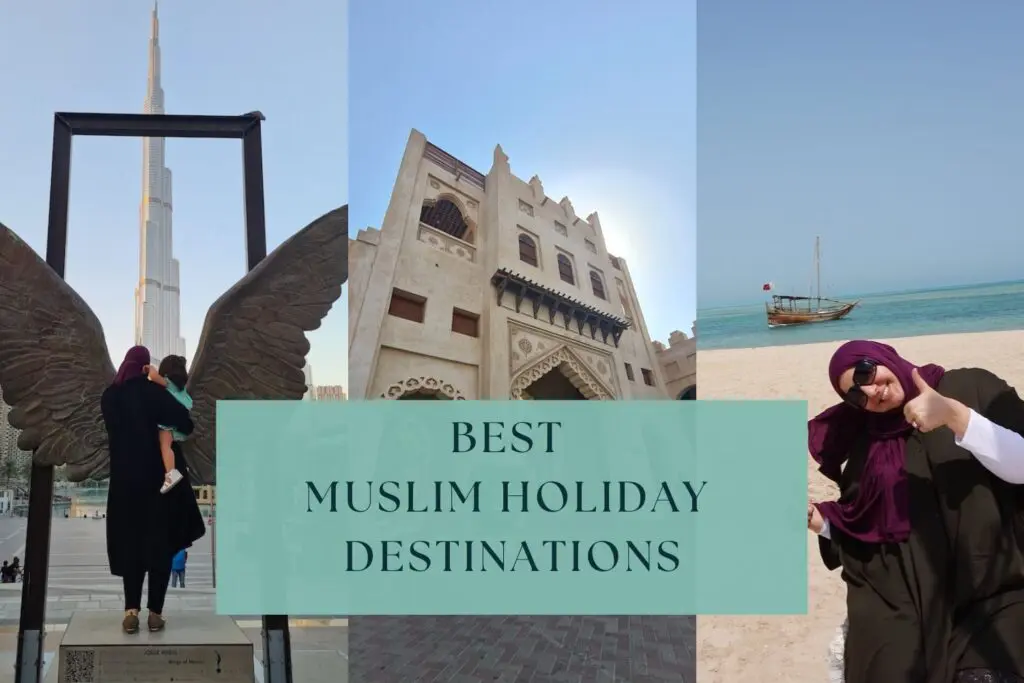 Why Choose a Muslim Country as a holiday destination
Without a doubt, Muslim countries have such a rich beautiful history with many having great Unesco heritage sites that you can explore. Learning more about how Muslims over the centuries benefited not only from Islamic knowledge but also from the rich culture and traditions is very inspiring, especially for those Muslims living in the West.
I always feel more empowered and happy to return from a Muslim country where I had the opportunity to learn something about the previous generations. We have so many beautiful Muslim countries that we can visit and not only do we meet the local community and support local businesses but also enjoy the hospitality of those nations.
I have so many examples over the years of Muslims coming to my rescue or helping me find a taxi outside the mosque.
What is a Muslim holiday destination?
I generally like to break my terminology when it comes to halal holiday destinations because sometimes terms can be used interchangeably for marketing purposes but also to mean different things to people.
One of the most popular Google searches is about Muslim holiday destinations because we all know as muslims we prefer the safety of an Islamic country where we can feel comfortable.
I have an in-depth article where I mention the difference between halal travel and Muslim-friendly travel. This article falls under the "halal travel category as it concentrates on Muslim countries in the world.
As a halal holiday destination, the country offers easy halal food. Since the list is of Muslim countries around the world this is not difficult to find.
Prayer facilities will also not be a problem as there is a plethora of mosques in those destinations for Muslim travellers. I also know that for many Muslim travelers segregation especially on beach holidays is very important as well as the alcohol-free environment whether in hotels, resorts or restaurants.
Plus especially for niqabi sisters and those wearing jilbabs it is very important to feel safe on their halal holiday without the fear of discrimination or Islamophobia.
Another reason to visit a Muslim country is that it provides a one-stop solution for those looking for both leisure and excitement in a calming setting.
On the other side, a Muslim Friendly Destination for me personally is a travel destination that is welcoming to Muslims and has facilities but it is not majority Muslim in terms of population.
Spotlight on the Best Muslim Countries to Visit
Every destination below offers plenty of halal food options, a Muslim community, beautiful mosques you can pray and plenty of activities you can experience. Certain countries on the list are more halal orientated than others for example Lebanon compared to Brunei, however, all destinations are safe to visit and offer a unique experience.
1 Saudi Arabia
Our website covers a lot of Umrah travel for Saudi Arabia which is what Muslims predominantly visit the country for. However, over the recent years, Saudi tourism has gone leaps and bounds in attracting tourists to the country.
The country offers so much more than just Makkah and Medinah however and as an expat of Saudi, I really want more people to visit other places. Also, the tourism board has a great website with places you can visit.
There are several Unesco heritage sites and even the largest oasis in the world is located in Saudi Arabia. With so many cheap flights now to the Kingdom it would be a shame for tourists and pilgrims not to visit other parts of the country.
2 Malaysia
Malaysia provides a great mix of diverse cultures and scenic beauty. It is known for its diverse Muslim population as over 60% are Muslims and it has so much to offer travellers. The country ranks top 3 of the popular destinations for halal tourism.
There is so much beauty but also it is one of the best budget-friendly halal travel options. You can have an amazing experience without breaking the bank. Visitors can explore iconic landmarks in Kuala Lumpur, relax on stunning beaches in Langkawi, and discover the historical treasures of Malacca.
My favourite place in Kuala Lumpur was definitely the Islamic Art Museum where you get to spend hours learning about the Islamic history of the country.
3 Turkey
Turkey doesn't really need an introduction but it is also a very popular destination with Muslim travellers looking for Halal resorts. The Turkish coast offers so many options to not only relax on the beach in your burkini but also to explore sites that date back thousands of years.
Turkey is a mesmerizing blend of East and West, boasting a rich Islamic heritage with Unesco sites and stunning natural beauty. The country is also one of the most popular options for European Muslims and their family.
Things not to miss in Istanbul are places like the Blue Mosque, Hagia Sophia, The Grand Bazaar and Topkapı Palace. If you are exploring the south Cappadocia, Antalya, and Pakumkkale are amazing options plus don't forget to indulge in a traditional Turkish bath experience.
4 UAE (United Arab Emirates)
No doubt Dubai also comes to mind when we talk about Muslim holidays since it is visited by millions and there is so much to do. However, the UAE offers so much more than Dubai with muslim families able to enjoy their holiday with more modesty and alcohol-free options. Cities like Sharjah, Abu Dhabi and Ras Al Khaimah offer visitors more low-key options for those who want to escape the glitz or have been to the city several times.
No matter where you decide to explore the country offers one of the best vacation spots for Muslims due to the vast options it offers. From shopping to Islamic history and relaxing on the beach.
When there don't miss Sheikh Zayed Mosque in Abu Dhabi, a safari tour, bur Dubai, a visit to Burj Khalifa or the dancing fountains.
5 Indonesia
Indonesia offers a captivating mix of natural wonders and rich Islamic culture. With the largest Muslim population in the world, it boasts beautiful mosques, such as the Istiqlal Mosque in Jakarta. Bali which is a very popular destination in the country has a large Muslim community and natural beauty that millions visit every year. However, the small island of Lombok which is only a short distance away and known as the island with the thousands of mosques has a very large Muslim community.
If you have already been to the country why not explore something different next time.
6 Qatar
Another country that doesn't need an introduction and also holds a special place in my heart. I lived in Doha for 4 years and my daughter was born there so the connection is there every time I look at her passport. Qatar for me is one of the most traditional and beautiful halal holiday options for travelers.
It offers a unique mix of traditional and modern aspects with an opulence that is not evident in neighbouring countries. After the World Cup, there are so many things for the family to explore and also there are luxury halal hotel options you can enjoy.
Doha, its capital city, showcases architectural marvels like the Museum of Islamic Art and the Katara Cultural Village. Visitors can enjoy traditional Qatari cuisine, explore the bustling Souq Waqif, or venture out into the stunning desert landscapes.
Fun fact, I used to be part of an exhibit in the Qatar National Museum for several months when it opened. An amazing experience!
7 Egypt
Egypt is a land of ancient wonders and significant Islamic heritage. From the the bustling capital of Cairo showcasing its beautiful Islamic heritage to the beautiful beaches along the Red Sea, Egypt is a popular destination for millions of Muslims.
When in the country don't miss the very affordable beach resorts in the country, the pyramids, the Islamic Museum of Cairo or visiting the Valley of the Kings.
Why spend your honeymoon in Egypt
8 Morocco
Morocco was the first country I visited 15 years ago outside of Europe and the first Muslim one. The beautiful history and stunning views from the sea to desert make this a stunning destination for Muslim travelers. Not only do you have the option to explore the bustling souqs of Marakesh but also stay in beautiful Riad included in Unesco's World Heritage sites.
We explored so many places and I would love to go back and explore some more. The budget airlines flying from Europe to Morocco make it a very cheap Muslim country to visit.
Visit the medieval streets of Fez or the blue-washed walls of Chefchaouen or trek through the Sahara desert to Ouarzazate.
9 Jordan
Jordan is a country packed with historical, natural and archaeological treasures. Very few places in the world can be considered open-air museums of all kinds.
The ancient city of Petra, with its fascinating rock-cut architecture, is a UNESCO World Heritage site and a must-visit destination The city, often referred to as the "Rose City" due to the colour of the stones from which it is carved, was established as early as 312 BC as the capital city of the Nabateans.
Alongside Petra, Jordan has many other historical and archaeological sites such as the Roman city of Jerash, the Crusader castle at Karak, and the Ma'in hot springs.
The kingdom also boasts another World Heritage site, Wadi Rum, sometimes known as the Valley of the Moon. Equally impressive is the famous Dead Sea, the lowest point on earth, known for its healing properties. Furthermore, Jordan is also home to Mt. Nebo, a historic site believed to be the place where the biblical figure, Moses, viewed the Promised Land before he died.
Jordan offers a unique blend of modernity and tradition, amid a history that dates back to ancient civilizations.
There are several cheap flights from Europe getting you to Aqaba or Amman for less than £100 return.
10 Oman
This stunning but quiet country with some of the most hospitable people I have met offers captivating landscapes as well as Islamic Heritage. Not only are Omani people some of the most hospitable but also the country boasts so much history and beauty.
Muscat, the capital, charms visitors with its ornate mosques and historical forts. Nature lovers can explore the majestic Omani mountains, visit the picturesque Wadis, or experience the vastness of the Wahiba Sands desert.
Also, don't miss a visit to Salalah the south part of the country that becomes an oasis in the summer with lush landscapes. You can also enjoy a halal resort option there like we did in the Anantara Salalah with a private enclosed pool villa.
We had one of the best holidays there.
12 Kuwait
Kuwait was the first country I visited after becoming a Muslim. This small country has peace in my heart and it welcomes people. I still have many Kuwait friends.
Kuwait is a modern city with skyscrapers and a vibrant Islamic culture. The Grand Mosque in Kuwait City is a prominent landmark, and the Kuwait Towers offer panoramic views.
Visitors can also stroll along the lively Arabian Gulf Street or explore the traditional Souq Mubarakiya. You can explore most places within a couple of days.
If you are looking for a halal hotel option then make sure you check the Regency Hotel in Kuwait. They have a separate area for women with a private beach and pool.
13 Maldives
Thinking of the Maldives the first thing that comes to your mind is luxury overwater villas with stunning views and an amazing holiday experience that blows the budget.
While this is true, the Maldives is an island country that is 100% Muslim offering some of the best halal beach holiday destinations that can be truly halal.
You can explore natural beauty without breaking the bank while visiting the local Maldivian islands for a fraction of the price.
We visited Maafushi on a budget and since the islands are alcohol-free, you can even swim on the local beaches in burkini. We had a great time and would hapilly go back again.
We also visited the very luxurious Waldorf Astoria Maldives on points saving over $20,000.
My advice? Visit a local island and indulge in all the activities, meet the locals and then experience an overwater villa. The perfect combination.
14 Azerbaijan
Azerbaijan, with its fascinating mix of Islamic and Eurasian culture, offers a unique travel experience. We visited a few years ago and I absolutely enjoyed my time and the delicious food available.
The Heydar Aliyev Center in Baku showcases modern Islamic architecture while the Old City delights visitors with its historic mosques and palaces. Explore the scenic landscapes of Gabala or discover the ancient petroglyphs of Gobustan.
15 Uzbekistan
Uzbekistan is becoming one of the top Muslim-friendly destinations with its rich Islamic history of the Silk Road era. Samarkand, Bukhara, and Khiva are UNESCO World Heritage cities with breathtaking architectural marvels, including the Registan Square and the striking Kalon Minaret. Visitors can also explore the beautiful landscapes of the Nuratau-Kyzylkum Biosphere Reserve.
There are many halal travel tours that you can join to enjoy a full experience of the country.
16 Iran
Iran boasts a rich Islamic history and architectural splendour. Cities like Isfahan, with some of the most beautiful mosques in the world and palaces like the Imam Mosque and the Ali Qapu, offer an incredible cultural experience.
Over recent years, Iran has become a popular option for travellers with many tours offering an in-depth view of it's history. Visitors can also explore the ancient ruins of Persepolis or wander through the historic bazaars for a taste of traditional Persian culture.
17 Pakistan
An up-and-coming destination thanks to its natural and diverse beauty over the past few years thanks to social media is Pakistan. I have not visited but plan to since my daughter is half Pakistani and would love for her to meet the other side of her family.
The country offers diverse and stunning natural beauty as well as historical sites such as the Badshahi Mosque in Lahore and the Shah Faisal Mosque in Islamabad. Visitors can also trek through the scenic valleys of Gilgit-Baltistan or explore the ancient ruins of Mohenjo-daro.
18 Tunisia
Often an overlooked halal holiday destination Tunisia has become popular with low-cost airlines flying for £100. There are however so many more reasons to visit Tunis and the country in general. The country is home to significant mosques and Islamic sites, including the esteemed Great Mosque of Kairouan, the oldest mosque in North Africa.
The Medina of Tunis, a UNESCO World Heritage Site, is a vibrant historical quarter that showcases the intertwining of faith and history. Zaytuna University was established over a thousand years ago, Zaytuna University in Tunisia is one of the oldest Islamic educational institutions globally.
19 Brunei
This small country in Southeast Asia offers some of the best Islamic vacation spots with its cultural heritage, Islamic architecture and modesty. With a high safety ranking it is not only a great option for Muslims but also solo travelers.
The Sultan Omar Ali Saifuddien Mosque in Bandar Seri Begawan is a spectacular landmark. Explore the pristine rainforests of Ulu Temburong National Park or visit the fascinating Kampong Ayer, a traditional water village.
20 Lebanon
Lebanon is such a mix of modernity, Islamic heritage and stunning landscapes. With hospitality, part of their nature Lebanese food and people hold my heart.
Beirut, the capital city, blends modernity with tradition, offering a vibrant cultural experience. Visitors can marvel at the beautiful Mohammad Al-Amin Mosque, explore the historic ruins of Baalbek, or relax along the coastline of the Mediterranean Sea.
It might not be the 100% Islamic vacation for some but I believe it should definitely be on everyone's list of countries to visit.
Important Aspects to Remember When Visiting Muslim Countries
Just keep in mind that although we all share the same religion sometimes actually we have different cultural practices. For example in some countries walking with shoes is normal even at home, whereas in others it is not. Or when you are offered food in Arab countries that you cannot refuse because it is rude, whereas in the UK you can simply leave it on your plate.
I am always fascinated with those nuisances that occur around the world and I cannot recollect the amount of times I have actually been in the wrong. But I learned!
The general Islamic principles of modesty, although be aware not every country is ultra modest and the distance between male and female are generally the same.
Questions about Muslim countries and destinations
Q: What are some of the best Muslim countries to visit for a halal holiday?
A: Some of the best Muslim countries to visit for a halal holiday are Malaysia, Indonesia, Turkey, Saudi Arabia, Brunei, Morocco, Qatar, Oman, Jordan, and Egypt.
Q: Why is Malaysia considered one of the best Muslim holiday destinations?
A: Malaysia is considered one of the best Muslim holiday destinations because it offers a diverse range of halal food options, a large number of mosques, Muslim-friendly accommodations with private villas, and a vibrant Islamic culture.
Q: What makes a travel destination "Muslim-friendly"?
A: A travel destination is considered "Muslim-friendly" when it caters to the needs of Muslim travelers, providing facilities such as halal food, and prayer facilities, but it is not a Muslim country.
Q: Are there any beach holiday destinations that are suitable for Muslim travelers?
A: Yes, there are several beach holiday destinations that are suitable for Muslim travelers. Countries like Malaysia, Maldives, Turkey, Indonesia, and Qatar offer beautiful beaches along with facilities for Muslim travellers.
Q: Are all Muslim majority countries suitable for Muslim travelers?
A: While most Muslim-majority countries are suitable for Muslim travelers, it comes down to personal preference of what you enjoy and how much modesty and culture you want mixing in.
Personally, the world is my oyster and I don't always explore Muslim countries as I find that building bridges, meeting non-Muslims and expanding my horizons is part of me.
Q: Are there any destinations around the world that offer halal food options?
A: Yes, many destinations around the world offer halal food options. Muslim communities can be found in various countries, and restaurants that serve halal food can be easily found in cities with significant Muslim populations.
Q: Are there any specific requirements for Muslim women when visiting Muslim countries?
A: No, you can dress as you please unless you visit religious sites. Whether you are a Muslim solo traveler or not the world is there for you. Many might not want to travel without Mahram but again it is a personal choice.
Q: Are there any specific guidelines for visiting mosques in different countries?
A: Yes, when visiting mosques in different countries, it is important to dress modestly and respectfully. Both men and women should cover their shoulders and knees, and women may be required to cover their heads with a scarf.