I have to admit I'm totally ashamed of myself and the fact that I have been living in Doha for two years and I still don't have a post on the ultimate guide of places to visit in Doha as a Muslim traveller or as any visitor in the country.

Doha for me is one of the most Muslim friendly destinations in the World and I would closely put it to being one of the top five halal destinations for Muslim families. They have so many places to visit in Doha plus halal hotels with no alcohol and places for children to play and so many things to do and see in Qatar.

I have decided to amend this, so as a local living in Qatar, here are my travel tips of everything you need to see in Doha plus things to do, places to see and insider tips.


Souq Waqif
Souq Waqif is the old marketplace as the name souq is indicated in the heart of Doha. Now, when I said old market don't think it's so old or the style of Deira in Dubai. Souq Waqif was renovated in 2006 and expanded to provide a modern feel of what the old smaller souq looked and felt like.
It has kept the original charm, architecture and personally I feel they have done a great job actually bringing this market back to life in the 21st century.
Today it is a driving market with locals and tourists alike exploring the old narrow streets. It has air conditioning so even if you are visiting during the summer it is nice and cool inside.
There you will find shops selling different things from spices to clothes to toys and jewels. Each area is segregated so it makes it easy to find the store you are looking for. There are also many restaurants and cafes where you will find locals and tourists enjoying day and night.
A little further out of the souq you will find the falcon hospital and the falcon market as well as the "farm section" which is perfect for kids as there you will find camels, horses, ponies and other animals. You can even pet them. 🙂
Souq Waqif is one of my favourite places in Doha and I love the fact that it's very safe. As a Muslim woman, I'm not afraid to walk around the area at night by myself which is very reassuring and I have stayed with a female friend until 1 AM exploring the souq. We definitely were not the only ones.
In the winter cooler months, they also have a lot of festivals and traditional dances or shows in the area which is fantastic for a tourist in Doha to experience.
The hotels in the area which are run by the souq are also totally halal and don't serve any alcohol plus they are in a lovely traditional style. Check below the hotel section.
Museum of Islamic Art
The second most favourite place for me is the Museum of Islamic Art or MIA as it is known for short. Designed by the renowned I. M. Pei architect who was taken out of retirement for this magnificent piece of architecture.
I love the simplicity, beauty and surroundings of the museum. It is set in its own park with a promenade to walk around. There are old Dhow boats on the beach plus a cafe with some of the best views of Westbay in Doha. Perfect to enjoy in the cooler months.
The Museum of Islamic Art in Doha has free entrance, even on their temporary exhibitions. Upon entrance, you see the amazing glass view of the sea and on top, you see these amazing architectural designs. The place is so calming and beautiful.
When we arrived two years ago they had a small exhibit of Terracotta warriors which I always wanted to see and it was free of charge. Needless to say, they did satisfy my temporary desire and I loved it.
On the first floor, you will also find the terrace where many of the famous Doha photos are taken, like the one below.
If you want to relax there they have chairs and tables and you can bring your drink and sit with a book, or you can just go and take some of your own photos of the area.
Also on the third floor of the Museum of Islamic art, you will find a restaurant which serves dinner and lunch, the restaurant is called Itha.
We had the opportunity to experience a Michelin star dinner there once and although the food was nice it was not very memorable.

However, what I loved the most and I plan on taking full advantage of now that the weather is cooler is the terrace they have in the same area of Itha. I was informed you can just come and enjoy drinks there during lunch or dinner service.

The view from there is amazing and you can see the city of Doha from above and enjoy the peace of the sea on one side and the bustling city and souq on the other. I simply love this combination.

Museum of Islamic art working hours are from 10 am to 7 pm every day except Friday where they open at 1 pm.
The entrance is 50QAR for adults and 25Qar for a child. You can also buy the Museum pass which gives you access to all museums for 3 days from the date of purchase for 100QAR (£18)

The cafe on the side of the promenade works from 10 am until 12 am and it is great to also take photos or relax with a book.


Doha Corniche
Souq Waqif and the Museum of Islamic Art Doha can be walked to in about 10 minutes when you add all the traffic lights.

But what they also have in common that connects them is the Doha Corniche which I think deserves its own mention simply because it's so lovely to walk around.
The promenade is about 10km and connects one part of the city to the other, from Souq Waqif you can see the stunning views of Westbay and from Westbay you can see the beautiful Museum of Islamic Art and the Fanar mosque in the souq.

Also, it is a centre for family picnics, kids riding bicycles, people jogging or walking and so much more. Summer or Winter you will always see people in the corniche and during Friday when most workers are off you will see this area buzzing with life.

If you are female and you find yourself there, don't be intimidated it's not as bad as it looks and it's pretty safe.

Also on the corniche, you will find the famous Pearl fountain since this is such a big part of Qatar's history prior to the discovery of oil.

I love walking around the promenade and I feel that even as a tourist you will enjoy this small part of what local people in Doha do. The walking path almost goes all the way up to Hamad International airport so it's a great way to explore the city while still close to the sea.


Dhow
While we are still exploring the Souq Waqif area of Doha it's important to know the great number of shows you will see while walking around. Hundreds of Dhows are moored in the corniche and at night, they light up the sky with their bright lights and loud music.
Dhows are traditional wooden boats used in Doha and many other middle eastern countries as a means of transport for centuries. They are even today an integral part of society and every year Qatar hosts the International Dhow festival near Katara.

You can rent a Dhow and explore the city from the sea, they can even take you from the Corniche area to Westbay.

Dhows are a safe and fun way to see the city. Just make sure you haggle the price as they start their offerings very high.

The usual price for a Dhow ride is about £10 / £15 per person and if you are more people you can ask him to give a bigger discount or rent the whole Dhow.

There are no set times as there are many options and it is more customer demand-based. Just ask a few for the best price. 😊
Fanar Mosque



Fanar Mosque is like a symbol for Qatar and it is actually an Islamic education centre. For those interested, you can go inside and see the story of Doha in pictures. Fanar centre is very close to Souq Waqif. They have classes there for new Muslims, you can attend prayer there or you can just go and explore if you are a non-Muslim. The guards and staff are very friendly.
If you don't want to visit then make sure you snap a photo of the beautiful design of this centre.


Bin Jassim Museums
Doha is developing very fast and I love seeing it change every single day. They recently opened some new museums just on top of Souq Waqif and I don't know about you but I have never been to a museum and given free water at the entrance.

The area is separated into four different museums within walking distance each exploring different parts of Qatari history, they have old-style houses of what life was before oil. They had a house with the discovery of oil, a house about slavery which I think was a very brave move and also a house of the future of Qatar.

These museums are definitely worth visiting, they are modern, beautiful and just a great way to learn more about the history of this country. They work from 10 am to 5 pm daily except Friday from 1 pm to 5 pm.
The entrance is 50QAR for adults and 25Qar for a child. You can also buy the Museum pass which gives you access to all museums for 3 days from the date of purchase for 100QAR (£18)


Emir Palace
Also in the corniche, you will see the palace which you cannot enter however you can view it from outside. Nobody lives there and it is just for administrative purposes and for welcoming foreign delegations.


Qatar National Museum
Qatar National Museum opened its doors on the 27th of March 2019. It was a big event with plenty of celebrities and dignitaries.
It is located at the start of the corniche on your way from the airport. I'm very excited as it's a stunning and very interactive experience, the first of its kind.
Definitely worth visiting especially since you might get a small glimpse of yours truly in an exhibition about expats in Qatar. 🙂
The design is by another world-renowned architect and it is meant to look like a desert rose.
Definitely imaginative.
The entrance is 50QAR for adults and 25Qar for a child. You can also buy the Museum pass which gives you access to all museums for 3 days from the date of purchase for 100QAR (£18)


Katara Cultural Village
Another of my favourite places in Qatar is the Katara cultural village. As the name suggests this area houses amazing art galleries, stunning mosques like the gold mosque, amphitheatre which in the winter hosts festivals and a big square with sea views that hosts the annual Dhow festival and also has many restaurants to enjoy.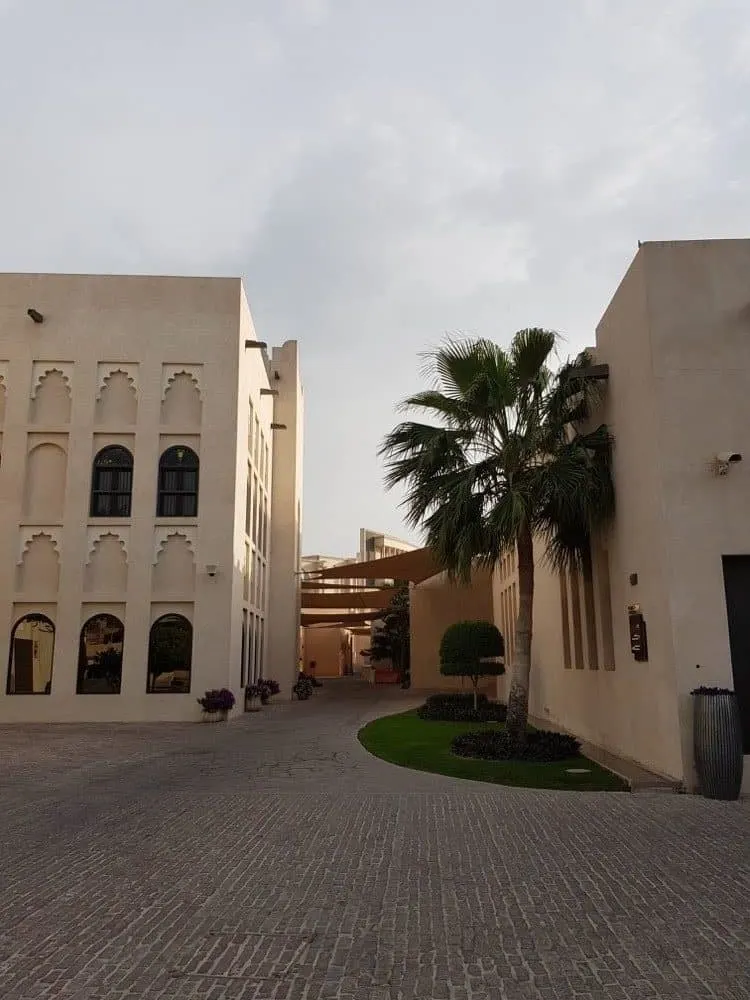 They are also building an amazing shopping mall with real Italian marble which is excessive but absolutely stunning.

During the winter many festivals that you can enjoy with the whole family. In the same area, they have also bouncy castles or a farmers market like last year where they showcased locally produced products.

The area is lovely and you can stop and admire the architecture but if you get tired or you have small children you can hop on one of the many free buggy services.

You can also ask for them to show you around Katara as a mini-tour.

If you want something fun to do there make sure you visit Al Jazeera cafe where you can be an anchorwoman/ man/ kid for a few minutes. This is free and very fun for the full families as it is a real studio set up for people to visit and enjoy.

Also in the promenade, you can hop on a gondola tour of the area. I believe this was 150 Qatari riyal around £30 for up to five people but totally worth it.
You will see the booth where you can ask for their other water sports activities.

Katara also has the only public beach in Doha but I wouldn't go there. The entrance was very expensive for what they offer and the water is not the cleanest. For the same price, you can visit one of the five-star resorts with their own private beach for the day. Many sell day passes. More about hotels is further below.


The Pearl
Since we are in the same area let's move on to Pearl, Qatar's man-made island. It is similar to what many know as the Palm in Dubai but the Pearl is residential as well as a tourist destination and personally, I prefer it to the Palm.

I have been in both and I like the fact that the residential areas are not restricted access.

The Pearl is a hub for its residents, locals and tourist alike. You will see the busses coming day and night to show them the Pearl.

I was lucky enough to call this area home for a year and a half before we decided to move and explore another side of Doha.

As a man-made island, everything is brand new and you almost forget you are in Qatar. You will find a promenade that can take you from one end of the pearl to the others. The yachts moored with the superyachts starting at Tower 1 and many coffee shops and restaurants for you to enjoy.
During the winter and on the weekend families with young children will play in Porto Arabia majority of the residents are Western or other expats in Doha but many locals love coming for a dinner or for a stroll.

To walk from Tower 1 to Tower 31 is about 5km and it takes approximately 1 hr if you want to enjoy the walk. They also have a free buggy service which you can use if you can't walk all the way around. If you are coming for longer I highly recommend you doing that, especially on a Saturday morning. Have breakfast and then walk it off to Medina Centrale.

Medina central is another quintessential area of the Pearl with restaurants and also residential blocks and a cinema complex. During the weekend the roads are closed and you can just stroll without fear of cars. Many locals love this area and you will see some supercars parked there regularly.

Another area worth exploring in Qatar is Qanat Quartier which is a very famous photo opportunity with its colourful buildings and Venice feel. Everything is connected via bridges and it reminds you of Venice albeit a much younger version. This is also a residential area with restaurants and coffee shops but of course, it is open to tourists as well.

It is definitely the perfect backdrop for colourful photos and you might see some bloggers doing just that. Oops, I'm guilty of it too.

If you want to see the biggest houses of your life, sort of mega-mansions then I highly recommend you stroll through the well-manicured roads of the Pearl. You will be surprised by the richness of the place.

Also if you want to stay in the area, there is the Kempinski Marsa Malaz hotel which is a five-star hotel with its own private island and beach.
Desert Safari
As you are in the middle of the desert you get to experience a lovely desert safari. There are many choices you can have from just a drive through the desert to dune bashing and even staying overnight in a tent. We took my sisters in law here for a safari and it was great fun. I highly recommend it if you are here.
I just asked around for a good company and was recommended Arabian Adventure, we did enjoy our safari and the driver was very good as well. Prices start from £50 but I think they become cheaper for more people.


Dress code
Qatar and Doha is a conservative country but not too conservative with almost 1,5 million expats you can see many different people and dress codes.

Locals are usually dressed in their traditional clothing, expats can be seen with jeans and a T-shirt as long as it's respectful you won't have a problem. You don't have to cover your head in Doha as a tourist or buy "conservative" clothing specifically for your visit. Wear what you would wear at home especially in the malls. Just be mindful not to reveal too much, you won't have an issue but you might get looks.

If you are a Muslim traveller you will not have an issue with nudity so it's great for families.


Halal Food in Qatar
Qatar is a Muslim country and as such all the food is halal. You will enjoy delicious food from every corner of the world but as a Muslim traveller in Doha, it will be halal. Yay!

Pork and alcohol are not served in shops in Doha but only in certain specialised shops and residents visit with their Qatar ID only, so there is no fear of contamination. Alcohol is also served only in licensed hotels and not outside.

I just love this because I don't have to look at ingredients all the time.



Transportation from Hamad International Airport
Transport in Doha and pretty much in any other Middle Eastern country is mostly by taxi. The easiest way and faster to get from the airport to your hotel from Hamad international airport is the airport taxi.

Upon exiting from the arrivals doors just follow the sign for Taxi. You will be escorted to a Karwa airport taxi which is only designated for airport use. They are safe and secure and cheap. I have taken them during all hours of the day and night. They are always monitored so even if you are travelling solo in Doha you won't have a problem with safety.

As an example, a trip from the airport to the Pearl, which is the furthest, is about 80Qar / £16 and to Souq Waqif is around 45Qar / £10.

There is also a bus 707 which can take you from the airport to Doha and it follows the route of the Corniche all the way to the Pearl. It costs 5Qar / £1 but it takes much longer. It leaves the airport every half an hour all day and night. Just follow the sign for the bus terminal once you leave the arrival gate.

Personally, I haven't taken the bus but a lot of residents have said it's a nice drive albeit slow. If you are on a budget then it's definitely an option. The disadvantage is that you won't be dropped at your hotel and you will have to walk there and if it's summer then opt-in for a taxi or hotel close to the main route of the bus.

If you are leaving Doha and heading to the airport you can take the bus or just call yourself an Uber as usually, it's cheaper since there is no starting fee like the airport taxi.


Transport around Doha
We don't have a car and I know of many expats that don't. For us, it's not an issue. We actually have an amazing driver which we use if we need to go somewhere further away and we use him for the daily work commute. I know it sounds posh but in Doha, this is pretty normal. 😂

For my daily outing to a coffee shop where I will write articles or cry over broken website links, I use Uber. They are fast, plentiful, cheap and reliable. If you want to support me and you are new to Uber please feel free to use my link to sign up. You get one free ride and me too.

We also have Careem here which is the Middle East answer to Uber. I personally don't use them as I find them more expensive but they have the same cars and drivers. A lot of drivers here work for both companies.

Your other option for transport is the local taxi company Karwa which is your classic metered taxi. I don't personally use them often and most of the time you have to flag them where in the summer heat I prefer to shelter myself in an air-conditioned space while my taxi arrives.

There are busses I have seen around but they are still very infant and not used by many tourists, expats or locals. Most have cars and those who don't opt for taxis.

Taxis are cheap and plentiful. If you want to find approximate cost I love using the Uber calculator here.

Qatar is building a state of the art metro system which should be ready in the next few years, personally, I would definitely love and use that one more often as traffic and traffic lights in Doha can be big time wasters. Some traffic lights can take up to 10 minutes!

If you are visiting Doha make sure you avoid rush hour traffic as you can stay stuck for up to 1,5hrs. I learned this the hard way by going from the Pearl to the Souq one day at 3 pm! Usually, a rush-hour here starts from 3 to 7 pm and affects the corniche road mostly. Google maps are your friend when checking traffic.



Best Hotels to stay in Doha
Doha has so many options on hotels it's crazy. There are amazing five-star hotels and budget-friendly three-star hotels. Personally, one thing I'm most excited about with 2022 coming up in Qatar is all the new hotels and brands that are being built that I get to check out. Awesome!

Prices in Qatar are usually high but there are several new hotels now and competition is fierce especially after the Saudi blockade to Qatar. By the way, we were totally OK during this time and didn't feel affected. However, I loved reading all the news.

Also, Doha for me has some of the best Halal hotels available anywhere in the world. They have the customer service, the quality, the price and the ambience.
The best hotels to stay in Doha and some are totally Halal hotels
The Tivoli hotels in Souq Waqif are totally halal and they don't serve any alcohol. They have several hotels in the area which is a nice place as a base to explore the rest of the city.
The hotels inside the Souq can be a little small but the newly opened Al Najada hotel by Tivoli next to the new Gold souq offers larger rooms and a nice courtyard for kids to play.
They also have an offer for guests with beach access to Banana Island which is a private island hotel by Anantara.
The brand also opened a new hotel in Al Wakra, a town about 20min from Doha right on the beach. I have heard great reviews and I will be reviewing it soon.
This small island hotel by Anantara is a luxurious hotel only 30 minutes by boat from Doha Corniche. It offers luxury, a lovely clean beach, plenty of activities for the kids and also private pool villas. You would really think you are in the Maldives.
It is harder to explore the city from there so it is only recommended if you are here for longer and you want to relax somewhere nice.
Four Seasons Doha makes the list because it is a super popular destination for locals and expats alike. We spent our anniversary there last year and we really enjoyed it. I love their spa, their beach area and my favourite Friday brunch.
I have a review of the hotel here.
The St Regis hotel in Doha is closer to Katara Cultural Village and a lovely hotel with plenty of space, beautiful rooms and a beach. It is a nice place if you don't mind being further away from walking distance attractions, apart from Katara, and it's a 15minutes ride into Souq Waqif.
If you are looking for a cheaper option for a hotel in Doha close to Corniche then the Doubletree Doha is not a bad choice. We stayed in the hotel for a month when we arrived in Qatar and it was a nice base to explore the city. Close to the airport and about 20min walk to the Museum of Islamic Art and Souq Waqif.
Just ask for a room below the 10th floor as they do have a club on the top. Ideally with a Corniche view as it's lovely. You can see Westbay and the Pearl.
Best time to Visit Doha
For me, the best time to visit Qatar is during the winter months from November to March with the best month in December as it's national day and the city is all decorated.
Qatar National Day is on the 18th of December and they have a parade and plenty of events during the month. It is a lovely sight to see and enjoy.
However even throughout winter, they have festivals, kids events, farmers markets, and the Souq have live entertainment on the weekends.
Shopping in Doha
Like any other Middle Eastern country, Qatar and especially Doha has plenty of shopping opportunities. There are several Malls that you can enjoy and hide from the heat if you are visiting in the summer months. Note that shopping in Qatar, however, might not be the best deal around as prices are sometimes as much as 30% more than in Europe and the US. Nevertheless visiting some of the malls is a great way to see locals.
The most famous is the Villaggio Mall which has a Venice like canal you can actually take a Gondola in. It is a fun thing and the mall is designed as an Italian village. They also have a luxury court which has a beautiful design.
Mall of Qatar is a little further outside the city but it is a brand new and massive mall. It has various different events on its main stage every weekend and several days of the week. Before you visit do check their website for their up to date events.
Festival City is another new and very popular mall attached to an IKEA store. They have a nice food court, trendy shops and several British brands such as M&S, Debenhams and even BHS.
There are also several other malls such as Lagoona Mall, The Gate Mall, Landmark mall and many others. Shopping is many times a primary activity in Doha.
If you are looking for traditional things to buy then Souq Waqif is the best option for you though.
Qatar Airways special offer
If you are transiting with Qatar Airways then do make sure to take advantage of the free hotel stay and stopover they are offering. This is a great way to explore the city for a day or two without an extra expense. You can find more about this on the Qatar Airways website.