Muslim friendly villas in Bali are some of the best on earth and it is one of the most popular islands for Muslims on their honeymoon.
I mean, what is there not to love?
Halal food is easily available, there are high-privacy villa options so women can remove their hijab plus the gorgeous beaches and mountains make it a perfect destination to also explore nature.
I get asked all the time about villas that are great for Muslim-friendly honeymoon in Bali so I thought I will create a list for you to check out and book when going.
Obviously, these are not only perfect for honeymoon couples but for anyone else who wants a nice place to relax and enjoy.
The Elysian

The Elysian is a Muslim friendly villa in Bali offering luxury and privacy as well as halal food when requested. The villas offer high wall and great green garden for extra privacy and relaxation. Also, they are on the water, so if you get bored sunbathing, you can jump in the sea too.
Prices start from £200 a night
Daluman Villas

Daluman Villas offers great privacy options with a great price less than £100 a night. Yes, it is a villa and doesn't have a resort feel but for the price, you can enjoy your hijab free holiday there with no problem.
Prices start from £80 a night
Banyan Tree Bali
Banyan Tree hotels are some of the best properties in the world so no wonder if in Bali and budget permits it this should be on your Muslim friendly options to check out.
Tip, when in such resorts always ask for a lower villa and more secluded. The greenery still offers privacy and beautiful views of the ocean, plus there is a halal food option when requested.
Prices start from £300 a night
Visesa Uhud Resort
If you are looking for privacy yet you want to be part of a resort without breaking the bank, Visesa Resort in Uhud offers this option. The villas are very well priced and you can still use the resort's facilities.
Plus there is halal food when requested. The resort is in the middle of the rice fields so you are not on the beach, but you can always split your time between two locations in Bali.
Prices for one bedroom villas with private pool start from £140 a night
Sudha Villa Bali
Sudha Villa is a 2 bedroom standalone villa with a private pool in Seminyak with great reviews and prices. It offers a privacy in a budget and delivers on it.
Prices start from £70 a night
Amarterra Villas Bali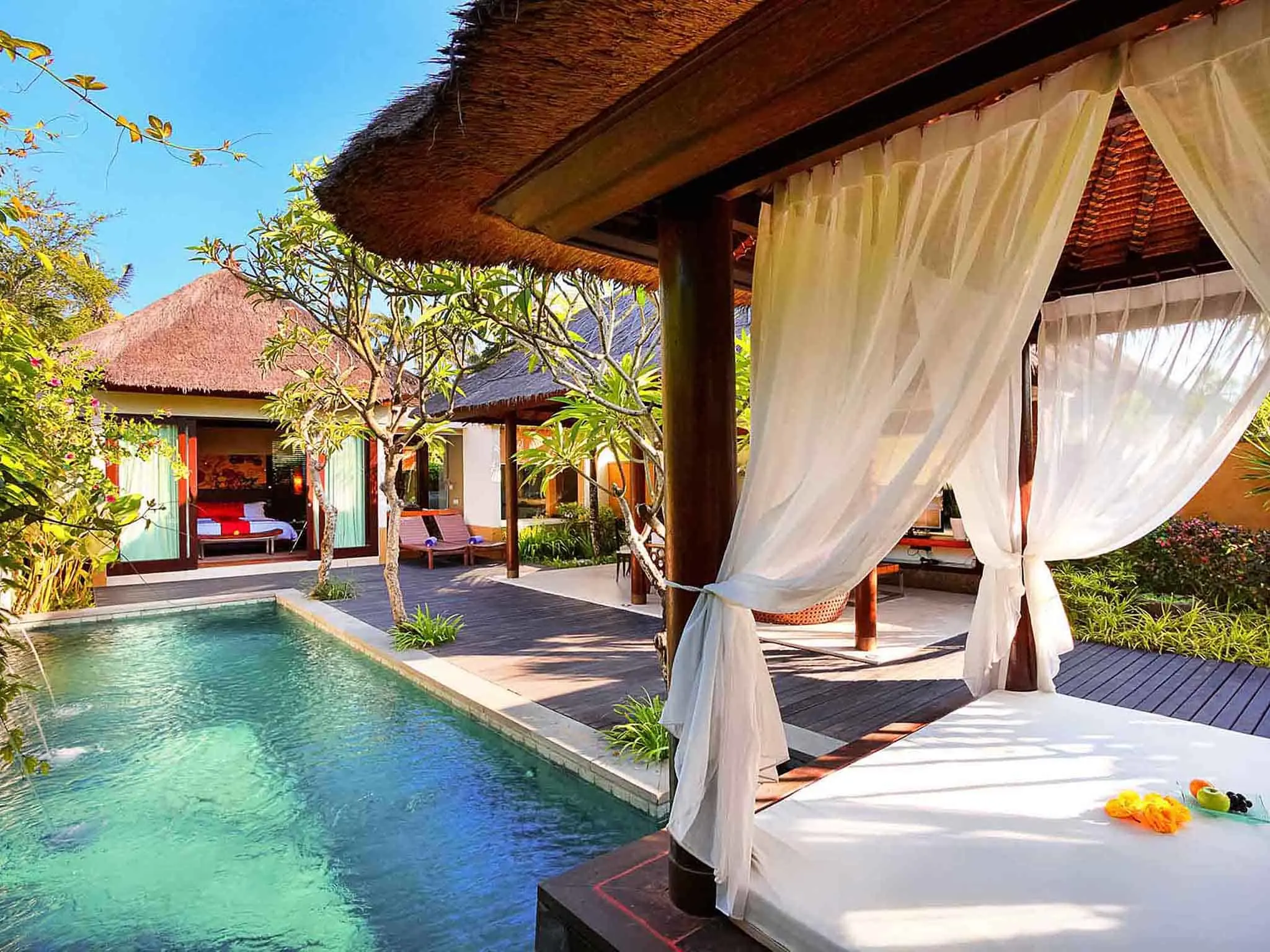 Amarterra Villas Bali is located in one of the most popular locations in Bali, it offers a privacy with lovely private pool villas yet you have a resort at your disposal. Plus the halal food is always welcome. I mean what else is a honeymoon for right?
Prices start from £150 a night
Hilton Bali Resort
If you want to experience both, luxury, great views and don't want to break the budget then you should check out the Hilton Bali Resort. It offers luxury and well-priced rooms and also private villas which you can enjoy for a few days. Plus since this is a Hilton resort you can also earn points on your stay.
Their rooms start from £70 a night and their villa prices start from £260 a night.