Dubai is one of the most popular destinations for Muslim travellers as it offers everything they desire. Halal food in Dubai is obviously not an issue, and there are mosques to pray and plenty of activities for children, couples, and families alike. But Dubai is so much more than the mesmerising skyscrapers and breathtaking desert.
Situated on the Persian Gulf coast of UAE, Dubai is roughly at sea level. The recent development and modernization have made Dubai a popular tourist destination. Even my mum wanted to visit Dubai because "it was cool and her friends had already visited". I guess now she can be proud that she has been there more times than her friends! 🙂
Many Muslim travellers visit Dubai with their families, and I always get the question of what is there to do in Dubai but now with a child of my own I research some of the best places to visit with families in Dubai.
Muslim-friendly guide to Dubai
with all the tips and tricks to make this an amazing holiday for everyone.
#1 Dancing Fountain
One of the biggest attractions of Dubai is the dancing fountain in Dubai Mall with a great view of the Burj Khalifa. The fountains are something you should see and enjoy.
It is fun watching water "dance" to different music tunes. The fountains start at 6 pm until 12 pm, and they perform every 30min for approximately 5 minutes or less.
Tip: If you want to have a nice spot to see the fountains without hassle, then you should visit just after the performance finishes. This way, the crowd will move, and you will get the best spot. I'll also recommend the new Five Guys store. You can order some food here and watch a couple of performances. 🙂
#2 Burj Khalifa
This is kind of given that you should visit the Burj halifa, but no decent Muslim-friendly guide to Dubai can be complete or even start without including the tallest building the world.
If you're not scared of heights, then a visit to the Burj Khalifa should be on your list. This is the tallest building in the world and gives you a great view of Dubai and the surrounding area.
Be sure to book in advance to find the perfect slot, maybe just before sunset so you can see Dubai during the day and night.
You can even visit the pool and have a brunch by the pool of Burj Khalifa with some of the many vouchers for discounts. More on this at the end.
#3 Jumeirah Medinat Souk & Hotels
Your Muslim-friendly guide to Dubai could not be without mentioning the beautiful Jumeirah Madinat hotel and surrounding area.
Souk Madinat Jumeirah is an authentic re-creation of an ancient marketplace with traditional Middle Eastern style and ambience, located in the Madinat Jumeirah resort.
It is a great place to spend a few hours exploring the market, having dinner or lunch in the restaurant, and finally taking an abra around the resort.
The abras are small boats that take you around the resort and offer a great view of the Burj Al Arab, they cost approx 75AED per person.
Tip: If you cannot afford a night in the hotel but want to experience a day by the beach, then you can book a day beach access on their website or book lunch in one of their restaurants. Much cheaper and fun.
#4 Wild Wadi
Located at the Jumeirah Beach Hotel, Wild Wadi is a place to find a wide range of water slides, rides and surfing opportunities.
Also, the Wild Wadi park is very baby-friendly as I checked it out for my little one, there are areas and shallow beaches where they can splash as well. It is very fun for families to enjoy and children under 2 years old are free of charge.
Book in advance and you can find some deals online for discounts. Also, it is advisable to go early to avoid big queues.
Wild Wadi Waterpark timings:
Tuesday – Sunday: 10:00 – 18:00
Monday: Wild Wadi Waterpark™ will be closed
You can find offers here and prices here.
#5 The Atlantis Waterpark
A statement hotel in the Palm of Dubai you simply cannot miss it. They have a fantastic waterpark as well as a large aquarium which you can visit even without staying in the hotel.
Also, check out the offers as you can get a free entry to the waterpark on your birthday. I did receive mine 🙂
#6 Mall of the Emirates

Who says you can't ski in Dubai?
Spend a day with the kids in Mall of the Emirates and dance with penguins, slide and have fun as a family. It is definitely an interesting experience considering that it's 40C outside.
For the kids, you can also have a meet and greet with penguins and I cannot wait for Sophia to be older to do this with her.
#7 Experience a 7 Star Cinema
This is by far the best way to enjoy a movie! After living in Doha and finding that you can have a recliner seat, with your own order system I just couldn't enjoy movies any other way.
Depending on the cinema you can even have a dinner table set up for you. It is something I think you should enjoy it especially if you are a couple and want something different and "romantic".
In the UK we have an Everyman cinema which comes close to this but not there.
Prices and cinema vary but you can check the Malls. Personally, I like the VOX cinema experience.
#8 Dune Bashing & the dessert experience
One of the best moments for me was visiting the desert and dune bashing. Unless you get dizzy like me from all that bashing, then keep in mind and bring some nausea pills.
It is very touristy but it's definitely a nice experience with the kids. Just make sure your camel ride and campsite are kid-friendly or even Muslim-friendly as there might be belly dancing.
There are loads of tour companies that can offer this and you can find some great offers online. I believe we paid less than £40 per person when I went there.
Tip: Shop around and don't book directly with your hotels because they are usually more expensive. Also, you will find 2 for 1 with the offers at the end.
#9 Hot Air Balloon Ride
This one is on my list of things to do in Dubai for sure. The hot air balloon ride takes you hundreds of feet into the clear blue skies while offering you the chance to see the beauty and charm of Dubai from the skies.
Unquestionably a family experience to remember. If you are more daring you can also do a skydive, obviously without the kids.
#9 Visit one of the many souks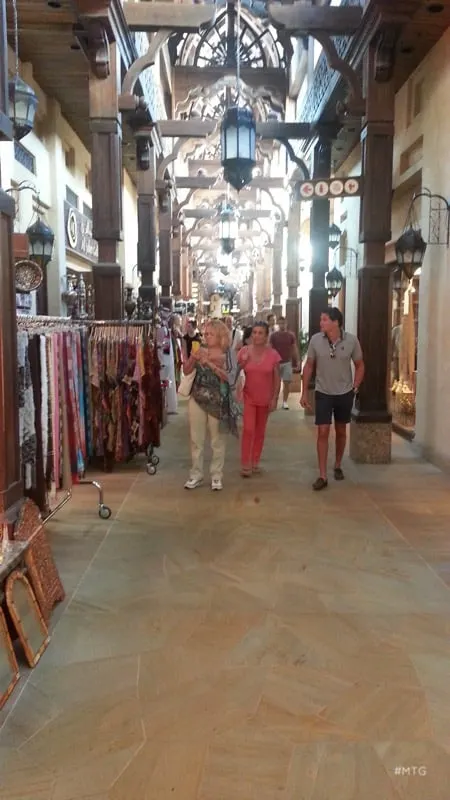 Dubai is full of several shopping opportunities and one of the places not to miss is the souk, an open-air market in Dubai Creek.
There's always something on offer for every member of the family. You'll find many different items including jewellery, souvenirs and other traditional spices at an affordable price.
Don't forget to bargain and ask for a discount. Never pay the full price as everything can be negotiated. 🙂
#10 Jumeirah Beach JBR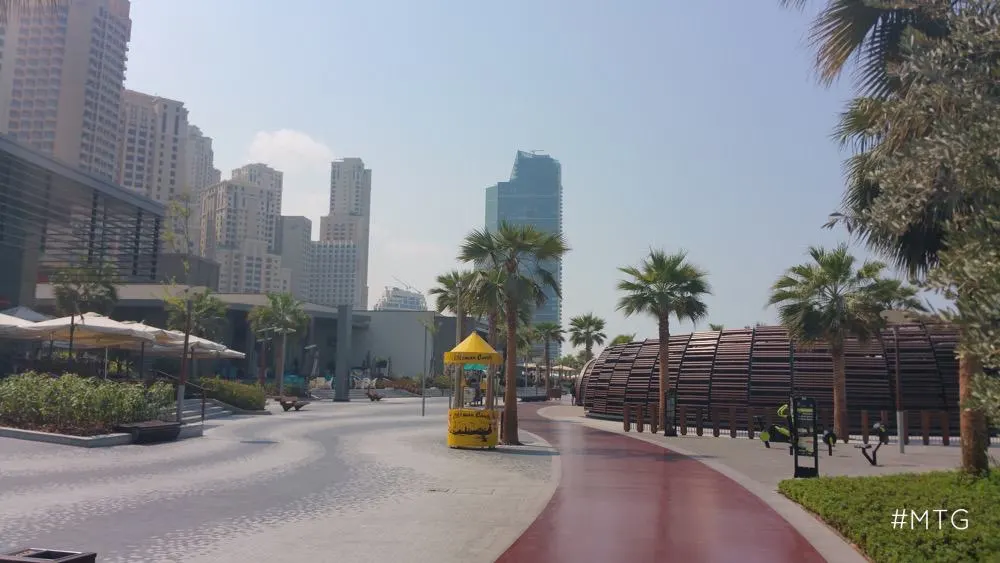 Jumeirah beach and the JBR walk is one of my favourite places in Dubai. I have been there three times, but it's the first time I went to the beach. The water was crystal clear and so warm.
Great for a family as you can swim, eat, shop, and relax until late in the evening. You can also enjoy a wide range of water sports activities including sailing, swimming, and snorkelling.
You can read my review of the Intercontinental hotel and also there are plenty of other judging options around the Marina and Jumeirah beach.
Also, don't forget to visit some of the other beaches in Dubai, such are Jumeirah public beach and Kite beach, which are a way great to spend a family day out and you can take photos of the Burj Al Arab.
#11 Children's City
Located at the Dubai Creek Park, Children's City is one of the top attractions in the city, worth visiting with family. Kind of a children's dream destination or maybe even an adult.
Covering more than 80,000 sq. ft. of educational area, Children's city is a perfect place for kids to enjoy several fun-filled activities. Here you'll find activities on culture, nature, space, and many different interactive exhibits.
Opening hours:
Sunday – Thursday: from 9:00 am to 7:00 pm
Friday and Saturday: From 2:00 pm to 8:00 pm
Prices and events you can find here.
#12 Dubai Mall Aquarium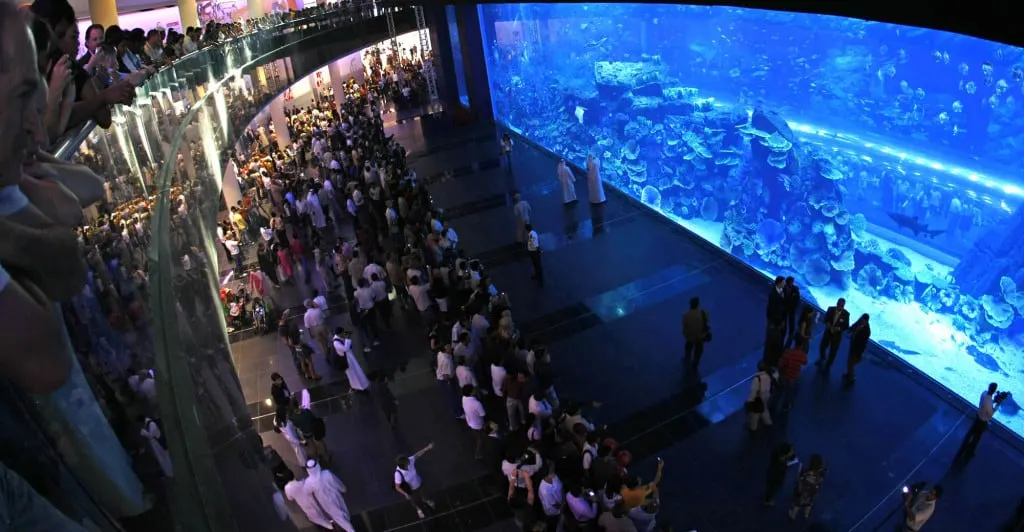 Another Muslim friendly activity is the aquarium in Dubai Mall which offers plenty of things for everyone young or old.
The Aquarium is free to view on the outside and it can be great for the kids to do some fish spotting.
You can also pay an entry fee and go under the tunnel. For those who are fearless, you can even swim with the sharks. 🙂
It is a small Aquarium so if your kids love fish, then check out the Lostchambers at Atlantis as mentioned above.
#13 Dubai Marina
Located near JBR, Dubai marina features a waterside promenade, a yacht club, a mall, Jumeirah beach JBR, al fresco dining options and so much more. With a number of affordable apartments and hotels, this area is extremely popular and a great place for Muslim travellers to just relax and enjoy the days.
You don't even need to go anywhere really as you can spend the day there.
They also have a halal hotel in the area for those wanting a true halal holiday in Dubai. You can read our hotel suggestions here.
#14 Dubai Miracle Garden
This is one of the places I really wanted to visit but it wasn't open in October.
This is a natural flower garden and it takes great craftsmanship to create every year. It covers some 72,000 meters and it is a very popular tourist attraction. You can find my article here.
The garden is open only between October to April, since it can be very hot during summer for the flowers and visitors.
cost for adult tickets 55 AED and between 3-12years old is 40 AED
#15 Dubai Global Village
Dubai Global Village is one of the most Muslim-friendly options in Dubai and has become a standard classic experience in the city.
The Park that houses areas of different countries and cultures provides you with a tour around the world in a few hours.
The pavilions themed after famous buildings, you will find activities, food court, a floating market, a large Ferris wheel and so much more. Definitely a great experience and a fun afternoon for the family.
Tip: If you want to avoid the crowd then make sure you go at the opening time which is 4 pm.
Ticket price is 15AED
Global Village Dubai is open only October to April every year.
You can find more information here.
#16 Dubai Parks and Resorts
Dubai Parks and Resorts is the Middle East's largest theme park. With 100+ rides and attractions and theme parks like Bollywood Parks, Motiongate Dubai and Legoland Dubai. This place will make your fantasies come true.
Bollywood Parks features Broadway-style Bollywood Musical, amazing ride, and interactive attractions.
Motiongate Dubai is a Hollywood theme park. You can experience life on a real set here and explore studios like Lionsgate, Columbia Pictures, and DreamWorks Animations. Best for kids and families.
Legoland Dubai offers the ultimate family adventure. With 40 lego-themed rides, shows, and options to customize your raft, this place is a must-visit.
#17 Tour bus
If you are visiting Dubai for a short period of time and you cannot visit all the attractions, then the best option for you will be a tour bus.
There are many companies in Dubai that offer tour buses to the most popular attractions in Dubai.
The bus is a hop on and off which means you can explore areas at your own leisure and then just hop back on to the next destination.
There are many coupons available online to save money on these buses, so do shop around for the best price.
Other Areas you can enjoy for a daily walk with the family and so the kids can run around is the La Mer beach and also City Walk. They are open space areas with shops, playgrounds, restaurants. Definitely, a nice place to enjoy the day or an afternoon.
This is one of the things I love about Dubai, plenty of places to walk around when the weather is nice.
Tip: They are on the Entertainer
Parks To Visit In Dubai
It is a good idea to spend some time in the parks in Dubai. It is one of a kind experience and if you have little travellers with you they do enjoy running freely in the park.
Creek Park: One of the oldest parks in Dubai. It is popular among the families as it features open markets, restaurants, children's city, Barbeque area, multiple play areas, bike lanes, cable cars and much more. Costs approx 5 AED/ person.
Safa Park: Best place for photographers and social media freaks. Apart from the green and fresh environment, this park is home to 200+ bird species. Other features include BBQ areas, Jogging tracks, Waterfall, touring boats, picnic spots, funfair, hillside, Basketball courts and Kids playground. Costs approx 3 AED/person.
Zabeel Park: The largest and most popular park is the city. The features of this park include Music area, BBQ area, picnic area, Dubai garden glow, Dubai frame, Pedestrian path, Jogging track, Fitness centre, mini-golf, Skating, Skateboarding, BMX track, StarGate entertainment zone, Cricket, Children's city, Dinosaur Park, Bike tracks, tourist trains, boat rides and Flea market.
One thing I always admire in the Middle East is the fact that it is desert yet they put so much effort into making green spaces, so definitely should pay a visit.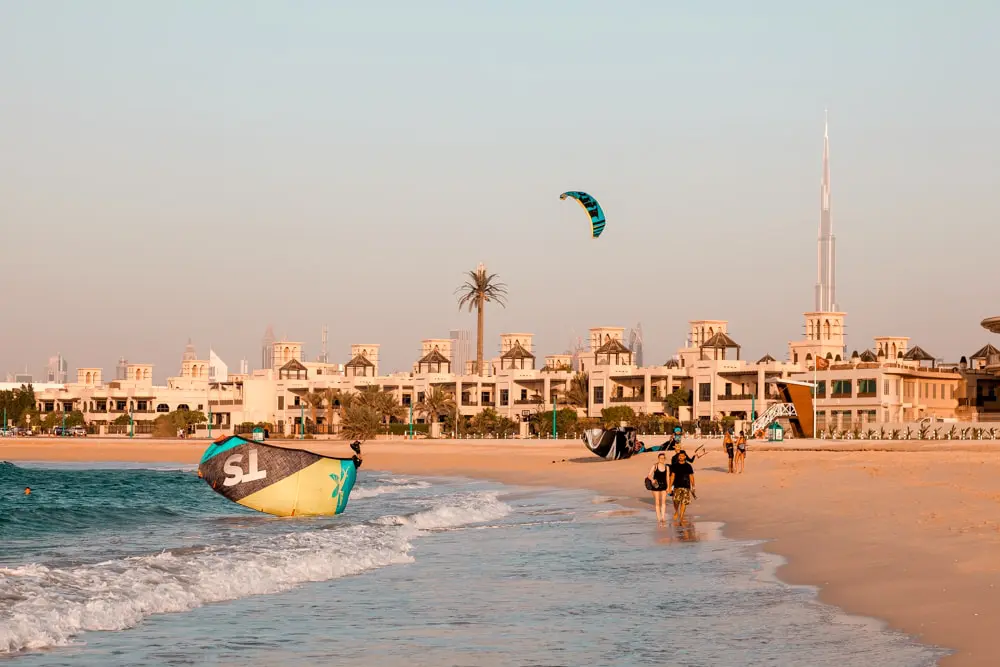 Women only beach Days
You can enjoy women-only beach days in Al Mamzar beach Monday and Wednesday where the beach is only available to ladies. You can swim in your bikini if you want.
For me as a hijabi Muslim woman to swim in a bikini after so many years feels weird but the fact I can remove my hijab and swim is a bonus. LOL
It is 5 AED entrance or 30 AED per car.
Muslim Friendly Dubai
With over 60% of the population being Muslim, Dubai is the top-rated location for Muslim travellers.
Halal Food Options in Dubai
All food in Dubai is halal which for a Muslim traveller is fantastic. You can have halal bacon, beer, and all the junk food you can eat.
At least the one thing I visit in Dubai is Five Guys and every other fast food I cannot have in the UK. Also if you haven't been to Cheesecake Factory then check it out. Know though that portions are huge and you should order to share.
You can also find any cuisine your heart desires from Michelin star to a local joint with amazing Indian dishes in Dubai Creek.
You can find some great fine dining halal options in Dubai with the Entertainer app which we mention below.
Mosques To Pray
Mosques in Dubai are unimaginably beautiful, you can not only pray and find peace here, but you can also see the beautiful architecture and wonderful design.
The Grand Mosque of Dubai is one of the most beautiful mosques in Dubai and a place not to miss. Other mosques include:
Jumeirah Mosque
Satwa Mosque
Masjid Sultan Ahmed Bashalalat
Al Farooq Omar Bin Al Khattab Mosque
Burhani Masjid
Ali bin Abi Taleb Mosque
Dubai is a must-visit for Muslims as you'll love the whole experience.
Best Time To Visit
Dubai has a hot desert climate as it lies in the Arabian desert. The temperature can go up to 45 degrees Celsius in July and August. If you are planning to visit Dubai, November to March is the best time to visit. The pleasant weather conditions around this time make it the peak season for Dubai.
Getting to and around in Dubai
With the tremendous growth in infrastructure, there are a lot of options to travel around the city.
Airport: There are several options to travel from airport to hotel. You can book a private taxi, uber, or hop on a metro (cost approx AED9/person) to travel from the airport to downtown.
Main my transport mode is the Airport Taxi and if you are a woman you will get a pink taxi. It is cheap (though 25AED surcharge) and after a long flight, it is everything you need.
Throughout the City: For most tourist attractions, you can use the buses and metro.
Local taxis are also available and much cheaper than in Europe. If you have access to the internet, you can use Uber and Careem to get around the city.
Personally, I just stop a taxi or uber the apps when I can't. Stopping or getting a taxi from the mall is cheaper than Careem I found.
I mostly use Uber or Careem when in Dubai and their cars are nice. I also like the fact I can track my route and share with friends which is important especially for solo travellers. You can also use Uber cost calculator to see how much your journey will cost approximately.
Renting a car: Driving in Dubai is not that hard, I actually think they drive better than in Bulgaria. Prices are very reasonable and if you are a family which plans to visit all of the attractions above it might be cheaper to rent a car for a few days. You can read my article here about driving in Dubai.
Distances in Dubai are long so, for example, Deira to JBR is about 30km away which costs £20 one way, or you can rent a car for £20 for the day. Of course, it is cheaper to use the metro for some of them.
Money-Saving Tips
Priceless: I have covered Priceless Arabia here, it has now been renamed as Priceless and includes all the cities under one roof, however, the concept is the same. They do have some great discounts for restaurants, attractions, and hotels. If you have a MasterCard, this can be a great option to save money.
Groupon UAE: Groupon has some great discounts for Dubai attractions and you can save a lot of money. I did manage to book a tour bus for only £15 instead of £30+.
My advice is to start buying and booking your attractions before you arrive in Dubai as slots get booked up quickly and you will be left with limited options.
Entertainer: If you are a couple of a family visiting Dubai with kids you want to make sure your budget stretches as much as possible. I have covered the Entertainer here.
Basically, it is an app that gives you 2 for 1 on activities, spas, hotels, attractions, and many restaurants. I used it in Doha for pretty much every meal out and even when I go to Dubai I still buy it as the cost can be saved in just one meal.
Also, if you are shopping in a local market, use cash instead of a credit card to avoid being scammed.
Tip: You can purchase a travel-friendly sim card from the airport. It will allow you to access the internet, book taxis, and access google maps for navigation.
I use Etisalat when in the UAE, you can purchase a sim only from their store as they need to scan your passport. The sim costs 125 AED with 2GB for 2 weeks and you can top up after. The sims are only valid for 3 months. (prices as of Nov 2020)
Accommodation
There is no shortage of 5-star hotels and many of them are Muslim-friendly in Dubai.
You can even find some total halal hotels in Dubai without alcohol.
There are so many options that I struggle to decide where to stay myself. From very expensive five-star properties to very reasonable and new four-star properties for £30 a night you will definitely find a place for yourself.
If you are not sure about the best areas that you would like to stay in, watch my video about the best places and why I like them.
Airbnb
I like Airbnb for Dubai as they can provide much more space and many hotels are also offering hotel rooms there.
Areas I like for this is Downtown near Burj Khalifa and Dubai Marina JBR.
You can find some great properties on Airbnb plus with a view of Burj Khalifa
These two properties stood out for me on Airbnb:
Tip: One thing I love doing is looking for Airbnb options without putting dates (if you are flexible) as some amazing properties can be just a day away from what you are looking for.
Hotel Accommodation in Dubai
For a more fancy stay, I loved my stay at the Waldorf Astoria in the Palm. It is a beautiful resort and great for relaxing.
Some others I like that I find are great value for money
Holiday Inn Festival city
Rove hotels ( they have several in the city)
Intercontinental Residence (if you are a family)
Tryp By Wyndham
Doubletree by Hilton Al Barsha
Conrad Dubai (next to metro station)
I also have an article on the budget-friendly hotel options in Dubai here.
Of course, there are several halal hotels that don't serve alcohol. You can check out our article for halal hotels in Dubai here.
For the best hotel booking deals, I use and recommend Hotels.com as you effectively get 10th night free which is 10% back. They are pretty much always great offers or the same price as anywhere else.
To book and check prices for hotels in Dubai click here
Tip: Irrespective of where you stay in Dubai, make sure that your accommodation is close to the metro station if you are planning to use it frequently.
Dubai is a city of contrasts. It can be explored very easily and cheaply or you can have the most amazing luxurious stay of your life. It is all that you make out of it.
With the tips above and our suggestions, you are bound to have the best Muslim-friendly holiday in Dubai, without breaking the bank but experiencing some of the best things Dubai can offer.
I would love to hear what your thoughts are in Dubai and if you have any tips to share below.
More to read

Ultimate Guide on Things to Do in London as Muslim Traveller

The Ultimate Guide of Places to Visit in Doha by a Local- Plus all the Insider Tips for Exploring Doha

Breathtaking Muslim Friendly Resorts for a Perfect Holiday or Halal Honeymoon

Malta a Great Destination for Muslim Halal Travelers and Halal Holidays