There are not many places that I would go back to when it comes to hotels or holidays. But when you find a perfect halal resort in Salalah Oman, I think you would happily go back. Definitely, the Al Baleed Resort in Salalah Oman is one exception.
As you know, I am always on the lookout for beautiful halal or Muslim-friendly hotels/resorts that tick all my boxes of a private pool villa, hijabi free options, halal food and value for luxury.
The Al Baleed Resort by Anantara in Oman ticked all my boxes and even more, such as excellent customer service. After all, a luxury resort, private pools, and halal food can do so much without a personal human touch.
December is a special month for me as it is my birthday and our wedding anniversary. So last December I really struggled to find somewhere to go from Doha that didn't require too many points, had availability and also private villas and that resort vibe I was after.
I looked at the Maldives, but tickets in cash were extraordinarily high, and points were impossible to find. Bali was too far away as well, and we had already been to Phuket.
So enter Salalah, popular destination with Arabs but also many Europeans and only 3 hrs away from Doha. Plus it was available on points for the dates I wanted.
The weather in Salalah Oman is beautiful all year round and stays around 30C with the summer being a stunning season with greenery and cool weather.
This was when I discovered the stunning Al Baleed Resort by Anantara in Salalah.
Location
The hotel is set in a heritage area next to Al Baleed Archaeological Park and the Museum of the Land of Frankincense. It is nestled next to the beach and also a freshwater lagoon. There are 138 private pool villas to chose from, and they have several restaurants, activities, pools, and a very relaxing atmosphere. Plus several royalties while we were there.
They have a beautiful private beach that you can enjoy but also kilometres of it that you can walk and relax. One of my favourite things, walking along the beach at sunset.
Each villa comes with its own villa host who makes sure your stay is going great. Ours was Anna, and I have to say she was fantastic!
The Villa
I booked a garden private villa which was perfect for us. It had high walls, a private pool, a living room and a bedroom. Since we had Sophia and my mum, it fit us all perfectly, and there was still plenty of space. They have many different types and I did ask for a tour so I have some extra photos I will post on social media. They have two-bedroom, sea view rooms, hotel rooms etc.
Personally, the private garden villas are perfect for halal holiday as they have 100% privacy. I was told also the lagoon villas although have a lagoon view are also private as nobody swims or passes by.
I loved the fact they had this beautiful wooden Ludo, one of my favourite childhood games.
Before arriving, I had mentioned it is our wedding anniversary and my birthday, and we received a lovely set up plus a delicious cake.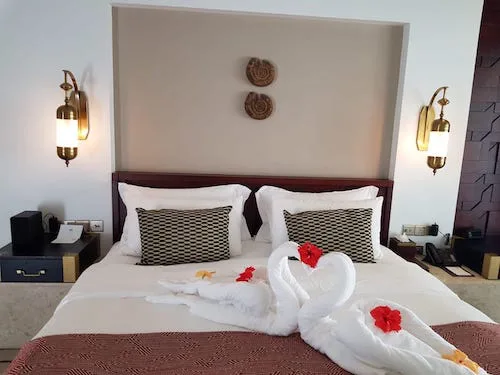 Tip: I always encourage people to say if it is a special occasion as many hotels offer this for free, and it makes it indeed unique for you.
The private pool was the perfect size for swimming with access from the bathroom, and as we discovered later, it was also heated, which meant could use it at night when the baby went to sleep with grandma.
I loved the fact this villa was 100% private which means it is a Muslim-friendly option in my books and perfect for a honeymoon or families who want privacy as Muslim travellers.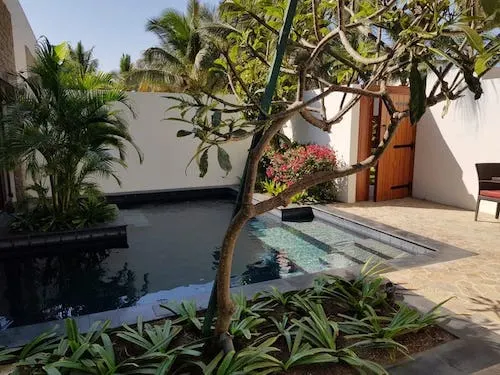 As this was my first experience with a baby on a resort, I didn't know they offer free baby things like steriliser or baby bath etc. Definitely didn't have to carry my own from home.
If you are travelling with little ones definitely worth emailing the property and checking with them.
The Resort
One reason why I always look for resorts is that I love the ability to walk around in the evening without having to leave the hotel. This property ticked all these boxes as you could take bikes and bike around or take the pram and just walk around the resort after dinner and still feel you are in a beautiful place.
They have several restaurants, the main buffet restaurant serving various dishes. Still, mainly Arabic, they had an Asian fusion restaurant, bbq options a well as Mediterranean cuisine plus multiple theme nights every week.
So you had plenty of options and choices to enjoy and try. All the food is, of course, 100% Halal as Oman is a Muslim country.
What I loved is the fact that the guests were such a lovely mix of Arabs and Europeans with plenty of families. I didn't know that Salalah was such a popular destination with mainly German, Italian and French guests as well as Arabs.
Customer Service
A luxury resort or a Muslim-friendly villa, beautiful grounds can do so much but why holidays and places are memorable is because of people and excellent customer service. The Al Baleed Resort in Salalah exceeded our expectations on customer service on so many levels, from breakfast to dinner to our villa host Anna or the kids club. I have so many memories that make this trip unique for us.
Also just as a side note, nobody in the hotel knew I was a blogger or that I would be reviewing this hotel. So this is me as a paying customer experiencing the property.
We were there during Christmas, and they had several events organised and made the time special for their guests and younger ones. They had a Santa coming over giving gifts to every child, which I found very thoughtful and sweet. Even Sophia got her first gift, and grandma really enjoyed that.
On Christmas, even after turndown, they left us a stocking with sweets inside which was also a nice touch. Then the next day they eft handmade painted boxes.
Outside each villa, they had actually made a beautiful handmade "Marry Christmas" writing which made us smile as almost all were different and beautiful.
Yes, these are Christmas celebrations, but about 80 %of guests where non-Muslims, so it was OK even the Arab families in the resort enjoyed it. I am really looking forward to seeing what they do for Eid.
Everyone knew your name and tried their best to make your stay welcome.
During Friday prayer, you can request for a mini-bus to take you to the mosque to pray, and they will, of course, return you back. My husband enjoyed the fact that he could pray and see some locals.
Food
As mentioned before all food is Halal at the Al Baleed Resort in Salalah.
They do serve alcohol in the restaurants, but you have to order it so you won't see it around.
Breakfast had a good variety every day, the food was tasty. You had vegan options, gluten-free, fresh coconuts every day, juices and everything you might want for breakfast. Although they were fully booked, it never felt busy, and there is plenty of seating areas inside and outside.
As we were on Half board we also had dinner included, which was great, and we had several choices, there were nights that I didn't know what to chose as all options sounded good. From Asian fusion to a BBQ night to seafood night, they had plenty of choices and always fresh and delicious.
We did a couple of room service deliveries around the pool, and there the food was also excellent and significant portions as we managed to feed three people with a side and a club sandwich.
Spa
As it was my birthday, the husband treated me to a massage from their Spa, which was much-needed thanks to a little lady keeping me awake all night. Their service was friendly and had a very relaxing feel. Definitely on the high end of the budget as the massage and the leaf wrap was around £200. I also didn't know they can discount as they had a promotion, so the lady kindly applied it to my account after asking since I had overheard a guest mention it. This could improve I guess as it felt weird me asking for it, but she was kind enough to apply it.
Overall I think it was a pleasant experience to enjoy while on holiday plus my body was aching so badly from breastfeeding and incorrect sleep positions.
Activities
The resort has several activities you can pay and book like dolphin watching, horse riding, sunset cruises etc. They also offer free trips to the Mall and the museum. I wanted to do pretty much everything however it soon became apparent that with Sophia's sleeping schedule and our fun by the pool the timings didn't work. We were there for 6 nights, but honestly, it felt like only 3, and I wish we could stay more. My husband did offer, but it was just too much to re-schedule flights, and they were also fully booked for New Years.
Transport
Salalah Airport is a small airport so you can't really get lost. Once you arrive and you are at arrivals on your right hand is the taxi stand. You go into the office, tell them your destination, you pay the fee, and you take your receipt to the taxi driver.
Pretty straight forward as the next day, my mum arrived on her own without speaking English, and she managed to figure it herself. Taxi cost was about £20, I believe.
On the return, we booked the hotel transport just for ease and the car was beautiful and not much of a price difference, just an excellent way to be sent off. I know Ana said they upgraded us to a limousine.
We took a taxi one day to go to the supermarket, and they just called it for us.
Funnily it was the same taxi driver who dropped us from the airport. He did offer his services to show us around as you can book them for half a day r full day and they can take you to several waterfalls and places in Salalah. So this is an option if you are budget conscious.
How I booked
The resort worked out a great deal, in my opinion, for what we received, and I would happily pay it again. The prices varied a little bit, and I was going to book the offer they had on their website until by some luck and me checking daily I saw that Hotels.com offered Half Board prices for the same price as breakfast on their own website even for three people.
Also, as I have mentioned, I love using Hotels.com because they have the most straightforward loyalty program. You stay 10 nights and get 1 night free, which is the average of your stays. I had forgotten I had already fone 4 nights so with my extra 6 I now have a £200 to spend on my next Hotels.com booking.
I would always check Tripadvisor, Hotels.com and the own Anantara website before booking.
Currently, Anantara sells Egift certificates until the 22nd of July 2020 which can be redeemed until 21 of July 2021 for $1000 for two nights with extra perks. This is cheaper than some other deals online for the resort at the moment.
Overall
The Al Baleed Resort in Salalah is my opinion ticks every box for halal holiday option. It is the closest you will get to 100% private pools for Muslim women, halal food, activities for the kids, family fun and overall a relaxing halal holiday in Oman.
We will definitely be going back to enjoy some more of the area since the weather is perfect even in the summer when the rest of the Middle East is boiling Salalah becomes full of greenery, and the temperature is only 30 degrees. Many Arabs escape from Saudi or the capital Muscat, and they come to Salalah due to this.