Many people search yearly for countries to spend Ramadan in and travel to. Well, this is much easier nowadays with working from home. If you are like me with a travel bug, you want to make the most of this Ramadan 2023 and travel to some amazing places.
I have lived in Saudi Arabia and Qatar, and I have celebrated Ramadan and Eid in the UAE, so I can confidently say there is something nice about experiencing Ramadan in a different country.
When is Ramadan 2023?
This year Ramadan 2023 falls approximately from the 22nd of March to the 21st of April 2023, which, if you are in the UK, will have a little less fasting. The past few years have been very long since they fell over the summer, but we are slowly moving towards winter Ramadan.
One of the reasons for escaping for me was to save the fasting time. 🙂
It is also important to keep in mind that not all Muslim countries will have that spiritual feeling that you might have in mind. Don't forget that even in countries like Saudi Arabia, during the month of Ramadan, people are working and living their life, so you might also be disappointed, and it might not meet your expectations. So keep this in mind as I know personally, for me it was something I didn't adjust to.
In the United Kingdom, we celebrate Ramadan with many events and preparations, but this might not be the case in other countries, so be aware of it.
If you can take your children during the whole month out of school, we can explore for the whole duration of Ramadan and Eid and have a grand holiday. In some of the countries in the region, you can even explore the neighbouring destinations as well and enjoy a really lovely Eid holiday.
In the countries below, some will be more budget-friendly than others, but in my opinion, whichever you pick, you will not be disappointed.
Best Countries to spend Ramadan 2023 and Eid in that are budget-friendly
1 Spending Ramadan in Saudi Arabia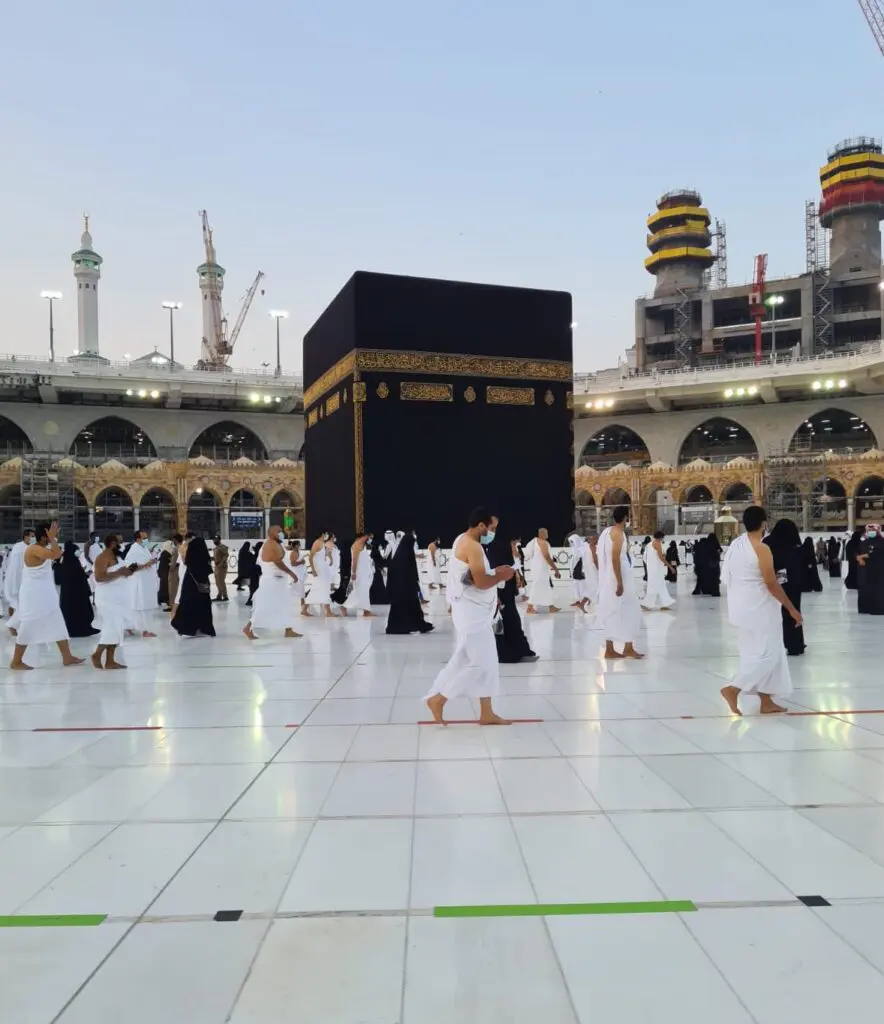 Spending the month of Ramadan and the celebration of Eid in Saudi Arabia is an experience that many travellers dream of having.
With the holy cities of Makkah and Madinah nearby, those wanting to experience the culture and atmosphere of Ramadan and Eid can do so without breaking the bank.
You can consider Jeddah as a base for your month as it is close to Makkah and Medinah and also not as expensive. You can also stay in Makkah if you want to, but you are better off staying in places further out and taking a free shuttle.
There are hotels in Makkah that can cost as little as £30 per night, even during Ramadan.
Flights to Saudi are cheaper with budget airlines starting from as well as £200 return from the UK.
Fasting time: approx 12hrs
2 Spending Ramadan in Turkey
Turkey is a great option to spend Ramadan in because you will have plenty of mosques, the weather will be pleasant, and it is also a very budget-friendly option.
Istanbul has so much history to explore, the blue mosque is stunning, and now you can even pray in Aya Sofia, which is another great option. You can not only enjoy delicious halal Turkish food but also there are plenty of activities to keep the children happy.
Even the cities outside Istanbul are great because the Muslim community is smaller; there are easier to navigate and fill that spiritual feeling. If you head out South towards Antalya, you can enjoy it is not the full tourist peak travel, so it will be relatively quiet as well.
If you are considering this option and you have children, apartments are a great option because you can cook part of your meals as well, and it is cheaper.
Turkey is also affordable for eating out, so even if you stay in a hotel, you will not break the bank with your food budget.
Flights from the UK to Turkey start from as little as £100 return.
You can read our guide to Istanbul for your visit there.
Fasting time: approx 14hrs
3 Spending Ramadan in Qatar
I have to say I loved my time in Doha and that the whole city came to life at night as you opened your fast. The public places and parks were full of people after Isha's prayer, and it was a nice feeling to be able to break your fast in the mosque or even outside in the open.
You can enjoy many talks by scholars at the University during the month and just the fact you can enjoy the nice weather and walk to the mosque.
Qatar is on the expensive end of the spectrum, especially the accommodation, but some short-term serviced apartments can be a good value.
When visiting Souq Wakif, you can enjoy a variety of local delicacies. The most popular dishes are Kabsa, Machbous, and Shawarma. You can also find various cheap street food, such as falafel, hummus, and sandwiches.
Flights to Qatar direct with Qatar Airways start from £600 return from the UK.
Fasting time: 12hrs approx
4 Spending Ramadan in Morocco
Spending Ramadan in Morocco can be a unique and cultural experience. Many cities in Morocco come alive at night during Ramadan with street vendors selling traditional foods and families gathering to break their fast together. There are also a variety of religious talks that take place during the month before Tarawih prayers at the mosque.
Additionally, Morocco is known for its rich culture, history, and beautiful architecture, making it an interesting place to visit year-round.
Several cities in Morocco are known for their Ramadan culture and traditions.
Marrakech is another city that is known for its Ramadan culture. During this time of year, the city's main square, Djemaa el-Fna, is transformed into a vast open-air market where locals and tourists can enjoy traditional foods and entertainment.
In Casablanca, the largest city in Morocco, Ramadan is observed in several ways. From traditional night markets to the decoration of buildings, Casablanca has become a vibrant city at night during the month of Ramadan.
Fez is considered one of the most traditional cities in Morocco, and it is particularly lively during Ramadan. The streets are filled with vendors selling traditional foods, and there are many events and activities held throughout the month.
I really enjoyed Fez, and as it is a smaller city, it also offers excellent budget options with regard to accommodation for the Islamic month. The old city is a great historical monument and has some of the world's oldest tanneries. So not only do you get to experience this special month in the country, you can truly immerse yourself in the culture as well.
Fasting time: approx 12hrs
5 Spending Ramadan in Jordan
If you want to combine places to visit during Ramadan with historical and cultural significance, then Jordan should definitely be on your radar.
With cheap flights from the UK from as little as £130 return, you can get there in under 5hrs and enjoy breaking off the fast in one of the world's wonders.
Amman is an excellent budget-friendly option as they have some cheap hotels, it is also one of the most popular destinations to travel to and a great option for spending Eid and exploring the country. I would also suggest you consider Aqaba, which is on the sea and close to Wadi Rum but also a smaller community of Muslims, so hopefully more spiritual as well.
Fasting time: approx 13hrs
6 Spending Ramadan in Malaysia
Spending Ramadan in Malaysia is a truly unique experience, as the country offers many things to do and places to explore for Eid.
Ramadan in Kuala Lumpur is very special, with many night bazaars and other places coming to life selling traditional things and small nick knacks. The food options are also plentiful, and during the Ramadan bazaars, there are vendors selling halal food of local cuisine at every corner.
From friends who have visited during Ramadan, they say the local community are very welcoming. It's also an excellent opportunity to come together with the local Muslim population to celebrate this spiritual month together.
There are plenty of mosques throughout the city that host special events like Quran recitals and communal iftar dinners, giving visitors an insight into the cultural diversity of Malaysia during Ramadan. They even have an Islamic museum in Kuala Lumpur, and there is so much Islamic architecture as well to explore throughout the city.
Also, there is so much you can do and explore in Malaysia during your Eid holidays, from the Pink mosque to Langkawi island; it is an excellent combination of spirituality during the holy month and also a great exotic holiday for Eid.
If you want to visit another country, Singapore is also a good choice as it's so close by, and although not a Muslim majority, there are many Muslims in the city, and many restaurants serve halal food. It is a great time to travel to the country, and there is a lot to do.
The country is budget-friendly, and you can find long-term rentals on Airbnb or serviced apartments that won't break the bank.
Fasting time: approx 13hrs
7 Spending Ramadan in Indonesia
Indonesia is one of the most prominent Islamic countries in the world, with 86% of the population being Muslim. If you are looking for a special Ramadan, visit one of the small local islands that offer a great option with many Islamic workshops, talks and history without being overly touristy.
The Muslim-majority islands of Gili and Lombok in Indonesia are a great option. With a small but vibrant Muslim community, you have the opportunity to meet new people and observe Ramadan in an intimate setting.
The Gili Islands are a cluster of three small islands located just off the northwest coast of Lombok. The islands are known for their beautiful beaches, warm waters, and vibrant coral reefs that are perfect for snorkelling and scuba diving. With plenty of things to do and enjoy, Gili is the perfect place to spend part of Ramadan and Eid.
The larger island of Lombok has a sizeable Muslim population and many halal restaurants and mosques. You can make friends with the locals in the mosque, volunteer during the holy month and also spend in one of the most beautiful destinations on earth.
Also, for Eid, you can either spend it there, or you can go to Bali.
Fasting time: approx 14hrs
8 Spending Ramadan in the United Arab Emirates
When we think about Ramadan, we usually don't associate it straight away with the UAE because of people think about Dubai. However, there are many great other cities to spend the holy month of Ramadan that is not Dubai.
Some of the best recommendations to visit during the holy month in the UAE are Sharjah and Abu Dhabi. Sharjah is close to Dubai, so you can always spend your day there and enjoy some of the activities, but it is also small enough to enjoy a more local feel in the mosque.
I love Abu Dhabi during Ramadan because it is a special place, especially the Grand mosque. There are many Ramadan tents, the restaurants have offers for Iftaar, there are many activities for children to do and enjoy, and the weather during March and April is still pleasant.
The local mosques do many talks, and Muslim travellers can break their fast in one of the most beautiful mosques. I like the festive atmosphere in Abu Dhabi and would happily go again.
Budget-wise, it is cheaper than Dubai, and also, you can find plenty of apartment options to cook some of your meals.
With budget airlines, you can also find flights for £200 return.
Spending Eid in Dubai can also be a lot of fun for the kids since there are many activities, or you can visit another destination nearby. I loved my time in Salalah in, Oman and the private villa we had.
Fasting time: approx 12hrs
9 Spending Ramadan in the Maldives
Can you imagine spending Ramadan in the Maldives? How cool would that be? Now, I am not talking about the resorts but rather the local islands, which are perfect for Muslim travelers.
The Maldives is a Muslim-majority country since all of the population is Muslim. The local islands have plenty of choices when it comes to halal food; there is no alcohol on those islands, there are several mosques, and because they are so small, they make for great community spirit too. The perfect halal holiday place to spend the fasting month.
You can enjoy Ramadan on one of the local islands, and then at the end of Ramadan or to celebrate Eid visit one of the resorts.
Visiting a local island in the Maldives is actually a great budget-friendly option since you can take a ferry and the activities are cheaper.
We recently visited Maafushi and loved our time there.

The Best Muslim Destinations to Visit for a Halal holiday
Fasting time: approx 13hrs
If you want to travel during Ramadan, you can even combine several of those destinations.
Benefits of Spending Ramadan in another country
Spending the holy month in a different country provides you with a unique opportunity of how Ramadan is observed in these countries.
You can experience some beautiful places, worship with other Muslims, experience their Ramadan or Eid traditions and really immerse in a different experience.
Fasting the month and travelling can be a challenge, but also it has its beauty. You will find many houses and malls decorated with Ramadan and Eid decorations and a feeling of celebration.
In many of these countries, you can also volunteer in some of their charities, distribute food to those in need for Iftar and enjoy tarawih and Quran recitals in different mosques.
I love how especially in the Middle East, everything comes alive at night, not only for prayers but also for living. It is a very different experience from the West.
In conclusion, Ramadan is a special time of year and should be celebrated in the right environment and atmosphere. By researching the best countries to spend Ramadan in that are budget friendly and offer a great spiritual experience, you will be able to get the most out of your Ramadan experience.
With careful planning and research, you will surely enjoy a meaningful and rewarding Ramadan, which is also an adventure of a lifetime.
Ultimate Guide on Things to Do in London as Muslim Traveller
The Ultimate Guide of Places to Visit in Doha by a Local- Plus all the Insider Tips for Exploring Doha
Muslim Friendly Baku: Here is why Azerbaijan's capital is a perfect halal travel destination.