Here is your best halal travel guide to New York City. A place I have a love, hate relationship with, but I can't seem to stay away from.
Almost a million Muslims live in New York, making it not only one of the most famous cities in the world but also very Muslim-friendly. It's home to a melting pot of cultures worldwide, making it a truly global city.
I have been to New York several times, and honestly, I didn't enjoy it the first time. After the second visit, I developed a love for the city, and now I look forward to visiting even for a couple of days.
This beautiful city is often thought of as a global trendsetter for a good reason. New York is home to some of the world's most iconic landmarks, from the towering skyscrapers of Manhattan to the art galleries and museums of Brooklyn.
With its Muslim-friendly environment, it's becoming an increasingly popular destination for Muslims looking to experience all the city offers.
New York has plenty of halal restaurants and mosques scattered throughout the city and is one of the most Muslim-friendly cities in the USA. So whether you're looking to explore its rich history and culture or enjoy its unique atmosphere, New York City is sure to offer something unique.
Today, the city is home to about 800,000 Muslims or 9% of its population, and 22% of the entire Muslim population in the U.S. Muslims have contributed to NYC's food, art, and politics.
Best Time To Visit New York City
While there is no wrong time to visit NYC, the best time to go is during the spring and fall shoulder seasons, avoiding the significant events like Fashion week of the summer peak season, July and August.
The weather is pleasant but not overly hot, and the tourist crowds are not as overwhelming as they are during the peak summer months.
For those on a budget, the cheapest time to visit New York is on weekends from mid-January to the end of February.
During this period, hotel prices are at their lowest, and fewer tourists compete for space at popular attractions.
I personally prefer visiting in September / October as there are fewer crowds. Still, nice weather and hotel prices are lower than in summer.
I can then explore New York city without the tourist crowds and queues.
What to Prepare before going to New York?
No matter the year, New York City is always bustling with life. And whether you're visiting for business or pleasure, there are a few things you'll want to make sure you pack before heading to the Big Apple.
First and foremost, Muslim-friendly New York City requires comfortable walking shoes. With so much to see and do, you'll be on your feet all day long, so it's essential to have comfortable footwear.
As a Muslim, especially if you are a hijabi or a niqabi, you won't have a problem in the streets as it is safe. Secondly, make sure to dress appropriately for the weather. New York summers can be unbearably hot and humid, so pack light, airy clothes that keep you cool.
Conversely, winter in New York can be very cold, so ensure you have plenty of warm layers.
Things to do in New York City
Muslim travelers often face difficulties when planning a trip, as they have to consider the attractions and activities that interest them and the availability of Muslim-friendly options.
However, Muslim visitors to New York City will be pleased to find plenty of Muslim-friendly attractions, such as the Islamic Center of New York.
1. Empire state building
The Empire State Building offers Muslim travellers a breathtaking view of the city from 1,050 feet up and is one of the most popular tourist attractions in New York.
My tip: Go just as the door opens since the crowd is less, and you will have a more pleasant experience.
We visited just as the doors opened, and it was so much better than an hour later when it became crowded at the observation desk. It was also beautiful to see the city waking up and the morning mist above.
2. Statue of Liberty
France gifted the Statue of Liberty to the United States in 1886 to celebrate the centennial of America's Declaration of Independence. The statue symbolises freedom and democracy and is seen as a beacon of hope, opportunity and refuge for people seeking a better life. It has become an icon of religious tolerance, with its universal message that everyone is welcome regardless of race, religion or creed.
My tip: You can buy tours of the Statue of Liberty, or you can even take the free Staten island ferry and enjoy the view. We did both on several occasions, and I enjoyed them equally.
3. Brooklyn Bridge
The Brooklyn Bridge is one of many signature landmarks of New York City and is also one of the oldest suspension bridges in the country. Its six lanes span the East River, connecting Manhattan to Brooklyn.
Walking across the bridge remains a popular tourist pastime with a beautiful view of Manhattan. It is definitely a must-visit, but I would also recommend exploring Brooklyn. There are plenty of halal food options and places to talk and enjoy there as a Muslim traveller.
4. Central Park
I always find parks very relaxing. Central park is one of the most Muslim-friendly places in New York City; since it is a park, you can enjoy a walk, a picnic, coffee, and, if you are with children, the lake and playgrounds.
Located in the heart of Manhattan, the park is a popular destination for Muslim tourists and New Yorkers.
The last time I went with my mum, I took her for a lovely lunch in the iconic Tavern on the Green. A beautiful restaurant in Central park. You can enjoy lunch or even a coffee and drink outside if the weather is nice.
They don't serve halal, but they have other options.
5. Fifth Avenue Shopping
Fifth Avenue has long been New York City's go-to destination for high-end shopping. For over 100 years, the street has been home to some of the world's most prestigious retailers, attracting a steady stream of fashion mavens from all over the globe.
Today, Fifth Avenue remains one of the most sought-after shopping destinations in the country, offering an unparalleled selection of luxury goods and services.
6. World Trade Centre
The World Trade Center is more than just a bridge to our nation's history, it's also a gateway to New York City's future.
Located in the heart of New York City, the World Trade Center is home to some of the city's most iconic landmarks, including the Freedom Tower and One World Observatory.
Visitors can also enjoy the Statue of Liberty, Ellis Island, and the Brooklyn Bridge from the top of the Freedom Tower.
7. Metropolitan Museum of Art
And when it comes to art, there's no museum more iconic than the Metropolitan Museum of Art. Sprawling across two million square feet, this world-renowned museum boasts a vast collection of art and artefacts from around the globe. From ancient sculptures to Impressionist paintings, the Met has something for everyone. Plus, its stunning Beaux-Arts building and sprawling courtyard make it a beautiful place to explore and appreciate art.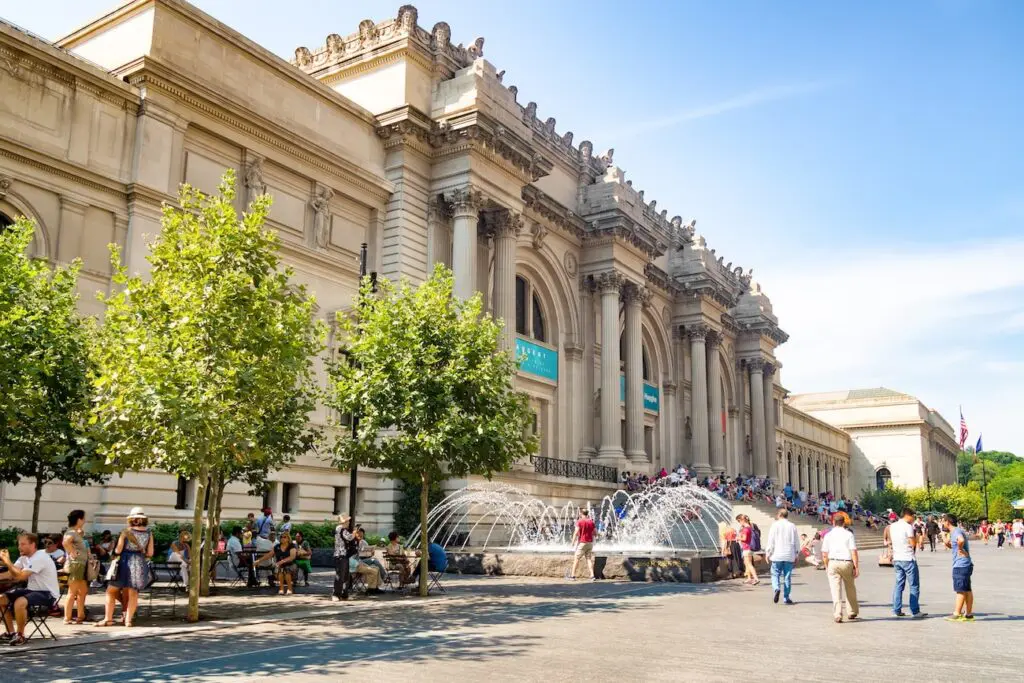 8. Grand Central Terminal
The station boasts a wide variety of restaurants, from classic Italian to traditional American fare. Many shops and kiosks also sell snacks, souvenirs, and artwork.
The building itself is a sight to behold. The grand concourse is one of the city's most iconic spaces, with its beautiful high ceilings and marble walls. On the upper levels, visitors can explore the many rooms and hallways that make up this historical landmark.
The station is full of natural light, and the high ceilings make it feel open and airy. The architecture is stunning, and the range of shops means that there's something for everyone.
You don't have to travel by train to visit the building, which I highly recommend.
9. New York Public Library
The New York Public Library is one of the most famous and iconic landmarks in New York City.
The main branch, officially called the Stephen A. Schwarzman Building, is particularly popular with book lovers, history enthusiasts, and architecture enthusiasts.
The building is massive and impressive, with two grand marble lions guarding the entrance.
10. Rockefeller Center and Top of the Rock Observation Deck
Rockefeller Center is one of the most iconic places in New York City. It's home to the Rockefeller Center and Top of the Rock Observation Deck, two of the city's most popular tourist attractions.
The plaza also has an enormous skating rink in the winter, a fishbowl view of NBC Studios, and hordes of stores and restaurants. Rockefeller Center is a must-see for any visitor to New York City.
11. Islamic Center of New York
The Islamic Cultural Center of New York located in East Harlem in Manhattan was the first building erected as a mosque in the city.
The centre's striking blend of ancient Islamic tradition and contemporary design is based on Islamic law, which prohibits depicting natural forms.
The geometric form of the mosque follows a recurring theme of square units, creating a modern space that is both spiritually uplifting and aesthetically pleasing.
Islamic tradition and culture are evident in every aspect of the centre, from the beautiful prayer hall to the popular cafe and bookstore.
12. Take a walk along the High Line
When I was in NYC last time, I decided to book a hotel in the garment district, and I explored other places that I usually don't visit, like the High Line.
The High Line is an elevated linear park, greenway and rail trail located in Manhattan, New York City. It was built on a former New York Central railroad spur on the west side of Manhattan in the Meatpacking District, Chelsea and Hell's Kitchen neighbourhoods.
The High Line combines landscaped gardens, seating areas, art installations, observation decks and more. It has become an iconic destination for visitors from around the world thanks to its unique design aesthetic and innovative use of urban infrastructure. Visitors can stroll along its walkways or relax among its lush greenery while enjoying views of the city skyline below.
13. Take a Tour Bus
I avoid the silly tourist traps, but my first time in NYC, I took a tour bus as we only had two days, and I wanted to see as much as possible. I actually loved the experience, and it is a great way to explore New York in you are short on time.
Many companies offer tours, and you can read my article for more info, but it is definitely a Muslim-friendly way to check the city, even at night time. After all, this is the city that never sleeps, well apart from Makkah.
14. Take a helicopter ride
So, I always wanted to take a helicopter ride around Manhattan, and this time around, I managed to do that. I combined it with a trip to the airport and used Blade helicopters; it was such an incredible experience.
The prices for helicopter tours are surprisingly affordable, starting from $140 per person and considering this is something you won't be doing every time, it's worth it.
If you want to read more about my Blade experience, you can do so.
15. Explore Times Square
Take a walk through the heart of New York City, Times Square. Witness the energy, the lights, the sounds, and the excitement of one of the most iconic destinations in the world.
Explore the vibrant square and feel the city's electric atmosphere. Come and experience the unique beauty of Times Square and immerse yourself in the hustle and bustle of New York City life.
My tip: Personally, I prefer visiting Times Square in the morning or early afternoon when it is less busy. At night time it is so packed I always try to avoid it.
Tip from a Muslim Traveler
I know one of the things many Muslims travelling to the US are worried about is immigration. The common question is if New York is Muslim-friendly, and then it is the long wait at immigration to get into the country.
Personally, when I travel to the US, I fly through Dublin. Since I don't live in London but in the North of England, it is the same whether I will take a flight to Dublin or a train to London.
However, in Dublin, you can do US pre-clearance, which means you clear US immigration in Dublin and then board the plane and land as a domestic arrival.
Sometimes depending on the season, you could wait in line, but it is nowhere near as bad as the. 2hr queues I have had at JFK.
Halal Food in New York
There is an abundance of halal restaurants in New York. From budget-friendly like the Halal Guys and food carts on every New York corner to fine dining restaurants like Nusret in New York.
You can check out our ultimate guide to halal food in New York here.
Places to pray in NYC
There are many mosques and Islamic centres in New York City where Muslims can pray. Additionally, many universities and community centres in the city also have designated prayer spaces for Muslims.
1. Islamic Cultural Center Riverside Drive
The Islamic Cultural Center of New York is more than just a place of worship – it is a vital cultural centre for the Muslim community in New York City.
The Center provides its members with various services and facilities, including a mosque, a library, a school, and a community centre.
Address: 1 Riverside Dr, New York, NY 10023
2. Masjid Manhattan
Masjid Manhattan is a multi-storied mosque that is very spacious. It has two access doors: one leads to stairs, and the other one leads to elevator access. The wudu place is in the basement.
The women's prayer room is on the 4th floor. Masjid Manhattan is a very welcoming place for all Muslims.
3. The Prayer room at NYU
There are many universities and community centres that offer prayer facilities I have prayed at New York University near Washington Park if you are in the area. I know they have various rooms throughout their campus in New York. You can ask around if you see an NYU building. We asked one of the guards, and she showed us where to go.
How to save money in New York City?
New York City can be expensive, but it doesn't have to be. Here are some tips on how to save money in New York City.
1. Always walk One of the best ways to see New York. Walking allows you to take in all the sights and sounds of New York. So ditch the cabs and subways and explore on foot.
2. Be strategic about the place you are staying. I try and stay in hotels around the area I want to explore. The first time I went i stayed in a hotel close to Central Park, then I went to lower Manhattan and then to Midtown. Of course, if you are planning only one trip, then stay central, like in Midtown and then you can explore more.
3. Get a CitiBike membership. Citi bikes are New York's public bicycle system and are a great way to get around the city without spending a lot of money. A day pass costs only $9, and you can use the bikes as much as you want during that period.
4. Take advantage of free activities – There are plenty of free activities you can do in New York City. From free outdoor movies in the summer to free museum days, you can always do something for free. Take advantage of these activities to save money on entertainment.
3. Take the subway or a bus. New York's extensive public transportation system, and relatively affordable! A subway or bus ride will cost you only a few dollars, and it'll help you avoid traffic jams and high cab fares.
5. Get a free walking tour. There are so many tours to choose from; you can learn more about the history and small insights from local guides.
Safety Tips in NYC
As with any other metropolis, New York can be as safe as it gets, so being vigilant is important.
I have travelled alone as a solo Muslimah to the city without a problem, but it's essential to be aware of your surroundings and take precautions to stay safe.
We did have an incident when I was with my mum in New York. We didn't get robbed because I paid attention to my surroundings and kept an eye on this from experience. My mum was oblivious to the fact someone was trying to steal money and her passport while she was pushing her luggage.
Make sure everything is zipped up, you blend as much with the locals as possible and always take cash and valuables you actually need keeping the rest in the hotel safe box.
As a Muslim, you have to visit New York even once in your life. I find it impossible to stay longer than a few days and can't stay away long enough. There is so much diversity, things to do and explore, culture and just the opportunity to see something different.
Check out our other guides and posts on New York below.
Definitive Halal Food Guide New York
10 Of the Best Muslim Friendly Cities in the US to Visit
Your Ultimate Guide to Muslim-Friendly Miami
10 Most Delicious Halal Food Restaurants in Orlando, Florida
Halal Food Restaurants in Austin Texas
Muslim Friendly Baku: Here is why Azerbaijan's capital is a perfect halal travel destination.