Malta, a small beautiful European archipelago country in the central Mediterranean, includes several islands the majority of which are not occupied, with the exception of Gozo, Comino, Cominotto and Fijfla as well as the largest island of all, Malta.
Malta is also the capital of the country with all administrative and juridical activities based here. The entire country of Malta and Gozo only has 450,000 inhabitants.
I loved Malta and I was pleasantly surprised! I know many Muslims only visit Muslim countries and miss out on so much adventure and culture that build your character. I have friends who only go to Muslim countries because of the Halal food. For me personally, this is not an issue. I live in the West where not every restaurant serves Halal and I don't restrict myself to only Muslim countries for this.
Malta has an amazing history with some burial chambers, catacombs and historical sights dating back to 3.600 BC.
This small island has a greater concentration of historic sites than any other country with prehistoric temples, Roman catacombs and medieval villages. During its great history, it has been ruled by the Greeks, Romans, Phoenicians, Arabs, Normans and many more. Even their language is influenced heavily by the Arabic language and the centuries of occupation.
Today English and Maltese are the two official languages of the country.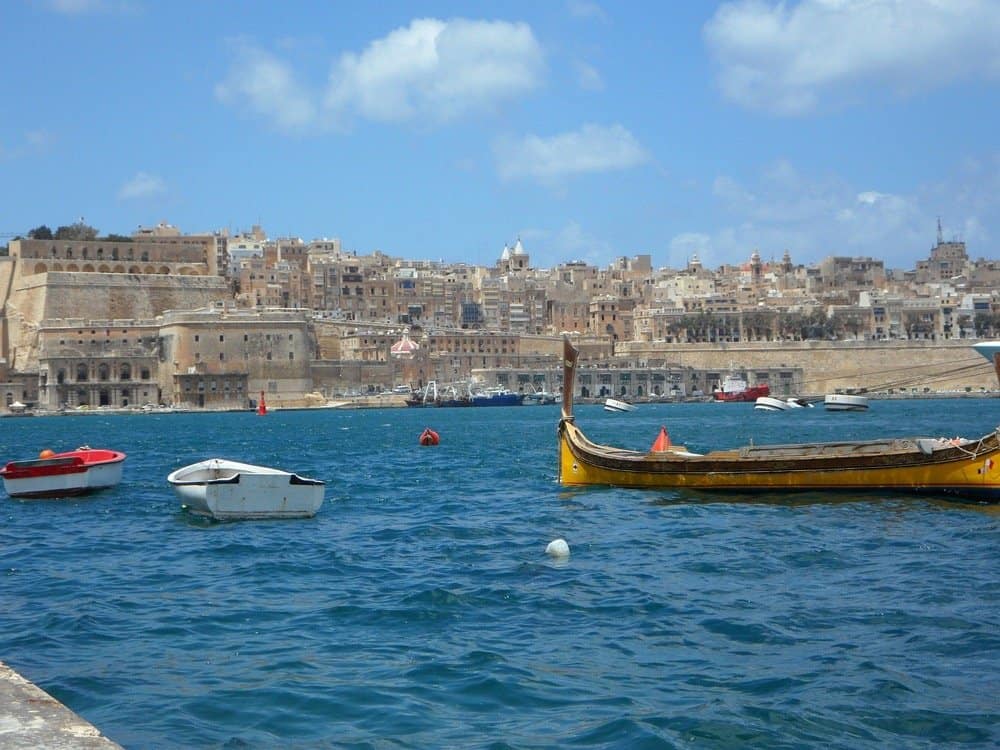 Malta not only has history but also great sunny weather for almost 300 days a year, making it a tourist hotspot. No wonder around 1.5 million tourists visit every year since this country might be small in size but it is big in character and beauty. No matter what 'type' of a tourist you are, Malta has something for everyone.
Families can enjoy days out on the beach or sightseeing through the historic city or even both since distances within the island are relatively short.
Malta is a Muslim-friendly country and has a Muslim population and plenty of halal food options for Muslim travellers available in addition to a small local mosque on the island. Malta has everything you might want as a tourist, halal food, amazing private villas, history and beautiful location.
Here are the best things to do and see in Malta on your next trip.
Country Profile:
Location: Republic of Malta
Capital: Valletta
Major languages: Maltese, English
Major religion: Catholicism
Currency: Euro
Things to do in Malta
Valetta
Valetta is Malta's capital and it is also known as The Fortress city and it was named after its founder Jean Parisot de la Valette. Many of the streets are still closed and only for pedestrians and the views from the small streets are inspiring. Spend a day exploring Valletta and don't forget to visit the Harbor for some amazing views as well as St Johns Cathedral.
The best hotels in Valetta according to TripAdvisor
Book here Hotels.com -Earn a reward night after every 10| HotelsCombined | Expedia
Medieval Mdina
Definitely, a must-visit place in Malta is the old Mdina. Imposing walls, cobbled streets, and beautiful architecture it is definitely a city you shouldn't miss. Once it served as the capital of the island. The town is only 220 square meters and has only 300 inhabitants within its walls.
Not many cars are allowed within its walls and it is known to locals and visitors as the silent city. This medieval town can literary take you back in time with its dungeons, cathedrals, cobbled streets. Don't forget to visit the medieval museum and enjoy the views from the city's walls.
Check best hotels in Malta on TripAdvisor
Book here Hotels.com -Earn a reward night after every 10| HotelsCombined | Expedia
Breathe the sea air at Grand Harbor
The Grand Harbor is one of the deepest natural harbours in the world and it has been since the Phoenician times. It is a spectacular harbour with massive sandy walls overlooking the sea that you shouldn't miss when in Valetta. It has been used for centuries and for over 170 years by the British and the Knights of St John.
As we mentioned above you should definitely spend some time in the Barrakka Gardens where you can enjoy a coffee, walk around and enjoy the great views or even visit the cannon museum located there.
Palazzo Parisio and Garden
Palazzo Parisio located in Naxxar, Malta. It was first built as a hunting lodge as well as being used for summer residences and even a college. It was then acquired by Marquis Scicluna in 1898 who turned it into a beautiful palace with amazing gardens.
Today the palace and the surrounding garden is open to the public and it is perfect for an afternoon tea and stroll around the manicured gardens. A great way to spend a quiet evening taking in the Maltese beauty.
Hal Saflieni Hypogeum
Hal Saflieni Hypogeum is an actual barrier complex cut into rock underground dating back to 3600BC and 2500BC. It was created by the same people who created the prehistoric temples on the island and it is a UNESCO World Heritage Site.
For conservation purposes, only 10 people are allowed in per hour and no kids are allowed under the age of six. If you would like to book tickets to visit the place you should do this well in advance while planning your trip. The tickets are sold in the Archaeological Museum in Valletta as well but since they are on a first come first serve basis they might not be available.
The whole place is curved, mostly by hand and it was held up to 7,000 bodies in its prehistoric times. It is of great historical importance and it does show a glimpse of a different era. You will see the three layers of graves all curved within the stone, as well as parts of their burial process.
The tour starts with a short video of the Hal Saflieni Hypogeum and it is accompanied by audio throughout your tour.
Best Beaches in Malta
Malta has some of the most beautiful and crystal clear waters in Europe. Due to the warm weather throughout the year, the water is warmer than in many other Mediterranean resorts. Although the beaches are not segregated you can swim with a burkini or even just enjoy the sun. Some of the most famous beaches are the Golden Bay, the Blue Lagoon and you can even enjoy a swim in St Peter's natural swimming pool lagoon.
Private Villas
Due to the historic nature of how the houses were built within enclosed walls, Malta offers great villas with high privacy for Muslim travellers. You can find villas that are not overlooked with swimming pools making it an even more attractive destination for Muslims.
They are also surprisingly affordable and you can find plenty of choices on Airbnb.com. You can also receive £15 if you are new to Airbnb with my link here. I love finding cheap Muslim friendly villas with pools for a hijab free holiday so make sure you also check my tips on this.
What to Expect
If you go during the summer you will most likely not be impressed by the loud music and all the "British nakedness" depending on where you are staying. But I would totally recommend you visit during the low season as we did. Because it is so close to Africa, the climate is mild and it has nice weather all year round. It has a great history of Islamic, 90% of their language is of Arabic origin and have similar words.
Halal Food in Malta
There are several places in St Julian and Sliema where you can find halal food, from restaurants to takeaways in the area. The Intercontinental Hotel in St Julians does offer halal options but it is advisable to check with the property in advance.
There are even some restaurants owned by Muslim owners who serve halal food such as Mamounia in Sliema, Turkish kebab and Shekinah restaurant in St Julians which also serves Arabic and Indian dishes.
Mosque
There is a mosque located in Malta in Paola called Mariam Al-Batool mosque, it was previously known as the Islamic Centre of Malta. It is visited by the small Muslim community on the island as well as visitors.
You can find a link for the mosque here.
Address to the mosque: Triq Kordin, Paola, Island of Malta, Malta (it does show on google maps)
Accommodation
We stayed at the Hilton Hotel in Saint Julian. If you have a Hilton Gold card you are guaranteed to get great treatment from the hotel and an upgrade to an amazing view and lounge with free food. They were very nice to us, friendly and welcoming not even for a moment we felt that we were discriminated against because we were Muslims.
Just two minutes walk from our hotel there was a Halal Turkish takeaway with some great food and they serve massive portions. 🙂 Surprisingly there were two fine dining halal restaurants 20 minutes walk down the road.
My other hotel picks for Malta
How to Get There
From the UK and the rest of Europe, it is relatively cheap to reach Malta plenty of low-cost airlines fly to Malta from various European airports. If you are looking for a short break then I would totally recommend Malta for a family trip.
I would also suggest you rent a car especially if you have children, it is a small island and the car rentals are not very expensive. Plus they drive on the right side of the road. 🙂
Skyscanner is my number one website when looking for flights. It's great because it shows you the cheapest flights from low cost and other airlines.