I am so excited about Wizz Air starting flights to Saudi Arabia. There is no denying that budget airlines have transformed the way we travel. I remember 15 years ago when I came to the UK to study, it was only Easyjet as a budget option.
Since then the industry has grown so much that it is amazing the prices and options available. Low-cost airlines have provided the opportunity for people who otherwise might not be able to travel to actually explore the world.
With cheap flights starting from as little as £10, with no frills, of course, you can arrive at a new destination within a few hours.
One of the most aggressive players in the industry is no doubt Wizz Air which has recently expanded its operations to the Middle East.
I have flown with Wizz Air countless of times without an issue and years ago a flew with Wizz Air from Sofia to Dubai and the flight was as expected. Got me to the destination.
Now with Saudi Arabia opening more to tourists, the airline has launched several new routes. This means that there are more options available for those who want to find cheap flights to Jeddah or Saudi in general and then make the connection to Umrah.
This is exactly what excites me! The opportunity for people to perform DIY Umrah on a budget.
I really hope they keep the prices low and don't go the Pegasus route, which although cheap is not the cheapest sometimes.
Here are the new routes that WizzAir is starting flights to in Saudi.
Wizz Air flights to Jeddah
Below are the cities that they are flying from or will be starting to fly to in the near future. I am happy to see that most of these are major airports and cities with good connections to the UK. For example, Rome, Venice and Milan offer the great option as hubs with low-cost flight connections.
You can even make a holiday out of it before or after Umrah.
Vienna VIE (from Dec 22) $61
Larnaca LCA (from July 23) $91
Budapest BUD (from Jan 23) $56
Milan Malpensa MXP (from Dec 22) $61
Rome Fiumicino FCO (from Jan 23) $61
Venice Marco Polo VCE (from Apr 23) $82
Bucharest OTP (from Jan 23) $56
I am sad to see that Bulgaria, which I would consider a hub for WizzAir is not on the list for Jeddah. This would have been an amazing option for me personally since I have family and I can easily combine both countries.
It also means my family can visit us in Jeddah much faster and cheaper. However, they are flying to Riyadh from April 2023.
Wizz Air flights to Riyadh
Since Riyadh is the capital it makes sense to have several more flights to them as well. It is not an issue even if you are planning an Umrah as you can get a local budget airline and combine this with exploring Riyadh as well.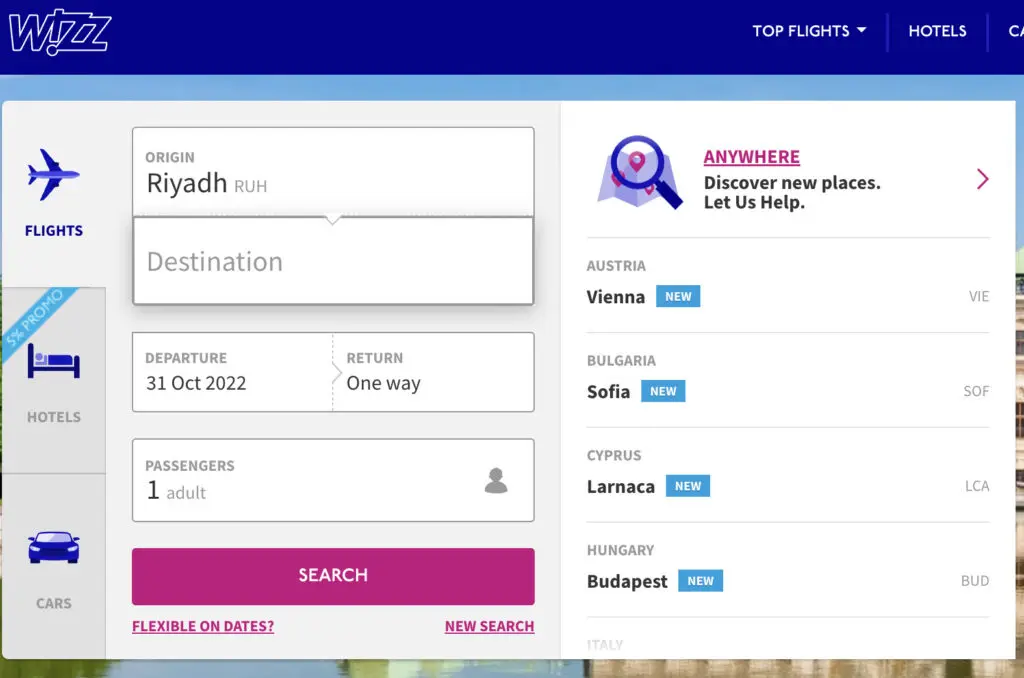 Vienna VIE (from Dec 22) $66
Sofia SOF (from Apr 23) $56
Larnaca LCA (from Apr 23) $61
Budapest BUD (from Apr 23) $56
Catania (Sicily) CTA (from Apr 23) $56
Milan Malpensa MXP (from Apr 23) $100
Naples NAP (from Apr 23) $61
Rome Fiumicino FCO (from Dec 22) $61
Venice Marco Polo VCE (from Apr 23) $56
Bucharest OTP (from Jan 23) $56
It is interesting to see that Italy is a heavy influence on the routes, which makes sense because it is also a very popular summer destination for Saudi nationals.
Of course, with Riyadh not being close to Jeddah they target passengers who are outbound for holidays in Europe.
WizzAir Flights to Dammam
Now, Dammam is an interesting option as a connection for those looking to get into Saudi on a budget airline. With Aramco the main employer and close to Bahrain it is a nice opportunity to explore that part of Saudi.
If you are visiting Dammam and Khobar I highly recommend you check my Instagram stories about the largest Oasis in the world as well as one of the best female spa hotels I have been to.
Highly recommend exploring that part of Saudi Arabia, which also reminded me I should write up about the places we visited.
Tirana TIA (from Apr 23) $56
Vienna VIE
Larnaca LCA (from Jul 23) $56
Budapest BUD (from Apr 23) $71
Rome Fiumicino FCO
Abu Dhabi AUH $24
WizzAir recently transferred their Middle East hub from Dubai to Abu Dhabi, which also means super cheap flights to the rest of the world.
It is a shame they don't fly from Abu Dhabi to Jeddah because this would have been a pretty cheap way to get to Umrah.
I am pretty sure in the future they might start operations but considering how lucrative the route is for the Middle Eastern carriers I am sure there would be pushback as well.
Wizz Air Travel Tips
Wizz Air being a low-cost airline of course it makes sense to actually travel only with hand luggage than a suitcase. It is also way cheaper. Because they are point-to-point airlines you cannot have a transfer of bags which means you will need to exit and re-check in.
If you are travelling with bags this is a hassle and extra expense. If you are travelling with children check out my accessories here for easy travel.
I have a few packing tips on the site about how you can fit a lot more clothes into hand luggage and personally, I love travelling light. I recently travelled for 10 days only with hand luggage and I had plenty of outfits.
Also, Wizz Air has an option to join the Wizz Air club, which I have had in the past when I knew I had several trips planned with the airline. You receive a discount on flights and luggage and there is a saving.
Now, this is super important. Wizz Air is charging these flights in USD, which means that if you are from the UK or other non-US country you will have to pay for the flights and have the currency exchanged.
Wizz Air is notorious for overcharging to do this for you, so read this article on how to save hundreds in many cases depending on how many seats you book.
Also, I would highly recommend you get a Wise card for those transactions.
Articles to check out
Why I love Transferwise as a Muslim Traveller and became my travel companion
Here is Why Paying in Local Currency When Travelling is Always Smarter
Grand Hyatt Al Khobar Hotel Review – Amazing Female-Only Spa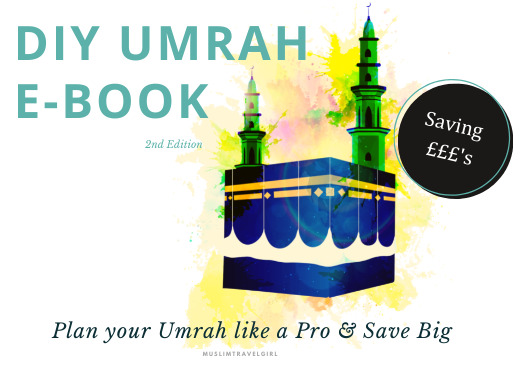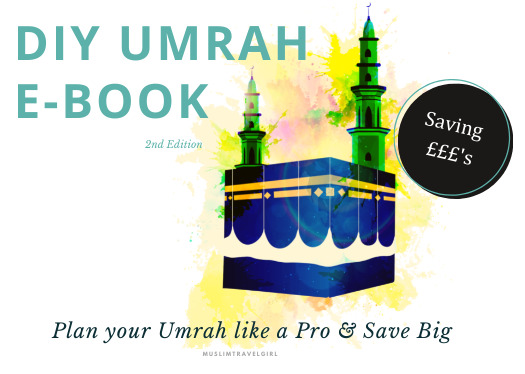 DIY Umrah E-Book
Imagine going for Umrah, standing in front of the Kabah without having to pay thousands on flights, accommodations or agents.
In my DIY Umrah E-book, I share with you how you can save thousands every time for every trip. It truly changes the way you travel.