Time flies, and it is almost time for the Easter school break which is perfect for a halal holiday with the family since it is two weeks long and you can do plenty of exploring during that time.
This year it also falls just before Ramadan, so spending some quality time with the family and recharging before the Holy month is a great option too.
I have put together several Easter school break halal holiday deals with my new favourite site Rihaala. I have partnered with Rihaala and the team behind it, which I have known for several years to promote and share with you this great platform.
Rihaala is the Muslim-friendly version of Expedia. You can book flights and hotels which will be Muslim-friendly, but they will also be ATOL protected so if anything goes wrong, you have extra added protection.
The offers I have selected before as always are destinations I love, with deals I would book myself personally and are for a family of four: two adults and two children of school age. Dates vary depending on the cheaper flights, but it is for 7-10 days duration.
All the halal holiday deals can be booked via Rihaala.com, I have chosen my favourite after scouting their site for hours.
Dubai
The Middle East has perfect weather for a halal family vacation in the sun. Dubai also offers so many things to see and do that you definitely won't get bored. Plus also it is a Muslim country so you can guarantee the options of mosques, halal food and halal holiday specifics.
Check out our article for things to do in Dubai with your family.
Dates: 5 April – 12th April 2020
Hotel: Jumeirah Creekside Hotel
Price: £2800 with breakfast
My prefered option at the hotel will be the Jumeirah Creekside as you can buy Wadi park tickets for 75 AED instead of 299 AED.
You can also split your time between two hotels if you don't mind moving and visit the Dubai Marina as well.
Tips: For a family using the metro or renting a car is a cheaper option than using Uber.
If you would like to do activities and still save some money, check out Groupon as they always have discounts and offers for things to do in the UAE.
Doha
Doha is my current home, and I consider it one of the most halal-friendly holiday destinations. The country is beautiful; it is safe for tourists and residents alike and also extremely family-friendly.
With the World Cup in 2022, the city is developing rapidly, and there are many exciting sporting events and festivals.
During the winter months until about the end of April, there are many festivals and activities for families, whether it is outdoor or indoor.
It is also a perfect halal destination to explore in a week.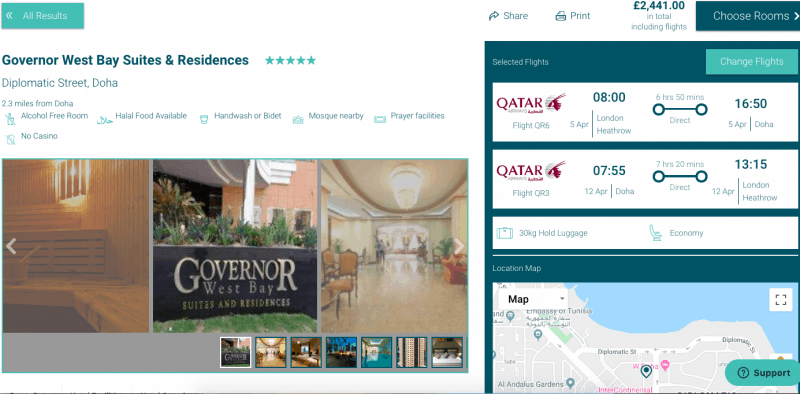 Dates: 5th April – 12th April
Hotel: Grosvenor Residence West Bay
Price: £2440
I like the hotel because it is an actual residence apartment so if you want to cook, you can easily do so. Also, it is in a lovely area so you can walk to the Corniche and enjoy some of the gentle breeze, one of my favourite activities during the colder months.
Make sure you read my article on the best things to do in Doha. I have packed a lot of advice and suggestions here.
Tips: From West Bay, you can order a free shuttle to take you to the metro, which is the cheapest way to get around Doha now. Download the Doha metro app.
For a family that plans on eating out a lot check out the entertainer app and my article here. We use this a lot, and it saves us money when eating out.
Umrah
A great time to visit Makkah this year will be just before Ramadan starts. It will be a nice boost for the month to come, and you can enjoy the time with your family.
I mean, there is no better halal holiday during destination easter school break than the Holy land.
Dates: 6th April – 16th April
Hotel: Hilton Convention Makkah
Price: £2700
We have stayed in the Hilton Convention Makkah several times, and the hotel is excellent and close. The price includes a room on an executive floor which provides access to the lounge for breakfast, afternoon tea and dinner. You can check my Instagram stories for reviews of that.
If you want to see a full walkthrough on how to book Umrah with Rihaala I have one here.
For more information on how to issue a Saudi tourist visa, check out our main article here.
Barcelona
One of my favourite Spanish cities is Barcelona. I mean if you haven't seen the impressive La Sagrada Familia you are missing as it is stunning up close.
Also, you can find plenty of halal food options and mosques to pray in the city without a problem. Being close to the UK also makes it a straightforward destination for a family visit. You can use the Rihaala site to chose a different hotel and location as well.
To read more about things to do check out our article on Barcelona.
Dates: 11th April – 16th April
Hotel: Barcelo Raval (Alcohol-free room when booked on Rihaala)
Price: £880
Tip: Take the hop-on / hop-off bus in Barcelona it is one of my favourite ways to explore the city.
Barcelona mosque: Carrer de Rafael Capdevila, 1, 3, 08018 Barcelona
Istanbul
Istanbul is one of my favourite cities, just an enchanting place to enjoy as a couple or with family. There is plenty of history, walks by the Bosphorus and some delicious halal food washed down with Turkish coffee.
April is a fantastic time to enjoy the city as it is just waking up from the winter months and getting into Spring, plus it is also a little less busy.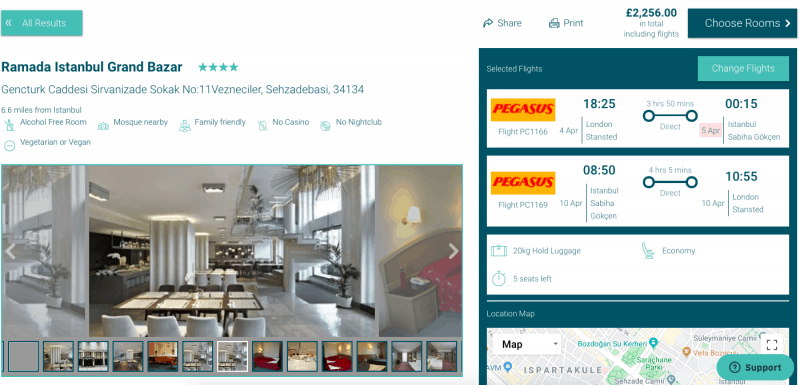 Dates: 4th April -10th April
Hotel: Ramada Istanbul Grand Bazar
Price: £2200
The hotel room is a family suite which means more space for you, and it also includes breakfast.
The Grand Bazaar is one of my favourite locations in Istanbul as you can walk around it, but you are also close to the Blue Mosque and Agia Sophia. I love people watching from one of the cafes there.
If you want to know what you can do in Istanbul, then make sure to check out our article here.
Antalya
Medditerenian city Antalya is a great destination to relax and enjoy. The weather is warm, and because it is still off-season, it makes for a cheaper holiday.
You can find the Rixos Antalya, a five-star hotel for around 640 per person all-inclusive.
Dates: 5th April – 12th April
Hotel: Rixos Downtown Antalya
Price: £2560
If you want to check out some other beach options, make sure to read our article here.
How to Book
All the holidays mentioned above are easy to book via the Rihaala.com website, plus all the bookings are ATOL protected. The link is an affiliate however you will never get charged extra, the properties and holiday destinations are places I have been and enjoyed and I know you will have a great time.
You can also use the Rihaala website to book holidays even if you are not located in the UK as they are an international company.
I know finding halal holiday deals especially during Easter school break can be hard; however, there are still good options available to consider. You will have all the comfort and time to enjoy a holiday before Ramadan and also bond with the family.
I would love to hear about your favourite school break destinations.