Barcelona is one of Europe's most incredible cities and the capital of Catalonia it is also very Muslim-friendly with plenty of options for halal food and places to pray in Barcelona.
If you love rich culture, heritage, and historical sites, this city is a must-visit for you.
Barcelona's history dates back to the 3rd century BC; this city was a major Mediterranean port in Spain known for its beauty, culture, and uniqueness. As a result, it is the 10th most visited city globally now.
Planning a visit to Barcelona can be overwhelming because of the same reason. You have to plan your trip to Barcelona at a time when you can enjoy your holiday without a crowd.
When to Visit Barcelona
Most people prefer a trip to Europe in Summers, exactly when it is too crowded. But if you are okay with a bit of chilly weather, you can plan more smartly.
A visit from April to mid-May is recommended. That's when the crowd is less, and the temperature is just right for a great Holiday.
If you have the options, Sept-Oct is also when it is neither very cold nor too warm, making Hijab and other modest clothing comfortable.
#1 Segadra Familia Church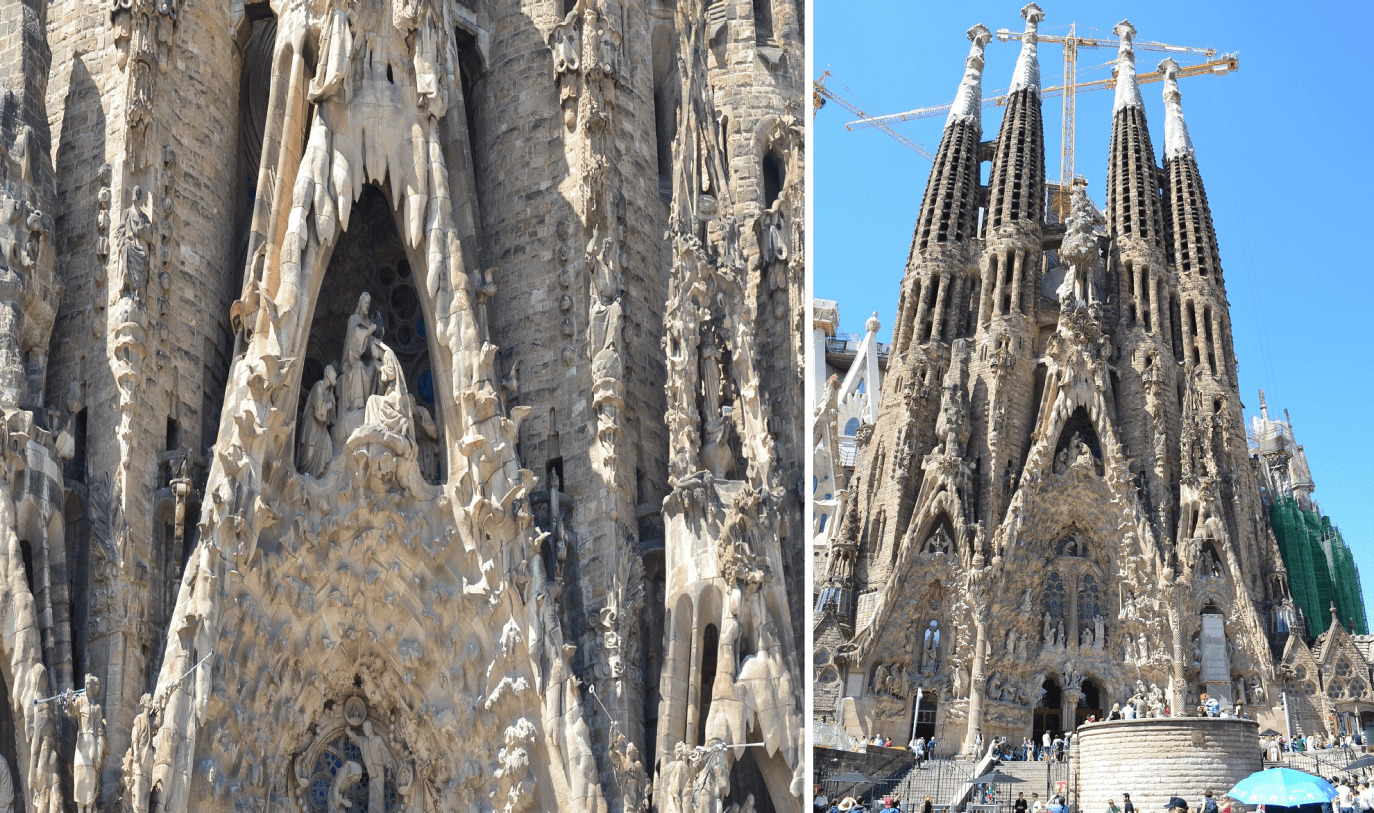 Sagrada Família is the best place to start your sightseeing in Barcelona and witness the dreamlike work of Catalan architect Antoni Gaudí.
It is impossible to find a church like this anywhere, and it is the longest-running building project ever.
The design of this building is unique and intricate because of which it's the most visited tourist destination, and of course, a must-see when in Barcelona.
It is 100% worth a visit and a must-see for architecture enthusiasts.
The building is stunning and is a hot favorite among tourists. The queue for tickets for this UNESCO World Heritage site is very long. Visitors can access the Museums, Nave, Cape, Shop, and the Nativity and passion steeples.
The profits generated from tourism here go to fund further construction. The project is to be finished by 2026.
Pro-tip: Book your tickets to visit the Sagrada Familia Church from inside in advance. It will help you skip the queue and save some money.
The money generated from the tickets is used for the construction purpose and to finish the project. The details can be found on their website and you can even avail yourself of a discount if you're in a group of 9 or more people.
#2 La Rambla Street
La Rambla is a beautiful tree-lined pedestrian street that's very popular among visitors.
The street is one of a kind. You can see the fantastic tile work, famous statues, and live performances. People also love shopping at La Boqueria and El Corte Inglés (where you can find anything).
If you are a fan of art and culture, you can visit the Art Gallery at Centre d'Art Santa Monica. It is only a short walk from the street.
You can also grab a bite at Cafe de l'Opera and Pasteleria Escriba to enjoy great cuisines.
Make sure to have a gelato when you're there. I am sure you'll enjoy it!
There were many international and local brands there, and it's a must-visit for shoppers where you can purchase locally produced goods. You can call it Barcelona's Social Hub.
Pro-tip: Although Barcelona is a safe place, this place has a pickpockets problem; so stay alert at all times.
#3 Modernist buildings
Spain has beautiful architecture that reminds of the olden times. Although the buildings were built in historic times, they remind of the beauty of true architecture, though not modern, they were pleasant to see. Here again, you can see the works of Antoni Gaudí, the famous Spanish architect.
We just took a stroll around the areas in Barcelona and explored the city on foot.
Pro-tip: Book and enjoy a walking tour around the city, it will give you insider tips and history from a local perspective. Here is why we love them.
#4 Magic Fountain Show
The Magic Fountain Show is extremely popular among families visiting Barcelona. A great place to take some good pictures. The vibes are fantastic here, and you can spend an entire evening at this place.
If you arrive early, you can explore some beautiful nearby areas. During summers, the evening shows are from Thursday to Sunday (9 pm – 10.30 pm), and winter shows are from Friday until Sunday (9 pm – 11.00 pm).
Make sure to arrive on time and enjoy the show when you are here.
The admission is free, and your kids will love the water and light shows here.
Pro-tip: Check the timings of the show before going there.
#5
Picasso Museum
With a collection of 4000+ paintings and artworks of Pablo Picasso, this museum is a perfect place for art enthusiasts.
The painting shows Pablo Picasso's evolution from a young painter to a world-renowned artist.
You can purchase the tickets online to avoid the cue on a busy day.
Pro-tip: If you visit on the first Sunday of the month, you can see the museum for Free. Entry is also free every Thursday after 6 pm.
#6 Camp Nou stadium
You'll be surprised to know that Barcelona is also known as Barça because it is home to the legendary FC Barcelona team.
If you are a fan of football, you can purchase tickets to see the game. Suppose there is no game around your visit. In that case, you can book a Barcelona stadium and museum ticket, also known as the Camp Nou Experience.
Pro-Tip: You might have FCB shirts and scarves outside the stadium on match days.
#7 Mercat La Boqueria
When you are in the city, don't miss visiting this lively local Spanish market. You can observe the shoppers' hustle-bustle here who are usually busy buying the local produce.
There are fresh fruits and vegetables and if you visit here a little early in your trip, feel free to buy the fruit basket here.
Overall, You'll have a great time in Barcelona.

#8 Barri Gòtic (Gothic Quarter)
Barri Gòtic is where Christopher Columbus met Catholic Monarchs after his first voyage to the new world. You can find ancient Roman buildings' relics and get a peek into the gothic architecture.
There are small cafes and sidewalk terraces for you to absorb the vibe and feel the history.
#9 La Barceloneta
Unlike most of the European tourist locations, Barcelona features a beach. It is a go-to place for the locals to sunbathe and socialize.
If you are a beach lover, check it out and spend some time surfing.
Pro-tip: You won't find many Hala food options here. So, make sure to plan your meals and visit accordingly.

#10 Casa Mila
If you are into architecture, this building is the place for you to visit. Antoni Gaudi built it between 1906 and 1912. The area is open for the public to see every day.
It is a UNESCO-listed site and is known as "La Pedrera." La Pedrera, in literal, means The stone quarry because of its structure which also resembles an open quarry.
#11 Park Guell by Gaudi
Home to Barcelona's spiral towers and the famous mosaic lizard, Park Gueli is a masterpiece. It was a collaboration between Businessman Eusebi Güell and Antoni Gaudí.
People love it for beautiful panoramas from the park's main terrace. You can get to the park for free, but if you want to go to the best parts, purchase a ticket online that will cost around 10 Euros, and you will have a fantastic time.

#12 Montjuic Hill
This city features several high-profile museums, including the Ethnology Museum, the Museum of Archaeology, and the National Museum of Catalan Art.
At the top of the hill is the 17th-century fortress, which saw revolts and the Civil war in the 1930s.
Thanks to the castle's privileged location, on top of Montjuïc hill, you can experience superb views of Barcelona and its surroundings. The terrace provides a 360º viewing platform overlooking the city, the port, the Mediterranean, the Barcelona coastline, and the area of Baix Llobregat.
#13 Casa Batlló
Antoni Gaudi's masterpiece, Casa Batlló, wasn't built from scratch. Instead, it was a remodel known for its backstory and colorful design.
The design was an inspiration from the legend of St. George, which includes a dragon and a princess.
The roof depicts a dragon's back and boney windows, and the skeletal balconies represent the victims.
Many people love it from the outside and skip on getting inside the building. However, I highly recommend you to go in and enjoy the eye-catching interiors and the Noble Floor.
Halal food in Barcelona
In Barcelona, you can try international halal cuisines, including Indian, Pakistani, middle eastern, burgers, and fried chicken.
Some halal restaurants in Barcelona include:
Bismillah Kebabish
Thes guys offer mouth-watering chicken and lamb dishes. If you are in Barcelona, you must visit and try amazing food here.
The atmosphere here is busy, and the food gets cooked right in front of you. Here you can select food from an expansive menu. The portion size is also huge; if you are not very hungry, one plate would be enough for 2.
If you are a Kebab fan, you'll love it here.
Firdaus's Fries Chicken
2 minutes away from Bismillah Kebabish, this place has a perfect ambiance.
You can try a chicken burger here. The whole place has a fantastic aroma of food that increases your hunger and excitement while waiting for your order.
The portion size is good enough to make you full. The menu is more western.
Wild Beef
This place is relatively calmer, and they have fantastic beef options. I recommend a beef burger here. The portion size here is also big enough for 1 person.
If you fancy a halal burger in Barcelona, this is your place.
Italiana San Giorgio
This place is perfect for trying a halal Romal-style pizza. You can buy a single slice here or a couple of single pieces from different pizzas to try 2-3 other options.
It smells amazing and tastes heavenly. It is light and crispy, with air pockets in the base. You can hear the crunch when you are taking a bit. You'll love it.
Zeeshan Kebabish
Here you can see the best items highlighted on the menu. Here you can try excellent Pakistani halal curries.
I recommend Pakode, Chaat, Mix Grill (Seekh Kebabs, Chicken boti), Lamb curry and naan here. If you are here, you are up for a feast.
Arabia Cafe-Restaurant
If delicious Hala food and excellent service are your things, check this Cafe-Restaurant. You'll love the authentic flavor and the Chicken liver on the menu.
Malaysia
If you like Malaysian Halal food, this is the place for you. Here you can indulge in dishes like Lemak, Sate Ayam, Char Kway Teow, Nasi, and many more.
Some other popular Halal Food places are
Sabor Persa, Fenicia, Papadam, Catalunya Restaurant, Bella Istanbul, Tandoori Nights
Pro-tip: You'll be surprised to find how different the portion sizes can be in different countries. I recommend peaking into the portion size of what other people order to give you an idea about how much to order.
You can also try a halal paella in Barcelona, a famous dish made of rice, seafood, or meat.
Mosques to Pray in Barcelona
As mentioned before Muslim-friendly Barcelona couldn't disappoint you without many places to pray. I suggest looking at the list of your daily route and picking one nearest to you or your hotel.
Several prominent mosques in Barcelona are:
Masjid Tariq Ibn Ziyad, San Rafael 10,08001 Barcelona

The Islamic Centre of Barcelona, Avinguda Meridiana, 326, 08027 Barcelona

Islamic Cultural Center and Omar Mosque

Mezquita Mayor de Granada
Accommodation in Barcelona
If you are a first-time visitor to Barcelona, you should stay at central locations. It will equip you with the best transportation connections and easy access to tourist attractions.
My favoure website to book travel for good deals is Hotels.com as you receive a night free!
Make sure to book your stay in weeks or months in advance to get good deals.
Pro-Tip: Try to find a balance between too central and too far accommodations; this will save you tons of hassle and money.
You can use the guide below to select which area you want to book your accommodation in:
Barceloneta for a central, traditional, and budget-friendly stay.

Ciutadella for a party-friendly and budget-friendly stay.

Born for a budget-friendly and near to the beach stay.

Les Corts for a central, traditional, party-friendly, and near to the beach stay.

L'Eixample for a traditional and near to the beach stay

Barrio Gotico for a budget-friendly and near to the beach stay.

Gracia for a central, budget-friendly, and near to the beach stay.

Sants Montjuic for a central party-friendly and near to the beach stay.

Las Ramblas for a budget-friendly and near to the beach stay.

El Raval for an upmarket and near to the beach stay.
Getting around Barcelona
Public transport options are convenient to travel around Barcelona. You'll find trains to most of the tourist locations.
You can purchase a 2-day/3-day pass (depending on the length of your stay). It will make your movements around the city extremely convenient.
If you want, you can also opt for the Hop-on Hop-off buses to explore Barcelona. You can also rent a car and explore some of the areas outside Barcelona.
The driving is not so bad if you can get past the left side driving and the scenery is beautiful. You can also explore the small country of Andorra that is only 2,5hrs away.
Overall, you'll love traveling to Barcelona. It is an ideal place to travel with kids or as a couple with plenty of Muslim-friendly options to enjoy whether you are looking for a weekend escape or a longer holiday over the summer.