Seychelles is a beautiful place located in the Indian Ocean. It's an attractive destination for Muslims, as well as nature lovers. Here is your Ultimate Guide to Muslim-Friendly Seychelles.
One can find many Muslim-owned businesses and even Halal restaurants in Mahe and other islands in Seychelles. The food is delicious, and the people are welcoming. Seychelles is a place where one can relax and enjoy natural beauty.
The lush trees, swaying palm trees, and boulders larger than life are some attractions that make Seychelles a must-see destination.
This archipelago is home to some of the world's most beautiful and unspoiled beaches. It's also home to coral reefs, natural reserves, and a giant Aldabra tortoise.
Seychelles did a great job preserving the wildlife, jungle, and island. As a result, it became one of the most popular tourist destinations in the world.
Every year, hundreds of thousands of people visit Seychelles to enjoy its pristine beaches, natural beauty, and wildlife. In addition to its natural beauty, Seychelles is also home to a rich culture and history.
Seychelles is a country with a long and proud tradition of hospitality. Visitors to Seychelles will find that they are always greeted with a warm smile and friendly attitude.
This Muslim-friendly place is where nature and culture come together to create an unforgettable experience.
Brief History of Seychelles
When most people think of Seychelles, they envision white sand beaches, crystal clear waters and luxury resorts. However, many people don't know that Seychelles is also an ideal destination for Muslim travellers.
One of the main reasons for this is Seychelles' rich history. The archipelago was once home to a large community of Arab traders, and as a result, there are numerous mosques and Islamic cultural sites to explore.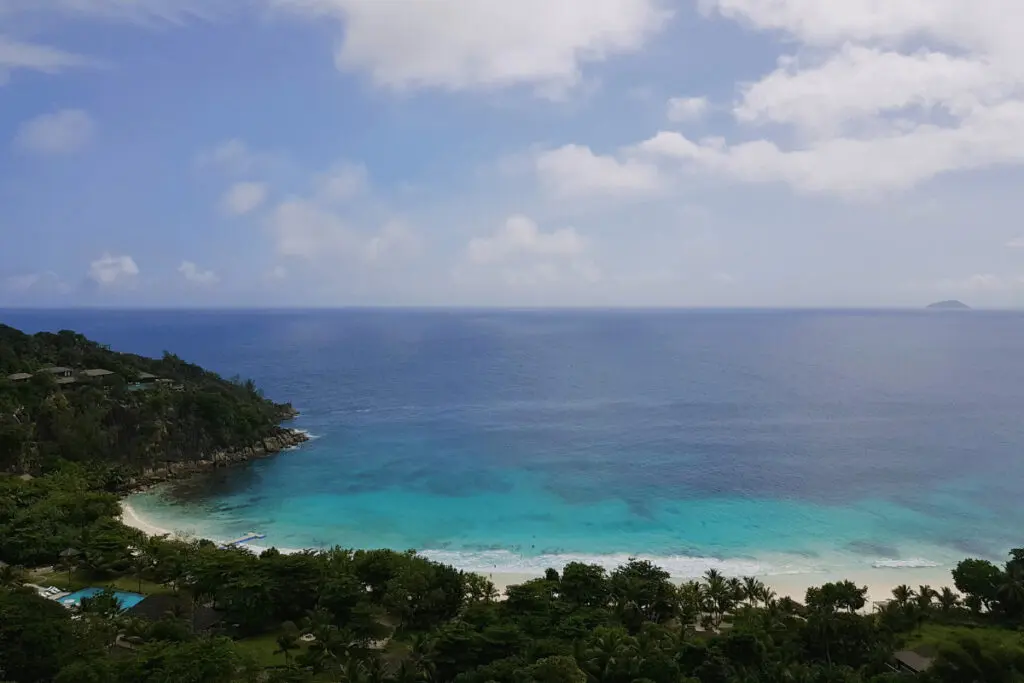 In addition, Seychelles has a long tradition of tolerance and respect for all religions, making it a welcoming place for Muslims.
So if you're looking for a unique holiday destination that offers relaxation, culture, and a halal travel experience, be sure to add Seychelles to your list.
Best time to visit Seychelles
Seychelles is renowned as a paradise destination, and for a good reason. The 115 islands that makeup Seychelles are home to coral reefs, rainforests, beautiful beaches, and abundant wildlife.
The best time to visit Seychelles is from April through May or October through November, when the weather is mild and perfect for outdoor activities like wildlife watching, sunbathing, and scuba diving.
What to Expect when visiting Seychelles
Seychelles is an archipelago of 115 islands in the Indian Ocean, off the coast of East Africa. So what to expect during your trip to this beautiful country?
This enthralling place is a popular tourist destination for its beaches, coral reefs, jungle, and clear blue waters. I recommend you pack light clothing, sunscreen, mosquito repellent, and a hat or sunglasses for your trip.
Seychelles is a tropical country with an average temperature of 27 degrees Celsius. The rainy season in Seychelles begins in October and ends in March. It has a humid climate with an average humidity of 80%.
Seychelle's official language is Creole, but English is widely spoken.
My advice is to be mindful of pickpockets and scams. Seychelles is generally a safe country to visit, but it is always best to be aware of your surroundings and keep your belongings close.
When we visited, we didn't experience any problems, but it is also good to keep alert, of course.
Seychelles is a beautiful country with something for everyone. Whether you are looking for relaxation or adventure, Seychelles has it all.
Things to do in Seychelles
With its sparkling turquoise waters, powdery white beaches and lush jungle landscapes, Seychelles is an idyllic destination for nature lovers and beachcombers alike. Here are some of the must-visit places and the best things to do in Seychelles:
1. Anse Lazio
Anse Lazio is the most promising beach on Praslin Island, famous for its white sand, shady Takamaka trees and glittering water.
The place provides an opportunity to enjoy snorkelling, swimming, and turquoise water around the boulder.
The picturesque beach is one of the famous tourist attractions available here. Whether connected to a hotel or not, every beach in Seychelles is open to the public.
Where: Praslin Island, Seychelles
2. Mahé Island
Mahé is the most famous island in Seychelles, and for a good reason. It's the largest island in the archipelago, where you'll find the capital city of Victoria.
Mahé is also home to some of the best beaches in Seychelles, as well as a variety of restaurants and shops.
Also, the central mosque of Seychelles is located there. If you're looking to experience some of Seychellois culture, Mahé is the perfect place to start.
The island is home to several historical landmarks, including the National Museum and the MattDamn Bird Sanctuary. Mahé is also a great starting point for exploring the rest of Seychelles.
With its convenient location and wide range of activities, Mahé has something to offer everyone.
3. Anse Georgette
Anse Georgette is a stunning Muslim-friendly beach on Praslin Island, perfect for couples who want to enjoy the sun and water without worrying about offending anyone.
The Muslim burkini is a great way to stay modest while enjoying all the beach's activities. With its beautiful clear water and tranquil atmosphere, Anse Georgette is the perfect place to relax and unwind with your loved one.
The beach can only be visited through the renowned Constance Lemuria resort, a private luxury resort on Praslin Island.
Where: Praslin Island, Seychelles
4. Beau Vallon
Beau Vallon is a famous tourist attraction in the town and is known for its local seafood.
Every Wednesday evening, a market serves street food like curry, rice, grilled seafood and cocktails.
The Beau Vallon is the best place where one can rent a beach bed for $23 a day, and it's an excellent spot for swimming.
We stayed at The H Resort on Beau Vallon; they have halal food options on the property and plenty of activities on the beach.

You can read my review here.
Location: Beau Vallon, Mahe Island, Seychelles
5. Silhouette Island
Silhouette Island is the third-largest granite island in Seychelles and attracts tourists because of its natural beauty.
The mountain has rich biodiversity as tourists can see chameleons, turtles, and geckos, explore the dense cave and enjoy swimming and snorkelling.
The island has an option for trekking as Grand Barbe, a four-hour trek, is available to enjoy the climate.
6. Aldabra Island
UNESCO has designated Aldabra Island as a World Heritage Site. It is among the largest coral atoll in the world.
It originated from volcanic activity. Visitors to the island can see various birds and animals, including dimorphic egrets, Malagasy Kestrel, manta rays, tiger sharks, giant land tortoises etc.
7. La Digue Island
La Digue Island is a small island in the Seychelles where the area is quiet and serene.
Boutique islands like Saint Lucia are known for stunning beaches such as Anse Source D'Argent, adorned with granite boulders. In addition to authentic island accommodations, tourists can explore the island by ox-cart or bicycle.
8. Cousin Island
Cousin Island is known for its good practice of environmental management. It can be accessed by sea from Praslin or a nearby resort island, Cousine.
There are several endangered & exotic birds and animals nesting on the island. These include, among other things, Seychelles brush warbler, hawksbill turtle, magpie robin, a turtledove, and wedge-tailed shearwater.
Moreover, this granite island is unspoiled and exceptionally ecologically private. One will be provided with high levels of privacy at this facility.
9. Morne Seychelles National Park
Morne Seychelles National Park is located on the island of Mahe.
About 20% of Mahé's total area is devoted to the national park. The park has ninety-five peaks, including the highest point at 905 meters above sea level – Morne Seychellois.
It offers hiking tours that visitors can enjoy. On Sans Souci road, the path begins below the plantation. Coppola, Morn Blanc, and Casse Dent are the main trails.
Where: Mahe Island
10. Victoria
Victoria is a small city on Mahe Island, the capital of Seychelles, enriched with greenery and towery granite mountains.
It is most popularly known for its market, which is also known as the Sir Selwyn Selwyn Clarke Market.
Victoria has many tourist places, such as the Clock Tower, National History Museum, Cathedral, Hindu temple and botanical garden.
Where: Mahe Island
11. Clock Tower, Victoria
The Clock Tower in Victoria is a replica of Big Ben in London, a prominent tourist attraction on Mahe Island.
Ninety-six years after the clock tower was built, its chimes were first heard for the first time. After extensive restoration and repair work, the sound of its bell was first heard on September 17, 1999.
Where: Independence Avenue, Victoria, Mahe Island, Seychelles
12. Immaculate Conception Cathedral, Seychelles
This attractive cathedral was built on the site where the first church here, built-in 1851, was built by Father Leon of Avanchers.
It is another famous sightseeing in Victoria and is commonly known as Victoria Cathedral.
It is the largest catholic church in Seychelles, designed in French Style.
Where: Olivier Maradan St, Victoria, Seychelles
13. Victoria Market
The Victoria Market is also known as the Sir Selwyn Selwyn Clarke Market. It is the most chaotic space as capital cities like Mauritius and Madagascar are nearby.
The market has an option from fresh seafood to traditional paintings and exotic spices.
Where: Victoria, Seychelles
Halal Options in Seychelles
Mosques to pray in Seychelles
1. Victoria Mosque
Victoria Mosque is one of the most convenient places to pray if you're staying in Victoria. The Muslim community in Seychelles is small but growing, with most Muslim tourists coming from Malaysia, Indonesia, and Singapore.
While the Jummah prayer is at PM, it's recommended that you get there early by car, as parking can be challenging to find. The inside of the mosque is beautiful, with clean and well-maintained decor, and the security at the gate is also very friendly.
The Victoria Mosque is excellent for praying on a Halal trip to Seychelles.
Address: Rue De La Poudrière, Seychelles
2. Sheikh Muhammad Bin Khalifa Al-Nahayan Mosque
The nation's first mosque is the Sheikh Muhammad Bin Khalifa Al-Nahayan Mosque, situated in Victoria, the nation's capital.
It was constructed in September 1982 and has a golden dome seating 600 worshippers. And it is a stunning example of Islamic architecture.
Address: Beaufond Ln, Seychelles
3. Mont-Fleuri / Beau-Fond Lane Mosque
Muslim visitors to Seychelles will soon have a new place of worship to enjoy during their halal trip. The mosque can cater to up to 750 worshippers, making it one of the largest in the country.
Address: 9F86+H8P, Victoria, Seychelles
Halal food in Seychelles
Muslim travellers rejoice – Seychelles is a Muslim-friendly destination! All the imports come from Dubai, meaning their food, especially chicken and beef, is halal.
You'll be able to find Muslim-friendly restaurants serving up delicious curries, tandoori chicken, and roti prata. And for those who love seafood, there's an abundance of Muslim-friendly seafood restaurants serving fresh catches of the day.
So whether you're looking for a hearty meal or a light snack, you'll be able to find Muslim-friendly food options in Seychelles.
1. Bravo Restaurant
Muslim travellers will love Bravo restaurant for its halal food options in Seychelles..All the meats are halal, and the burgers are especially noteworthy – they're thick, juicy, and taste homemade.
The restaurant also has a relaxed and comfortable atmosphere, making it the perfect place to unwind after a long day exploring Muslim-friendly Seychelles.
Address: 9F5G+H56, Eden House, Eden Island, Mahé, Seychelles, Providence, Seychelles
2. L'INDOCHINE ( European cuisine infused with traditional Indian Ocean flavours)
This restaurant offers a delicious buffet breakfast, lunch and dinner with a focus on European cuisine. While the food is undoubtedly halal, the Muslim-friendly atmosphere and décor are what make this place stand out.
L'Indochine is the perfect spot to enjoy a meal with family or friends.
Address: Kempinski Resort, Seychelles, Seychelles
3. Mahek Restaurant
This restaurant offers some of the best Indian food in Seychelles, along with excellent service and friendly staff. Be sure to try their butter chicken, kababs, and Anjeer – you won't be disappointed!Address: 9CPH+XJ9, Beau Vallon, Seychelles
Where to Stay in Seychelles
People who visit Seychelles mostly prefer to stay on the three famous Islands, i.e., Praslin, La Digue, and Mahe.
We decided to stay on Mahe island and explore it as it is the largest one. Didn't regret the decision; however, another trip is needed to explore the rest of the islands.
There are many choices for hotels like our stay at the Four Seasons Seychelles, and you can read my review here. They also offer halal food, which makes it the perfect destination for a honeymoon.
There is also an option available for staying in a self-catering apartment at $100/ night with well-equipped kitchen facilities.
Mahe Island
Mahe Island is one of the largest islands in Seychelles, having an International airport covering 86% of the total population.
The best beaches are on the west coast, so living in the southwestern area is highly recommended.
We have a complete guide of our best halal-friendly hotels in Seychelles, check it out here.
How to get to Seychelles
Flights to Seychelles
Most island visitors arrive by aeroplane, with flights between 9 and 14 hours from the UK.
London has direct flights to Seychelles and flights with layovers from all of the larger British airports.
The Seychelles international airport is one of the most beautiful airports in the world. It is a truly stunning sight against the backdrop of lush greenery and gorgeous blue waters.
Also, their immigration stamp is the cutest.
Travelling around Seychelles
By Ferry
A high-speed ferry is the best option to travel from one island to another. A ferry is comfortable, spacious and air-conditioned, but the ride could be bumpy because of the weather.
The ferry prices are standard, and cat Cocos is the famous ferry service in the city. This provides transportation between Praslin, La Digue and Mahe.
Price list of ferry: (per person)
Praslin to La Digue – $15( 15 min)
Mahe to La Digue – $67(1.5hours)
Mahe to Praslin- $60(1 hour)
By Plane
Travelling between Mahe to Praslin by plane is the best option for the seasick as the ferry ride is bumpy and reduces the time from 1hr to 15min.
A plane is a little spacious, having space for only 19 passengers and costs around $150 to return to Praslin from Mahe.
By Public Buses
Travelling by public buses could also be a good choice in Seychelles, but buses are not air-conditioned and are even time-consuming.
Praslin and Mahe have the network for buses that traverse the Island.
There is a bus stoppage after every hundred feet, and it costs less than 5- 7 rupees for a single journey.
By using Rental Car
Travelling in Mahe and Praslin using a rental car is the best choice as vehicles are automatic, compact, and easy to navigate in Seychelles.
Our rental was scratched so much I thought they would charge us. Apparently, it is common to damage cars. I would highly recommend having excess insurance for your car hire just in case.
Also, please note that the roads are very tight. There was one time I needed to do a 3-point turn, which was a memorable experience.
Taxis are expensive so hiring a car at around the US $45 – 60 a day is nothing wrong. There is no need to have an International driver's licence as one can use their home licence.
To find cheap car hire rentals search Skyscanner here for competitive prices.
By Bike
A bike is a good option as La Digue is a small and compact island where other vehicles cannot go.
The bike is available for children and adults; for kids, there is a separate seat, making travelling more accessible, and the bike is rented at $8 per day.
Safety in Seychelles
Visitors to Seychelles can expect to find a safe and welcoming environment.
The islands have a low crime rate and are generally very safe for travellers. There are a few things to be aware of, however.
First, staying hydrated in the searing heat and high humidity is important.
Secondly, mosquitoes are prevalent in the islands, so be sure to pack insect repellent.
Lastly, remember to take caution when swimming in the ocean as there can be strong currents.
Following these simple safety tips, you can enjoy a hassle-free holiday in one of the most beautiful places on earth.
I genuinely believe Seychelles is a magical place and a true halal-friendly travel destination. If you are looking for a halal honeymoon, I strongly recommend Seychelles.
Even the name Seychelles conjures images of a distant island paradise with white beaches, palm palms, and blue water. If you are looking for a Muslim Friendly destination in Seychelles to escape the daily grind, this small island country would fit the bill.
The Seychelles Islands are renowned for their natural beauty, offering visitors a chance to relax and unwind in a truly idyllic setting.
And while there are plenty of secluded beaches and hidden coves to explore, there's also plenty of adventure, from hiking in the lush jungle to windsurfing on the waves. No matter what your travel style is, Seychelles has something to offer.
The Best Muslim-Friendly Hotels in Seychelles with Halal Food
Four Seasons Seychelles A Stunning Hotel in Seychelles for a Muslim-Friendly Honeymoon with Halal Food
20 Photos that prove a Halal Honeymoon in Seychelles is not only possible but a Must
Ultimate Guide on Things to Do in London as Muslim Traveller
Muslim Friendly Baku: Here is why Azerbaijan's capital is a perfect halal travel destination.
Malta is a Great Destination for Muslim Halal Travelers and Halal Holidays