On my recent trip to Chicago, I was looking for places to stay, but I had a specific image in my head.
I wanted a view of the Chicago River so naturally, the LondonHouse Chicago came up.
Blame all the books and movies I have seen with a setting in Chicago, but I really wanted to make the most of my solo mummy trip.
Londonhouse Chicago history
LondonHouse Chicago is a historic landmark that has undergone several transformations over the years. Originally built in the 1920s as the London Guarantee and Accident Building, it housed offices for insurance companies.
In the 1980s, it was converted into a hotel. However, it wasn't until its most recent renovation that the LondonHouse truly became a destination in its own right.
In 2016, the building was transformed into a luxury hotel with a rooftop bar and a stunning view of the Chicago River. The renovations preserved the original architecture while adding modern amenities and stylish decor. Today, the LondonHouse Chicago is a must-visit location for tourists and locals alike, providing breathtaking views and a glimpse into the city's history.
Location of Londonhouse Chicago
The location of the hotel is perfect, right in the middle of the city and what you might want to see as a tourist. You cannot be disappointed with it. You get amazing views; you are very close to the Magnificent Mile as well as the famous Bean and, of course, the river and the pier.
You are next to the riverwalk, so you have plenty of walking options as well. I spent a few hours just walking along the river and really enjoyed it. Several of the cruises leave from these piers, and also there are coffee shops and bars along.
Within 5 minutes, you can find halal food in Chicago and I had several options.
Check-in
My flight arrived early in the morning so even though I had a room check-in on the app when I arrived at 9 am it was not available. Totally understandable because they were busy.
I had the option of waiting for my room another 5 hrs or taking a room that was available on a lower floor.
I had read reviews on Tripadvisor of people being upgraded; I didn't get an upgrade, but apparently, I was travelling at a busy time, and the hotel was full.
He did, however, offer me a nice view, although not the "bridges view" I initially wanted. I did have the option to change rooms the following day.
My room at Londonhouse Hotel in Chicago
I was in room 1531 on the 15th floor, I had checked in (after spending 40min the night before) in room 1915 which was on the 19th floor and with a view towards the bridges.
My room was spacious since it sat slightly in a corner so I did have plenty of space to walk around.
The deco was nice and minimalist, and the bed was comfy. The bathroom was a good size though it did feel a little dated and the mirrors should be changed since it is rotten from water.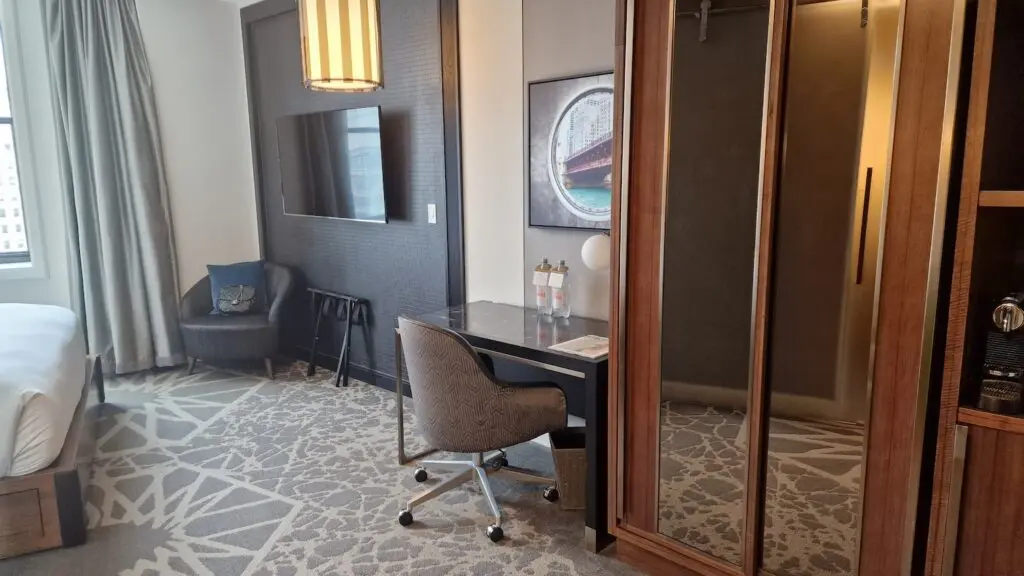 Each room has a coffee machine, a bathroom with a glass sliding door and a shower.
The winner for me personally was the view. I had a lot of daylight and beautiful views of the Chicago Tribune building.
The Londonhouse Hotel has nice rooms with some having a city view. The river rooms which also have a view of Trump Tower, can be imposing. My room didn't have that problem.
The Vista rooms, which are an extra $70 per person for Diamonds, have floor-to-ceiling windows. I would upgrade for my last night since I wanted that shot but was so tired that I opted not to.
There are a few things I personally didn't like about the room.
It was noisy at night and during the daytime especially. I am not sure why but even on the 15th floor I could hear traffic and honking. Apparently, on the higher floors, you can hear the rooftop bar
It is potentially related to the window since many of the vista rooms mentioned the reviews didn't have that noise problem.
Another big drawback for me was the shower. The pressure was not strong enough, and also the shower head was frustrating because it has that logo gap in the middle making it spray water sideways rather than on top of my head. If I stood under the top of my head, didn't get wet.
No joking!
Washing your hair was super frustrating and even though I asked engineering he said all the rooms are the same.
Washing my body and hair took double the time because I had to dance around the water. I think if there was more water pressure, it might have been better.
Another thing is when I checked in I was asked to determine if I want housekeeping daily, three days or weekly.
I normally opt-in for daily and then leave the don't disturb sign if I don't want it. If I travel with my daughter, it is easier to keep the room clean.
The first day they came in, I then had the sign for 2 days and then 3rd and 4th there was no service and when I asked for clean towels, I was told it was set every 4 days. Not sure how that happened.
It is a small thing, but again it adds up.
Londonhouse Chicago Rooftop
The rooftop of the hotel is definitely a winner. Although I was there 5 days and 4 of them, it rained the views are still amazing.
I did get my shot of the bridges, and I enjoyed a non-alcoholic cocktail there too.
The rooftop bar is open to everyone, and many people came just for the best views of Chicago.
The rooftop bar is open from 11 am until 12 am I believe but when it is raining, it opened later in the day. It is an outdoor area, so it can be windy and chilly.
However, even if the outdoor bar is closed, you can still go up and enjoy the view.
There is also a bar inside on the lower 20th floor but this can get busy in the evenings. Guests of the hotel don't need reservations, but for dinner or larger parties, I would definitely book.
The Lobby
The lobby is on the second floor of the hotel. It is a small space but inviting and there is also the lobby bar there.
On the Saturday when I arrived, they had set up for afternoon tea. Many people seemed to be coming from outside for the tea.
You could sit in any place not set up for tea, and there was sitting available for it was not a problem.
As a Diamond member, I received credit so I did have lunch there and the club sandwich was large and delicious. I kept half for dinner! Keep forgetting about the American-size portions.
They also had a good selection of non-alcoholic cocktails, which was a nice change, I loved their cocktail "On the mellow".
Diamond Perks
The hotel upon check-in offers $18 per person, I added a second guest so I received $36 of credit to be used against spending in the lobby or room service.
Or you can have the breakfast voucher for the Land and Lake restaurant. Since I don't eat breakfast, I opted for the credit.
You also receive a late check-out option as well. This really comes in handy, and although they managed to offer until 2 pm, it was still something. I could have upgraded to 4 pm for $25 per hour.
Of course, I should mention that I did check out at 10 am so this was also a bonus since check-in is 3 pm believe.
Customer service and overall
I loved the location of this property. It is perfect for a first-timer in Chicago.
Although I didn't have much interaction with the staff the one I had left me feeling lacking. I can't pinpoint exactly, but I felt they wanted to make the most of the guests rather than care about customer service. Normally boutique hotels are great on that front.
For example, the upgrade to a Vista room or the extra hr as a late check-out. I felt the we are fully booked was used too often as an excuse since rooms were showing available in pretty much every category online.
They don't lack guests because the hotel hosts several conferences and also there are other larger ones in Chicago, so they are high-occupancy property. It is just that I don't often feel like a money guest rather than a guest.
I also found that customer service in general lacking in the sense of hospitality. There are several people I would often see during my 5 days from staff, and rarely did they greet the guests.
This is pretty typical as well after reading some online reviews.
For a hotel charging $500 a night, I would expect better customer service for sure.
I even tried twice to use my room service credit, but the phone was not answered even after leaving a voicemail for them to call back.
The nights I stayed there, the prices were around $450 per night or 80,000 points. I ended up saving about $1000 by buying the points needed for the redemption with the 5th night free instead of the cash price of $2400.
If I had to pay for the hotel in cash, I would have expected better from the property.
Would I go back?
Personally, if I go back to Chicago, I would stay in one of the other hotels close by. My friend stayed at the Kimpton, and we had breakfast there twice. The customer service was another level from the staff. I wasn't even a paying guest.
If you are going for the first time in Chicago, I would say it is worth staying for the view and location, but if it out of budget, definitely visit the rooftop for a drink.
Rating my overall stay, I would say 7/10. For the location, room size and the view. The rest definitely needs work, and I would totally change that showerhead.
If I am travelling with family, I might opt for the Hampton in Suites hotel, which was 5 minutes away and it was my second choice since, for fewer points/price, you get more space with a one-bedroom suite.
The Best Halal Restaurants In Chicago
The Best Muslim Friendly Guide to New York
The Best Places for Halal Food in Austin You Must Try
10 Most Delicious Halal Food Restaurants in Orlando Florida. Must Try!