Many families will be heading to Orlando this summer to enjoy the many activities and fun in the Sunshine State, but If you are looking to experience the Orlando vibe then you would be also looking for delicious halal food. Thankfully our friends over at Halal Food Guru where more than happy to share with us their favourite halal food restaurants in Orlando. Make sure you check out their Instagram too. 
---
With tourism on the rise, the "Sunshine State" has become a popular destination amongst Muslims. Many are attracted to Florida's natural beauty and warm weather enjoying the many beaches and State Parks. Many Muslims specifically visit Orlando in Central Florida, because of the family-friendly theme parks like Universal Studios, Disney and Legoland to name a few. But Orlando is also home to many other attractions like the Orlando Eye, Madame Tussauds Wax Museum and the House of Wonders. And then there's the shopping with Outlet Shopping centres and upscale malls like the Mall of Millenia.
For Muslims in particular, Orlando is home the arguably the most beautiful mosque in America, Masjid al-Hayy which recently opened its doors to worshippers and the public alike in August of 2017. Located in Sanford, on the northern tip of the Greater Orlando area, it is worth a trip to visit this mosque as it is a point of pride and inspiration amongst the local Muslim community.
Travelling to a new city can pose challenges when it comes to eating. Thankfully, there are many Halal options in the Orlando. These restaurants cater to all cooking traditions, tastes and budgets, so you'll always find something you're looking for.
This list provides you with a good starting point of Halal restaurants to explore as you travel across Orlando, also known as "the City Beautiful". This list focuses on Muslim owned businesses who offer full Halal menus for visitors.
[ms_divider style="icon" align="left" width="100%" margin_top="30″ margin_bottom="30″ border_size="2″ border_color="#5cb2aa" icon="fa-chevron-down" class="" id=""][/ms_divider]
O'town Burger and Wings 
This Halal fast-food spot opened in 2016. The introduction of their chargrilled Halal Angus Beef burger revolutionized the burger game in Orlando. They definitely raised the bar and earned themselves the top place on our top 5 Halal Burgers of Orlando. Their burgers are also topped off with a special secret Pink Sauce which complements the meaty charcoal taste with a cool creamy counterpoint. They offer the burger as a quarter pound, half a pound or three-quarter pound and even a one pound version. Definitely more meat is better, with cheese of course. Located about 20 minutes away from the Tourist District and Theme Parks, it is well worth the drive. It's best to dine in for maximum enjoyment as the burger comes of the grill. Despite its compact space, the restaurant can accommodate both large and small dining parties. There is ample parking in front.
[ms_divider style="icon" align="left" width="100%" margin_top="30″ margin_bottom="30″ border_size="2″ border_color="#5cb2aa" icon="fa-chevron-down" class="" id=""][/ms_divider]
Oh My Gyro! (OMG!)
This family-owned Halal restaurant opened in 2016 and has been having great success pleasing diners from near and far since. The family, originally from the "Big Apple" moved the "Orange State" bringing the Halal Street Food craze with them. The iconic dish of grilled chicken or gyro served over a bed of rice and salad in a tin bowl is front and centre on their menu. Be sure to top it off with a generous amount of White Sauce. They have truly embraced the Southern hospitality culture making you feel like part of the
ir family with unmatched customer service. The menu has expanded as they use their East-African heritage for inspiration with dishes like beef mishkaki. Of note, they are not associated with the Halal Guys which expanded to Orlando, near UCF in late 2017, which is the brand that is originally credited with the Halal Cart food craze on the streets of Manhattan.
[irp posts="5474″ name="The Most Delicious Halal Restaurants in New York to Check Out"]
[ms_divider style="icon" align="left" width="100%" margin_top="30″ margin_bottom="30″ border_size="2″ border_color="#5cb2aa" icon="fa-chevron-down" class="" id=""][/ms_divider]
Cozee Café
Located in Lake Mary, on the northern end of Orlando, this Halal spot provides a trendy and comfortable atmosphere for friends and family to enjoy a nice casual dining experience. There is indoor and outdoor seating to take full advantage of the Floridian weather. The menu evolves to keep things fresh and new for customers. The café pulls from their American, East-African and Indian heritage to deliver new inspiring twists on classic dishes.
With this creative mindset, they have created some wonderful dishes earning them a spot on our top 5 Best Halal Chicken Sandwiches in Orlando list. They are well known for their breakfast menu and offer a selection of full breakfasts that will carry you throughout the day. After all, breakfast is the most important meal of the day, right? If you disagree and feel that dessert is more important, they have you covered too, with an array of desserts and coffee to try. A particularly popular dessert is the Ferrero Roche Milkshake. If you are watching calories, just close your eyes and it won't count. Your taste buds will thank you.   
[ms_divider style="icon" align="left" width="100%" margin_top="30″ margin_bottom="30″ border_size="2″ border_color="#5cb2aa" icon="fa-chevron-down" class="" id=""][/ms_divider]
Flame Kabob
Located in "Restaurants Row" off SandLake Road, Flame Kabob is a family-owned Middle-Eastern restaurant is well known to the local Orlando community. They are a popular destination for lunch and dinner. Many patrons opt for the wraps and sandwiches like the chicken shawarma and Shish Tawook. The restaurant has several large windows to let natural lighting in which accentuates the Middle-Eastern décor inside.  The atmosphere is calming which is great for families looking for some peace and quiet after a long day of screaming at the theme parks. There is ample parking in front of the restaurant. It is located in the back of a large shopping complex near a Chase Bank for a landmark if you're having trouble finding it.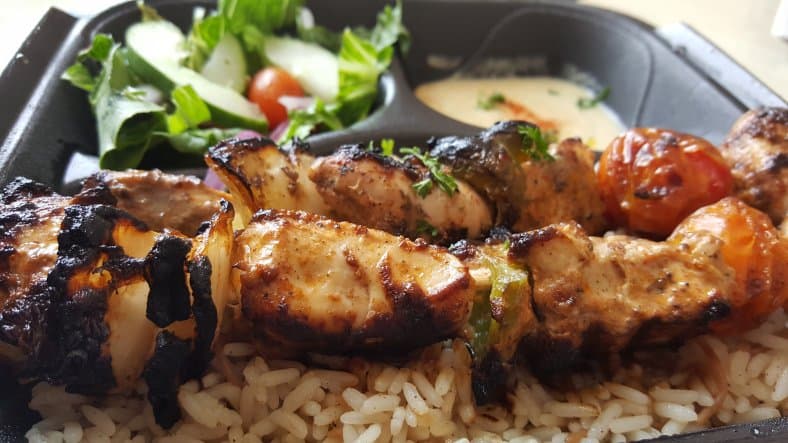 [Tweet "Delicious Food in Florida is easier to find than you think – Here are our top 5 #HalalFood Restaurants in Orlando. #muslimtravelers #halaltravel #muslimtravelgirl "]
[ms_divider style="icon" align="left" width="100%" margin_top="30″ margin_bottom="30″ border_size="2″ border_color="#5cb2aa" icon="fa-chevron-down" class="" id=""][/ms_divider]
Charcoal Zyka 
This Halal Indian restaurant has been around for the better part of a decade. While they pride themselves on their excellent Indian menu, most locals stop in for their strong BBQ menu, which is unmatched in the area. A popular item is the Portuguese rotisserie chicken coated in their spicy sauce. They also offer steaks and short ribs which many meat lovers enjoy. It is located close to the off ramp of I-528 which makes it easy to reach for both locals and visitors. It is also one of the halal spots within striking distance of Universal Studios, Seaworld and I-Drive making it a convenient choice for Muslims travellers looking for great Halal eats. The booths inside are set up to accommodate parties of 4 to 6, but the tables at the centre of the restaurant can be combined to accommodate larger parties. There is plenty of parking in front of the restaurant. Definitely, a must try for both the Indian and BBQ menu.  
Florida has much to offer to visitors from beaches to theme parks. Exploring all these attraction, it's easy to build up an appetite. With so many halal food restaurants in Orlando, you're sure to find something to suit your needs wherever you are in the city. Looking for more Halal meal destinations in Florida in great cities like Orlando, Tampa Bay, Jacksonville or Miami, check out our site as we post in-depth, honest reviews to help take the mystery work out researching where to eat on your next trip to the "Sunshine State".
[ms_section background_color="#f3f3f3″ background_image="" background_repeat="repeat" background_position="top left" background_parallax="no" border_size="0″ border_color="#5cb2aa" border_style="none" padding_top="0″ padding_bottom="5″ padding_left="10″ padding_right="10″ contents_in_container="no" top_separator="no" bottom_separator="" full_height="no" class="" id=""]
[ms_featurebox style="1″ title_font_size="25″ title_color="#5f5f5f" icon_circle="yes" icon_size="30″ title="Read More" icon="fa-globe" alignment="left" icon_animation_type="tada" icon_color="#f70070″ icon_background_color="" icon_border_color="#66666″ icon_border_width="0″ flip_icon="horizontal" spinning_icon="no" icon_image="" icon_image_width="0″ icon_image_height="" link_url="" link_target="_blank" link_text="" link_color="" content_color="#66666″ content_box_background_color="" class="" id=""]
[/ms_featurebox] [/ms_section]