As a Muslim traveller, one of the most important things you look for is halal food in the city you are visiting. Well, finding halal restaurants in Chicago will not be an issue with approximately 300,000 to 500,000 Muslims in the city.
I visited Chicago this year and I absolutely loved the food scene of the city. It is also on my top list of the best Muslim-friendly places to visit in the US.
We had no problem finding Halal food in Chicago and even around my hotel, there were several within a 5-minute walk in Downtown Chicago. Whether you fancy a halal burger or some delicious Mediterranean food, the Chicago food scene has everything for you.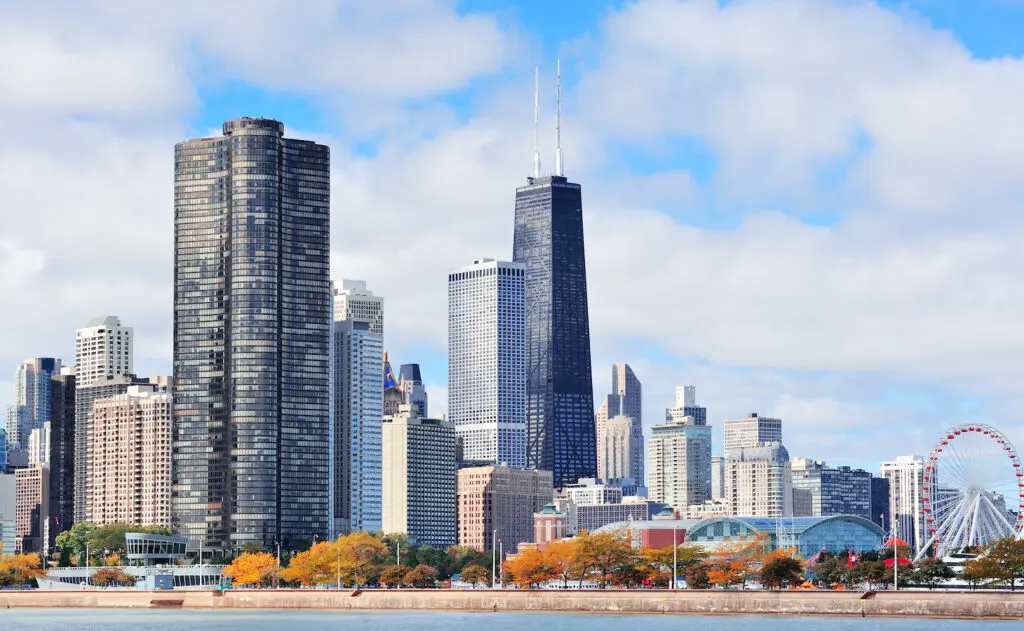 The Best Halal Restaurants in Chicago
1

Halal Guys Chicago
The famous halal guys are also in Chicago and they offer that delicious halal gyro platter that is hard to resist. I mean, personally, I didn't since they were the halal comfort food I was aiming for after exploring Chicago plus they were only around the corner.
With a convenient location in Downtown Chicago, the place is small but perfect for a quick lunch of their halal favourites.
Some other recommended dishes include Falafel platter, chicken platter, beef gyro sandwich, baklava, fries and other food items.
You can walk into one of the chains, a food truck or even order food online and take advantage of their catering services all over Chicago.
It remains open from 10:30 AM to 11 PM.
There are several Halal Guys food trucks in downtown Chicago so that you can choose the closest to you.
172 N Wabash Ave, Chicago, IL 60601 (I visited this branch)
49 W Division St, Chicago, IL 60610
6474 N Sheridan Rd, Chicago, IL 60626
You can read or NYC food restaurants here.
IDOF – I Dream of Falafel
The IDOF location is perfect in the Navy Pier when over the summer if you are looking for a halal quick bite you can head inside and order a delicious wrap.
They have several locations across Chicago for you to check out with the Navy Pier one of the most convenient for Muslim tourists exploring the city.
You can check the IDOF website here
2

Salam Restaurant
If you are in Chicago and looking for some delicious watering Halal dishes, this restaurant won't let you down. Their vast menu covers delicious vegetarian and non-vegetarian cuisines.
You can walk into their cosy restaurant and get yourself treated to a range of appetisers like Falafel, hummus, etc.
It is a little out of the city near River Park, but if you are driving it is not a problem.
The restaurant stays open from 10:00 AM to 1:30 AM. Address 4636 N Kedzie Ave, Chicago, IL 60625
3

Tandoor Char House
If you prefer the spicy Indian and Pakistani Halal cuisines, the Tandoori char house in Chicago is the place for you.
Started by two brothers, this restaurant has Indian and Pakistani roots. You can find authentic and traditional Indian and Pakistani food here that's hard to find.
Some of the delicacies include Seekh kabab, shrimp biryani, chat fries, etc.
Their fusion dishes are also a hot favourite. Try their Indian/Pakistani desserts such as Gulab Jamun, Malai cheesecake, and Malai Kulfi when you visit.
The restaurant is situated at 2652 N Halsted St, Chicago. The timings are usually from 11 AM to 10 PM, which may vary on certain days.
4 Taza Cafe
Taza Cafe is all about varieties of Halal, gluten-free, vegetarian, and non-vegetarian food options. The cuisines at the cafe include the Mediterranean, Greek and Middle-Eastern delights.
Though the hot favourites here are the fresh hummus and falafels; for dessert, pita bread, fries and cheese, and baklava are some dishes you must not miss.
The restaurant is located on 176 N Franklin St #1822, Chicago, and remains open from 10 AM to 8 PM.
5

Cairo Kebab
Cairo Kebab is a short distance from Lincoln Park, and it offers traditional Egyptian and Mediterranean traditional Egyptian and delicacies. When you enter the place, you'll get Middle Eastern vibes.
The famous dish here is Lamb Kebabs. Some other must-try include Beef & Lamb Shawarma, Hummus, Baklava and cookies with dates.
The restaurant also has an online order feature to avoid queueing and ordering from your phone. The restaurant is located at 1524 W Fullerton Ave, Chicago and is open from 11 AM to 9 PM on all days.
6

Turkitch
Turkitch is a place that you'd fall in love with. You can indulge in Turkish cuisines with excellent presentations here. There is something for all, including various beverages, appetisers, rice bowls, etc.
Their beverages can include herbal tea, Turkish coffee, mocha, whereas desserts include sutlac, baklava, etc.
You can dine-in, take away or order online. I recommend dining in for the best experience.
7. Sabri Nihari Restaurant
Located in Little India, the Sabri Nihari restaurant serves Pakistani Halal food in the Chicago area. Located outside downtown it is a great family-owned restaurant with authentic Pakistani dishes you can enjoy.
Fluffy naans, delicious Nihari dishes and samosas you can find anything you crave here.
2502 W Devon Ave, Chicago, IL 60659 opens 12am to 10pm daily.
8. Asada Mexican Halal Food Restaurant
I love Mexican food and if you like me find yourself in Chicago craving it, make sure you check out the Asada for some halal Mexican food in Downtown Chicago.
The reviews are great and the atmosphere too plus they also have lunch specials which can keep you full all day.
It is a small place so make sure you go early if you want to find a place.
180 N Wells St, Chicago, IL 60606
Open 8am to 3pm
9. Kababish BBQ & Grill
A great authentic halal Pakistani and Indian food close to Lincoln Park in Chicago. The Restaurant doesn't serve alcohol and you can find great BBQ options as well.
1546 N Larrabee St, Chicago, IL 60610 opens 4pm to 1am daily.
10. I-Cafe Sukur's Place
I-Cafe Sukur's Place is a cosy, casual restaurant that serves authentic halal Turkish food in Chicago.
They pride themselves on their selection of fresh halal ingredients, and their Lentil and vegetable soups are some of the famous delights.
The restaurant is located next to the Living Park L station, making it easy to identify a place for first-time visitors.
Address: 1814 W Irving Park Rd, Chicago, IL 60613 | opening times 11 am to 11 pm
11.

Epic Burger
Epic Burger has over eight locations all over Chicago and offers delicious halal burgers, seasoned fries and various other American dishes.
I mean who doesn't love a nice juicy halal burger, especially on a windy day that you are bound to experience in Chicago. All the Epic Burger's halal food comes from a certified farm.
There are 3 branches in Chicago Downtown so you can plan your meal close to your explorations. Opening times from 11 am to 9 pm.
Address: 407 N Clark St, Chicago, IL 60654
Address: 40 E Pearson St, Chicago, IL 60611
Address: 517 S State St, Chicago, IL 60605
12. Noon O Kabab Halal Restaurant in Chicago
If you are looking for delicious Persian halal restaurants in Chicago, look no further as the Noon o Kabab offers fantastic choices and has great reviews.
It is a casual eatery with traditional family recipes offering some stable Persian choices.
Address: 4701 N Kedzie Ave, Chicago, IL 60625, | Opening times 11 am to 10 pm
13. Lou Malnati's Pizzeria
You cannot visit Chicago and not indulge in a deep-crust pizza. When I visited my friend took me to Lou Malnati's Pizzeria which is in the heart of Chicago. We had the margarita option since this is not a halal place but I did enjoy the atmosphere and the food.
It seems the place is a traditional and stable in the Chicago food scene and I was happy to check it out. They also have some tours which I didn't take part it.
They have several branches but we visited the -410 N Michigan Ave, Chicago, IL 60611 it opens 11am to 11 pm
14. Devon Street Chicago – The Muslim Street of Chicago
Devon Street in Chicago is the equivalent of Edgware Road in London, where you will find halal restaurants and various shops with the majority of people being Muslim.
If you don't know what you fancy to eat but you want to get a feel of the Muslim community then Devon Street is the place to visit in the city.
It is a nice atmosphere and you will definitely find pretty much everything you are looking for. There are also several mosques and also the Lakeshore Muslim Community centre is located there.
15. Levain Bakery
Another mention for those with a sweet tooth who want to indulge in a delicious cookie and dessert, again it is not halal, but it is cookies is the Levain Bakery. I am in love with their cookies and they do have branches in other cities. I literally went back twice and brought home some. Even after 2 days of travel, they were delicious.
You can check their Instagram for some online deliciousness.
Chicago is an amazing city and I would totally go back there to visit. They have such an amazing culture of cafes and restaurants and even if you stay a week you won't be able to visit all of them.
The halal food restaurants in Chicago are delicious, offer traditional dishes as well as fusion options and there is plenty you can explore that you won't even be bored of the food choices you make.
If you are planning a trip to Chicago check out my Muslim-Friendly Guide to Chicago as well with the best things to do as a Muslim traveler.
We would love to hear if you have found other halal food options in Chicago that you love.
Please share them below so we can include them or simply share your Halal dining experience in Chicago.
Discover The Best Muslim-Friendly Destinations in The World
10 Of the Best Muslim Friendly Cities in the US to Visit
13 Best Halal Food Restaurants in Los Angeles
10 Most Delicious Halal Food Restaurants in Orlando Florida. Must Try!