Halal Holidays in Europe is possible for Muslims from around the world. We just need to think carefully about where we would like to go.
I haven't found a non halal travel place in Europe where I cannot find halal food or see other Muslims visiting or travelling. Mostly it comes down to the perception of people in how halal-friendly a country is.
Now, before we go deeper, let me say that no European country is 100% halal in terms of nudity, alcohol etc. Like in the UK which is a Muslim-friendly European country, we still see these things, but they are also welcoming Muslim travellers too.
We have however large populations of Muslims in Europe making it easy to find all the amenities you might need.
My favourite thing about living in Europe is that you can fly for 2 hours and be in a totally different country.
I love the feeling of leaving the rainy UK and arriving in a sunny place for example.
Also what I love the most is how many Muslim friendly countries Europe has. Honestly, I don't think I have been to a European country where I have not felt at home.
Some of the best cities for halal food are also in Europe which makes it great fun to travel and discover options for Muslims in Europe.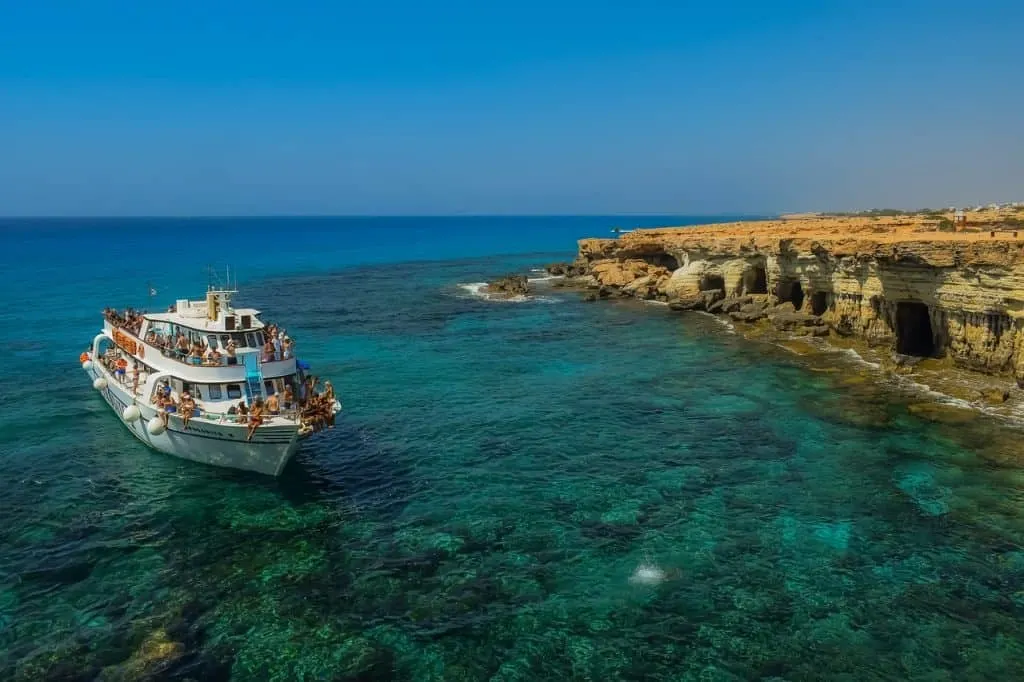 In fact, there is no place you can't visit in Europe as a Muslim. Seriously!
The only problem is that there are some destinations in Europe that are more Muslim friendly than others. This is totally understandable and I know how some Muslims feel stressed and anxious especially if women wear the niqab.
But you shouldn't be because there are still many destinations you can explore in Europe as a Muslim and find halal food, a place to pray and plenty to explore. There are many Muslim tourist places you can visit in some European countries and they are full of Islamic heritage.
I feel that with all this Islamophobia going around now is the time to get out of your comfort zone and explore what the world has to offer to you as a Muslim traveller.
Sitting at home and worrying won't change things but rather, your friendly representation of Islam will.
You as a visibly Muslim traveller, can change the way people see us in real life. So make sure you go and explore this beautiful world.
Now, when visiting Europe don't expect your Halal Holidays in Europe to be the same as in Saudi Arabia but rather feel that they are Muslim-friendly destinations you can explore.
Yes, there is music, and potentially pork and nudity but if you have been even to Muslim countries, you can still see this. I don't think there is a perfect Halal Holiday destination!
That's why I have compiled below are my totally underrated Muslim-friendly holiday countries/destinations in Europe you can enjoy on a great budget and feel welcome.
1 London, United Kingdom
London is, without a doubt, one of the most Muslim friendly cities in Europe. With almost a million Muslims living in the city, it has everything you might need for a halal holiday in Europe.
This cosmopolitan city is perfect for those who want to explore, learn about the culture and have fun. There are many prayer facilities around, such as the Selfridges prayer room, the central mosque, and so many more so finding somewhere to pray while exploring central London won't be an issue.
Also, many of the hotels in the area such as the Mandarin Oriental, the London Hilton Hyde Park, and Jumeirah hotels offer prayer rooms as well as Halal Food options.
Even if you live in the UK London is a great weekend escape option for yourself and your family.
I love visiting the museums in London especially with kids because they get to experience and explore as well as learn new things.
Things to do in London that are great for a halal holiday.
Visit the London Eye and take a cruise around the Thames. The view from above is great!
Visit the British Museums, the National History Museum
Take a tour bus around the city. Totally cliche, but it is a great way to get your bearings if you are not from the UK.
Enjoy a Muslim history tour of London. Yes, possible.
Halal food in London is plentiful, and you can easily find it. A quick google search of halal places near you will definitely be sufficient, and you don't really need to plan around your food choices in order to explore.
There are also options if you want to enjoy a quintessential British pass time of afternoon tea as there are many halal options. Check out my post here on halal afternoon tea in London.
Overall there is so much you can do in London as a Muslim traveler that even a week won't be enough.
Check out a full post on London activities and guide for your halal holiday here.
2 Sofia, Bulgaria
Did you know that Bulgaria was once home to countless Muslim empires?
It is believed that the early Muslim settlers found their way to Bulgaria in the mid 9th century. Fast forward to 1382, Sofia, the nation's capital was invaded and captured by the Ottomans.
During this time, they installed as many Ottoman monuments as possible.
In the present time, you will find the Banya Bashi mosque. The mosque takes you back in time to the Ottoman era.
Bulgaria has great nature and there are many trekking paths as well as the history that you can discover in cities like Plovdiv and Veliko Tarnovo as well. If you find yourself there you can check out the local mosques Dzumaya Mosque in Plovdiv and Tumble Mosque in Shumen.
Bulgaria is welcoming, and hospitable and features a friendly atmosphere for Muslim travellers.
Trust me you won't be alone on the street walking with a hijab or an abaya and even a friendly Salam is lovely to hear. 🙂
I just came back from Bulgaria and on my way to Qatar, I saw so many Qataris and Muslims visiting that I was pretty impressed. So I started talking to the girls on the flight.
They told me they loved Bulgaria and explored many places around the country. They found the locals to be very welcoming and happy to help. The lady even had a small tree as a gift from a Bulgarian lady.
If you are looking to ski in Bulgaria as a Muslim, Bansko is great and close by, there is a local village with a mosque.
Halal food in Bulgaria is also pretty easy to find. Below are some of the best-rated halal places.
Punjabi Food Restaurant – 11 Ulitsa Profesor Atanas Ishirkov, Sofia, Sofia-city 1700
Turkish restaurant- 34 Ulitsa "Yuri Venelin" , 1142 Sofia Center, Sofia, Bulgaria
Avrasia – Bulevard "Hristo Botev" 42, 1606 Sofia Center, Sofia, Bulgaria
A hotel near a Mosque in Sofia can be found in the city centre and within walking distance of many hotels. The closest will be the Balkan Hotel in Sofia which is 2 minute walk.
There are no halal hotels in Sofia or in Bulgaria, but you can find halal food easily in surrounding areas.
Flights to Sofia can be had for as little as a £20 return.
That is no more wondering if Bulgaria is Muslim-friendly anymore.
3 Cyprus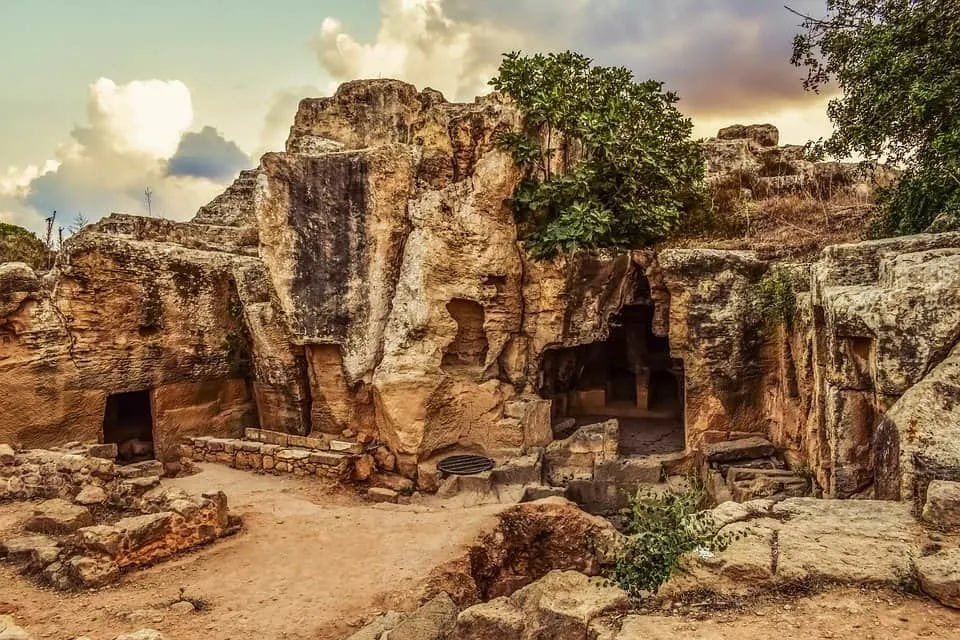 Cyprus is a popular Muslim friendly destination in Europe and does offer the option to explore a Halal holiday in Europe whether you chose the North or South of Cyprus.
Personally, I haven't been to North Cyprus but here are halal hotels and of course halal food. I prefer the South of Cyprus for its beauty and there are plenty of things a Muslim traveller can enjoy there.
Bordered to the south by Turkey and to the east by the Mediterranean Sea, Cyprus is a beautiful island nation that will leave you captivated.
Despite its small size, Cyprus boasts a rich historical past and unique cultural heritage brimming with impeccable white-sand beaches.
It may be surprising to know that Cyprus has been practising Islam since 649, during which time the country was conquered by Caliph Uthman, the 3rd Caliph of the Rashidun Empire. And ever since, the presence of Islam has strengthened.
Even today there are a lot of halal restaurants in Cyprus and also it is home to a wide range of Islamic landmarks and mosques, including the Lala Mustafa Pasha Mosque, where you can learn more about the rich Islamic history present in the country.
I mean, the number of mosques in Cyprus available is a lot, I didn't expect to find this many but I guess it will be a nice tour of the country based on its mosques.
I have been to Paphos several times as I have family there and there is never an issue feeling comfortable with a hijab on. In fact, there are several Muslims whom I have seen enjoying a holiday.
If you are in Paphos I would totally recommend visiting The Tombs of the King's archaeological site.
It is a large necropolis lying about two kilometres north of Paphos harbour in Cyprus. It is a UNESCO World Heritage Site.
For the best way to explore Cyprus, I would recommend renting a car. They do drive on the same site as Britain so it's easy to drive. Plus prices are very reasonable.
Some Halal food restaurants in Cyprus are:
Armenia (Halal) – Address: Eleftheriou Venizelou 2, Paphos 8047, Cyprus
Sawa Restaurant – Syrian Restaurant – Address: Klimentos 31, Nicosia 1061, Cyprus
Byblos Restaurant – Address: 1-3 Chrysi.Dimitriadi Neapoli, Limassol 3106, Cyprus
Finding a good hotel in Cyprus is never a problem and you can find places starting from as little as £40 per night going to several hundred. Please note that there is nudity on the beach and resorts and there are no halal hotel options on the Greek / Cypriot side of the island.
Flights if booked in advance or very last minute can cost as little as £50 return from the UK. To check out flights click here.
4 Bosnia and Herzegovina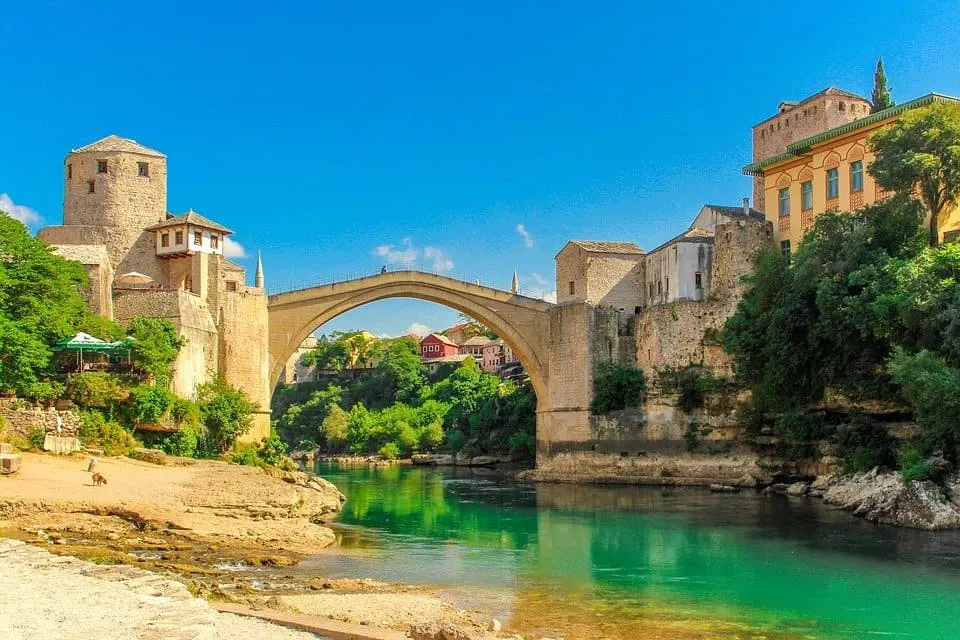 Bosnia and Herzegovina are some of the most underrated tourist destinations in the world. They are trying to change this, and currently, a lot of tours are coming up. It can easily be one of the most halal travel destinations in Europe.
The country promises mind-blowing beauty and Islamic heritage to explore.
The Ottoman and Austro-Hungarian Empire archaeological sites scattered all over the country will leave you spellbound.
Take a walking tour along the streets of Sarajevo, the nation's capital and immerse yourself in the rich history of the country.
If you have time take a tour or even the local bus to get you to the famous Mostar city where you can visit the world-famous Stari Most, a beautiful bridge designed by popular architect, Sinan.
The bridge has undergone renovation, and today it is proclaimed a World Heritage Site by UNESCO.
Other places you can visit for their history and beauty are the Blagaj village, a 16th-century village, the Sutjeska National Park for its natural beauty and Sarajevo for its city vibe but also Islamic heritage.
Bosnia and Herzegovina is a Muslim friendly destination and almost 30% of the population is Muslim.
Finding halal food in Bosnia is not an issue with many Muslim-owned restaurants and options which makes it easier when exploring.
Halal Hotels in Sarajevo are easily found and they also offer halal food options to guests such as Malak Regency hotel and Pino Nature hotel in Sarajevo.
Several companies offer a Muslim tour package to Europe and specifically to Bosnia and Herzegovina.
Flights to Bosnia can be found from as little as £88 return from the UK.
5 Kazan Russia
When you think of tourism in Russia, the first few places that come to mind are Moscow and St. Petersburg.
But little did you know that Kazan has a lot up its sleeve and it is also predominantly a halal holiday destination with a majority of people there being Muslims.
Kazan is the capital of the Republic of Tatarstan often described as where Europe meets Asia because of its history and rich heritage from both continents.
My brother-in-law went recently to Kazan for work, and although not Muslim he was impressed by the city.
Ideally, you would want to visit in Summer because temperatures in winter can be as low as -13C and I assure you it's not fun to be around.
Taking a walking tour around the city will probably be the best option, as it's not a big place and you can truly capture the essence of the city and the Muslim-friendly options Kazan can offer.
I love the free walking tours and it is a great way to learn more about the rich Islamic history and get a proper view of the gorgeous mosques that surround the city including the Qolsharif Mosque, which was once rated the biggest mosque in Europe.
Now is it the most famous building associated with Kazan?
Halal food in Kazan is not a problem and there are several restaurants and hotels that offer it so going hungry is a no-no.
Gulfstream Hotel in Kazan is a halal hotel offering halal food and serving no alcohol also they have ladies-only swimming pool hours. Prices for the hotel start from £50 per night.
Flights to Kazan recently have been cheap as they are trying to boost their tourism sector, you can find flights from the UK to Kazan for a £209 return.
Please note that to visit Kazan you will need a Russian visa since the city is located in the Russian Federation. I would recommend you plan a trip to visit several Russian cities to make it more cost-effective and easy for you.
6 Cordoba, Spain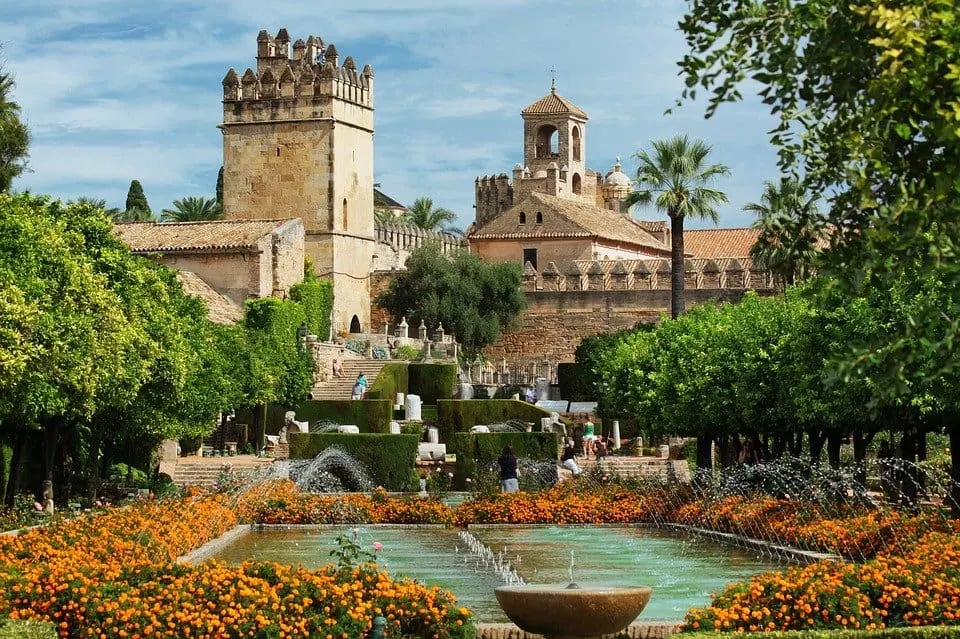 When you hear the word 'Cordoba', what comes to mind?
For many people, including non-Muslims, the first port of call is usually the magnificent Great Mosque of Cordoba!
The city was an important Roman city and a major Islamic centre in the Middle Ages and it once served as the capital of the Umayyad dynasty between 929 to 1031 AD.
Thanks to its impressive interior and sheer size, the mosque has gained popularity as one of the world's most visited attractions.
Muslims from all over the world plan to visit this beautiful city and there is no doubt that Cordoba is a halal travel destination in Europe.
When visiting Cordoba make sure you also visit the Alcazar gardens, Viana Palace and the Museo Romero de Torres.
There are many tours organised with an Islamic heritage perspective of Cordoba and I have several friends who are happy with Andalucian Routes.
Halal food in Cordoba is not an issue and there are plenty of choices, even in other cities major cities like the capital Barcelona.
Restaurante "Bocaito Andalusí Halal" – Address: Mercado Victoria, Paseo de la Victoria, Puesto 24, 14004 Córdoba, Spain
Restaurante Damasquino – Address: Calle Lucano, 19, 14003 Córdoba, Spain
Casa Mazal – Address: Tomás Conde, 3, 14004 Córdoba, Spain
Flights to Spain can start from as little as £20 and hotels depending on the level of luxury can go from £40 to £400 depending on the season.
Spain has good weather all year round but their peak season is from May to September and of course prices are higher.
Personally, I have been in February and I loved my time there.
7 Malta
I love Malta and it is one of my favourite halal holiday destinations in Europe.
For many Muslims, Malta isn't exactly one of the destinations that come to mind when it comes to Muslim friendly holidays in Europe but you'd be surprised at how much the country has in stock for Muslim travellers.
The history of Malta is never complete without mentioning the impacts of Muslims on the country's development and language. If you go and their accent you will realise that it has so much influence from the Arabic language due to its geographical location.
The rich history is also prevalent in virtually every sector of the company including the agriculture and food industries.
Funny enough, most of the places in this lovely island nation have gotten Arabic names like Zammit, Cassar, and Farrugia, just to name a few.
Although, the country is home to just one officially recognized mosque – Mariam Al-Batool Mosque in Paola – there are many other prayer places.
What's more, you can quench your hunger with various kinds of halal food. Don't miss out on visiting St. Julians, a seaside town brimming with plenty of fishing activities. In addition, you can explore other places including Spinola Palace and the Baroque Museum.
You can read below my full guide to exploring Muslim-friendly Malta.
With flights starting from £50 return from the UK and good weather, all year round Malta is truly a great place to visit for Muslims.
We stayed in the Hilton in St Julian and loved it. Plus, there is a halal restaurant there around the corner.
Halal Hotel options in Malta
I really like Malta especially if you want some privacy when it comes to private villas and enjoying some sun. Airbnb is the best place to find these villas as they are very private with swimming pools. You can read my article here.
8 Portugal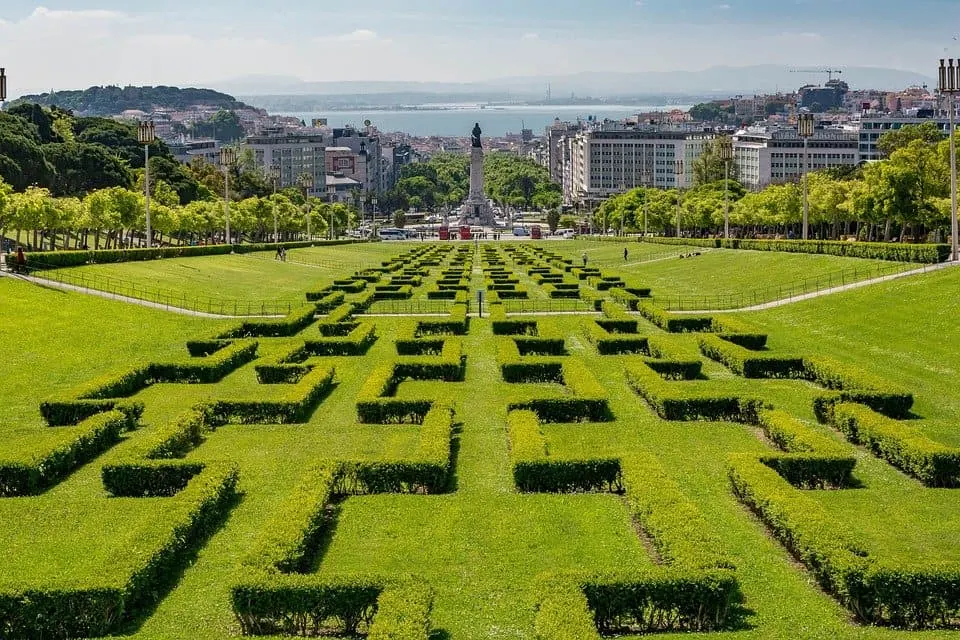 Wondering how Portugal made it to this list?
Well, don't be surprised. Portugal has around 65,000 Muslims living in the country.
Also, there is a lot of Islamic heritage in Portugal and many Muslim travellers to even today visit Sintra, proclaimed a World Heritage Site by UNESCO. Sintra is home to beautiful yet ancient castles, ruins, and monuments with many bearing Islamic architecture.
Throughout history, the Islamic influence is noticeable and even today many words in the Portuguese language have an Arabic origin.
A commonly used phrase similar to Insha'Allah called "oxala" is used today.
Even the city of Lisbon, the capital of Portugal, was once known as Al-Ishbun.
In recent years Portugal has started to work hard in attracting Muslim tourists to the country who usually skip them in favour of Cordoba in Spain.
Halal Hotels in Portugal are quite popular and there are several Halal Hotels in Lisbon that you can also enjoy. It is great to see many more halal hotels in Europe coming up for Muslim travellers to enjoy.
Please note these are advertised as halal but check before booking if it is a must.
Halal Hotels in Lisbon
Fenicius Charme Hotel| Rua Andrade 23, Arroios, Lisbon, Lisbon (municipality), 1170-014, Portugal
Mercure Lisboa Almada| Rua Abel Salazar, 9- Pragal, 2805-313, Almada, Setúbal Peninsula, Portugal
MeraPrime Gold Hotel| Rua Aurea 50, Santa Maria Maior, Lisbon, Lisbon (municipality), 1100-063, Portugal
Halal Food in Portugal is not a problem and plenty of places to visit in the country it won't be long before it blooms with Muslim travellers.
There are many places for Halal food in Lisbon to enjoy.
Pizza Alif Kebab – Address: 4, R. Barros Queirós, 1100-077 Lisboa, Portugal
1001 Nights Iranian Restaurant – Address: R. João Villaret 11, 1000-297 Lisboa, Portugal
Spicy Restaurant & Grill – Address: R. do Benformoso 203, 1100-085 Lisboa, Portugal
Flights to Portugal start at around £50 return and hotels can be had for as little as £30 per night depending on the level of luxury.
With great weather, all year round it makes a perfect weekend destination from the UK.
If you want to read more about places to visit in Lisbon, check out my guide here.
These are only a small percentage of the Muslim-friendly destinations in Europe you can choose for your halal holidays. Europe has so much history and beauty that not visiting will be a shame. As you can see the places above are so diverse in beauty, history and location in Europe but they all offer halal food options for you to enjoy and a friendly face to welcome you.
Let me know below what is your favourite European destination as a Muslim.
Some other posts you migth enjoy

The Best Muslim Friendly Resorts in Europe 2023

Muslim Friendly Guide to Amsterdam

Halal Holiday Malta a Great Destination for Muslim Travelers

European Countries with the Largest Muslim Population- Halal Holiday Ideas

Review: Hyatt Regency London The Churchill