I think I might sound a little cruel to actually publish anything about food today as it is the first day of Ramadan. But if you want a really special meal for Eid then it's just about time to book now. These reservations usually go fast!
Three years ago I played a game for the anniversary of Shangri-la hotels.
You had to play for a few weeks to receive points that they can be redeemed for a hotel stay or a free voucher at one of their restaurants around the world. The game was super easy, just press a few buttons and remember to play it every week!
In the end, I and my husband had $100 per person to spend anywhere we wanted in a Shangri-La property.
It was just then that The Shard, the tallest building in London was opening with guess what? – A Shangri-La property with some amazing views of the city.
I love dining in Halal restaurants but I find that there are not many that serve Halal food. So unless we go to the Middle East it is hard to enjoy a delicious well-cooked steak.
I was very happy to discover that The Ting Restaurant in the Shard offered a halal menu option. You have to order 48 hours before your reservation in order to make sure they have it but it was super easy.
After changing our minds where we will use the vouchers it only took us 2,5 years later that we managed to get there for dinner, but it was definitely worth the wait.
The atmosphere is great and the food was good too; especially the steaks. However, the views were the best in town!
We went early so we managed to get a good table as we had the first serving. I highly recommend you visit early if you want a good table with great views.
The prices were OK for such an establishment and I didn't expect us to pay anything less than £100.
Well, the vouchers I mean!
The Halal menu option is a la carte so you order off a specific menu. The other standard menu a set menu course which seemed like an even better deal, 4-course meal for £50 and a 6-course meal for £65. You really can't fault these prices.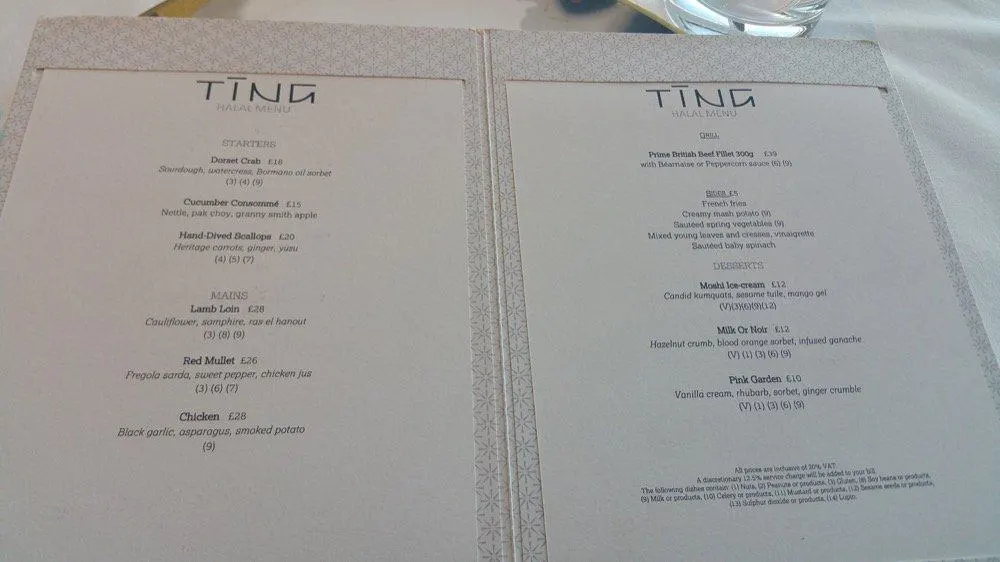 The restaurant is located on the 35th floor which is also the reception for the hotel. They also serve afternoon tea in the lounge until six which seems great and a cheaper option too. You definitely enjoy the views.
The views cannot be beaten, you can see far away and enjoy London in its full glory.
Definitely, a great way to spend an evening enjoying a meal. I expected a little better on the drinks, since paying £14 for a drink I wanted more than ice, so I think that is overpriced.
Though I enjoyed my virgin bloody mary.
I couldn't fault the steaks as both were very nicely cooked. I prefer mine well done (no blood please) so they delivered on that without losing the tenderness of it.
The side dishes, I was very disappointed to see chips the commercial pre-cooked chips. I would expect fresh cut chips in such a place. I guess it is a small thing, but it made an impression on me.
The staff were very attending and polite.
Dessert was delicious and I think my husband loved his so much he was contemplating a second one!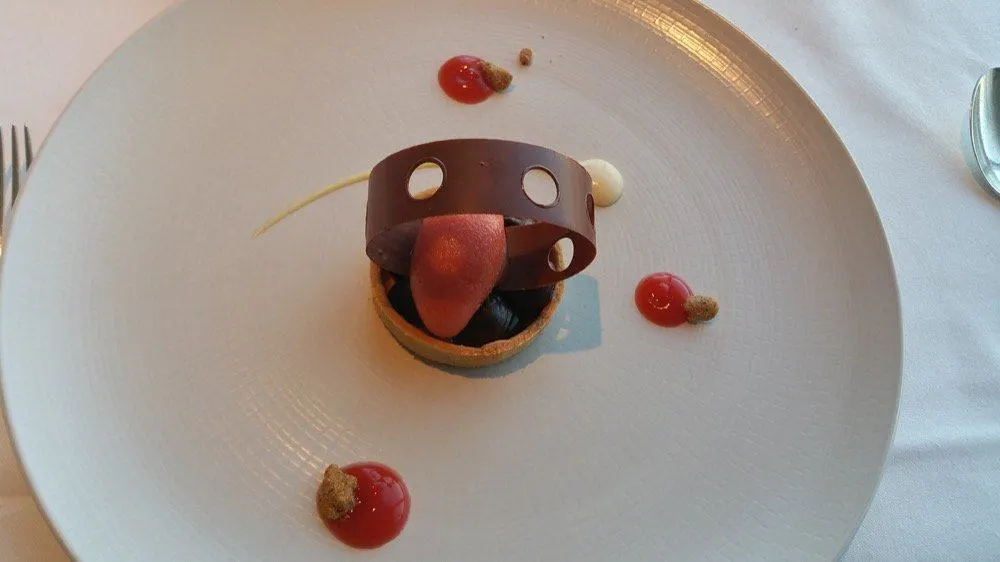 I have to say that when the time came for paying the bill, this was the best part. Our whole meal came to £140 I believe including the tips.
We told them we had the vouchers and there was no issue with them adjusting the bill. What we had to pay was less than £10! Crazy!
It is moments like this that I always say loyalty programs work! A simple game that took no more than 2 minutes a per week netted us with $200 meal in a beautiful restaurant.
Now, this game is over and it might never come back, but there are others that can help you enjoy amazing experiences without breaking the bank.
And if you are looking for a special Halal meal in London whether it is for Eid or another special occasion then I can definitely recommend The Ting Restaurant in the Shard.
You can make your booking at this address online, however, you will have to call them to add your Halal menu option. Currently, there is availability for Eid.
How To Save Some Real Cash on Your Next Trip To London
10 Unconventional Hotels for Extraordinary Experiences this Summer
The 5 Most Delicious Must Try Halal Food Restaurants in Orlando Florida
Top 10 Places to Explore When Visiting the UK for Your Next Holiday
5 Halal Resorts to Visit in Turkey for Your Summer Holiday, Halal food, Women only Pools and more