This Muslim-Friendly guide to Jamaica will help travellers who face challenges when trying to find destinations that are accommodating to their needs. When Muslim travellers are looking for a Caribbean destination, I rarely mention Jamaica.
Yes, the beaches are pristine, the people are hospitable, and the food is amazing, but Muslims are such a small minority on the island that accommodating their needs can be a challenge.
However, with a little bit of planning, Muslim travellers can enjoy all that Jamaica has to offer.
This Muslim-Friendly Guide to Jamaica provides Muslim travellers with information on where to find halal food, mosques, and other Muslim-friendly amenities.
With this helpful guide, Muslim travellers can easily plan a Jamaican vacation that is both comfortable and enjoyable.
Halal restaurants and mosques aren't easy to find outside of the capital city, and researching the most Muslim-friendly accommodations take effort. However, the beauty of my homeland is still breathtaking and well worth a visit.
Much like other parts of the Caribbean, Jamaica is home to various ethnicities and cultures.
A historical amalgamation of Indigenous Taino and Arawak peoples, enslaved West Africans, indentured Indian and Asian servants, and European settlers shape a unique and truly diverse society.
Regardless of the facial features and skin shades you see, all of Jamaica's varied heritage fuses to create a national identity that is known all over the world.
From athleticism to Rastafarianism, almost everyone has heard of our "island in the sun" and is familiar with national celebrities like Bob Marley, Grace Jones, and Usain Bolt. However, not as commonly known is the history of Islam in Jamaica.
Historians have identified Muslim presence from the time of Columbus' early expeditions steered by Andalusian sailors.
Thereafter, West Africans who were stolen from their Muslim lands brought their faith with them while surviving the horrendous Transatlantic Slave Trade.
For those who resisted slavery, independent communities of free men and women known as Maroons were established in various parishes in Jamaica.
Many point to the habits and practices of their historical leaders as evidence of Islamic culture and worship, such as prostrating at the signing of treaties and greetings of peace before starting council meetings (more info here).
While an official Muslim tour of Jamaica or an Islamic Museum has yet to be established, see tours below, there are many places of significance to develop your own journey.
What Is the Best Time to Travel to Jamaica?
Jamaica is a travel destination that has something for everyone. With its white-sand beaches, lush rainforests, and diverse culture, Jamaica is a place that should be on everyone's travel list.
As anyone has ever been told, there is no bad time to travel to Jamaica. The island is blessed with year-round sunshine, and even the occasional hurricane brings only a brief interruption to the fun.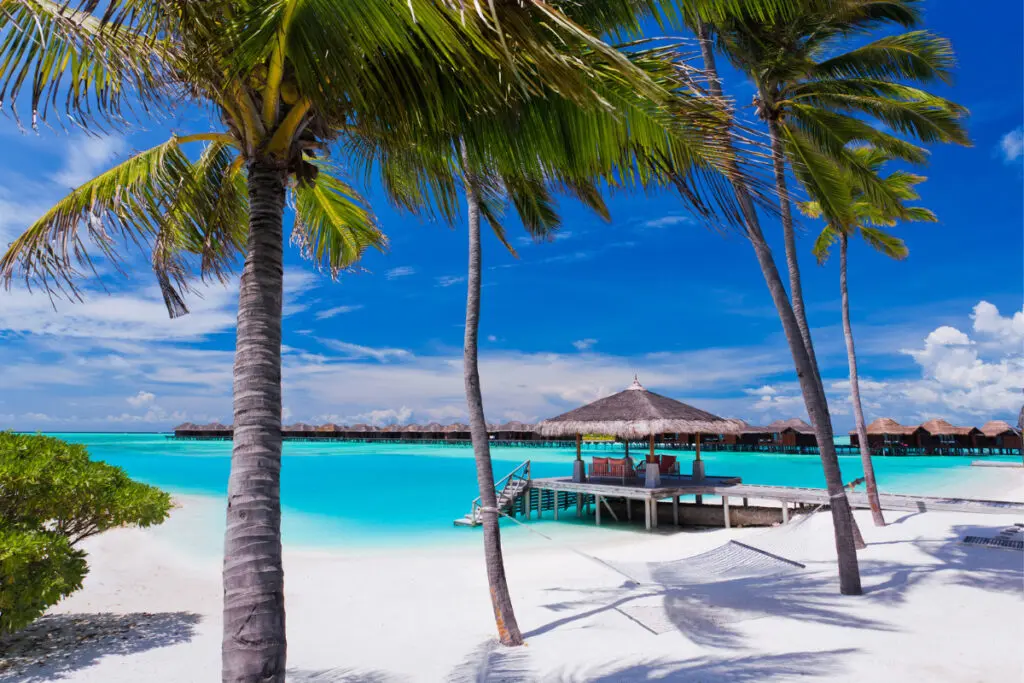 However, for those looking for the best travel deals and the most pleasant weather, November to mid-December is the best time to visit Jamaica.
Hotel rates are typically lower at this time of year, and flights are easier to find. Plus, the weather is perfect; not too hot and not too cold, with just enough breeze to keep things comfortable.
So if you're looking for the ideal time to travel to Jamaica, November to mid-December is your best bet.
Mosques in Jamaica
In Kingston, you'll find Jamaica's largest mosque on Old Camp Road.
For Friday prayers, the green, and the white compound is abuzz with congregants attending prayers, halal meals sold thereafter, and children from the mosque's school running and playing on the grounds.
2. Masjid at-Taqwa, St. Elizabeth
This humble country mosque was privately built in recent years by an African-American who envisioned Jamaica as a true abode of peace and natural living for all to find refuge.
3. Masjid al-Ihsan, Negril
Though Negril is known mostly as a tourist destination, Muslims can find refuge in the West End overlooking the beach at this small mosque where Friday prayers are established.
Best Things To Do in Jamaica
1. Visit a Local Apiary, St. Elizabeth
A Muslim beekeeper in the countryside enjoys hosting small groups by reservation to share his local honey and mosque-inspired home with visitors.
This 15-acre organic farm in Free Hill offers tours, meals, and events way up in the hills of St. Ann.
Their gourmet vegetarian fare and open-hearted hospitality have won them awards and acclaim throughout the island. They regularly accommodate Muslim guests through their partnership with Burgundy Roots.
On a private 1000-acre estate, a limited number of visitors can freely ride horses along the beach and swim in the nearby Sweet River, while taking in the sights, sounds, and tastes of this tropical savannah.
4. Hiking in the Blue Mountains, Kingston
Home to the famous Blue Mountain coffee, hiking in the region offers a beautiful panoramic view of Kingston, as well as a cool escape from the city heat.
Recommended properties include the Blue and John Crow Mountains National Park or Alex Twyman's Old Tavern Coffee Estate.
This rural orphanage teaches and supports young boys to become strong men in the absence of their parents. The organization regularly accepts school supplies and other donations from visitors.
6. Visit Bob Marley Museum, Kingston
The Bob Marley Museum is located in the former home of the famous reggae singer and songwriter. The museum chronicles Marley's life and career and includes interactive exhibits that provide visitors with a glimpse into his creative process.
The museum is also a great place to hear live music and enjoy traditional Jamaican cuisine. Whether you're a fan of Marley or simply interested in learning more about Jamaican culture, the Bob Marley Museum is a must-visit destination.
7. Climb the Dunn's River Falls and Park, Ocho Rios
You absolutely must spend some time at Dunn's River Falls if you planned to visit Jamaica. Located in Ocho Rios, this natural wonder is a must-see. You can take a guided climb of the waterfall, hike a trail alongside it or just recline and relax on the beach at the bottom.
Regardless of how you choose to spend your time at Dunn's River Falls, you're sure to have an incredible experience. So don't wait – add this spot to your travel itinerary today!
8. Hike and camp in Blue and John Crow Mountains National Park
If you're looking for a place to escape the hustle and bustle of city life, the Blue and John Crow Mountains in Jamaica are the perfect place. As the fountainhead of Blue Mountain Coffee, the mountains are bursting with the fragrant scent of coffee trees.
The views are simply breathtaking, and there's no better way to appreciate them than by hiking one of the many trails. Whether you're an experienced hiker or a novice nature lover, you'll find something to love about the Blue and John Crow Mountains.
9. Enjoy the view of Jamaica's Mystic Mountain in a Bobsled Adventure Tour
The bobsled adventure tour is the perfect way to get your adrenaline pumping. You'll race down a path that cuts through the rainforest at speeds of up to 50mph.
And if that's not enough to get your heart rate up, you can always pump up the speed with your individually controlled handbrakes. But don't worry, even if you go slow you'll still be able to enjoy the omnipresent jungle.
10. Swim with Horses
Looking for an unforgettable way to experience Jamaica's natural beauty? Then saddle up for a Horseback Beach Ride & Swim! This tour takes you along the north shore, where you'll get to see some of the island's best beaches and landscapes.
And what could be more invigorating than a dip in the Caribbean Sea on horseback? Whether you're an experienced rider or a first-timer, this tour is sure to send you home with memories that will last a lifetime.
11. Swim with the Dolphin in Dolphin Cove
Dolphin Cove is one of Jamaica's most popular tourist attractions, and it's easy to see why. This wonderful place allows visitors to swim with dolphins, sharks, and stingrays in natural seawater, providing an up-close and personal experience with some of the ocean's most popular inhabitants.
It is also committed to education and conservation and offers a number of educational programs about the animals that call the cove home.
Whether you're looking for an exciting activity or a chance to learn more about marine life, Dolphin Cove is sure to be a memorable experience.
12. Diving off Ricks Cafe's cliffs, Negril
Ricks Cafe is one of the most popular tourist attractions on the island of Jamaica.
Overlooking the West end cliffs, Ricks cafe is the perfect place to enjoy the stunning views of the Caribbean Sea. Ricks Cafe is also famous for its annual cliff-diving competition, which attracts daredevils from all over the world.
While Muslim visitors may not be able to participate in the diving, they can certainly enjoy the spectacle from a safe distance. With its beautiful setting and exciting atmosphere, Ricks Cafe is an essential stop on any Jamaican vacation.
What are the Must-try Foods in Jamaica?
As a Muslim traveller I know it is super important to always have halal food options and Jamaica doesn't disappoint.
1. Patties
This popular street food is traditionally stuffed with spiced minced meat but can now be found filled with a variety of vegetables and seafood options.
2. Ital Stew
Made popular by the Rastafarian community, this bean-based soup is usually stewed with coconut milk and vegetables. Due to their primarily vegetarian lifestyle, Rastafarian cuisine, or ital food, is considered halal.
3. Ackee and Saltfish
Jamaica's national fruit is actually not sweet at all. It's starchy and cooks down to the consistency of scrambled eggs. Traditionally served alongside sautéed saltfish—commonly known as codfish outside of Jamaica—with boiled green bananas and dumplings, it is a classic weekend breakfast to savour.
Best beaches to visit in Jamaica
1. Bloody Bay, Negril
Jamaica is well-known for its beautiful beaches, and Bloody Bay is no exception. This long stretch of white sand and clear blue water is perfect for swimming, sunbathing, and enjoying the views.
There are plenty of opportunities to try out some of the local beach activities, like windsurfing, kayaking, and snorkelling. With its perfect weather and stunning setting, Bloody Bay is the perfect place to relax and soak up the Jamaican sunshine.
2. Frenchman's Cove, Port Antonio
Frenchman's Cove in Jamaica is the stuff of dreams- with soft, golden sands and sapphire water, it's no wonder that it's considered one of the most beautiful places on earth.
Shaded by a canopy of emerald trees, the cove is a hidden treasure, and its crystal clear waters make it a picture-perfect paradise.
Located in Port Antonio, Frenchman's Cove is one of Jamaica's best-kept secrets, and it's easy to see why. With its idyllic setting and tranquil atmosphere, the cove is a truly magical place- and one that should definitely be on your travel list.
3. Doctor's Cave Beach, Montego Bay
Doctor's Cave Beach in Montego Bay is world-renowned for its mesmerizing beauty.
The water is crystal clear and the sand is flawlessly white, creating a stunning contrast that is impossible to forget. This beach is also unique in that it is located in the heart of Montego Bay, making it easy to access for visitors.
Doctor's Cave Beach has something for everyone, from families with small children to couples looking for a romantic getaway. There are plenty of activities to keep you busy, or you can simply relax on the beach and soak up the incredible views.
Doctor's Cave Beach is truly a piece of paradise, and it is easy to see why it is one of Jamaica's most popular tourist destinations.
4. Treasure Beach, St. Elizabeth
Treasure Beach on the south coast of Jamaica is a place of untamed beauty. With its striking landscape and uncrowded sands, it's easy to see why this beach is a favourite among locals and visitors alike.
However, Treasure Beach is also known for its strong undercurrents, which can make swimming tricky. As a result, it's important to exercise caution when swimming or diving here.
Treasure Beach is a wonderful place to relax and take in the natural beauty of Jamaica, but it's important to be aware of the dangers that lurk beneath the surface.
5. Seven Mile Beach, Negril
Seven Mile Beach is one of the most popular tourist destinations in Jamaica. The beach stretches for seven miles along the coast of Negril, offering powdery white sand, crystal-clear water, and spectacular sunsets.
Although the beach is now a safe haven for sun-worshipers and pleasure-seekers, it was once home to a different kind of visitor: pirates. Pirates would use the beach as a base from which to launch their attacks on passing ships.
They would also bury their treasure in the sand, leading to many tales of buried pirate treasure. Today, Se en Mile Beach is a much more peaceful place, but it still retains a hint of its piratical past.
Tours of Jamaica
There is no one better to organise a halal travel option to Jamaica than Wafa from Burghubdy roots, who has been taking group tours there for the past several years.
Know Jamaica Tours is the best way to see everything that the island has to offer. Their reliable and knowledgeable tour guides will pick you up from wherever you are staying, and they will tailor the tour to your specific interests.
Suzette Tours Jamaica is a family-owned travel tour that provides high levels of service to its guests. It offers tours of the island, as well as transportation to and from the airport.
Whether you're interested in exploring the local culture or taking in the sights This local tour guide offers airport transfer services as well as customized transport to all of Jamaica's local attractions.
Things to Keep in Mind
Be forewarned that alcohol might be present in beverages and desserts, so be sure to inquire.
While Jamaicans are generally warm and welcoming people, headscarves, modest swimwear, or traditional Islamic gowns are not commonly seen in public, so curious stares or inquiries are to be expected. But don't be intimidated it is mostly due to the fact they don't have many Muslim tourists. So you should feel proud you are visiting to represent Muslims in Jamaica. 🙂
Religion and spirituality are important aspects of Jamaican culture, so be prepared for interfaith dialogue and encounters.
What to Prepare in Going to Jamaica?
Jamaica is one of the most popular travel destinations in the world. If you are planning a trip to Jamaica, there are a few things you should know in order to make the most of your travel experience.
First and foremost, be sure to pack light and comfortable clothing. The weather in Jamaica is warm and humid, so you won't need any heavy or bulky clothes.
Second, don't forget to pack your sunscreen! The sun can be very strong in Jamaica, so it's important to protect your skin.
Third, be sure to bring cash with you, as credit cards are not widely accepted on the island.
And finally, don't forget to have a travel insurance policy in place before you travel.
This will help to protect you in case of any unexpected medical expenses or other problems that may arise during your trip. By following these simple tips, you can ensure that your travel to Jamaica is enjoyable and hassle-free.
How Safe is Jamaica for Travel?
Many people travel to Jamaica every year without any problems. The resorts are typically well policed and travel agencies don't typically send guests to areas that are known to be unsafe.
There have been some violent incidents, but while the island certainly does have its problems, you're very unlikely to get mixed up in them if you're careful.
If you're thinking of travelling to Jamaica, check with your travel agency or do some research online to figure out what areas are safe and which ones to avoid.
But overall, as long as you take some basic precautions, you should be able to enjoy your trip without any issues.
What is the safest part of Jamaica?
When people travel to Jamaica, they often ask the question: what is the safest part of Jamaica? The answer, of course, depends on who you ask.
Some people will tell you that the north coast is the safest, while others will say that the south coast is more relaxed. There are even those who believe that the interior of the island is the best place to be. Ultimately, it all comes down to personal preference.
However, there are a few things to keep in mind when deciding which part of Jamaica is right for you.
The north coast is typically more developed and touristed than the south coast, which means that there are more amenities and activities available. However, it also means that there are more people around, which can make it feel less safe.
The south coast is more laid-back and relaxed, but it can also be harder to find things to do.
The interior of the island is often considered to be the most beautiful part of Jamaica, but it can be difficult to get to if you don't have your own transportation.
Ultimately, only you can decide which part of Jamaica is the safest for you. Just remember to travel with caution and be aware of your surroundings no matter where you go.
Indeed, Muslim travellers will find that Jamaica is a Muslim-friendly destination. There are halal restaurants, mosques, and other Muslim-friendly amenities throughout the country.
Muslim travellers can also enjoy all of the other attractions that Jamaica has to offer. From the beautiful beaches to the lively nightlife. You can definitely swim in your burkini in Jamaica without a problem and there is something for everyone in Jamaica.
You might also like
10 Most Delicious Halal Food Restaurants in Orlando Florida. Must Try!
Ultimate Guide on Things to Do in London as Muslim Traveller
Muslim Friendly Baku: Here is why Azerbaijan's capital is a perfect halal travel destination
Malta a Great Destination for Muslim Halal Travelers and Halal Holidays