Recently we visited Cyprus and our flight was departing from Larnaca airport. We had rented a car when we arrive in Paphos and thankfully there were no one-way charges for dropping it off at Larnaca airport.
It is peak summer so the airport was busy but it went quite smoothly which was nice. When we saw the queue I thought we would have to wait for ages but nope, we were done in 15minutes.
The airport does offer a fast track and you can buy this for 5 euros per person. They even have a machine next to the queue so if it's too long and you don't want to wait you can just pay and fast track.
There is only one executive lounge in the airport at the moment, the Aegean lounge is under renovations. Both lounges are located one the first floor next to each other and there are signs to find them. The easiest way is to find the Cost coffee of your left after security and then take the lifts up to the lounge.
You can use the lounge if you are a business class passenger, or if you have access via one of the many companies such as PriorityPass. Check my article on airport lounges here.
The Larnaca Airport executive lounge was recently renovated and it was much better than I expected. Fresh, modern, spacious and with good facilities plus there is a balcony when the weather is nice. Which is Cyprus is like 300 days of the year.
When we entered the lounge was busy with many flights to Russia going out, still, there was plenty of seating but I really thought I wouldn't be able to take photos and do a review. However 1 hr into our stay it literally went quite.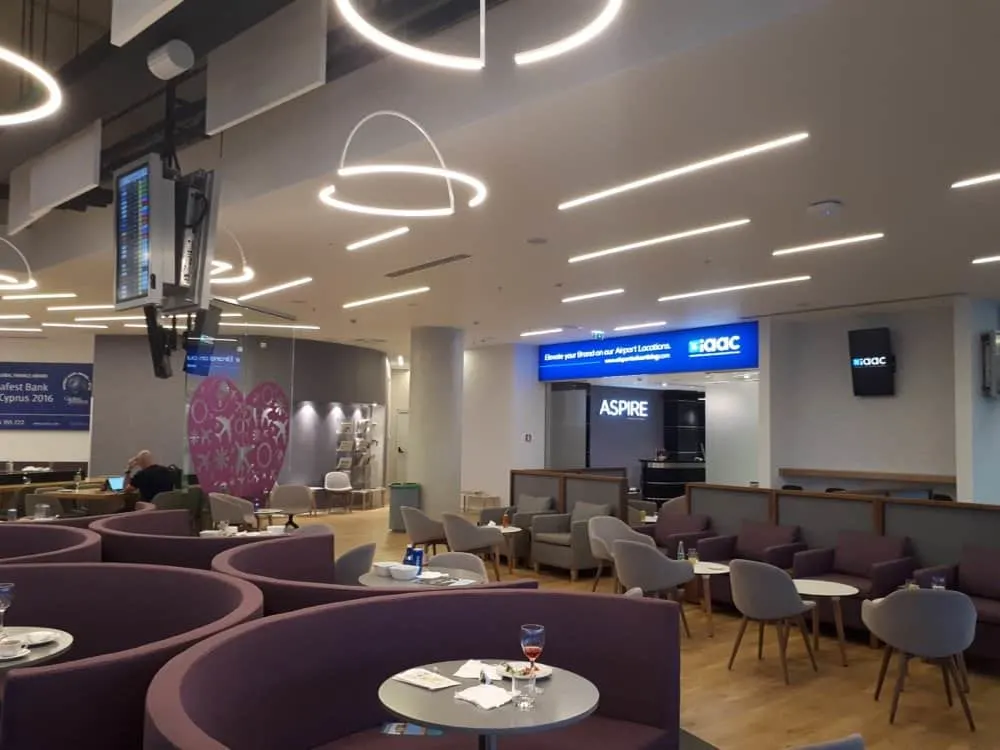 There were plenty of food options and they were replenished regularly, they weren't any hot food mostly finger food but it did have a good variety.
I liked that they had the seating arrangements in a way that you can still have some privacy and not one long table with chairs.
There is also a kids corner and a smoking room as well.
Overall I enjoyed my stay in the lounge, as it's newly renovated it was fresh and once most passengers left it became very quite. Good space to work or chill before your flight especially because the main terminal was very busy with people.
Opening Hours of the lounge:
00:00 – 22:00 – Monday, Wednesday & Friday. 06:00 – 00:00 – Tuesday. 04:30 – 00:00 – Thursday & Saturday. 24 hours – Sunday.