I am planning a York trip for myself and my nephew and I realised that I never published here an article I did for the Ilma magazine on Muslim friendly activities in York with halal food.
York is a great family destination but also very cultural and fun especially now during beautiful summer weather and school holidays. So families can enjoy activities with their children. I am really excited to be taking my nephew to visit some of these fun things in York.
Sometimes we look for far away and exotic destinations when, for those living in the UK, there are plenty of beautiful cities to visit here. One of these cities is York; a historic destination with over 1,900 years of history, which makes it a perfect getaway for the whole family. York is a historic 'walled' city at the confluence of the rivers Ouse and Foss, in North Yorkshire. York is the traditional county town of Yorkshire to which it gives its name.
York ranks as the eleventh most visited city in the UK according to VisitBritain.org and it is renowned for its great medieval architecture, small cobbled streets and the iconic York Minster. Being only two hours away from London by train, no wonder it attracts a large number of visitors annually.
The city is of great historical importance, dating back to the Roman Empire in 71 AD. York became the capital province of Britannia Inferior and it was originally called Eboracum. Later it became part of Northumbria's kingdoms and under the Jorvik Vikings' empire. In the Middle Ages York was a major wool trading centre and it became the capital of the northern province of the Church of England; a role it retains even today.
During the nineteenth century, the city became an important railway hub and a confectionery manufacturing centre. Today, York has moved away from industrial manufacturing and now concentrates on providing a service-based industry. It has one of the most reputable universities in the UK and it is a hub for major branches of international companies.
York offers something for everyone in the family; there are plenty of ancient historical places to explore, fun activities for the youngsters and shopping opportunities for everyone.
York's city centre is almost a traffic-free zone which gives the visitor a perfect opportunity to explore the city's medieval cobbled streets and architecture. Getting lost in this beautiful city of York is highly recommended.
Every turn seems to reveal another lovely view of the historic city with beautiful tea rooms along the way, in case you want to take a rest and relax. It is one of those cities that, when walking within its walls it makes you feel like you have been sent back in time. It is a walking historical museum; this British Heritage City is also perfect for the children to enjoy.
York is a bustling city with plenty of opportunities to explore the historical sites as well as the many festivals and events that take place every year. Here are some places to visit in York.
York Minster
'The Cathedral and Metropolitical Church of Saint Peter in York', commonly known as 'York Minster', is the cathedral of York. It is one of the largest of its kind in Northern Europe. During renovations, the remains of the Basilica, the ceremonial centre of the Roman fortress, was found beneath the Minster building. This iconic medieval site has always been of great importance to the city and it still stands proudly for over two thousand years.
Visitors can explore the underground chambers, which were used as a burial ground over the centuries, for important figures of the city. The new renovation project has totally transformed the underground chambers with dynamic audio-visual and interactive galleries revealing the significance behind the Cathedral's most treasured artefacts. If on the other hand, you are interested in seeing the city from above, you can find the best views just two hundred seventy-five steps up the Central tower leading you to the highest point in the city.
For the younger visitors there are free discovery trails and also an explorers backpack to help them discover the Minsters secrets, as true detectives. A great way to spend a family weekend in York!
National Railway Museum
York's 'National Railway Museum' is a must-visit for the whole family. It is part of the 'British Science Museum Group of National Museums' and tells the story of rail transport in Britain and its impact on society. It has won many awards over the years, including the European Museum of the Year in 2001.
It holds the national collection of over one hundred historically significant, locomotives all of which either ran on the railways of Great Britain or were manufactured in the country. The museum is hosted on a twenty acres site that has many hundreds of thousands of other items and records having social, technical and historical interest.
The museum is located near 'York Railway Station' in the former motive power depot, and it is the largest of its kind in Britain, attracting more than seven hundred thousand visitors per year.
The National Railway Museum is free to visit, and it is open daily from 10 am to 5 pm, excluding bank holidays.
Clifford Castle
'Clifford Castle' is also known as the 'York Castle' and it is a medieval fortified complex comprising of over nine centuries of buildings serving as castles, prisons, law courts and other. It is located on the South of the River Foss. Today, there are only a few remains of the medieval Normal castle and it is commonly known as Clifford's castle.
The castle was originally built by William the First, to dominate the former Viking city and over the centuries it was used as a military and defence base. A major explosion in 1684 rendered the remaining military defences uninhabitable, the castle continued to be used as a jail and prison until 1929.
Today Clifford's castle is a well-known tourist destination and a national monument. The site is owned by British Heritage and is open to the public daily, excluding bank holidays.
Jorvik Viking Centre
With a great Viking history surrounding York, there is no better way to experience this than visiting the 'Jorvik Viking Centre'. The Jorvik Viking Centre is a museum and visitor attraction created by the 'York Archaeological Trust in 1984. Its purpose is to entertain and take visitors in a time capsule to the 975 AD, reconstructing Viking settlements. The Viking Centre also includes a museum with over eight hundred finds from the site with interactive displays and the opportunity to learn about the Viking era.
Probably the most notable opportunity to visit York, if you are interested in Viking history, is during the annual Viking festival (Jorvik Viking Festival), which takes place every February during term time.
The festival's programme of family-friendly events, lectures, guided walks and battle reenactments attracts over forty thousand visitors each year from across the globe, making it a perfect family holiday.
You can find more information online about the annual festival and other activities here.
The Shambles York
There is no way a visitor can come to York without passing through York's most famous street; 'The Shambles'. The Shambles is sometimes used as a general term for the beautiful and characteristic medieval streets which make York so charming.
At its heart is the lane, actually called The Shambles, arguably the best preserved medieval street in the world. Today the streets of timber build housings, which dates back to the fourteenth century are lined with a range of touristy and other shops.
However, back in the day, they were butcher shops and houses, many complete with a slaughterhouse at the back of the premises, ensuring a ready supply of fresh meat. It is still possible to see some of the original butcher's meat hooks attached to the shop fronts. It is a traffic-free zone which leaves you to explore this city's history in peace.
Around the Shambles, which took its name from the Anglo-Saxon word 'shammel' meaning shelves, a prominent feature of the storefronts, and you can find many tearooms full of character where you can enjoy a relaxing break during your trip.
Yorkshire Dales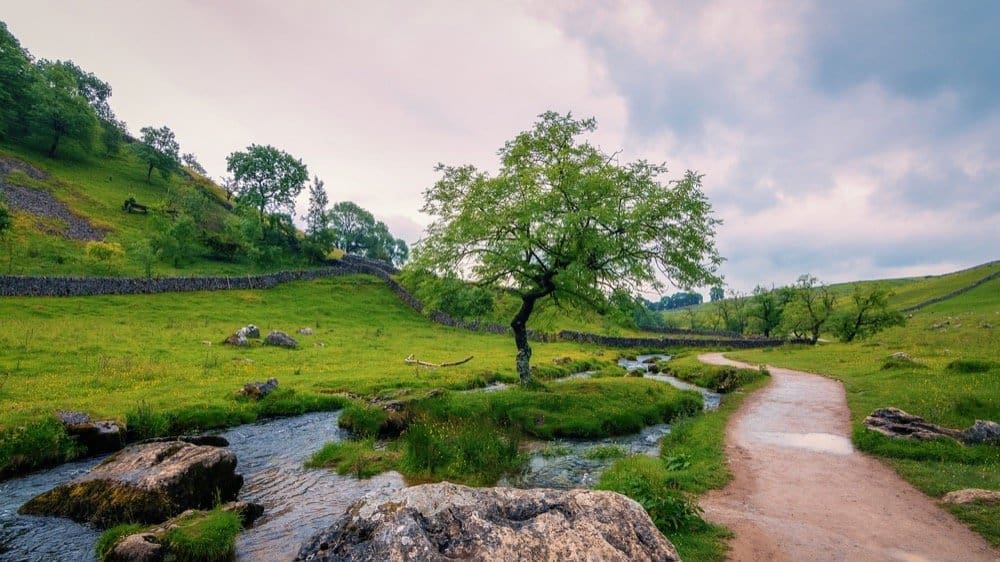 York is the perfect base for exploring the 'Yorkshire Dales'; the word 'dale' is derived from the Old English word 'dael' which means valley. The Yorkshire Dales comprises of river valleys and the hills, rising from the Vale of York to the hilltops of the Pennine watershed.
The Yorkshire Dales is a superb place to spend time outside, with spectacular waterfalls and ancient woodland contrasting with scattered remains of former mine workings and other rural industries; a reminder of the area's rich industrial heritage. The area is perfect for hiking, horse riding, bird spotting and sightseeing. A great outdoor adventure for the whole family.
Money-saving tips!
If you are planning your trip to York by train you might want to consider using the Family and Friends Railcard, saving you up to one third off adult fares and sixty per cent of child fares. It costs thirty pounds for the whole year and it can save you hundreds of pounds on rail travel for the whole family.
You might also want to consider obtaining a British Heritage annual pass starting from forty-one pounds for the whole family. The pass lets you enjoy access to four hundred heritage sites across Britain for free, making it a great value for money if you are planning to have fun and educational weekend breaks.
York Pass helps you save money to thirty of York's top attractions offering you a flexible sightseeing pass that allows you to visit the sites and attractions that interest you the most. By having the York Pass can save you serious cash! A two-day pass for two adults and children costs one hundred and forty pounds. You can find more information about the pass here: www.yorkpass.com
Halal Food in York City Centre
There are many options when it comes to halal food in York and I am sure you will not go hungry. With a diverse population and a lot of Muslims visiting and living there, we never struggled to find halal food. Below are some restaurants with Halal Food in the York city centre you can try out. Please note these are accurate when posted and confirm yourself before ordering.
Pizza Express– Popular Italian chain that serve pizza and pasta and I love the outdoor view of York from their balcony. They serve halal although not advertised. Address: River House, 17 Museum Street, York, YO1 7DJ (
Akrabs- A popular Asian restaurant near the Viking centre that offers a selection of dishes and it's halal. Address: 6-8 George Hudson St, York YO1 6LP, UK
Kapadokya Restaurant -Turkish restaurant serving dishes oven baked or chargrilled on an open barbecue. Address: 24 George Hudson St, York YO1 6LP
These are some of the restaurants with Halal Food in York city centre but also there are many smaller takeaways that offer food which you can find while exploring the city.
York is a superb travel destination. Only a few cities in the world can rival York's history and character which magically takes you back in time. You cannot fall in love with York, a city that proves that travelling to find beauty and experiences does not have to include crossing borders or even getting on a plane. Next time, for those looking to discover local treasures and beauty visit York.