Birmingham is the second-largest city in the UK and has one of the most lively Muslim populations I have encountered.
There is no shortage of halal restaurants in Birmingham city centre or across the city, mosques to pray, and places to enjoy in the evening. Having lived in the city for several years, it holds a special place for me. Even my mum, while visiting, loved the vibrancy and halal food in the city.
Birmingham situates in the West Midlands county in England. It is one of the United Kingdom's major cities, also the Midlands' financial, social, and cultural centre. A very short train ride into the city from London, you should consider exploring it if you're visiting the UK as a Muslim traveller.
Talking about social life, Birmingham also has unique Halal options from savoury to desserts. You will find everything that your heart desires.
A shortlist of some of the popular halal dining places in Birmingham include the following:
Halal Dining in Birmingham
Nando's
Nando's is a South African multinational fast-food chain specialising in flame-grilled peri-peri-style chicken. It is one of the most favourite food chains in the UK, and several of their branches serve halal chicken as well, so Muslims can enjoy them too.
As mentioned, they have branches all over the UK, but Birmingham also has some in the city centre near Bullring, which makes it an ideal place to have a bite if you are shopping and exploring the city.
Two of them are located in Birmingham, New Street, and Broad Street.
Wingstop
Wingstop is a halal burger restaurant in Bullring Mall in Birmingham city center. While in the city this week and looking for a halal place in Bullring shopping mall or city center to eat, we decided to try out the Wingstop restaurant. I have to say their BBQ burger was delicious as well as their various chicken nugget options.
Vietnamese Street Kitchen
A family-run restaurant in the city centre of Birmingham at Bullring mall offers a pleasant environment to enjoy some Vietnamese cuisine.
They offer a separate halal food menu with various dishes for you to try.
The restaurant is located at St Martins Square, Bullring, Birmingham B5 4BW, and it is open from 12 pm to 9 pm.
Chaiwala
Chaiwala is a well-known tea chain restaurant that offers the taste and vibes of Desi Indian restaurant without you having to leave your city premises.
The restaurant's speciality drinks were served on the streets of Delhi from 1927 until 2015 when their love for chai was brought to the UK.
This iconic taste was loved by many out there in the UK, giving the other tea chains to open similar restaurants and replicate the same menu of the restaurant. Although they failed on getting the same taste, and let live the taste of Chaiwala to the taste buds of many.
The restaurant is located at 410 Ladypool Road, Birmingham B12 8JZ and remains open every day of the weekend from 8 am to 12 am, while on weekends, it remains open from 9 am to 12 am.
Haute Dolci
This restaurant offers a luxurious dessert experience. Their decor and wonderful delicacies are some points which set them apart from the rest of the restaurants in the same field.
The restaurant prices are such that they do not let you feel a burden on your pocket.
One of their most popular dishes, which also has a unique name," I'll have what she's having", has a waffle and milk chocolate sauce, strawberry and vanilla gelato.
The restaurant also runs a keyholder scheme like a subscription where the keyholders will get to have a secret menu and promotional offers and discounts.
The restaurant has also opened new gates to a menu that will offer burgers, salads and sides so that customers looking for quick bites can also relish upon their menu.
The restaurant is located at Star City, 18 Watson Rd, Nechells, Birmingham B7 5SA and remains open every day from 1 pm to 12 am.
MyLahore
My Lahore is a halal restaurant in the centre of Birmingham with a great history and a true British-Pakistani brand.
The restaurant focuses on a fusion of British and Asian dishes. Some family favourites such as samosa chaat, curries, and kebabs will make your mouth watery.
Their burgers, fries and some old school desserts are a must-try. My Lahore was awarded as the Best Pakistani Restaurant for the year in 2019, which it deserves for its decor and the food it provides.
The restaurant is situated at 191-194 Bradford St, Birmingham B12 0JD and remains open every day of the week from 1 pm to 12 am.
Marco Pierre White Steakhouse
Marco Pierre White steakhouse offers fantastic views of Birmingham city and a halal steak to go with it.
You will need to order 48hrs in advance, but it is a unique environment if you want to enjoy a romantic fine halal dining experience.
Just for the view and the ambience, this can be named one of the best halal steak places in Birmingham city centre.
The best part is that you can also find an offer on Groupon for the famous chef's restaurant in the city.
You can find the offer here.
The restaurant is located in The Cube 200 Wharfside St, Birmingham B1 1PR, and it is open from noon.
Opheem
Opheem is an Indian Michelin star restaurant in Birmingham serving halal food options.
If you have a special occasion and are looking for a Michelin halal fine dining experience in Birmingham, definitely look into Opheem. The philosophy and food are fantastic.
They have set menus from £75, and you will have to call and ask for the halal food options in advance.
Address 65 Summer Row, Birmingham B3 1JJ, is open for lunch and dinner.
Gaucho Birmingham
If you are looking for a nice halal steak in Birmingham in a pleasant environment, you should consider Gaucho.
This Argentinian restaurant is popular with locals and serves fantastic steaks.
You will need to give them 48hrs notice to supply halal steaks, but it is worth the trouble and advance planning. Gaucho is an excellent option for a halal dining experience in Birmingham city centre.
The restaurant is located on Lower Ground Retail, 55 Colmore Row, Birmingham B3 2AA, and it is open from 12 pm until 10:30 pm.
Karahi King
Karahi King is a family-owned and operated restaurant known for its best kebabs in the town, thanks to the dishes served there, which give you a home feel.
The restaurant is sure to satisfy all your cravings and might even crave you to come back for more.
The restaurant is located at 346 Coventry Road, Birmingham, B10 0XE and remains open every day of the week from 12 pm to 4 am.
Tipu Sultan
Tipu Sultan is a restaurant which is known for its North Indian mouth savouring dishes. Some of the famous dishes, such as the purple velvet sofas and ceiling fixtures, are some dishes that offer a luxury dining experience overall.
The restaurant offers a variety of seafood, curries, and salads. The restaurant is always available with some delicacy for the customers to enjoy, and their infamous green chicken, which you can consider to begin your feast.
The restaurant can be found at 43 Alcester Rd, Birmingham B13 8AA and remains open every day and remains open from 12 pm to 11 pm.
Fargo's Food Factory
Fargo food factory is an HMC (Halal Monitoring Committee) certified restaurant located at Ladypool road. The restaurant provides fresh food to the customers in a cosy environment, which was also the restaurant's motto.
The restaurant has a range of Burgers, Pizza, Burritos with much variety on the menu, so do not worry, there's something for everyone out there.
Fargo's is perfect for you when you are not looking for takeaway and neither a super fancy heavy meal. The restaurant caters to your every need with fresh ingredients and items prepared in the restaurant, whether it is hand-cutting the fries or hand-pressing the burger patties.
The restaurant is located in the Halal Quarter, and you can find them at 377 Ladypool Rd, Birmingham, B12 8LA. Fargo's remains open every day of the week from 1 pm -11 pm.
Akbar's
This curry house restaurant will impress you with its unique flavours and curries.
The restaurant is in Edgbaston, a building that can accommodate more than 300 people. The restaurant customers have praised the restaurant for its perfect customer service and its delicacies.
The restaurant is situated at 184 Hagley Rd, Birmingham B16 9NY and remains open every day of the week from 4 pm to 11:30 pm.
Shiraz Persian Cuisine
I used to live near Shiraz restaurant, and also I happen to like Persian food. Well, you can imagine that I was a regular customer.
This small restaurant is family owned and offers some of the best Persian dishes that taste delicious.
If you are going during the weekend, make sure to book in advance as you might not find a table.
The restaurant is located on 167 Hagley Road, Birmingham B16 9NY England, and it opens from 5 pm to 12:30 am.
Ziryab Executive Buffet
If you are looking for a good halal buffet in Birmingham, you should consider the Ziryab Executive Buffet. It offers a lot of variety and a pleasant environment to enjoy a night with family and friends.
It can get busy during weekends, so make sure you book in advance. They also have a segregated prayer room.
The restaurant is located on 35-41, Highfield Rd, Saltley, Birmingham B8 3QD and it is open from 5 pm to 11 pm.
Eis Café
Eis Café is a restaurant that makes the traditional dessert dishes much more appealing and appetising for visitors. This restaurant's menu is quite alluring to the visitors visiting the restaurant for the first time.
The restaurant helps in getting an escape from the busy and detoured metropolitan lifestyle. If you are planning on giving a sweet and delicacy taste to your taste buds tingle, then you can try out there. 'fudge brownie and toasted marshmallow waffle'.
Eis Café offers a savoury menu with the help of Moroccan-themed sandwiches and teas great for a halal breakfast in Birmingham, which are appetising to your taste buds. The presentation, decor and customer service are always up to the mark.
Eis Café is located at Coventry Rd, Birmingham B10 0UN and remains open every day of the week from 12:30 pm to 11:00 pm.
Red Couch
The red couch is a hidden gem of Birmingham. At just £7.95, you can savour a hefty Big bite tasty halal breakfast that will leave you happily contended and satisfied.
Also, you can get a more traditional breakfast for just £8.25. The restaurant has a broader menu for burgers, pasta, salads and curries. However, you are guaranteed to be happy after having a feast over the breakfasts.
Celebz
If you wish to have an American diner experience in the city centre, Celebz will help you feast upon it. The restaurant is famous for its delicious and savoury eats and perfect customer service.
The restaurant is located at 203 Corporation St, Birmingham B4 6SE and remains open every day from 12 pm to 9 pm.
Dough and Bun
If you are looking for some best burgers in Birmingham, then Dough and Bun is the one restaurant you can look upon. Their beef-burgers and thin Italian crust pizzas are something that will have you coming back for more.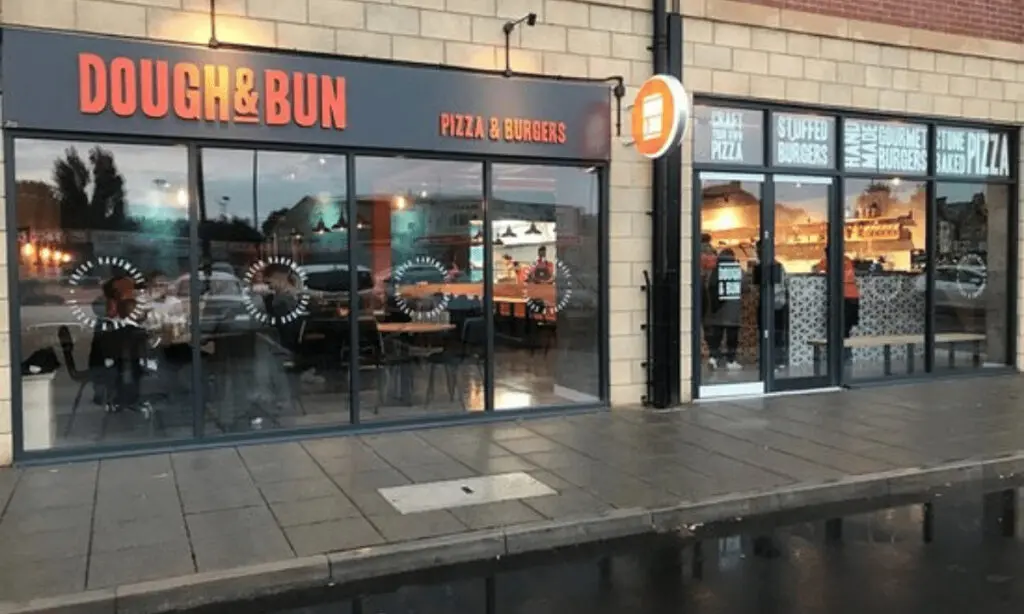 The restaurant is found on the outskirts of the lane of Bromford and is a perfect place to end your busy day with an ideal snack.
The restaurant is situated at 334-336 Bromford Lane, Washwood Heath, Birmingham, B8 2SD, and remains open every day of the week from 4 pm to 11 pm.
The above halal restaurants in Birmingham are just a small indication of all the delicious halal food you can find in the city. There are way too many for us to name here; however, we found the Halal Food Birmingham IG that reviews many of them. Check them out for your next trip to the city.