Greece is one of the most beautiful countries in the world! OK, I know I am biased but follow along on the must visit islands in Greece and you will understand what I mean. You can find pretty much anything on a Greek Island and much of Greece. From blue beaches and sandy remote locations to ski resorts up in the mountains. Beautiful fresh food and very very hospitable people. Key ingredients to a fabulous holiday.
There is something for everyone from young to old and in between. So let's check some of my favourites islands in Greece.
Corfu
Corfu is in the Ionian sea and it is on the northwest. In Greece it is known as Kerkyra and tourists love it. You can visit the Achilleion – a palace built by the Empress of Austria Elisabeth of Bavaria, the Palaio Frourio, the Old town.
P.s. I actually grew up in Corfu and some of my most fond memories are during the summer running our small family hotel. No wonder I have the travel bug.
#Tip rent a car or scooter and explore the island. Just be careful with your driving.
Rhodes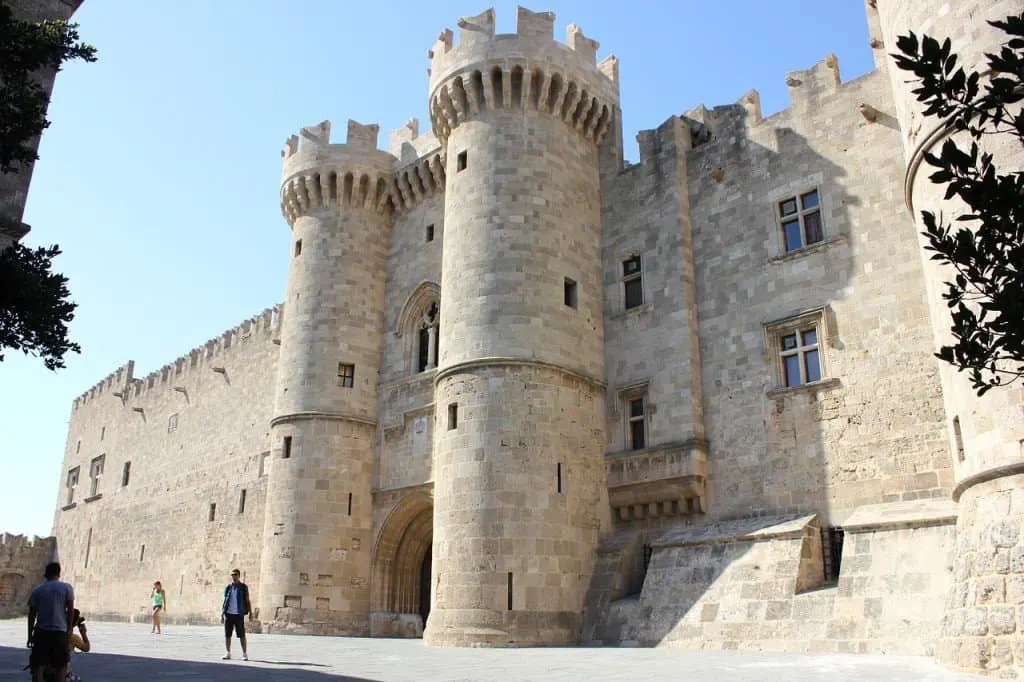 Rhodes is the largest of the Dodecanese islands and it is located in the southeast Aegean sea. Rhodes was world famous, as the home of one of the seven wonders of the Ancient world. If you are in Rhodes you could visit the Medieval city, Palace of Grand Master of Knights and the Acropolis of Lindos.
There is a Muslim Library located just opposite to the Mosque of Suleiman in the old town. There is a lot of Muslim heritage in Rhodes and so it is definitely worth exploring.
p.s. A reader who just visited Rhodes informed me that there is a halal restaurant called Lithos between the Mosque of Suleiman and the Muslim Library. So you can find halal food and try the authentic Greek souvlaki. I also discovered online Saffrom Restaurant which serves Halal Lamb and Chicken.
Santorini
Nothing can describe the beauty of Santorini unless you see it with your own eyes. One of the most famous islands in the world, the views are simply breathtaking. Being part of the Cyclades its architecture is similar to that of the other islands; small houses, whitewashed and blue windows.
You can find some of the most breathtaking hotels here.
Crete
Crete is the largest Greek island, and the fifth largest in the Mediterranean sea. Crete has always been an important part of Greece. It was the centre of the Minoan civilization. One could visit many archaeological sites, including the sites of Knossos and Phaistos.
Crete is renowned for its beaches and greek olive oil. There are so many places you can visit or you can just chose to relax by the sea. It's all good. Hotel options are almost limitless and you can find them here.
#Tip If you are looking for a hijab free holiday Crete offers the perfect destination. From many small villas to luxury private resorts. There is something for every pocket. You can check my review of my own hijab free holiday here.
Zakinthos
Zakynthos is an island also located in the Ionian sea. Its most famous landmark is the Navagio beach which is isolated by high cliffs and can be accessed only by boat.
#Tip Definitely rent a car to explore the island and its beaches. Also don't forget to try some nice fresh fish or water sports.
Paros
Paros is another island located in the Cyclades. For many years it used to be a destination visited by locals and celebrities rather than mass tourism. Things are changing now and you can definitely see the charm of why Paros is so popular. It offers something to everyone – whether you are a family or not Paros is the perfect place to visit. You could visit the Parikia town, Panayia Ekatondapiliani Cathedral, Valley of Butterflies (Petaloudes Park) and the old Port of Naousa. White washed houses and blue windows you can't get any more Greek than this. Finding a budget or luxury hotel is not very difficult in Paros.
Skiathos
Skiathos is a small island located in the northwest Aegean sea. Again not very popular with mass tourism like many other islands it offers privacy, greenery and beautiful beaches. The old town is charming and many celebrities love to visit during the summer months. In Skiathos you can visit the Lalaria beach, the Kastro and the Papadiamantis House. For hotels you can visit TripAdvisor here.
Kefalonia
Kefalonia is the largest of the Ionian islands. The diversity is in this island is incredible. You have to be very careful if you are visiting Kateleios cove as this is the favourite beach of the endangered caretta caretta turtle species. Once you are there you can visit the villages of Fiskardo and Assos, sail to Ithaca, which was home to Homer's Odyssey. You could also explore Melissani cave and Myrtos beach. You can find luxury hotels and many family owned properties on the island starting from as little as £30 per night.
Hydra
Hydra is a small island in the Aegean sea, just 69 km from Piraeus. Used as a weekend getaway for many locals Hydra was very popular with international celebrities. Even Elizabeth Taylor owned a house on the island. It might be small in size but Hydra is beautiful and it is a perfect place to visit for more of a Greek travel experience. If you want to escape from the modern world, where life is hectic you should visit Hydra. In this beautiful island, cars are forbidden by law. The only means of transportation are donkeys, water taxis and or trusted feet. It's main economy is based on tourism as the city is quite picturesque.
#Tip You can take the ferry from Pireus and visit Hydra in just few hours. Perfect if your time doesn't allow to explore some of the other islands further away.
Hotels: There are many hotel options in Hydra suitable for all budgets. Some of my favourites are here.
Naxos
Last but not least, Naxos is the largest of the Cycladic islands. From mythological aspect, Naxos is the home of Dionysus, the ancient greek god of wine. Now as Muslims we might not drink but there is plenty to do on the island as well. It's a very popular destination amongst tourists because it has several ancient ruins and a number of beaches. Boutique hotels are the norm and very charming in Naxos.
#Tip Take a walk in the afternoon around the port area. Sit and enjoy your dinner while watching the sunset. Beautiful!
Now there might not be a halal option on every island in Greece however I truly believe the best food you can ever have in Greece is fresh fish. Seriously it is almost a sin if you don't visit and enjoy some of the freshest fish ever and some of the vegetarian options the Greek cuisine has to offer.