Miami is a city full of life and excitement. From the moment you arrive, you can feel the city's pulse. The streets are full of people, the air is thick with the smell of salt water and Miami's signature Cuban cuisine, and the music seems to be coming from everywhere.
This vibrant city is home to a sizeable Muslim community. As a result, plenty of mosques and Halal food options are available. Muslim tourists will find it easy to pray and eat according to their religious beliefs in Miami.
Miami is also home to some of the best beaches in the world. The sand is white and soft, the water is warm and clear, and there are always plenty of people around to enjoy the scene.
In addition to its beaches, Miami also houses several other attractions that are worth the visit. The Miami Seaquarium is a must-see for anyone interested in marine life, and the Vizcaya Museum and Gardens is a beautiful setting for a day of exploring Miami's history.
No matter what your interests are, Miami has something to offer everyone. So if you're looking for a Muslim-friendly city with plenty to see and do, be sure to add Miami to your list!
A Glimpse of the past
Miami has a long and rich history, dating back to its founding by the Miami people in the 1500s.
The Tequesta people originally inhabited this beautiful city. Ponce de Leon explored the Miami area in 1513. It became a part of the United States in 1821 and was incorporated as a city in 1896.
In the 1800s, Miami began attracting more visitors, drawn by its warm climate and beautiful beaches. Today, tourism is one of Miami's most important industries. The city is home to a diverse array of cultures and cuisines.
Miami Beach was also developed in 1915 and became a significant tourist destination in the 1920s.
This awesome city has been featured in many movies and television shows over the years. It is a popular tourist destination for its beautiful beaches, nightlife, and heritage.
The everchanging city of Miami
The City of Miami is known for its welcoming attitude–- a place where people from all walks of life come together to enjoy the sun, the sand, and the surf. It is a place where everyone is welcome and a place where you can be yourself.
Miami is a place where you can find your niche and where you can make your mark. You can be whoever you want to be in this enthralling place.
This city embraces its diversity and welcomes all who come to its shores. Whether you are here for business or pleasure, Miami will make you feel at home.
Being dubbed the city of opportunity, Miami has long been a magnet for entrepreneurs and small businesses with its diverse population and vibrant culture. Miami has been ranked as the No. 1 city for starting a small business in the United States.
So come down to Miami and experience the warmth of our hospitality for yourself. I guarantee that you won't be disappointed.
What is the Best Time To Visit Miami?
Although Miami is a great place to visit any time of year, there are some things to consider when deciding when to go. The weather is usually warm and sunny, with occasional showers.
Miami Beach can be crowded during peak season, so if you prefer a more relaxed vacation, you may want to visit during the off-season. The prices of hotels and flights are also usually lower during this time.
Miami Beach is a vibrant city perfect for a spring or summer vacation. The temperatures are usually in the high 70s and low 80s during the day, so it's a great time to enjoy the beach. It is also a great place to visit if you're interested in the nightlife. If you're looking for a relaxing vacation, Miami Beach is the place for you.
Whether you're looking for a party or a relaxing getaway, you'll find it here!
Muslim-Friendly Miami What to keep in mind
Miami Beach is a vibrant city that is full of life. From the moment you arrive, you will be greeted with the sound of music and the smell of delicious food. The streets are lined with colourful buildings, and the beaches are full of people enjoying the warm weather.
Miami is a great place to visit, but there are a few things you should know before you go.
First, Miami is very hot and humid, so pack plenty of sunscreen and sunglasses. Second, Miami is home to some of the best nightlife in the world, so be prepared to stay up late. Finally, Miami is a melting pot of cultures, so be ready to experience a lot of different traditions and lifestyles.
If you keep these things in mind, you will have a fantastic time in Miami.
As a Muslim traveller, you will feel comfortable wearing a hijab and modest clothing, and while there, I have not experienced any racist comments. However, it is best to wear cotton and linen dresses as a Muslim woman due to the hot and humid weather.
Things To Do In Miami
Miami is a city full of culture, nightlife, and beaches. It is known for its Hispanic influence, and you can see this in the food, music, and art.
Miami is also home to some of the best nightlife in the country. If you're looking to paint the town red, Miami is the place to be. And of course, Miami is famous for its beaches.
Miami Beach is a top US resort. Golden beaches and a trendy vibe draw travelers. Miami's South Beach is the finest.
.
Muslim-Friendly Places to Visit in Miami
Zoo Miami, also known as The Miami-Dade Zoological Park and Gardens, is the largest and oldest zoological garden in Florida and the only sub-tropical zoo in the continental United States.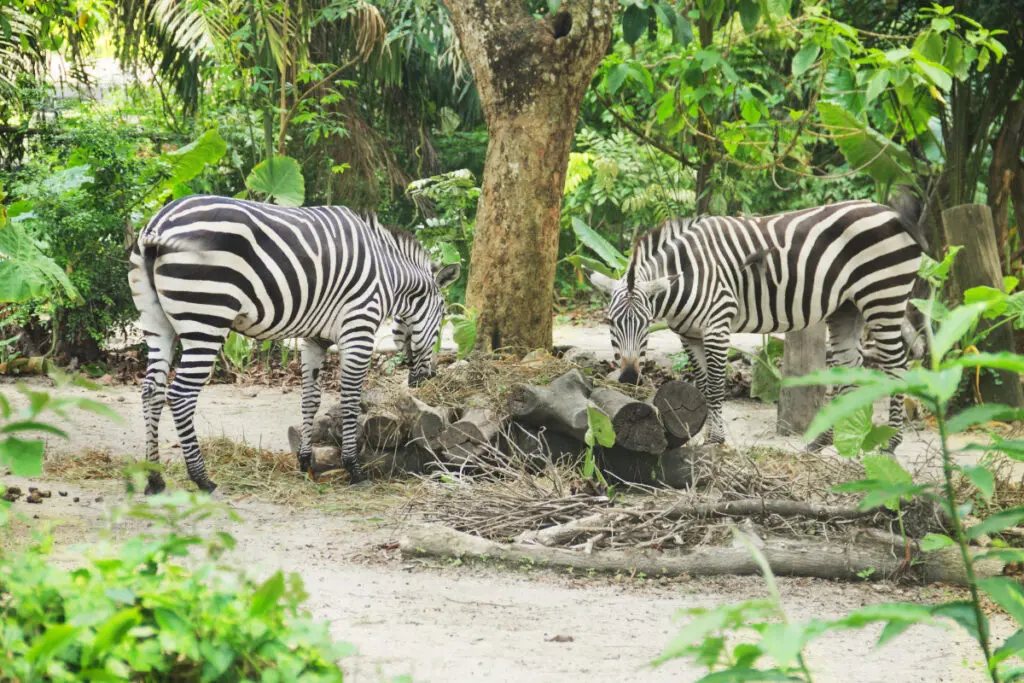 It is home to over 3,000 animals representing over 500 species, and it offers visitors the opportunity to get up close and personal with some of the world's most exotic and endangered animals. Zoo Miami is an experience like no other and is a must-see for animal lovers of all ages.
Address: 12400 SW 152nd St, Miami, FL 33177, United States
The Cox Science Center of Palm Beach County is one of the most beloved attractions in all of South Florida. Founded in 1961, it has been thrilling for children and adults alike with its hands-on exhibits and exciting demonstrations. From the moment you step inside, you can feel the excitement in the air.
The Science Center is home to various interactive exhibits, each designed to teach visitors about a different aspect of science. In addition to the main exhibits, the Science Center also features an aquarium, a planetarium, and a Butterfly Garden.
Address: 4801 Dreher Trail N, West Palm Beach, FL 33405, United States
The Lion Country Safari Experience is believed to be the first cageless zoo in the country, introducing a new concept in zoology and bringing the experience of an African game park to American visitors.
The safari park features a number of lions, tigers, elephants, and other animals, all of which are free to roam about the premises. Visitors can drive through the park in their vehicles or take a guided tour on a safari bus.
The park also features a number of educational exhibits and programs, making it an excellent destination for families and animal lovers.
Address: 2003 Lion Country Safari Rd, Loxahatchee, FL 33470, United States
Miami Seaquarium is a world-class marine animal park and oceanarium located on Miami Beach. The park has something for everyone, from tropical fish and sharks to sea lions and dolphins.
Miami Seaquarium is also home to the world-famous Florida land shows, where visitors can watch dolphins perform tricks and acrobatics. With so much to see and do, Miami Seaquarium is the perfect place to discover South Florida's underwater world.
Address: 4400 Rickenbacker Causeway, Miami, FL 33149, United States
Jungle Island is home to some of the world's rarest and most exotic animals. The park is situated on an island off the coast of Miami and is home to various animal species.
Jungle Island is home to many endangered species, including the Florida panther, the American crocodile, and the West Indian manatee. The park also has a wide variety of birds, reptiles, and amphibians.
Address: 1111 Parrot Jungle Trail, Miami, FL 33132, United States
Lummus Park is the best place to people-watch while getting your tan on. The all-encompassing South Beach experience is Lummus Park, which is located along Ocean Drive from 5th to 15th Street.
This is the beach strip that is always the busiest, and it's the place to see and be seen. You'll find Jungle Island Miami here too, and it's a great spot to take a break from the heat and explore.
Address: 1130 Ocean Dr, Miami Beach, FL 33139, United States
Miami Beach is a unique and exciting place to live. It mixes quiet neighbourhoods, lively entertainment-focused areas, and long stretches of soft-sand beaches. There's something for everyone in Miami Beach.
As a Muslim traveller, you can definitely swim in a burkini on Miami beach, though also keep in mind that there is nudity on the beach, and women do wear bikinis.
8. Night Tour Bus
Looking to experience Miami in a whole new light? Then come aboard our private Miami by-night tour! Our open-top bus is the perfect way to explore the city after dark, and with your own guide, you'll surely see all the best that Miami offers.
From the bright lights of South Beach to the funky vibes of Little Havana, our tour will take you to all the must-see landmarks and hotspots.
9. Miami Walking Tours
A walking tour of Miami is a great way to learn about the history of some of Florida's most unique cities and communities.
The time takes you through the streets of Miami, with stops at critical historical landmarks along the way. You'll learn about the city's founding, its early days as a tourist destination, and its transformation into the cosmopolitan metropolis it is today.
Museums in Miami
ICA, Miami is a must-visit for anyone who wants a taste of Miami culture. With free admission, ICA is located in the stylish Design District and has a collection of cutting-edge contemporary art. ICA, Miami is home to a cafe, which serves up fresh, local fare.
In addition to the cafe, ICA, Miami has a rooftop bar that offers stunning views of the city. ICA, Miami is the perfect place to spend a day exploring Miami culture.
Address: 61 NE 41st St, Miami, FL 33137, United States
The Museum of Art and Design is home to cutting-edge exhibits and programming. Founded in 1987, MOAD is dedicated to celebrating the creativity and spirit of contemporary artists and designers.
In addition to its exhibitions, MOAD also hosts a variety of educational programs, workshops, and events.
Address: 600 Biscayne Blvd, Miami, FL 33132, United States
The Bass is a 16,000-square-foot museum located inside a landmark Art Deco building from the 1930s. The Bass offers a variety of exhibitions and public programming that explores the intersection of art, design, and culture. The Museum also houses a cafe, shop, and Library.
Address: 91 Gorordo Ave, Cebu City, 6000 Cebu
The Coral Gables Museum is more than just a place to view art and learn about history. It's a community gathering space where people can come together to enjoy the arts, discuss current affairs, relax, and have fun.
The Museum boasts a 3,000-square-foot gallery and a 5,000-square-foot public plaza that centers around permanent and traveling art and design exhibits, lectures, and concerts.
Address: 285 Aragon Ave, Coral Gables, FL 33134, United States
Vizcaya Museum & Gardens is a beautiful Vizcaya modeled after grand 18th-century Venetian villas and built between 1914 and 1922 as the private waterfront estate of millionaire industrialist James Deering.
Today, it is open to the public as a Vizcaya Museum & Gardens. Vizcaya is located in Miami, Florida, USA. The Vizcaya grounds include 10 acres (4 hectares) of formal gardens designed in the Italian Renaissance style. The Vizcaya house contains 34 rooms and 14 air-conditioned galleries.
Address: 3251 S Miami Ave, Miami, FL 33129, United States
Pérez Art Museum Miami (PAMM) was designed by Pritzker Prize-winning architects Herzog & de Meuron, drawing inspiration from the iconic Stiltsville homes built offshore in the 1930s.
The PAMM building is elevated on stilts above Biscayne Bay, offering stunning panoramic views of the water and skyline. The Museum's collection includes works by established and emerging artists from around the world, focusing on contemporary art from the Americas.
Address: 1103 Biscayne Blvd, Miami, FL 33132, United States
HistoryMiami is one of the largest private, regional history museums in the southeast U.S. Visitors can explore over 250 years of South Florida history through exhibitions, programs, and collections.
The Museum tells the stories of the region's people, places, and events through an ever-changing series of shows. HistoryMiami also offers a wide range of educational programs for all ages.
HistoryMiami is vital to the community, preserving and interpreting the region's rich history for present and future generations.
Address: 101 W Flagler St, Miami, FL 33130, United States
Museum of Illusions is the perfect place for an eye-popping, social media-ready adventure. With over 80 different optical illusions, it's a great place to test your perception and have fun.
Museum of Illusions has something for everyone, whether you're looking for optical illusions, perceptual puzzles, or just some photo ops.
Address: 536 Lincoln Rd, Miami Beach, FL 33139, United States
Where to Eat Halal Food in Miami
Looking for the best halal food in Miami? You're in luck – the city is home to some of the best halal restaurants in the country. Whether you're in the mood for a delicious halal burger or a hearty traditional meal, you'll find plenty of great options. Here are just a few of the best halal restaurants in Miami:
Al Basha Grill is a small, unassuming counter-serve spot turning out Mediterranean standards & halal cheeseburgers. The space is cramped, but Al Basha's makes up for its friendly service and delicious food.
The menu features all Mediterranean staples, from falafel and hummus to shawarma and kebabs. Al Basha Grill will surely hit the spot if you're in the mood for a hearty shawarma plate or a juicy cheeseburger.
Address: 1533 Washington Ave, Miami Beach, FL 33139, United States
Saffron Grill is the place that makes you feel right at home from the moment you step inside. The cozy cafe has a modest decor, comfortable seating, and warm lighting to create a comforting atmosphere.
The menu features familiar Turkish and Mediterranean dishes cooked with care using fresh ingredients. Whether you're looking for a hearty meal or a light snack, Safron Grill has something to suit your taste.
Address: 1049 Washington Ave, Miami Beach, FL 33139, United States
Gyroville is the perfect place to go for a quick and delicious bite. Gyroville offers a variety of Greek pita pockets and wraps filled with your choice of meats or falafel.
Gyroville is an excellent choice for those looking for a quick, easy, tasty, healthy, and healthy meal. Gyroville is also a great place to go if you want a new and exciting dining experience. Gyroville is sure to become one of your new favorite places to eat.
Address: 8841 SW 107th Ave, Miami, FL 33176, United States
Dar Tajine Moroccan Restaurant is the perfect place for a quick and tasty meal. Their Greek pita pockets and wraps are filled with various fresh meats or falafel. They are served with a delicious selection of sauces.
The restaurant has a casual, relaxed atmosphere, making it the perfect spot for a quick lunch or informal dinner. And best of all, their prices are very reasonable.
Address: 8281 W Sunrise Blvd, Plantation, FL 33322, United States
Mosques in Miami to Pray
1. Masjid As-Sunnah An-Nabawiyah
Masjid As-Sunnah An-Nabawiyah is a community that adheres to the Quran and the authentic Sunnah with the understanding of the Salaf [the first three generations of Muslims].
Masjid As-Sunnah An-Nabawiyah's central Masjid is located in the City of Medinah in the Kingdom of Saudi Arabia.
Address: 560 NW 165th St, Miami, FL 33169, United States
2. Masjid Miami Gardens
Masjid Miami Gardens is a beautiful mosque located between Broward and Miami-Dade Counties. The mosque serves the Muslim community living in these two areas and is a place of worship, peace, and unity. The Masjid is a welcoming place for all Muslims, regardless of race or ethnicity.
The Masjid also offers various services and programs for the community, such as Islamic education, Quran classes, and youth programs. In addition, the Masjid provides a space for Muslims to come together for prayer and fellowship.
Address: 305 NW 183rd St, Miami Gardens, FL 33055, United States
3. Islamic Center of Greater Miami
The Islamic Society of North America (ISNA) is a leading Islamic organization in the United States. Headquartered in Plainfield, Indiana, ISNA operates the Islamic Center of Greater Miami (ICGM), one of the country's largest Islamic Centres.
The Islamic Center of Greater Miami is a member of the Muslim Communities Association of South Florida. The MCA promotes Islamic unity and understanding through education, outreach, and community service.
The MCA operates an Islamic school, a full-time daycare center, and a weekend Qur'an school.
Address: 4305 NW 183rd St, Miami Gardens, FL 33055, United States
5. American Muslim Center
American Muslim Center is an important place not just for Muslims to pray but for people of all religions. It is a community center where everyone is welcome.
The American Muslim Center hosts many events that are open to the public, such as classes on Islam, interfaith dialogues, and Quran studies.
They also have a library and bookstore with many books on different religions. The American Muslim Center is a place of learning and tolerance. It is a valuable resource for the community and promotes understanding and cooperation between other faiths.
Address: 21110 W Outer Dr, Dearborn, MI 48124, United States
How to Save Money When You Visit Miami
Miami is a great place to live. The weather is fantastic, the people are friendly, and there are many things to do. However, Miami can also be a costly place to live. If you're not careful, spending money in Miami is easy. Here are some tips for how to save money when you're in Miami:
1. Get a Miami Dade County resident card. This card gives you access to residents-only discounts on many attractions and activities in Miami.
2. Stay in an Airbnb or vacation rental instead of a hotel. Vacation rentals are often cheaper than hotels, allowing you to cook meals instead of always eating out.
3. Take advantage of free activities. Miami has a lot of great free things to do, like visiting the Everglades or taking a walk on South Beach.
4. Invest in a Miami Visitors Guide. This guidebook will help you find discounts and coupons for many attractions and activities in Miami.
5. Shop at Thrift Stores. Miami has some great thrift stores where you can find high-quality clothes and other items for much cheaper than retail prices.
Safety Rules in Miami
Miami is a vibrant city with a lot to offer visitors. From the beautiful beaches to the exciting nightlife, there is something for everyone in Miami. However, visitors should know some safety rules to help ensure a safe and enjoyable trip.
First and foremost, staying in well-lit areas and avoiding walking alone at night is essential.
Additionally, visitors should be cautious when swimming in the ocean, as Miami is located in an area with numerous dangerous marine life.
Finally, it is important to be aware of your surroundings and not leave your belongings unguarded in Miami. By following these simple safety rules, visitors can help ensure a fun and safe trip to Miami.
Miami is a Muslim-friendly city that is perfect for tourists. The city has a diverse population and vibrant nightlife. There are also many Muslim-friendly businesses, which makes it easy to find halal food and prayer facilities.
In addition, Miami is also home to a large number of mosques, making it easy to find a place to worship. And needless to say, it is home to some of the best beaches in the world.
There are several Halal restaurants and grocery stores in this enthralling place. So whether you're looking to relax or party, Muslim-friendly Miami is the perfect destination.
Overall, Miami is an ideal city for Muslims who want to experience all that Florida offers and have been apprehensive due to its reputation.
Other posts you might enjoy
The Best Muslim-Friendly Cities in the US
10 Most Delicious Halal Food Restaurants in Orlando Florida. Must Try!
Ultimate Guide on Things to Do in London as Muslim Traveller
Malta a Great Destination for Muslim Halal Travelers and Halal Holidays
Muslim Friendly Baku: Here is why Azerbaijan's capital is a perfect halal travel destination.