The easiest way to travel from Vienna to Budapest is by train however you can also take a boat, coach or even car share. Being in central Europe it is so easy to get around.
I really wanted to go by train since it is on my list to travel via train through Europe! Alas, one day in sha Allah when we find the time since on this trip I missed the good price tickets!
Buying tickets from Vienna to Budapest on the train is usually cheap and when I mean cheap I mean £20 maximum for the 2 hours or so ride. Though being Easter bank holiday it proved to be more expensive and I didn't book in advance to score a good deal.
Plus paying 100 euros for train tickets when I know I could have bought them for 50 euros for both is not considered a deal in my books!
If you want to book via train from Vienna to Budapest you can do so here. Another great resource I LOVE for train riding is Seat61.com
Taking FlixBus Coach
My next best option was a coach from Vienna to Budapest and considering it takes only 30 minutes extra and costs 22 euros each seemed like a bargain! They had availability for the times I wanted and they had some coupons around the web (so make sure you check beforehand).
I did some search online since there are several providers and I opted for Flixbus since they had the most reviews and seemed established. I am so glad I did.
Booking was super easy on their website and the price was of course right and I could show my ticket via their app so didn't have to print it. Super handy especially if there is nowhere to print.
We arrived at the Vienna coach station about one hour early. I didn't know what to expect and didn't want to miss our service. The coach station is nothing impressive or big but adequate. Not sure though why all of the coach stations I have been to are in the 'dodgy' parts of the cities? Girls alone there at night is a no-no for me!


The coach service arrived on time and it was a green bus as noted on the ticket.
One thing you should remember is that you have to validate your ticket before entering the bus. I hadn't paid attention to this so I had to leave the queue and go to show my passport and receive a red sticker which you then give to the driver.
Apart from this, the ride went as expected. We made a stop at the airport to pick some more passengers, which is good to know if you find cheaper tickets to Vienna than Budapest. You can take the coach straight from Vienna airport to Budapest.
Since both countries are in the European union we didn't stop at the border, just whizzed through it. And I also didn't see any immigrants anywhere. I expected them to have camps from what I read on the news! The road is a straight line and the driver drove very nicely. I usually get car sick but with his ride I could use the free wifi – yay! And not get sick while looking at my phone.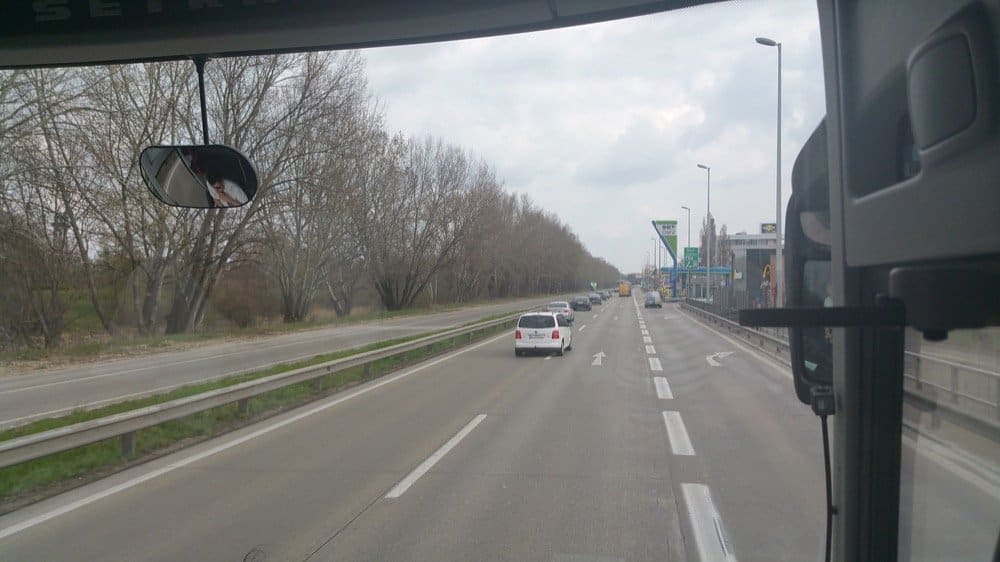 We arrived on time in Budapest, though we did have a challenge ordering an uber car. The wifi signal was not very good at the coach station and there was no place for the driver to stop. We actually had two cars cancelling on us until I called them on skype and explained our location.
If I am in Europe and I need a short distance transportation I would definitely consider again taking the Flixbus. It was top notch. Coaches have improved a lot since the last time I took one.