One of the things I love talking about on this website is my love for finding a way to experience luxury without breaking the bank. So, I would class my daycation at the Caesars Palace Bluewaters Dubai is one of them.
One thing many people are unaware of is the fact that you can buy access to the luxury hotels pools and beaches. You can then use their facilities, enjoy the pool and the beach without breaking the bank.
This is very true in the Middle East where you can visit the hotel for a day and enjoy all their activities without being a guest. Many offer reasonable packages and include part of the fee as a voucher for food and drink.
While I was looking online, I found out that the new Caesars Palace at Bluewaters Island in Dubai offers the option to have a daycation.
One came with a room for the day and the other just the pool and beach while the price wasn't much different.
So guess which one your girl picked!
Daycation, of course!
Here is the link for the offer.
We stayed in the Marina so only about 10min drive from the Ceasers Bluewaters.
I liked the island as it gave you a calm feel and reminded me of the Msheireb area in Doha. That modern, relaxed vibe you don't see in many places in Dubai. Worth visiting for an afternoon.
You can even walk from JBR to the island as it is connected via a footbridge.
The Caesars Palace Bluewaters Resort
Caesars Palace Bluewaters Dubai is situated on the Bluewaters Island, a new addition to the Dubai scene. It is a man-made island with restaurants, cafes, residential buildings, a conference centre and the Ceasers Palace resort.
The resort has two buildings and also luxury apartments.
It also has it's own private beach.
Check-in
We checked at 9 am, which was the earliest we could check-in. You still need to do passports' formal process, but it didn't take long.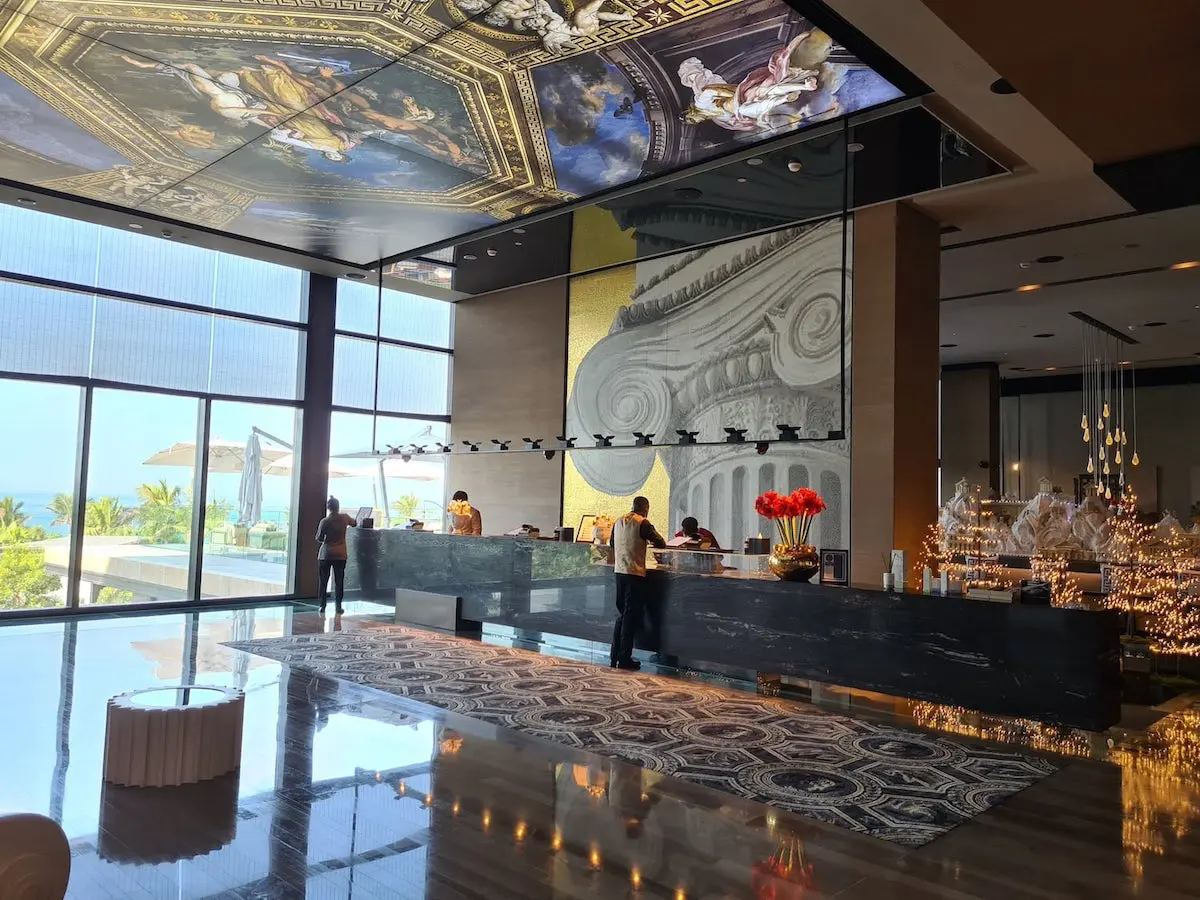 The lobby is grand, and the ceiling above the check-in desk is brilliant, which I only noticed much later lol.
I haven't stayed at the Caesars Palace in Las Vegas, so I don't know the decor, but here you were reminded you are in a place called Caesars Palace and you are his guest. 🙂
They had a statue of Ceaser; the Roman touches with a modern twist were evident in the hotel. A quirky place which I liked.
The room
I opted for the daycation package since my daughter still naps during the day. It is much more comfortable taking her to the room and the rest of us enjoying the beach than all of us packing and going after 2 hrs.
It is not worth the money or the hassle and why we didn't enjoy more beach days.
I also wanted to check out their rooms, since I was looking to book the resort, but the prices were so high I couldn't justify it. This daycation was just perfect.
When I booked, I did say it was a special occasion, so they prepared the room for us, which was lovely.
We had the entry-level Palace Deluxe room, which I felt was on the smaller size, but it had a super comfy bed.
I wasn't planning on sleeping when I put my daughter to bed, but this bed was way too inviting and comfortable.
It is a modern room, with some excellent features such as the sliding doors and the room's woodwork.
I love small spaces creative designs, and this room definitely delivered on it. The sliding doors work by closing each section or the bathroom.
Even in the room, you are reminded of Ceaser's presence through the soft touches such as pillows and blankets.
The room had a balcony which is excellent for an evening of chilling with a drink and just relaxing on the comfy sofa.
Overall I think the room was great for a couple to relax and spend most of its time outside. If we had to stay here for a week, I think we would struggle in terms of space with a child.
Resort Experience
The Caesars Palace Bluewaters resort is not massive, but it has everything you need for nice holiday wether for a day or a week.
The pool was fantastic and the water I believe was temperature controlled.
The beach had plenty of beds, and the staff were polite and efficient when bringing towels and water.
The water was blue and clear although a little cold but very enjoyable.
They also have a kids pool with various water features, I wish I had seen it earlier as my daughter would have loved it.
Their kids' club also looked awesome although we didn't use it since they only accepted children above 3.
Gordon Ramsey's Hells Kitchen Bluewaters Ceasers Palace
Included in our daycation package, we had a three-course lunch at Gordon Ramseys Hell's Kitchen.
I have dined at several Michelin star restaurants and other fine dining establishments, so I did have high expectations. Especially from the chef known to make others miserable due to their cooking skills. 🙂
I found some of the dishes hit and miss.
Overall the salmon was excellent, and the burgers also looked nice. My husband's mango dessert was lovely.
It was a good lunch and setting, but nothing really impressive to want me to go back in a hurry.
Lounge Cafe
I enjoyed their lounge terrace, which had a fantastic sunset view and atmosphere.
You have a lovely sea view and a look of the whole resort.
They also had some great drinks to go along with the sunset, and it is a place I would happily go back to enjoy one afternoon.
Overall
I think the daycation package for the Caesars Palace Bluewaters was a fantastic value.
The package was 350aed / £70 per person for two adults and two children.
There is a supplement for children above three years old, but it is only 100aed / £20.
In comparison, their beach pass costs 249aed / £50 per person for beach access, facilities and two-course lunch at Gordon Ramsay.
You are looking at 2500aed / £500 per room for a full night stay at the resort.
In this case, the daycation option is a much better value and a more luxurious for that since you can experience the full resort and relax in your room.
I would happily go back at the resort and have the staycation package option. It was a luxurious happy day to celebrate a milestone and enjoy Dubai from this small luxury and quirky resort.
---
You can check my other hotel review of our two months stay in Dubai.