Santorini is a hot destination not only for Muslim travellers but also for everyone else.
The way Santorini is set up on top of an active volcano offers great views but also it is a little but for a challenge to find fully private villas for Muslim travellers to enjoy. As you can see from the photo the hotels, guest houses are very close to each other and there is no much privacy on the calderas.
You can find private pools in your hotel room, however, this will not mean it is private and not overlooked from other tourists.
I thought I will explore the secluded private villas available in Santorini. Here is my list of Muslim friendly villas Santorini that you can find some privacy and views.
I have to admit, OMG there are some amazing hotels in that place!
However, if you are there for the experience or just for the stunning views then a day or two it's ok. You can pack a burkini.
Below are the properties I would consider when visiting the island as they have some privacy element and are great options for honeymoons or special occasions.
If you are willing to travel a little for the view you can find some great private villas with pools further inland. You will need to use public transport or rent a car which is pretty easy and affordable to do.
Vino Houses
A beautiful villa located in mainland Santorini with a private jacuzzi offers great views of the island and also most much-needed privacy.
The Athiri and Vinsanto villas offer privacy as they are on the ground floor and top floor.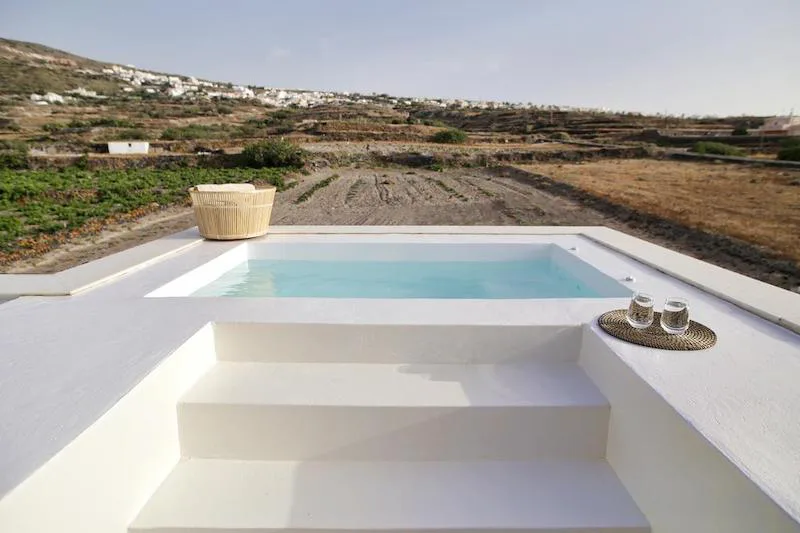 Prices start from £200 per night for a two-bedroom villa, great for families.
Check out prices and book here.
Sophia Luxury Suites
I think the reason to write this article was inspired by Sophia Luxury Suites. I mean they have a pool within the cave making it super hijab friendly and cool.
The beautiful blue of the water against the white wall combined with the views is pretty stunning as is their suites.
It is not cheap with rooms starting at £300 for the cave suite but I personally think it's worth it for the experience.
You can check the reviews on TripAdvisor | Book here on Hotels.com
Iliovasilema Suites
Stunning property with amazing views and a lovely suite withing the cave giving you privacy. I like their honeymoon suite has glass partition of the pool so even if you are in the pool you don't feel secluded.
Prices are around £400 for the off-peak season for the honeymoon suite.
You can check the reviews on TripAdvisor | Book here on Hotels.com
Aliko Luxury Villas
Aliko villas have some stunning suites and pools inside the case but also with spectacular views.
You can check the reviews on TripAdvisor | Book here on Hotels.com
Canaves Oia Suites
This must be one of the most photographed hotels in Santorini but it is stunning and there is no denial there are plenty *snap* opportunities.
I love how you can have your own private pool with the small curtain to pool in case you don't want anyone seeing you. I think it is a nice touch and it can come handy for Muslim women.
It is a pricey property with prices starting at £500 per night when I was checking prices booking via TripAdvisor was cheaper than any other option, so make sure you check all sites.
You can check the reviews on and book on TripAdvisor
Dreams Luxury Suites
I don't think there is much to be said about Dreams suites, seriously this place looks like dreams.
You can check the reviews on TripAdvisor | Book here on Hotels.com
Cave Villa Valsamo
Cave Villa Valsamo is inland in Santorini but offers privacy and a lovely plug pool to enjoy.
The cave villa has a pool which gives you more privacy but also a deck with chairs that you can enjoy the view, so it is a great combination of both worlds. 🙂 It has great reviews on Airbnb plus if you have some credits you can use them towards your stay.
Plus if you have some Airbnb credits you can use them towards your stay. If not you can sign up here with my link and receive £15 off your next booking.
Check out our post for the best tips on finding a private pool villa on Airbnb.
Chromata Hotel
One stunning property with raving reviews that you should try next time you are in Santorini. The calming effect of blue, white and drop-dead gorgeous views can definitely leave you speechless.
You can check the reviews on TripAdvisor | Book here on Hotels.com
One thing to remember with Santorini when booking is that many of the villas offer private pool but that doesn't necessarily mean that they are actually private and secluded.
Due to space the villas can overlook each other as otherwise the views will be not seen, and let's be honest everyone goes for the views.
Folia Cave House
Folia Cave house is another gem I found on Airbnb which offers a private pool with great architecture and great reviews. The villa is of course inland but renting a car and driving around shouldn't be an issue if you are up for the challenge. Also note that it is best for people who don't have mobility issues as you do need to get to the villa, young kids and adults are ok.
If you have some Airbnb credits you can use them towards your stay. If not you can sign up here with my link and receive £15 off your next booking.
Finding Halal Food in Santorini
The food on the island is fresh and I highly recommend trying some Greek fish dishes. Finding Halal food on Greek islands is tricky unless it is Rhodes and Crete as they are larger islands and have some Muslim population. Of course, Halal food options in Athens do exist as well as Thessaloniki. The rest of the islands don't cater to halal food and even hotels will find it tricky to source it.
So be prepared that you might have to eat fish or vegetarian dishes while you enjoy the stunning views of Santorini.
I would recommend to just go and visit no matter what the food scene. Trust me though, veggie food options in Greece are fresh and delicious and please do try the fish. Check out this article with my recommended halal Greek dishes you can eat.
Best Flights to Santorini
There are charter flights from everywhere in Europe during the summer and from Athens, Ryanair and many others offer very cheap flights to Santorini. Volotea even offers one-way flights from £5 from Athens albeit only with hand luggage it's a steal for one of the most talked-about islands in the world.
My first point of search is always on Skyscanner as it shows me the cheapest flights by month, many times we overpay for flights and we can save just by being flexible by a day or two!