For me, 2022 will be the year that created some of the most amazing memories because I went to my bucket list destination of Machu Picchu with the best group of fantastic women with Intrepid Travel and their Women's Expedition to Peru.
Before I start this article, I want to clarify that this was a press trip, but with Intrepid Travel being the awesome company they are, they gave us carte blanche with what we could write. I have shared way above their requirements simply because I had a fantastic trip with them, and I want to share my experience with solo female or Muslimah travellers who want an honest opinion.
This was my first trip with Intrepid Travel, but it definitely won't be the last!
Who are Intrepid Travel
Intrepid Travel is an adventure travel and tour operator in business since 1989. They offer a wide variety of trips worldwide, such as small group tours, tailored trips, and even family vacations. Intrepid Travel strives to provide quality experiences for travellers from all walks of life, regardless of their experience level or budget.
Their mission is "to make the world a curious place" and they strive to give people unique and inspiring experiences through their travel packages. Intrepid Travel prides itself on being a leader in responsible travel and focuses on providing travelers with meaningful interactions with locals in each destination they visit.
They also focus on reducing their environmental impact, supporting local economies, and respecting cultures wherever they go. With over 1 million travelers taking part in their trips every year, Intrepid Travel continues to be one of the most successful adventure tour operators in the world today.
Being a travel blogger, I had heard of Intrepid Travel, but since I always travel with family, I had never thought about joining a tour. This trip had many firsts for me since this was my first tour group and also my first ever hike.
So when they approached me to join their Women only Expedition to Peru with other content creators, I jumped at the opportunity. I didn't even ask my husband if he could look after the kid!
I had always wanted to go to Peru, but the logistics and the fact I had never been to Latin America made me put it off for ten years.
It is almost one of the reasons why I am writing this article because I truly want other female travelers out there to have this amazing experience I did. I went through much expectation and preparation, and this trip changed my life in several ways!
I mean, I hiked Machu Picchu!
5 Reasons for Joining an Intrepid Women's Expedition
1. You tick off a bucket list destination
Do you have a bucket list destination in mind?
I am pretty sure that Intrepid Travel has it on their itinerary.
Undoubtedly, Intrepid offers some amazing women-only bucket list destinations that, personally, I find challenging and overwhelming to book myself as a Muslim woman.
It is one of the reasons why I never planned a solo Machu Picchu trip; I remember I looked once, and my head went spinning with all the permits and logistics.
I would love to go to Nepal, Iran, India or Jordan with a group of amazing women without being overwhelmed by the logistics of such trips.
In Iran, their trips include visiting a female-only beauty salon speaking with local women from all walks of life and just meeting locals in a casual and fun setting. I can only imagine it will be similar to our Peru trip, which was fantastic in that regard, and I loved how open and honest our guides and the people we met were.
Especially if you cannot find friends who are willing to join you or they don't want to explore the same things as you do, you can show up and enjoy a solo but not really solo Muslimah adventure. 🙂
2. Safety
I get so many emails from Muslim women who want to travel but don't have anyone to go with, their family will not let them go on their own, or they simply don't want to go by themselves because they are apprehensive about safety.
I always suggest that if it is your first time, start close to home and expand from there. Go to places with similar cultures and slowly start expanding your travels. Of course, if your family is concerned and doesn't want to let you go on your own, maybe joining a trip with other women will put them at ease.
There are so many options for women-only tours now and even Muslim women-only options, from retreats where you can relax and enjoy your surroundings to great outdoor and cultural adventures like my Peruvian trip. I love the fact that there are more and more options out there now.
You not only get to travel with other adventurous women, but they pick you up from the airport and organise everything for you, you are always with someone, and you are only with females with similar interests.
3. You support local female businesses
One of the positive aspects of a tour with Intrepid was that we visited women-only businesses on our itinerary and met with the owners.
I'm passionate about supporting female businesses. I believe that women are strong, capable entrepreneurs who deserve our support. My mum was such a woman; she raised three daughters on her own, so supporting female-only businesses is very close to my heart.
Whether buying a product from their store, as we did in the "Hands of the Community" Co-operative, that creates handmade Peruvian gifts or eating the delicious food cooked by Mama Seledonia, who not only started as a pot washer but had so many struggles to overcome.
Supporting female-owned businesses is not only a great way to help local economies thrive but also a way to empower other women in the community. It is inspiring to see how these women have taken their dreams and created something special. I still think about Mama Seledonia and how emotional we all became hearing her story, memories I will cherish for a long time.
These meet-ups would not have been possible if I had booked my own tour because I wouldn't know where to look. The fact that some of our money went to these businesses makes me very happy.
Supporting the local economy is important to me, especially as someone who grew up on a tourist island and knows how things work and how little locals sometimes get.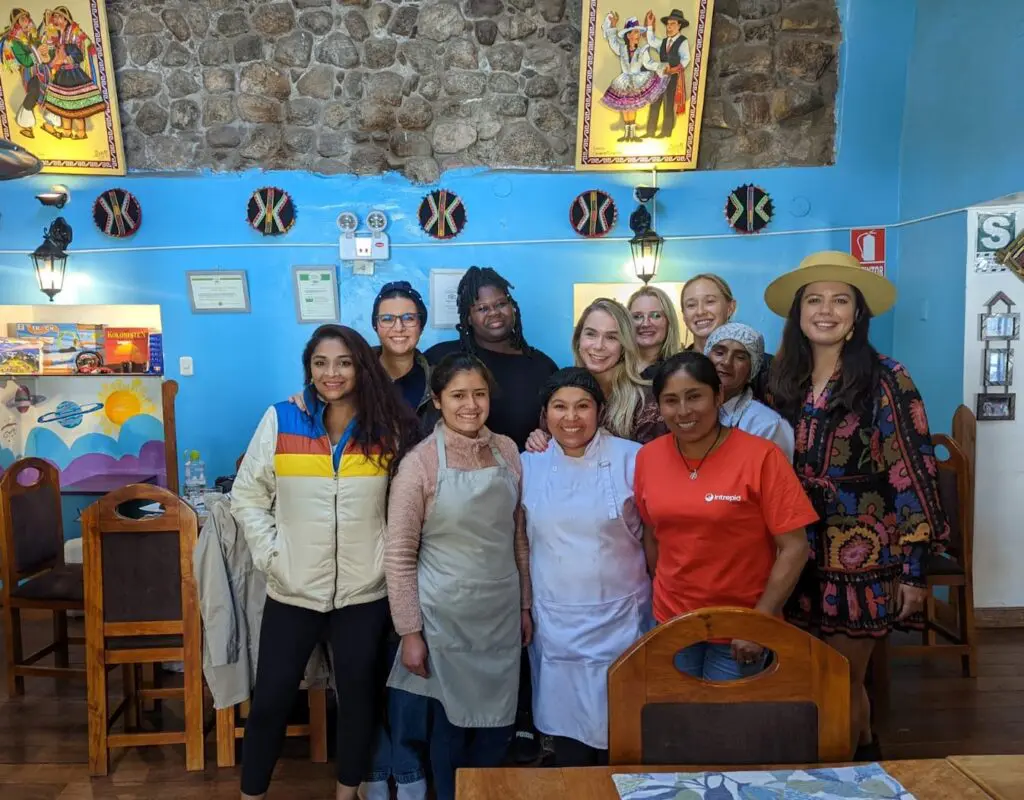 4. Your guides are all female
There are a few things I will forever remember, but our tour guides, who are my friends now on social media, are one of them. Every single guide we had was a female. Even during our hike to Machu Picchu, our porter was a woman named Valentina, and our guide was a strong lady called Tina.
As a solo Muslimah traveller, it was super important for me, especially because I could let my guard down, truly enjoy the experience and not have to fear I crossed any boundaries, showed my hair or said something inappropriate. I had never had this before on a trip, and I didn't know I would enjoy it as much as I did.
It felt so good to immerse myself in the experience and truly bond with the group.
It was also very different from the women-only retreat I co-organised in September because it was an adventure trip and a not secluded location with not many people around.
Supporting companies that offer tours exclusively for women, you help the local guides have a job, support their families and feel safe in their working environment. Which is a big plus for everyone since safety goes both ways.
5. You travel with an Ethical and Carbon neutral company
As I mentioned above, Intrepid Travel is one of the leading names in the adventure travel industry, but also they are an ethical and carbon-neutral company. I noticed how they always tipped their guides, how people had worked with them for many years, and how they even gave our guide Tina a chance when she first started, and there were no other female guides doing the Inca trails.
Was the trip perfect?
Of course not; we did have hick-ups like any tour. From "stealing" the drivers of another group by accident to some of our members becoming ill, having issues is part of the adventure, but it is how you handle it, and honestly, Intrepid was great with all of them and always supportive.
Even when I couldn't take photos with my hijab in Machu Picchu, the guides were more upset than me, and this is something that, as a Muslim woman facing discrimination, I felt accepted and heard.
Throughout the trip and even before, they ensured I was comfortable with everything, and I had different activities and food options to accommodate me.
6. You meet other amazing female adventurers
I mentioned this above, but joining a women's expedition with Intrepid travel is a sure way to make friends with people similar to you. Even today, I struggle to make friends, and working from home in front of a computer doesn't make it easy. I didn't realise how lonely I felt in my daily routine until I did my September retreat and Peru trip.
Having a 3-year-old for company can be fun but not very conclusive to adult conversation. Also, it was nice to get away and enjoy being Elena for a few days rather than one of the many hats we all wear daily.
I wasn't sure how it would go to have five content creators together for a week because let's be honest, I had heard horror stories. But to my surprise, they had picked up one of the coolest people I had ever met, and I couldn't have been happier.
We laughed, cried, encouraged each other when it was hard on the hike, and burst with happiness seeing Machu Picchu. The thing is, we also became friends and still chat and support each other.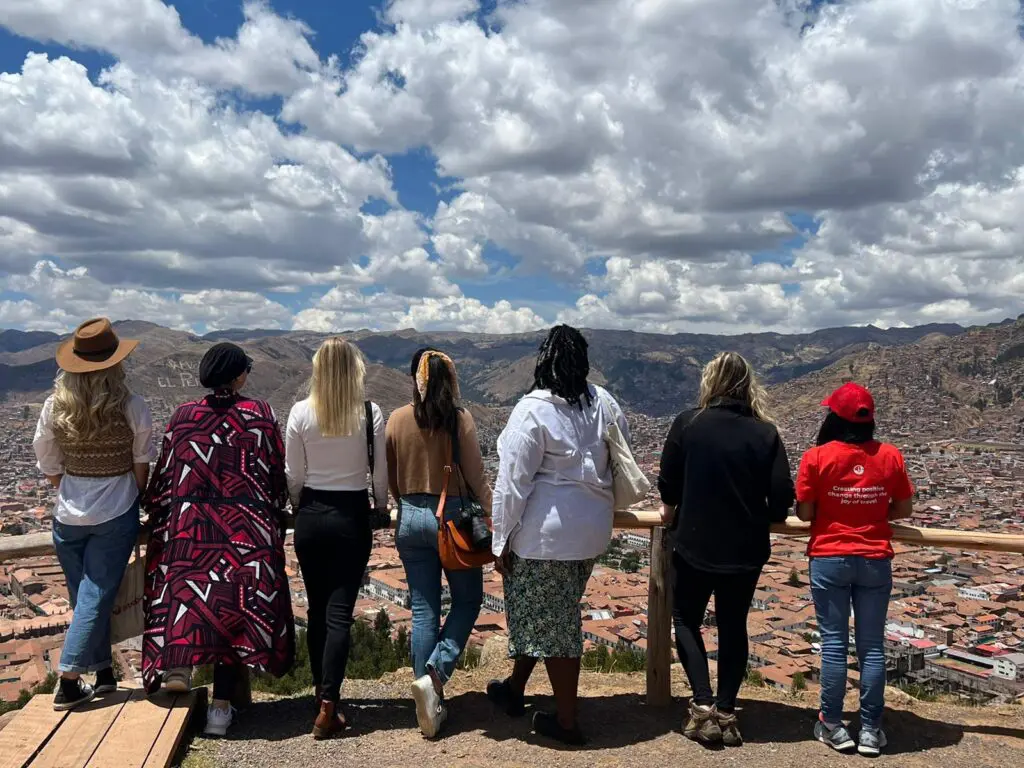 6. You create memories of a lifetime
My Intrepid Women's expedition to Peru was the highlight of my 2022 travels, and I went to nine countries this year. I ticked off a bucket list destination, made friends, laughed, cried, pushed myself over what I thought I could do, and made the memories of a lifetime!
We all travel for memories because this is what we have to look back at when we are home, and life gets in the way. We don't remember the money we paid, but we remember the moments we laughed and discovered a new way of doing something.
These memories are priceless.
As I mentioned before, this was a press trip to experience Intrepid women-only expeditions, in our case, to Peru. Everything I have written is my own opinion, I truly had an amazing time, and the people I met from Intrepid were great to work with.
Intrepid offer their Women only expeditions to Jordan, Iran, Morrocco, Nepal, Peru and India, and I know they are adding more to the list. If they are reading this article, I would like to raise my hand for a Nepalese, Iranian or Indian adventure, and maybe some of you can join me. 🙂
I am always looking for unique experiences for Muslim women, especially as hijabis and solo travelers. Safety and halal food are important, but there is so much we can still do and enjoy the adventure of a lifetime.
1 Day Inca Trail To Machu Picchu: Packing List & Best Tips
What it's like to travel as a solo female Muslimah