On the second leg of our trip to Phuket, we headed to Paresa resort on Kamala Hills, one of the most sought after address in Phuket, known as the "Millionaires' Mile". The resort's name comes from Sanskrit  and means" Heaven of all Heavens" and needless to say, it lives up to its name. The whole property is designed in such a way that it blends in harmony with its natural surroundings of lush tropical vegetation.
One thing that you will notice with Paresa Resort is that all the details work towards their branding from the staff, to the names and experiences. Which for me as a marketing consultant is a job well done.
As a small luxury boutique property it only has 48 private villas with their own pools and 270 degree views of the Andaman sea. Even when the resort is full you will feel that you are alone. Great design of harmony with luxury and the natural environment.  
Upon entering the resort the lobby is created as a temple. Very minimalistic style with calming music and open space. Since I love minimalism I was very happy with the look of the place.
From the lobby you cannot see the resort which is built on a cliff as the door leading to heaven is closed.
First impressions for some visitors might not be "wow" since it is very basic and minimalistic. Once all formalities are completed you are taken by one of the staff members, also called angels, to ring the dong and then the huge rustic doors are open.
This is when you truly enter the resort and you say "Wow". The first thing you see is the breathtaking view of the Andaman sea and the cliffs. Absolutely Stunning!
It is one of the few resorts that allows you to take in the full view of beauty everywhere you look. It truly reminds you of how beautiful our Allah is.
[ms_divider style="icon" align="left" width="100%" margin_top="30″ margin_bottom="30″ border_size="2″ border_color="#5cb2aa" icon="fa-star" class="" id=""][/ms_divider]
Our Suite
We were informed that we were upgraded to the top category which is the Grand Residence Pool Villa a whopping 660sq meters. Basically bigger than my house! The suite comprised of our bedroom, which is a standard size with a seating sofa bed. The bathroom with his and hers vanity units. I loved the fact that each one of us had their own dressing space so it was easy to find my things.
The bath was gorgeous overlooking the pool and the majestic sea. Sadly though I didn't get a chance to use it.
The living room which was a separate structure outside next to the pool had a massive dining room and a living room with extremely comfortable sofas.
You can literally sleep there. Oh, and let's not forget the kitchen, yes we did have a kitchen as well, in case we wanted to cook. Though for only two days I wanted to take in as much as possible of the resort and the sun.
The best part of the suite was, of course, the pool and the stunning view. Since we had one of the highest villas available in the resort we had a gorgeous view of the sea as well as the resort.
I have to admit that the first thing I did when I entered the room was to actually get in the infinity pool.
I loved the fact that the pool also had seats where you can sit on the edge and just enjoy the view. It truly makes you feel part of the clouds and you wonder if this is so stunning on earth how amazing is Heaven.
[ms_divider style="icon" align="left" width="100%" margin_top="30″ margin_bottom="30″ border_size="2″ border_color="#5cb2aa" icon="fa-star" class="" id=""][/ms_divider]
The Resort
The resort is a small intimate resort with only 48 villas, two restaurants, and a spa. You can arrange activities with the "Adventures team"  such as swimming with elephants, jungle safari,  they have so many available that you definitely need a week to just experience everything.
I like the fact that the villas are built in blocks and if you are travelling with a large group you can rent two villas next to each other for more comfort and privacy.
I was given a tour of the resort and shown other rooms as well. As the resort is built on a cliff the lower villas have more privacy from the rest of the villas; in my opinion. Though all guests are taken around the resort in buggies to make sure they don't disturb other guests. This way it keeps to high privacy.
The Cliff Pool Villa was my favourite and if I ever visit the resort again I would definitely recommend this one. It has a huge curtain which can be pulled to cover the pool for more privacy. You can hear the sea on the cliffs and the views are beautiful. Also because they have mature large trees as well as some amazing and old banyan trees running through the resort it gives high privacy for Muslim honeymooners.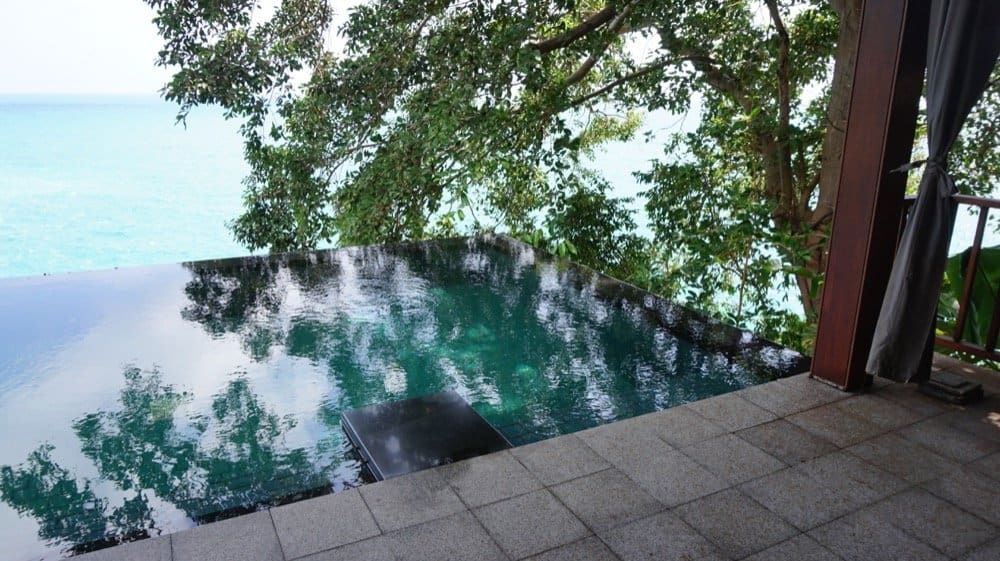 As I get a lot of emails on privacy for villas, it is important to keep note that the villas are private and you can request to view other rooms if you are not happy with yours. I find that sometimes resorts don't get the full privacy required, we as Muslims know. I have seen that happen with Muslim and non-Muslim hotels.
However with privacy in tact, It is definitely a great way to start your Muslim-friendly honeymoon.
[ms_divider style="icon" align="left" width="100%" margin_top="30″ margin_bottom="30″ border_size="2″ border_color="#5cb2aa" icon="fa-star" class="" id=""][/ms_divider]
The restaurant
We did dine both nights in the Diavolo restaurant and we had the opportunity to meet the Chef and taste the delicious food. The views from the restaurant are also breathtaking as you can see Andaman sea and the cliffs.
They also serve their breakfast in the same restaurant. Nina the marketing manager of the resort was lovely and helped us pick the best and most delicious food. That was one amazing and tasty meal.  If you ever need help with picking a meal definitely ask for Nina. 🙂
The food is halal and there is plenty of options to choose from. Both Italian and Thai food are delicious and I found the prices very reasonable, even for a five star resort.
It is cheaper or to the same standard as some of the restaurants in London's' luxury hotels. Considering that the chef worked in a Michelin star restaurant in hong Kong before moving to Phuket, you are certain food will be great.
The last evening we did visit Kamala beach but since we enjoyed the food so much in the hotel, we decided to just go and have dinner there. I prefer to stick to the tried and tested theory which worked well as our trip to Thailand and Malaysia was void of any stomach problems.
On the second night, we ordered burgers, which were nice but I didn't find them to be of the same standard as the rest of the food we had. And definitely didn't live up to my expectations and their price tag. The desserts, however, were heavenly and they were totally delicious.  We ordered both nights the same desserts, one each since sharing my chocolate cake will never happen!
[ms_divider style="icon" align="left" width="100%" margin_top="30″ margin_bottom="30″ border_size="2″ border_color="#5cb2aa" icon="fa-star" class="" id=""][/ms_divider]
Spa
I did take advantage of the spa, after all, it is a place for pure relaxation. Sadly they do not have a male masseur so my husband couldn't have a massage.
I don't think that the couple massage works for Muslims. As you can't have male and female masseur together in the room so it is a shame. They had prepared that lovely couple massage room for us but we couldn't use it. Though I thoroughly enjoyed the view. 🙂
My masseur Polly was excellent and in a very long time someone actually listened to me saying I want a strong massage. The prices of the messages weren't too expensive either and when we were there they had an offer making it even more affordable.
[ms_divider style="icon" align="left" width="100%" margin_top="30″ margin_bottom="30″ border_size="2″ border_color="#5cb2aa" icon="fa-star" class="" id=""][/ms_divider]
Kamala Beach
The property is a little further out of Kamala, and they do offer a free shuttle that takes you into the village. The drive is about 10 minutes in an air-conditioned car so it's perfect.
Kamala is a small fishing and tourist village and 99% of the population are Muslim. There are several mosques and we actually walked from the city center to the central and oldest mosque of Kamala, which takes about 15 minutes.
People were lovely and when we needed a taxi they went out of their way to find us one. Definitely, a must visit place even just so you enjoy Jummah in a different place.
I loved the fact that you can combine, Muslim friendly experiences, halal food and meeting fellow Muslims. Everyone we met was very welcoming and I did enjoy my time in the village. The price of the taxi to the resort was also not expensive. So it is perfect even if you want to stay later than the shuttle bus.
The resort also offers a shuttle bus to Patong beach, but unfortunately, we didn't have time to visit. I just prefer soaking up the sun rays by the pool.
[ms_divider style="icon" align="left" width="100%" margin_top="30″ margin_bottom="30″ border_size="2″ border_color="#5cb2aa" icon="fa-star" class="" id=""][/ms_divider]
Overall
The Paresa Resort is a beautiful property in Kamala, definitely a breathtaking honeymoon destination. The prices start from £300 upwards but if you have the budget and you want to enjoy the 'heaven of all heavens' then definitely pay this resort a visit. It is a luxury boutique hotel, it has nice features and a wonderful place to unwind and relax.
A small thing for me is that I felt that many things were upsold. It would be nice to receive some free water bottles in the room for example, as you are paying a high price for the resort.
Other than that the property is amazing, the view is incredible, one of the nicest I have ever seen and being Halal and Muslim-friendly is a total bonus.
Personally, I would combine this property with another property and area in Phuket just so you can explore and experience more. This way you still have an amazing honeymoon but you also don't break the bank. If on the other hand, you have the budget then definitely book a nice Ocean Pool Villa and enjoy some of the resort's activities. If you have a family you can rent villas next to each other for more privacy and space.
One the last day we booked a taxi to the hotel to take us to the airport, it costs £30 but it was well worth it since it is convenient and hassle free. There are cheaper options if you want to book a local taxi. The Airport is not far but Phuket traffic can be really bad so it took us about an hour to get there.
I was a guest of Paresa resort for one night and we were paying customers the second night. I have to thank Luxury Halal Travel for arranging this trip and making it a memorable one. Check out their website for some other amazing and unforgettable Muslim friendly hotels and holiday destinations. All views and opinions are always my own, whether they are good, bad or ugly. 😉
[ms_section background_color="#f3f3f3″ background_image="" background_repeat="repeat" background_position="top left" background_parallax="no" border_size="0″ border_color="#5cb2aa" border_style="none" padding_top="0″ padding_bottom="5″ padding_left="10″ padding_right="10″ contents_in_container="no" top_separator="no" bottom_separator="" full_height="no" class="" id=""]
[ms_featurebox style="1″ title_font_size="25″ title_color="#5f5f5f" icon_circle="yes" icon_size="30″ title="Read More" icon="fa-globe" alignment="left" icon_animation_type="tada" icon_color="#f70070″ icon_background_color="" icon_border_color="#66666″ icon_border_width="0″ flip_icon="horizontal" spinning_icon="no" icon_image="" icon_image_width="0″ icon_image_height="" link_url="" link_target="_blank" link_text="" link_color="" content_color="#66666″ content_box_background_color="" class="" id=""]
[/ms_featurebox] [/ms_section]
[embed_popupally_pro popup_id="2″]