Trip Index
My Umrah trip started with a train journey to Manchester, as British Airways generously cut my favourite evening flight from Leeds to London. Thankfully the trip was OK and considering that it costs me £13 for standard and £30 for first class ticket with my Two together railcard it was a good price.
I booked my flight with Avios from Manchester to Istanbul with an overnight flight in London. The nice lady in the airport checked our luggage all the way to Istanbul which was awesome and we headed to the lounge. Check out my video for information on long layovers. The flight costs 10,000 + £17, 50 per person for economy.
There is not much to do in the airport apart from shopping which is not my favourite exercise in the world. I guess my husband would have been considered lucky if I wasn't obsessed with travel and spend the equivalent saved from shopping on travel. We all have our vices 🙂
The British Airways lounge at Manchester airport is on the second floor and you need to either take the stairs or a tiny elevator that hardly fits two people. The lounge wasn't busy at the time we arrived as it was already 6pm and there were only a handful of people waiting for the London flight. I am not sure if I have been to this lounge before but it has nice setting and atmosphere. It is spacious and it will have a nice view once they fix the empty space in the shopping area as currently it is a construction site.
There is plenty of space to seat and relax before you flight. I like that they have separated the area with some informal chairs close to the entrance and then some nice comfortable couches on the other end near the bar area.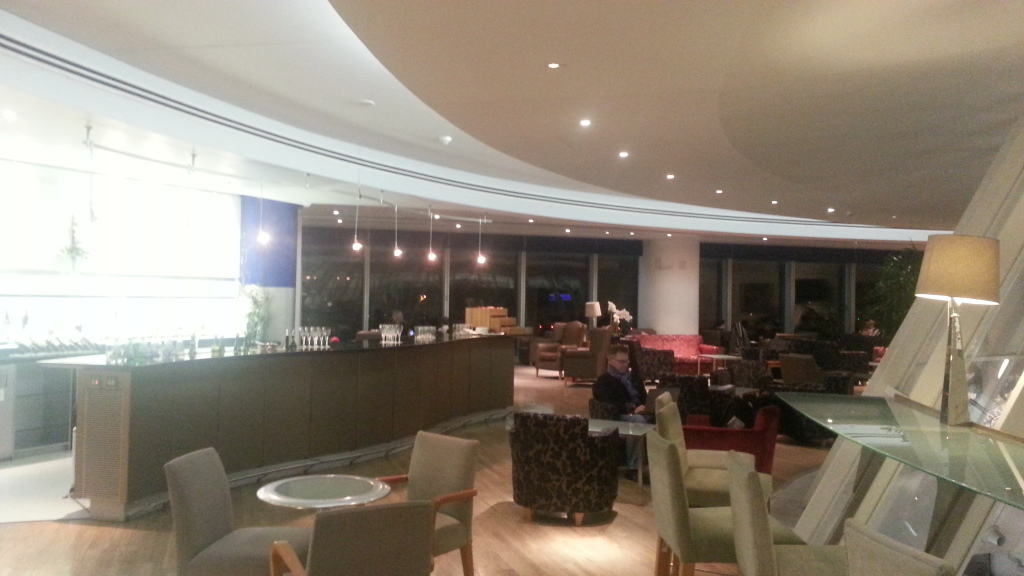 The food was OK and what I would expect from a lounge. When we arrived it was almost empty and it seemed that it had been for quite a long time since some of the sandwiches were little dry. However they did replace them later on but I didn't take any new shots, sorry.
The bar had the standard soft drinks and an extensive alcohol range which I can't comment on since my favourite lounge drink is Virgin Mary, in simple terms tomato juice (without the vodka). 🙂
Overall the lounge is a nice area to relax and enjoy before your flight. I like spending time in the lounge since I don't like shopping and there is always something to drink and free wifi I am a happy girl.