Recently I have flown several times with British Airways Premium Economy which I think currently offers a great way for more comfort at cheaper prices.
I realised I don't have a review of the BA premium economy so let's talk about how it is to fly with them and how you can get a nice price for a flight.
Many airlines are starting to recognise that premium economy products can have a good niche with business travellers and leisure travellers.
They are starting to invest more in their soft products or even in their new seats like Virgin to entice people to spend a little extra for comfort. Plus have started competing on pricing as well which is great for finding deals.
British Airways Premium Economy Review
The Premium Economy product on BA is called World Traveller Plus and offers extra space and more amenities with 18.5″ seat width and 38″ legroom. It is definitely not a business class product and you can't lie flat but for extra comfort, it is a good option.
Here is what the site says about its menu and extras
There's plenty of 'plus' in your World Traveller Plus menu:
a pre-takeoff drink before you fly
newly-redesigned seasonal menus and a choice of three gourmet main meals
a premium dining experience, featuring stylish and contemporary tableware, high-quality ingredients, fine china and linen napkins
a second delicious hot meal and a wide range of special meal alternatives to suit your dietary needs
a complimentary bar service, with hot drinks, juices and water served throughout the flight
I did Doha to Toronto Canada last year and I felt much more rested than normally in the economy.
Also what I like about the BA Premium economy option is the fact that it is a smaller cabin. I believe Virgin is like this as well where Lufthansa is one with economy seating and there is no separation.
Seating
The seats as mentioned above are wider and the ones next to the window which I like the most are only 2 seats instead of 3 in the economy. The configuration is 2 x 3 x 2 with 18.5″ seat width and 38″ legroom.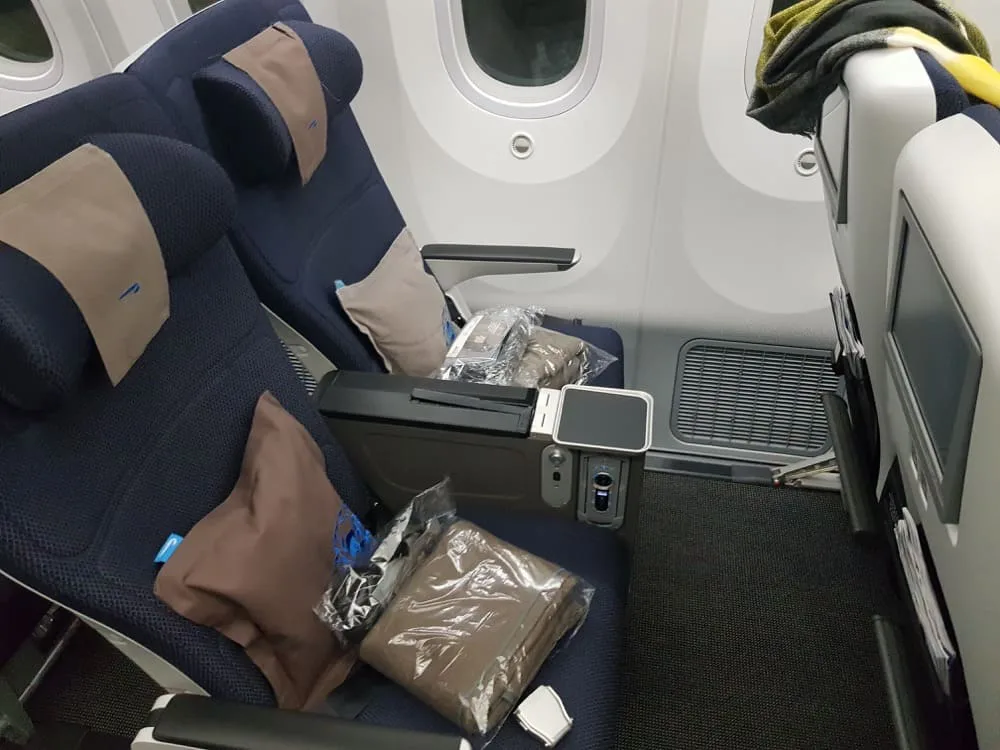 They also have a footrest which does come in handy when you want to elevate your feet. I remember this use to be a standard even in the economy years ago.
The seats are in the BA standard blue colour. There are several different types of aircraft and some of them have better and newer BA premium economy seats.
The photos included are from the BA 787 Premium Economy seats and the food is from several different flights.
While in Premium Economy they offer a drink before take-off, usually water, orange juice or wine, they also offer a hot towel, a nice touch and handy to wipe down the seat and table with.
I enjoy the legroom space and since I pick the window seat when travelling I can leave my bag on the floor to use and keep my things in while still having space to relax my feet.
Service and Food
The staff that serves Premium Economy are the same staff that serve the economy passengers. I believe in most cases they start service from Premium economy and continue to the economy class.
They provide you with a menu of the choices they have available before take-off, but in many instances, my choice finished before they even get to me!
In February British Airways changed its premium economy menu and made improvements I flew during those days but since my flight is usually to Doha I didn't see a great improvement of food options.
Usually, the food is tasty (or edible) and they serve from the same menu as Business class albeit not in the same presentation style!
You do receive proper cutlery and glasses which is a nice touch.
During flights they provide snacks and they pass through the cabin with drinks which is standard and you can also go to the back of the cabin to top up on your snacks.
Many people miss this point actually and do not venture at the back.
Personally, I love it as I get to talk to the cabin members and just stretch my legs.
The BA staff are always courteous and I have only on few instances not enjoyed their service. Mostly it has to do with the moodiness of the crew but as humans, they could simply just be having a bad day.
Overall I do find them polite and if asked they will provide you with what you need. They are not overly polite like some Middle Eastern carriers, however, so don't expect that.
Entertainment is the same but you receive "noise-cancelling" headphones as well as a pillow, blanket and an amenity kit. I always try to bring my own headphones since the option they provide sometimes don't work and also they don't always cancel the noise.
Overall Premium Economy experience
Personally, I enjoy Premium economy better than Economy since you get more space, you have a smaller cabin, which for me is one of the main reasons as I like the feel of privacy.
The service is slightly upgraded (not wow!), you do board the place quicker and you disembark right after business class. Which is great.
You do have a slightly better rest and for longer flights than 6 hours, I find that the value can be there especially if travelling with small kids.
Nowadays the pricing of Premium economy on British Airways or on other airlines can be booked for a couple of hundreds of pounds extra or in some cases similar price that it does make sense to book.
No wonder many other carriers who currently don't have a premium economy are considering including one, as more people realise there is a market for it.
Premium Economy prices and how to score a deal
One thing I find that people usually miss is that they always search for economy tickets only assuming that the price difference between economy, premium economy or business is too high.
However, depending on the destination and starting point I have flown in premium economy for the same price as economy or in business for an additional £200 per person. I will take a flatbed for that price!
London to Dubai Premium Economy is cheaper for the route in reverse. The important part is to check the prices for all categories to see which one suits you best. I usually use Skyscanner to do this as I have put multiple dates and find the cheapest option.
Also destinations matter, some busy holiday destinations, travelling during peak-time and destinations with less premium economy competition do cost more sometimes double the economy price!
In those cases, I always compare and decide depending on comfort level and price sensitivity.
For example on my trip to Canada last year I booked into Premium Economy for £1100 from Doha to Toronto, the flight in the economy was about £900+. For an almost 20 hour journey, I was definitely glad I checked the prices for both options.
Plus you do receive extra Avios and I did manage to get Silver status with BA which comes in handy with free extra baggage, priority boarding, lounge access and extra Avios earned. Things I do value when I travel frequently.
One trick I personally use to save money when travelling currently from the Middle East to London is to book flights from London to the Middle East as they are much cheaper, sometimes even half price!
For the first leg depending on how I have routed, I will use the earned Avios to book myself in either economy or premium economy flight. This saves me serious money when we travel as a family because taxes are lower and there is usually availability.
Below are some examples of prices to compare both.
Don't forget you can create alerts with Google flights and Skyscanner to tell you when the price goes down!
Travelling in Premium economy provides extra comfort and especially if I travel on my own as a Muslim woman I prefer to have extra space especially if seating to a stranger. It also provides me with extra luggage which comes in handy when shopping in the UK. 🙂
For those looking for something extra make sure you always check prices for economy and premium economy, you will be surprised sometimes!