As someone who grew up in Athens and then became Muslim, I consider Athens one of the most Muslim Friendly cities in Europe. Athens offers halal food, places to pray, friendly locals happy to help and centuries old history.
The city has always been a top destination to visit amongst tourists, even though in the last few years the economic crisis has affected the lives of the locals in this historical and beautiful city.
Athens is one of the most well-known cities in the world where millions of tourists visit per year. The history and the contribution of the philosophers, scientist, architects and so forth, thrived there during ancient times and still influence many aspects of our lives today.
The most interesting fact about the capital of Greece is that it is one of the oldest cities in the world, with records of over 3000 years. Athens is widely known as 'the cradle of the Western Civilisation' as it had contributed to the development of the theatre, philosophy and mostly the birth of democracy.
Throughout the country's history, Athens has played a major role in many political and cosmopolitical events, and so your trip to this stunning city will only enrich your life!
Halal Travel Athens
Acropolis
One place and so many monuments to admire! The word "acropolis" means the highest point of the city and the highest point in Athens is not the only one in the world, but it is the most famous. The most known monument in the hill is the Parthenon temple, which is the symbol of Greece.
It was constructed in honour of the ancient Greek goddess, Athena, from which the city takes its name. The constructions of the temple began in 447 BC during the Golden Age of the city.
An interesting fact about the Parthenon is that during the Ottoman Empire it was converted into a mosque. Another important monument on the Acropolis is the Erechtheion, which is located on the north side. It also served as a temple dedicated to the ancient Gods Poseidon and Athena.
Greek Parliament and Changing Soldiers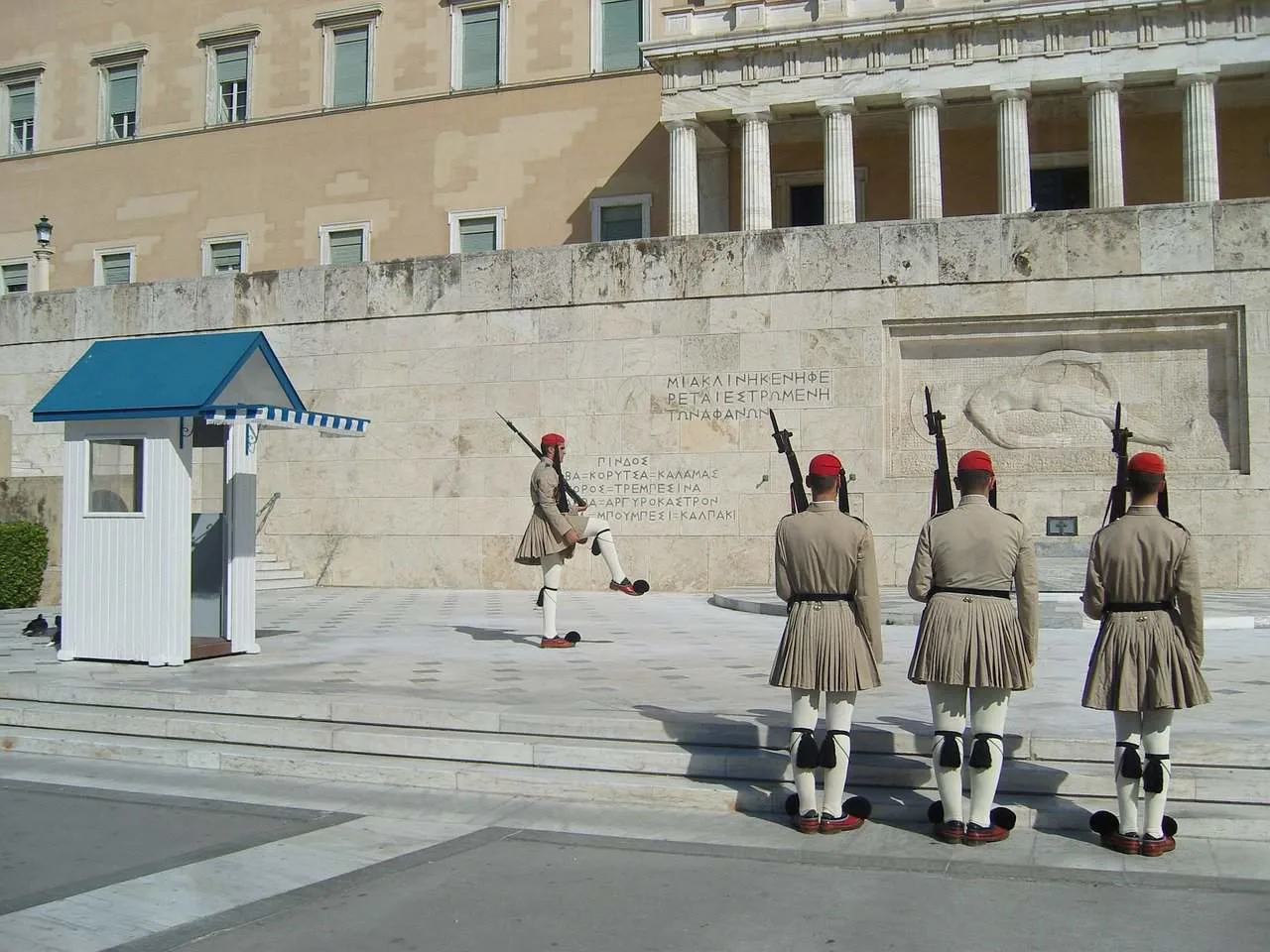 You cannot visit Athens of course and not visit the Parliament or Syntagma Square. If you are there make sure you catch the change of the guards. This is similar to the British I guess as they do have them in the UK as as well.
These men standing there are not allowed to move at all, they change every 30min I believe in order to stretch and they are actual soldiers from the Greek army. I had a few friends who were "lucky" to get selected for the task since it is not something that everyone can do. I always find it fascinating and it makes my heart full.
Museum of Acropolis
When in Athens, visiting the Museum of Acropolis is a must as it contains artefacts from the long history of the monument! Initially, it was a small museum on the hill of Acropolis, but due to the high number of visitors, it did not function adequately.
As a result, it was later decided that a new and larger space will serve better for the purposes of the museum. Today, the new museum is spread over 25,000 square meters and if you want to explore it in its entirety you will need a few hours to spare.
The general admission fee is 5 euros, but there are reduced fees for some groups. The busiest seasons are July and August as there are many tourists who flock to the city and explore the museum. So do plan accordingly.
Mount Lycabettus
The Lycabettus mountain is one of the highest points in the city, being 295 meters above sea level! According to Greek mythology, it was formed, when the goddess Athena dropped a heavy rock she was carrying after hearing some unpleasant news, but in fact, Lycabettus is formed by a Cretaceous limestone.
If you want to get to the top of the hill, you can either go on foot or take the 'funicular' (cliff railway) all the way up and admire the panoramic view of the city!
At the top of the mount, there is a small chapel and a cafe, where you can enjoy the amazing view. It is definitely a must-see landscape, even though not many tourists know about the place. It is one of the most visited locations in the evening, even by locals.
Plaka and Monastiraki
The locals and tourists adore the charming and ancient neighbourhoods of Plaka and Monastiraki. Being under the Acropolis hill, it is known as 'The Neighbourhood of the Gods'. It is surrounded by the neighbourhoods of Zappeio, Monastiraki, Makrigianni and the centre of Athens.
The area is very well preserved and it is a great way to spend a few hours exploring the old style architecture. It has a totally different vibe than the rest of Athens.
One very famous part of Plaka is 'Anafiotika', a neighbourhood resembling very much the Cycladic architecture; whitewashed houses with blue elements on narrow streets.
The houses in the area were constructed by builders from the island of Anafi, from where the neighbourhood took its name.
Monastiraki is another beautiful neighbourhood in the centre of Athens and it is mostly known for its flea market. You can buy so many souvenirs and gifts to take back home. Just make sure you barter for the best price. The name is translated as the 'little monastery'.
The Monastiraki Square is the centre of the neighbourhood and in the middle, under the Acropolis; you will find an old mosque, which now serves as a museum. It was built during the Ottoman Empire.
Ancient Agora of Athens
Ancient Agora was the place where all great things in Athens happened. It is also located very close to the Acropolis and Monastiraki. Being the philosophical, educational, social, and economic centre of the city, there are many remains and buildings to admire there.
Starting from the Temple of Hephaestus and continuing to the Stoa of Attalos, which today serves as the Agora Museum and there is so much history and architecture to admire. The ruins and landmarks in the Agora are plenty, with the most remarkable ones being; the Temple of Apollo Patroos, Stoa Poikile, and Stoa Basileios. It is highly recommended to explore all of them.
Of course, it is highly recommended to take photographs of these extraordinary landmarks as they are well preserved, even today, giving you a feel of how the city used to be almost 3,000 years ago.
Stavros Niarchos Foundation Cultural Center
I visited this new cultural centre last year when I went to Athens and I loved it. It is close to Faliro which is near the sea and there are so many things you can do there. From the beautiful building, the gardens, playground, library, theatre. It is a fantastic way to spend an afternoon especially in the summer and with children.
I loved how creative and future forward the whole building and atmosphere was. I highly recommend it.
Visit the Beach with a Burkini
So as a hijabi and if you want to wear a burkini you are totally fine to go to Athens. It is one of the things i love as the city makes a fantastic halal friendly destination and it offers both, city vibe and also summer beach vibe. As a Muslim female I didn't have a problem wearing my burkini on the beach.
Yes, you will get looks but they are not because they disapprove (ok, some might) but mostly because they are curious.
Athens has noumerous paid and public beaches and depends on what you want. If you want free beaches there are some in Glyfada and Vouliagmeni but I used to live in Artemis which is about 45min easily accessible by metro and bus and it has nice clean beach coast.
Last time I went to Vouliagmeni beach which is paid about 10 euros per pay but you get sunbed and umbrella. You can buy snacks from the cafeterias. It is closer to Athens city centre as well if you don't want to travel far.
Travel and Muslim-Friendly Options for Athens
Halal Restaurants in Athens
Finding 'halal' (permissible according to Islamic law) options in Athens should not be a problem because there is a large Muslim community and there are is halal food in Athens.
Many places, however, cannot be found online. Always make sure to ask if the food is halal and if you cannot find halal options there are plenty of seafood and vegetarian options available.
A really good halal restaurant in Athens is Aladdin Kebab House, where Turkish and Middle Eastern food is served. Whilst there make sure you try the very famous Greek Souvlaki. Which is made of pitta bread, usually pork or chicken, tzatziki, fries and salad. It is the most stable food in Greece eaten by locals and tourists alike. Its the closest cousin in terms of food will be the kebab, which many say was influenced by the Greek souvlaki.
Address: Avenue Amfitheas 104 & Areos 88, Palaio Faliro, Athens
There is also an Indian halal restaurant on Suggrou which I have linked below and it is 5 minutes from the Grand Hyatt.
Where to Stay in Athens
There are many hotels in Athens from five-star luxury properties to budget hotels and Airbnb. Personally due to the fact of immigration in Athens, I would recommend properties that are not in the city centre of Omonoia but rather a little out and safer.
My first choice will be the Hilton Athens hotel (this hotel left the Hilton Brand but it is still in a great location) You have amazing views of the Acropolis and Lycabettus as well. Some other hotels in Michalacopoulou will be also a good choice. These are close to the city centre, around 5 minutes by the metro but yet in safe areas for tourists.
You can, of course, use Airbnb as well, you get £15 discount on your first stay if you sign up via my link. For checking out some hotels you can do that here.
Also, I recently stayed in the Grand Hyatt Athens and I enjoyed my stay it is also central to what you will need to explore. It is a new hotel and close to the sea as well. If you want to head out to the beach you can go to Vouliagmeni beach which is a paid beach but a great option.
There is a metro and tram to take you there. Also, a halal Indian restaurant is about 5 minutes walk from the hotel.
If you can afford it I went to the Four Seasons Athens for breakfast and I loved the view and atmosphere. It is on the high end with rooms in the summer starting from £500 but the location is also great for exploring.
Some of my favourite areas to stay are around Syntagma, make sure you read the reviews. I also like Vouliagmeni and Glyfada as they are near the sea especially in the summer. They are some of the more expensive neighbourhoods.
I personally avoid Omonoia for hotels or Airbnb as I don't find it safe.
Mosques in Athens – Where to Pray
There are several mosques to pray in Athens and finally, after many years Athens officially has a mosque. Not many know that I used to be part of The Muslim Associations of Greece working towards the building of this mosque and it makes me happy to finally after 10 years see it become a reality.
It is not how we had envisioned the mosque but it is better than still paying in underground parking facilities.
So if you are in Athens and you want to pray then head out to Votanikos Mosque and pray your prayers.
Votanikos Mosque Address: Iera Odos, Votanikos I have embedded the Google map link as it is easier to find.
Al Salam Mosque Address: Galaxia 9, Athens 117 45, Greece
Athinais Cultural Centre Address: Kastorias 34, Athens, Greece
Public Transport
The best way to explore the city is by public transport. Athens is easy to explore with the metro, tram and local buses all connecting into various parts of the city. It is easy to navigate and super affordable. A five-day travel card costs 9 euros and a return ticket to and from the airport will set you back 18 euros.
Car hire
If you have family or a big group you might want to rent a car for a few days and stay further out from the city centre. This is what we do when we go for longer. We rent an Airbnb and then just explore the city centre for a couple of days by public transport as parking can be a nightmare.
This way you can also go further and visit other places like Artemis and Sounio which has history as well.
Best time to travel to Athens
All-year-round. The warm season lasts from June -September with an average daily high temperature above 28°C. The cold season lasts from December to March with an average daily high temperature below 16°C.
I would love to see where you have been in Athens or Greece in general. I know it is a very popular destination for Muslims or not and I have seen some amazing photos.
So why don't you share them with me using the hashtag: #MemoriesfromAthens the best ones will get featured on my Instagram account.
Other posts to enjoy
5 Must Visit Places in Athens for a True Greek experience
Halal Food in Greece; Availability in Athens and the Greek Islands
An Unexpected Love Affair; A Personal Recount of a Cool Niqabi Visiting Athens Greece
What To Do If You Get Pickpocket in Athens Greece
5 Amazing Private Villas in Greece for a Muslim Friendly Holiday
The Difference Between Halal Travel & Muslim Friendly Travel